Making Instant Pot Corned Beef is a great method for preparing this St. Patrick's Day New England Boiled Dinner in half the time.
The meat is done to tender in under two hours and full of spicy corned beef flavors.
Our family loves the way corned beef comes out of the instant pot. It is an easy and reliable way to cook corned beef for dinner, Reuben Sandwiches and Corned Beef Hash.
What is the best way to cook a tender Corned Beef Brisket?
A slow, gentle simmer on the stovetop is the traditional way to prepare a Corned Beef Brisket. The tender meat is prone to drying out and becoming tough if the cooking process is rushed. Utilizing a slow cooker is another popular method because it yields soft and tender cuts of meat.
We opt for the Instant Pot because it protects the integrity of the flavors while locking in the natural juices, keeping the meat soft and full of flavor, and cuts down on the cook time.
How do you get a tender Corned Beef?
Liquid is the most important element when cooking Corned Beef. Make sure you are using enough liquid to just cover the brisket and prevent evaporation which will lead to a dry and overly salt Corned Beef.
Water is the most popular liquid choice, but we prefer bone broth for added flavor. Guinness is another choice that will enhance and deepen the flavor beautifully.
Instant Pot Corn Beef Dinner:
Most Corned Beef Brisket comes with a seasoning packet, or the meat comes heavily coated in mustard seeds and pickling spices. If you happen to have a corned beef brisket that is cured but has no extra spices you can add your own mix.
Here are some suggestions for spices you may have on hand or can easily find in the grocery. Make your own mix and then put the loose spices into a large tea ball, or coat your meat with it.
Bay leaves
whole mustard seeds
whole coriander seeds
cardamom pod
whole cloves-just a few
pickling spice- a tablespoon or so
thyme sprigs
Once the brisket is cooked, remove from the Instant Pot and finish the dinner with your veggies.
Add prepared cabbage wedges, potatoes and carrots into the Instant Pot.
Seal the lid and set to manual high pressure for 10 minutes.
Quick release.
Plate the corned beef and surround it with the vegetables.
Your New England Dinner is ready to serve. Spicy brown or Dijon mustard and Horseradish make good condiments for this meal. Add Homemade Dinner Rolls or make a up a batch of Sourdough or Homemade French Bread for a finishing side.
How long should you cook Corned Beef?
For a two to 3 pound Corned Beef Brisket cooked on the stovetop or crockpot, you will need to cook it for 2-3 hours. Larger cuts will increase the cook time.
Because we are using the Instant Pot the cook time will be reduced to roughly 90 minutes with a natural release of 15 minutes. Cooking the veggies in the Instant Pot will take an additional 10 minutes with a quick release.
Your Printable Recipe Card: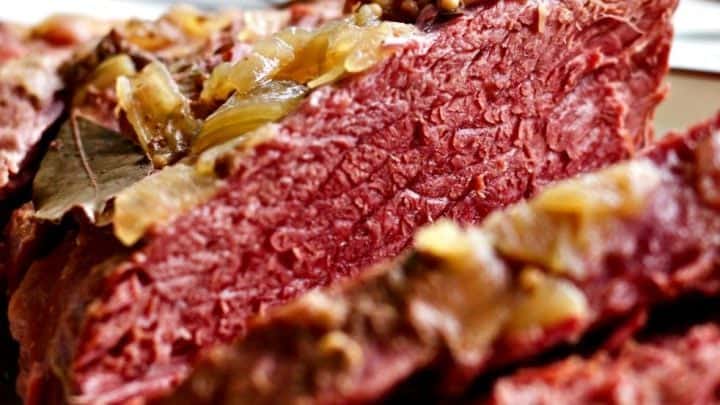 Yield:

12 servings
Instant Pot Corned Beef
Cook Time:
1 hour
30 minutes
pressuring up and natural release time may vary:
1 hour
Total Time:
2 hours
35 minutes
Instant Pot Corned Beef is amazing! So easy, quicker and healthier than boiling this St. Patrick's Day Holiday favorite. And the Flavor!! All the spice flavors embed themselves into the meat. You have to try this delicious low carb dinner!
Ingredients
4 lb. flat cut corned beef brisket (with corned beef spices)
1 large onion-chopped
1 bay leaf
3 Cups chicken broth, REDUCE by 1/2 if using Guinness
Garnish seasonings:
Dijon mustard
horseradish for garnish
Instructions
Remove the corned beef from it's packaging, rinse and pat dry.
Cut all but a thin layer of fat off the corned beef if necessary.
Lay the corned beef into the bottom of the instant Pot
Spread the chopped onion and spices over the meat.
Pour the chicken broth over and around the beef. OR pour the bottle of Guinness over the meat and HALF of the chicken broth. I used my instant pot bone broth. It worked great!
Seal the lid.
Set the Instant Pot to manual on high for 90 minutes.
Allow to natural release for 15 minutes.
Remove to platter and allow to rest.
Side dish tip:
While the meat rests, quickly add potatoes, cabbage and carrots you wish to cook into the instant pot, seal the lid and set to manual high for 10 minutes. Quick release and serve with the corned beef.
Notes
NOTE: Adding Guinness stout beer to your corned beef will intensify the flavor a bit and add . But you don't need it for a really great result in this recipe.
Spicy brown or Dijon mustard and Horseradish make good condiments for this meal.
Recommended Products
As an Amazon Associate and member of other affiliate programs, I earn from qualifying purchases.
Nutrition Information
Yield
12
Serving Size
6 oz
Amount Per Serving
Calories

470
Total Fat

29g
Saturated Fat

12g
Trans Fat

0g
Unsaturated Fat

14g
Cholesterol

168mg
Sodium

386mg
Carbohydrates

2g
Fiber

0g
Sugar

1g
Protein

46g
According to the U.S.Department of Agriculture National Nutrient Database a 3 oz. portion of Corned beef has 213 calories. 15 grams of protein and 16 grams of fat. We usually eat a larger portion so I'm just putting this out there.
What can I do with leftover Corned Beef?
Make this incredible hot sandwich for a change up in your lunch or dinner menu. The Reuben Sandwich is a hot grilled combination of Swiss cheese, corned beef, mustard, piquant sauerkraut and delicious dressing on rye bread.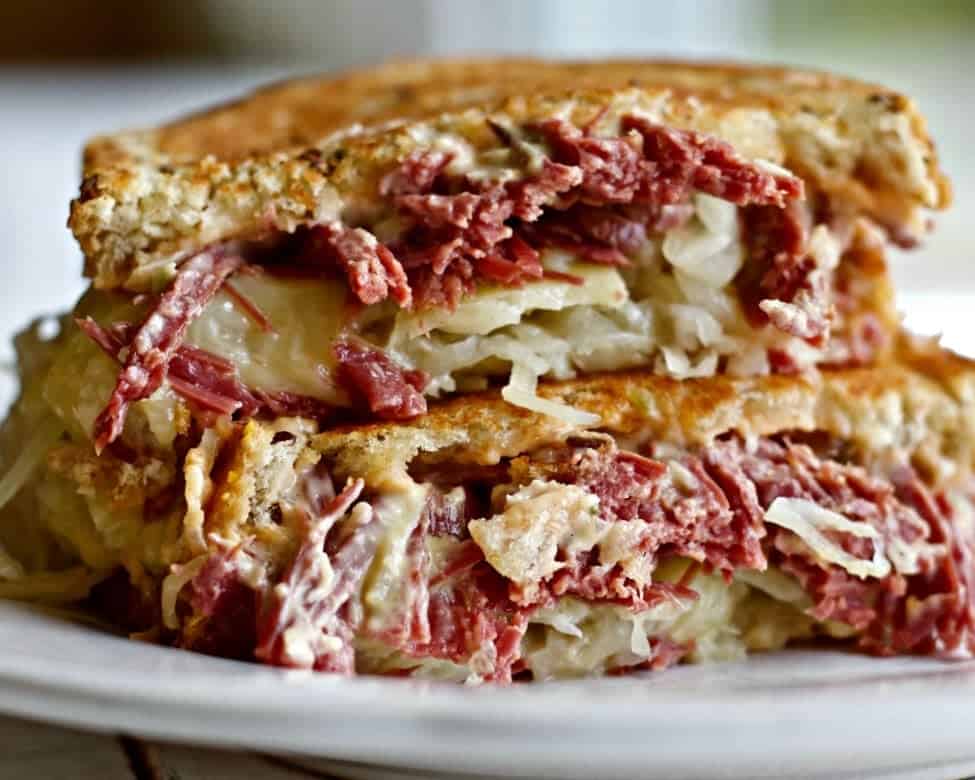 Leftover corned beef makes a dynamite breakfast or dinner in this Corned Beef Hash and Eggs Recipe. It's an easy skillet meal that everyone will love.
Follow Us:
We enjoy meeting you on our social networks. Follow us on Facebook, Pinterest, Instagram . Tag us with your pictures of our recipes and comment on how it went for you. We would love to see what you do with them.
We often like, comment and share your posts of our recipes on our daily Instagram stories.
Ask questions and rate the recipe in the comments section below. Please share what you did with this recipe. We are always looking for more and better ways to make homemade food. Other cooks love your ideas!
Recent Posts:
If you are curious about the history of this traditional dinner, check out this interesting read from Smithsonian Magazine