Making Instant Pot Corned Beef is so easy. Cooking corned beef brisket under pressure is quicker and healthier than boiling. Make your St. Patrick's Day New England Boiled Dinner in half the time. Enjoy the added flavor boost. You have to try this delicious low carb holiday recipe!
I admit Corned Beef is not a family meal I enjoyed making in the past. Boiling a preserved meat to death all day…not worth it. Especially when the flavor was so so at best. All the veggies were sort of boring too. We rarely ate corned beef for St. Patrick's Day.
This year I had to give it a go in my new Instant Pot. Pressure cooker corned beef is so much faster to make. The meat is done to tender in under two hours and full of spicy corned beef flavors.
UPDATE: I make this corned beef recipe several times a year now. It continues to produce excellent corned beef for dinner, Reuben sandwiches and corn beef hash.
Our family just loves the way corned beef comes out of the instant pot. Seriously that kitchen tool is a life changer. And it's so versatile. If you want to you can turn on the slow cooker function on your instant pot and leave all day. Come home and throw in your veggies and put the pot under pressure for 10 more minutes. Your new England boiled Dinner is done 🙂
Watch me make Instant Pot Corned Beef New England dinner for you with some tips:
I use the pressure cooker function.
I like the way the meat is cooked under pressure. The brisket stays intact. (Although cutting it can be a bit tricky.) In 90 minutes the meat is cooked to perfection.
Making Corned beef in instant pot is SO easy!
After the pressure is released add in the veggies and lock the lid. 10 more minutes under pressure and viola! A beautiful dinner is ready to serve.
Go to our Instant pot Recipes for more great ways to use your Instant pot!
I made this delicious corned beef instant pot recipe again for Dave and I tonight. I never thought I would love corned beef like I do now. It's magical what pressure cooking has done for this cut of beef.
The leftovers make excellent Reuben sandwiches and Corned Beef Hash and Eggs.
My son got himself the required single male kitchen tool. A George Foreman Grill. Time to break that baby in with the Reuben!
We grilled Corned Beef sandwiches and had a movie night. That's a fun way to recreate with the family.
Instant Pot Corn Beef Dinner:
NOTE: Adding Guinness stout beer to your corned beef will intensify the flavor a bit. But you don't need it for a really great result in this recipe.
TIP: I used my Instant Pot Bone Broth for this recipe. It adds even more flavor and a good bit of nutrition too. You can choose chicken or beef broth for this recipe. Either will work fine.
SPICES that enhance this Insta pot corned beef recipe:
Most of the time the corned beef brisket comes with a seasoning packet. Or the meat comes heavily coated in mustard seeds and pickling spices. If you happen to have a corned beef brisket that is cured but has no extra spices you can add your own mix.
Here are some suggestions for spices you may have on hand or can easily find in the grocery. Make your own mix and then put the loose spices into a large tea ball, or coat your meat with it if you prefer.
Bay leaves
whole mustard seeds
whole coriander seeds
cardamom pod
whole cloves-just a few
pickling spice- a tablespoon or so
thyme sprigs
To finish the New England Dinner:
While the meat rests:
quickly add prepared cabbage wedges, potatoes and carrots into the instant pot.
Seal the lid and set to manual high pressure for 10 minutes.
Quick release.
Plate the corned beef and surround it with the vegetables.
Your New England Dinner is ready to serve. Spicy brown or Dijon mustard and Horseradish make good condiments for this meal. Add homemade dinner rolls or make a up a batch of sourdough or homemade french bread for a finishing touch.
Your Printable Instant Pot Corned Beef Recipe Card: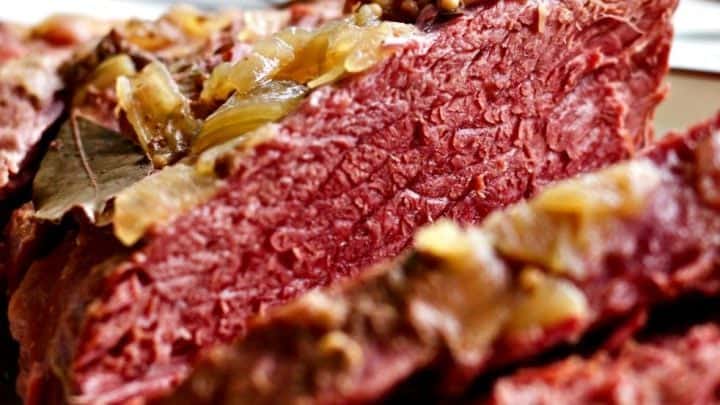 Yield:

12 servings
Instant Pot Corned Beef
Cook Time:
1 hour
30 minutes
pressuring up and natural release time may vary:
1 hour
Total Time:
2 hours
35 minutes
Instant Pot Corned Beef is amazing! So easy, quicker and healthier than boiling this St. Patrick's Day Holiday favorite. And the Flavor!! All the spice flavors embed themselves into the meat. You have to try this delicious low carb dinner!
Ingredients
4 lb. flat cut corned beef brisket (with corned beef spices)
1 large onion-chopped
1 bay leaf
3 Cups chicken broth, REDUCE by 1/2 if using Guinness
Garnish seasonings:
Dijon mustard
horseradish for garnish
Instructions
Remove the corned beef from it's packaging, rinse and pat dry.
Cut all but a thin layer of fat off the corned beef if necessary.
Lay the corned beef into the bottom of the instant Pot
Spread the chopped onion and spices over the meat.
Pour the chicken broth over and around the beef. OR pour the bottle of Guinness over the meat and HALF of the chicken broth. I used my instant pot bone broth. It worked great!
Seal the lid.
Set the Instant Pot to manual on high for 90 minutes.
Allow to natural release for 15 minutes.
Remove to platter and allow to rest.
Side dish tip:
While the meat rests, quickly add potatoes, cabbage and carrots you wish to cook into the instant pot, seal the lid and set to manual high for 10 minutes. Quick release and serve with the corned beef.
Notes
NOTE: Adding Guinness stout beer to your corned beef will intensify the flavor a bit and add . But you don't need it for a really great result in this recipe.
Spicy brown or Dijon mustard and Horseradish make good condiments for this meal.
Recommended Products
As an Amazon Associate and member of other affiliate programs, I earn from qualifying purchases.
Nutrition Information
Yield
12
Serving Size
6 oz
Amount Per Serving
Calories

470
Total Fat

29g
Saturated Fat

12g
Trans Fat

0g
Unsaturated Fat

14g
Cholesterol

168mg
Sodium

386mg
Carbohydrates

2g
Fiber

0g
Sugar

1g
Protein

46g
According to the U.S.Department of Agriculture National Nutrient Database a 3 oz. portion of Corned beef has 213 calories. 15 grams of protein and 16 grams of fat. We usually eat a larger portion so I'm just putting this out there.
What to do with Leftover Corned Beef?
Make this incredible hot sandwich for a change up in your lunch or dinner menu. The Reuben Sandwich is a hot grilled combination of Swiss Cheese, corned beef, mustard, piquant sauerkraut and delicious dressing on rye bread. Great for a filling lunch or dinner!
Corned Beef Hash and Eggs Recipe:
Leftover corned beef makes a dynamite, filling breakfast or dinner in this corned beef hash and eggs recipe. Just five main ingredients in this quick and easy one skillet meal.
More Easy Instant Pot Recipes you may enjoy:
Instant Pot Meaty Italian Pasta:
An easy noodle dinner made in one pot with almost no work. A delicious quick dinner.
Instant Pot New York Style Cheesecake: Rich, creamy decadent New York Style cheesecake made easily in your Instant pot! A small cheesecake perfect for a family night treat, a small dinner party or a romantic dessert for two.
Instant Pot Cheesy Cauliflower Soup: Instant pot cheesy cauliflower potato soup is an easy one pot dinner. Enjoy the rich flavor of creamy potato, cheese and bacon with cauliflower to add nutritious fiber and reduce calories!
Pin it:
Recipe Source: Instant Pot Electric Pressure Cooker Cook Book