This Week's Tuesday in the Garden Blog Hop Theme is Garden to Table Recipes! My Ten Favorite Springtime Garden Recipes are just a few of your choices this week. Be sure to read through to the bottom of this post so you can see recipes from all the bloggers who contributed to our blog hop!
Springtime is so much fun in the garden. Everything is young and fresh. All the veggies are just coming ripe. Dave brings delectable produce in everyday. I love creating recipes from the garden. Flavor and nutrition is never higher than when the food is fresh picked, perfectly ripe and eaten, or frozen for later, immediately.
Ten Favorite Springtime Garden Recipes:
Here are ten of our favorite Recipes from our Springtime Garden. Enjoy!
Smoky Parsnip Soup is one of our new favorite spring soups! We made this with our wintered over parsnips.
Spring Garden Berry Salad is perfect for using up kale and berries in your garden. This salad is full of fresh sweetness. The berries, cucumber and kale compliment each other beautifully. Creamy Balsamic Salad Dressing is wonderful on it!
Seriously good ice cream made from fresh garden strawberries and a few ingredients in your fridge. This ice cream is excellent in Chocolate Strawberry Ice Cream Cake!
Crisp Cucumber Salsa will blow your socks off! NOT kidding! I have made this so many times and it never fails to please. I never have leftovers. Enjoy!
Rhubarb Apple Crisp I actually made this from frozen rhubarb and apples. You can also use fresh fruit if it's in season. Either way, you'll enjoy this dessert. Apples and rhubarb are great together!
Rhubarb Recipes: There are several rhubarb recipes here to help you explore many great ways to easily use up your rhubarb.
Creamy Rhubarb Shortbread Squares This is an EXCELLENT potluck dessert. That creamy shortbread taste with a bit of rhubarb zing is positively addicting. No leftovers if this recipe hits a party table. Promise!
Buttermilk Rhubarb Cheesecake was a new adventure for me. I'd never tried buttermilk cheesecake or rhubarb sauce on cheesecake either. This recipe passed the taste test of Many people. I sent pieces of this to lots of people to try. The result? A resounding YES! the buttermilk makes a delicious rich cheesecake. The rhubarb glaze is a perfect partner to it!
Rhubarb Blueberry Cardamom Streusel Muffins Looking for a way to use up rhubarb or blueberries in your garden? Here you go! These muffins are a great way to start your day. Yummy!
Rhubarb Ginger Sauce Is an amazing sauce. I first made this recipe over a year ago. Since then I have used it in many ways. It makes an excellent spicy sweet meat marinade, we love my Pan fried Ginger Chicken that is fried right in this sauce.
I hope you enjoy these ten favorite Springtime Garden Recipes. Please read on for our blog hop contributors!
TUESDAY IN THE GARDEN BLOG HOP:
Here are more blogger Ideas and Recipes for springtime cooking from the garden. Click on the link to each blogger to enjoy their wonderful springtime garden to table recipes!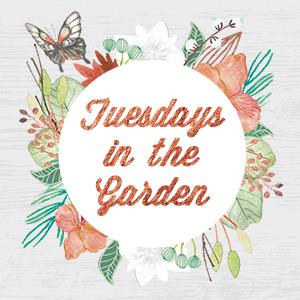 Angie's Freckled Rose
Pin this Blog Hop!