Lemon Blueberry Bundt Cake with buttermilk is a very tasty combination of blueberries and fresh lemons in a rich buttermilk cake. Lemons in the cake and the glaze compliment the sweet moist pops of blueberries throughout the cake.
Bundt cakes have been a beloved dessert for decades, and for good reason. They are easy to make, look beautiful, and taste delicious. This fruit filled bundt cake is no exception. The lemon adds a bright, tangy flavor, while the blueberries bring a touch of sweetness. The texture is moist and tender, making this beauty a perfect cake for any occasion.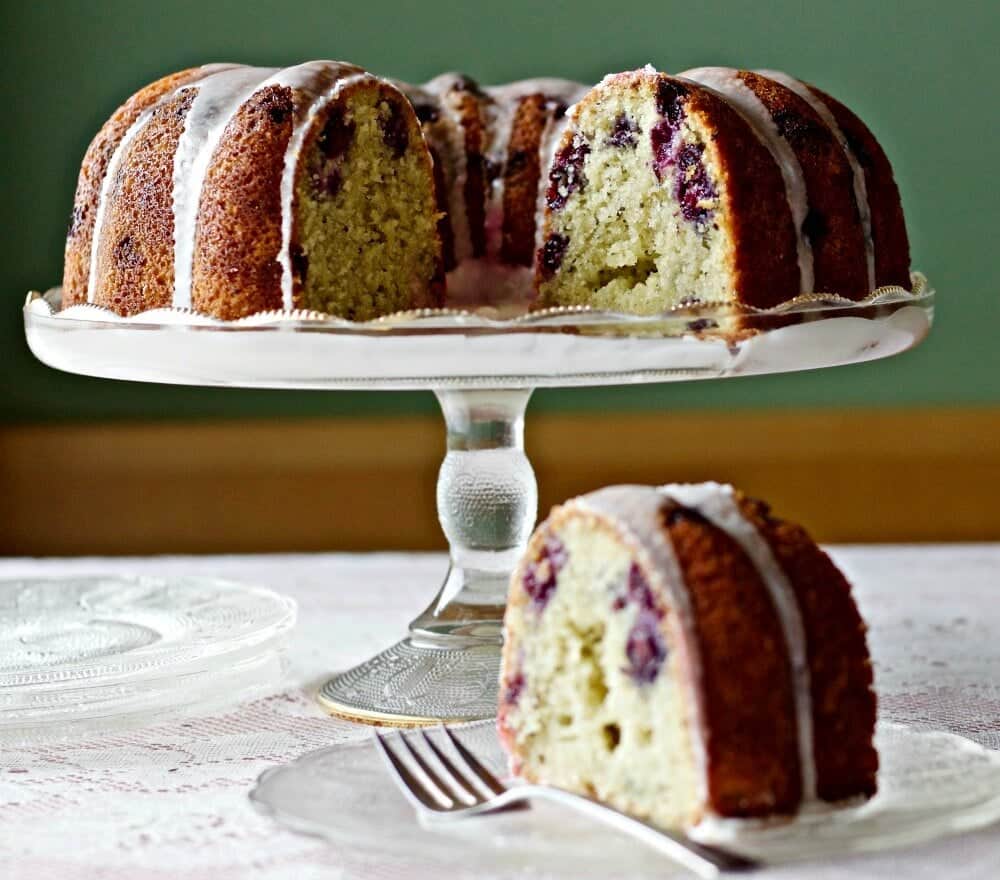 This is a delightful cake that combines the bright, tangy flavors of lemon with the sweetness of blueberries. Whether you're baking it for a special occasion or just to enjoy with your morning coffee, this cake is sure to be a hit.
Lemon Blueberry Bundt Cake Recipe
This is an easy lemon blueberry bundt cake recipe with a lovely glaze. You will see many tips, substitutions and options in this post so we cover the bases for most bakers. The recipe in the recipe card is very simple and straightforward with reliable consistent results.
Recipe change ups and substitutions
In a buttermilk version of this recipe, you can use either sour cream or yogurt instead of buttermilk, but the measurements may need to be adjusted slightly.
Buttermilk is a liquid ingredient that helps to activate the baking soda in the recipe and create a light, fluffy texture in the cake. If you don't have buttermilk on hand, you can use an acidic ingredient like sour cream or yogurt to achieve a similar effect.
To replace the buttermilk with sour cream or yogurt in this recipe, you can use the same amount of either ingredient (1/2 cup) and add an additional 1-2 tablespoons of milk to the recipe to achieve the right consistency.
To make a lemon blueberry Bundt cake with sour cream, simply mix it in with the wet ingredients
For a lemon blueberry bundt cake with yogurt in the recipe will give the cake a slightly tangy flavor, and it will be just as moist and tender as using sour cream. You can use regular or Greek yogurt, but if using Greek yogurt, you may want to add a little milk to the batter to achieve the desired consistency. Use it just like sour cream.
To substitute Milk for buttermilk: Milk and Vinegar: Mix 1 cup of milk with 1 tablespoon of vinegar or lemon juice. Let the mixture sit for 5-10 minutes until it thickens and curdles. This mixture can be used as a substitute for 1 cup of buttermilk in the recipe.
Cream of Tartar: If you have cream of tartar on hand, mix 1 cup of milk with 1 1/2 teaspoons of cream of tartar. This mixture can be used as a substitute for 1 cup of buttermilk in the recipe.
Sour cream and yogurt can also substitute for milk if slightly thinned.
Adding poppy seeds to your bundt cake can be a fun and delicious way to change things up. Both poppy seeds and chia seeds add a nice crunch and a subtle nutty flavor to the cake. We've added poppy seeds into the recipe as an option if you like. Just follow the recipe.
To use chia seeds here's how you do it. Soak 2 tablespoons of chia seeds in 1/2 cup of water for 10-15 minutes, or until the mixture thickens and becomes gel-like. Use this chia seed gel as a replacement for 1/2 cup of buttermilk. You can also sprinkle some chia seeds on top of the cake before baking.
Using oil in this cake
This lemon blueberry bundt cake with oil has outstanding flavor. I use coconut oil in this recipe.
Coconut oil is a great option for a bundt cake recipe. it adds subtle coconut flavor and moistness to the cake. Here are a few tips to help you use coconut oil in your cake:
Measure the coconut oil correctly: Coconut oil is a solid at room temperature, so it's important to measure it correctly. You can either melt the coconut oil and then measure it, or use a kitchen scale to weigh it. The recipe should call for melted coconut oil, so make sure to melt it before measuring.
Use unrefined coconut oil: Unrefined coconut oil has a stronger coconut flavor and aroma, which can complement the flavors of the lemon and blueberries. If you prefer a milder flavor, you can use refined coconut oil instead.
Keep the coconut oil at room temperature: If you've melted the coconut oil, make sure it cools down to room temperature before using it in the cake batter. If the coconut oil is too hot, it can cook the eggs and curdle the batter.
Coconut oil is a solid at room temperature, so it can make the cake denser.
Store the cake in an airtight container at room temperature for up to 2-3 days or in the refrigerator for up to a week.
Adding Coconut oil into your bundt cake creates a delicious and moist cake with a subtle coconut flavor. If you want to use a different oil I recommend avocado oil. It is a healthy oil and flavorless and stays in liquid form.
Fruit for your bundt cake
I made this Lemon blueberry bundt cake with frozen blueberries. Using frozen blueberries for this cake is a great option and makes a very pleasing combination of citrus and berries. The good news is you can use blueberries and lemons to make a great cake even though they are fresh in different seasons.
Here are a few tips to help you use frozen blueberries in your lemon blueberry bundt cake:
Blueberries are the anti-inflammatory poster child for superfood fruits. Fresh Blueberries retain all their nutrients in the freezer too. And they interchange perfectly fresh or frozen in recipes.
If you are home freezing blueberries make sure they are frozen on a baking sheet individually and dry before bagging them.
Thaw the blueberries: Before using frozen blueberries in your cake, make sure they are completely thawed. You can thaw them in the refrigerator overnight or at room temperature for a few hours. Once they are thawed, drain any excess liquid.
Toss the blueberries in flour: I did NOT toss mine in flour and they stayed pretty intact. However, Frozen blueberries tend to bleed and release more moisture when baked, which can affect the texture and color of your cake. To prevent this, toss the blueberries in a tablespoon of flour (taken from the recipe's total amount) before folding them into the batter. This will help absorb any excess moisture and keep the blueberries evenly distributed in the cake.
Adjust baking time: When using solidly frozen blueberries (it does work), the baking time may be slightly longer than when using fresh blueberries. Keep an eye on the cake and check it for doneness using a toothpick inserted into the center. If it comes out clean, the cake is done. If not, continue baking for a few more minutes and check again.
With these tips in mind, you can easily use frozen blueberries in your lemon blueberry bundt cake and still achieve a delicious and moist cake.
Lemons are best used fresh for a lemon bundt cake recipe. Make this lemon cake in the winter or spring when they are freshest.
Bundt Cake Recipe Tips
Bundt cakes are a classic dessert that are easy to make and look beautiful when served. Here are some tips to help you achieve the best results when making a Bundt cake:
If you want the cake shape I have, you need this bundt cake pan. Or one in a similar style. This shape ensures the glaze will easily run down the sides in nice even runs and everyone will think you're a pro.
Make sure to grease the pan generously with butter, oil or cooking spray to prevent the cake from sticking to the pan. You can also dust the pan with flour or cocoa powder to help the cake release easily. Oil lightly even a non stick pan just to be sure you get the best results.
Use room temperature ingredients: It's important to use room temperature ingredients, such as butter, eggs, and milk, when making a Bundt cake. This will ensure that the ingredients mix together evenly and result in a tender cake with a good crumb.
Mix the batter carefully: Overmixing the batter can result in a tough cake. Mix the ingredients just until they are combined, and be gentle when folding in any add-ins, such as blueberries or poppy seeds.
Bake the cake until done: The baking time can vary depending on the recipe, your oven and the size of the pan. Test the cake for doneness by inserting a toothpick into the center of the cake. If it comes out clean, the cake is done. If not, continue baking for a few more minutes and check again.
Let the cake cool in the pan: After removing the cake from the oven about 10 minutes. Turn the pan upside down on a cooling rack and let the cake cool to room temperature.
A properly baked bundt cake will usually fall out of the pan with no sticking.
Decorating the Cake ideas
You do need to get the glaze consistency correct. It is a simple recipe, but you must adjust your glaze thickness so it pours well but does not soak into the cake. You want it evenly poured in one pass to make the beautiful outcome you see pictured here.
Pouring on the Glaze
Start on the ridge top and slowly pour in a circle until the circle is completed. We did two circles.
You need to pour the glaze all at once. If you let it harden and then pour on more, you will have unsightly runs in the glaze.
If you don't want to make the glaze there are other options for decorations. Once the cake has cooled, you can dust it with powdered sugar, or top it with fresh fruit or whipped cream.
This cake is beautiful served bare or decorated. It will be a beautiful and delicious bundt cake that will impress your guests and present a wonderful sweet treat.
Trouble shooting: Why Are Bundt Cakes So Dry?
Bundt cakes are not inherently dry. If you are making bundt cakes that turn out dry, here are some possible reasons why your bundt cake may have turned out dry:
Over baking: If you bake a bundt cake for too long, it can dry out. Bundt cakes can be tricky to bake because they are thicker than traditional layer cakes and may take longer to bake. Be sure to check the cake frequently and test it for doneness with a toothpick or cake tester.
Using too much flour: Using too much flour in a cake recipe can make it dry and dense. Be sure to measure your flour accurately, and consider sifting it to ensure it is light and airy.
Not enough moisture: If a cake recipe does not contain enough liquid, it can turn out dry. Be sure to follow the recipe carefully and measure your ingredients accurately.
Using low-fat ingredients: If you substitute low-fat ingredients in a cake recipe, it can affect the texture and moisture of the cake. For example, using low-fat milk or yogurt instead of full-fat versions can make the cake drier.
Storing the cake improperly: After baking, be sure to store the cake in an airtight container at room temperature. If the cake is left uncovered or stored in the refrigerator, it can dry out.
To prevent a dry bundt cake, follow the recipe carefully, measure your ingredients accurately, and don't overbake the cake. You can also try adding extra moisture to the recipe, such as using sour cream or adding a simple syrup to the cake after it is baked.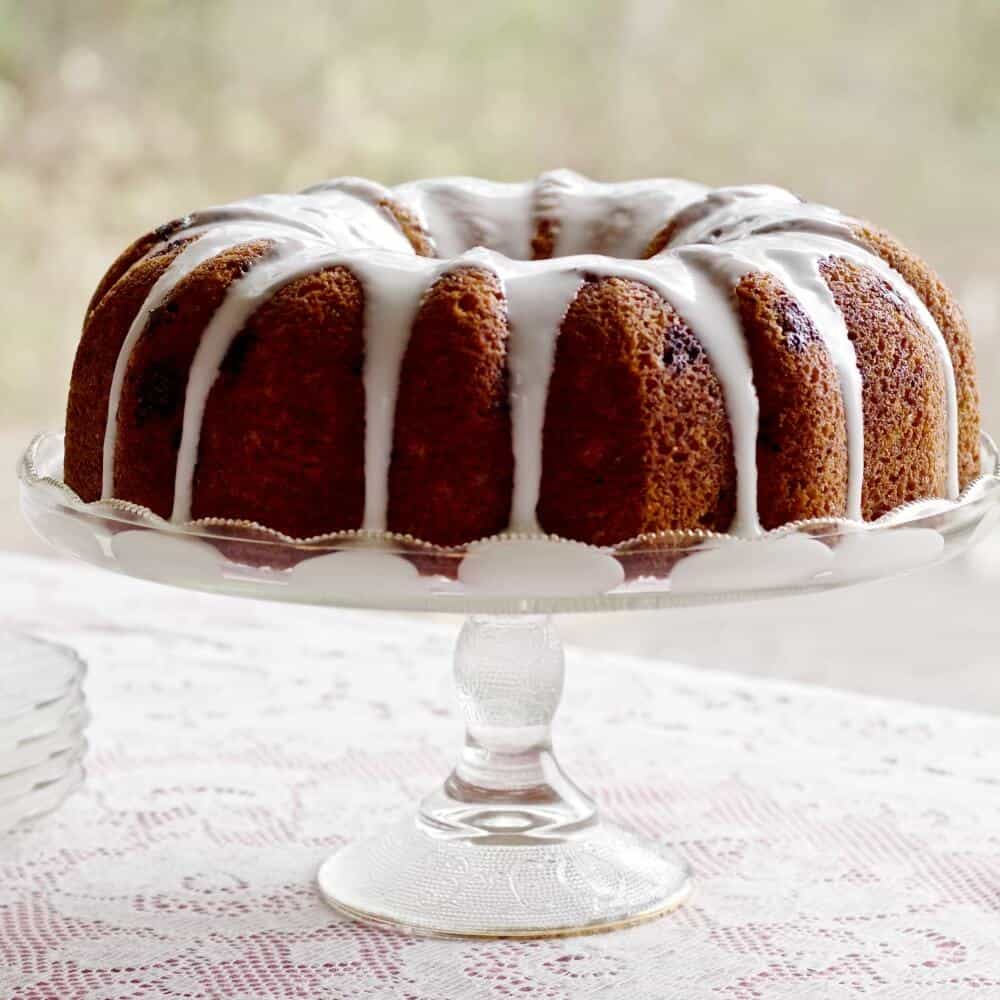 What is the difference between a bundt cake and a regular cake?
The main difference between a bundt cake and a regular cake is the shape of the pan they are baked in. A bundt cake is baked in a bundt pan, which is a round pan with a hollow center and fluted sides. A regular cake can be baked in a variety of pans, including round, square, or rectangular pans.
The shape of the bundt pan can affect the texture and density of the cake. Because bundt pans are typically deeper than regular cake pans, the cake may take longer to bake and may have a denser texture. The hollow center of the bundt pan allows heat to circulate more evenly around the cake, resulting in a more even bake.
While there may be some differences in texture and flavor between bundt cakes and regular cakes, the main distinction between the two is the shape of the pan they are baked in.
Your Printable Recipe Card:
Yield:

20 slices
Blueberry Lemon Chia Seed Bundt Cake
Total Time:
1 hour
5 minutes
Blueberry Lemon Chia Seed Bundt Cake is a very tasty combination of blueberries and fresh lemons. Lemons in the cake and the glaze compliment the sweet pops of blueberries
Ingredients
3 Cups all-purpose flour
1 tablespoon baking powder
1 tablespoon poppy seeds (optional)
1/2 teaspoon baking soda
1-3/4 cups granulated sugar
3/4 cup coconut oil, softened
4 large eggs
1-1/2 cups fresh (or frozen) blueberries
3/4 cup buttermilk
1/3 cup fresh lemon juice (about 2 lemons)
1 teaspoon vanilla extract
1 teaspoon almond extract
Powdered Sugar Glaze:
1-1/2 cup powdered sugar
1 tablespoon buttermilk
1 tablespoon fresh lemon juice
Instructions
Preheat the oven to 350°.
Grease a 12-cup Bundt pan with coconut oil
Combine organic granulated sugar and coconut oil in a large bowl.
Beat with a mixer at medium speed until smooth and airy.
Add eggs, one at a time, beating well after each addition.
lightly spoon flour (do NOT compress flour!) into dry measuring cups, level with a knife.
Sift together flour and next 3 ingredients, stir with a whisk.
Gently fold blueberries into flour mixture.
Combine 3/4 cup buttermilk, 1/3 cup strained fresh lemon juice, and extracts.
Add flour mixture and buttermilk mixture alternately to sugar mixture, beginning and ending with flour
Blend.
Pour batter into prepared pan.
Bake at 350° for 45 minutes or until a wooden pick inserted in center comes out clean.
Cool pan on a wire rack 10 minutes. Remove cake from pan; cool on rack.
For the Glaze:
To prepare glaze, place powdered sugar in a small bowl; add 1 tablespoon buttermilk and 1 tablespoon juice, stirring with a whisk until combined.
Pour glaze over warm cake; cool completely. Glaze will set and harden after the cake cools.
Notes
This cake stores well at room temperature for several days if covered.
Nutrition Information
Yield
20
Serving Size
1
Amount Per Serving
Calories

271
Total Fat

10g
Saturated Fat

7g
Trans Fat

0g
Unsaturated Fat

2g
Cholesterol

38mg
Sodium

139mg
Carbohydrates

43g
Fiber

1g
Sugar

27g
Protein

4g
Click the pictures below to explore these delicious recipes
Follow Us:
We enjoy meeting you on our social networks. Follow us on Facebook, Pinterest, Instagram . Tag us with your pictures of our recipes and comment on how it went for you. We would love to see what you do with them.
We often like, comment and share your posts of our recipes on our daily Instagram stories.
Ask questions and rate the recipe in the comments section below. Please share what you did with this recipe. We are always looking for more and better ways to make homemade food. Other cooks love your ideas!
Recent Posts: