These Vanilla Cupcakes are fluffy, moist and full of scrumptious flavor. Topped with a homemade vanilla buttercream, they are easy to make and create the perfect shareable, snack sized cakes for any occasion.
Decorate to fit any event theme, or enjoy them as a simple, classic cupcake treat. We also enjoy them topped with fresh berries during the summer. They create a gorgeous centerpiece, make perfect classroom treats to share with schoolmates, or serve at a birthday party.
We are sharing our tips and tricks for achieving the absolute best vanilla cupcakes you can imagine.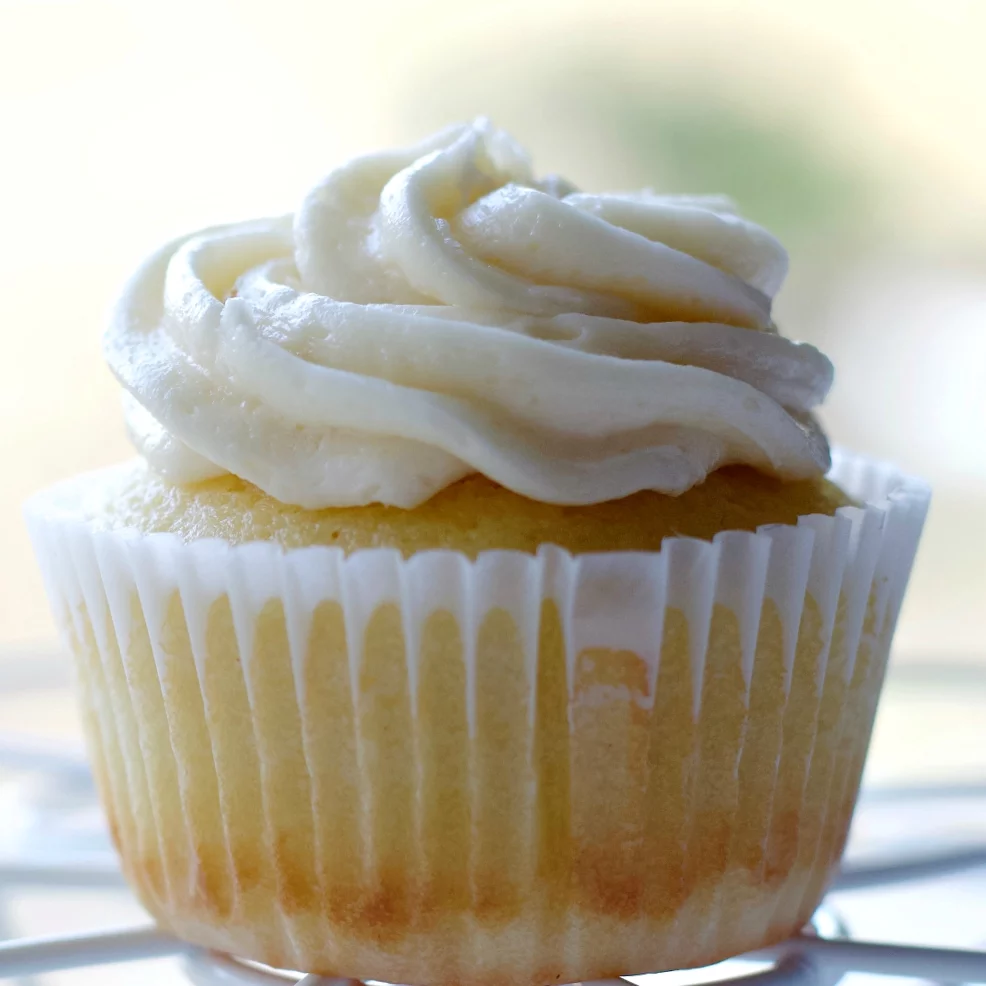 Cupcakes make a party table complete, they are cute, easy to clean up after, and provide the perfect portions for everyone to enjoy with very little mess.
What is the secret to moist cupcakes?
Baking the fluffiest cakes whether full size or in cupcake form is all about the amount of air incorporated into the batter. If you over mix the batter you will collapse the beautiful air bubbles that are created, which will result in a flat, dense cake. To avoid over mixing your batter make sure you keep mixing to an absolute minimum.
Room temperature ingredients like eggs and butter will also help create fluffy and moist cakes. Cold ingredients will not mix and blend as well as warm ingredients. To achieve the creamiest batter texture possible, always work with room temperature ingredients.
Another important tip is baking at the proper temperature, erring on the side of caution and baking at a lower temperature if unsure. Baking at high heat will dry out the cakes and create hard, even burnt edges. Cupcakes need a gentle hand from start to finish, even in regards to the baking temperature.
Making Vanilla Cupcakes
Why do my Cupcakes sink when I take them out of the oven?
Measuring your cupcake batter is an important detail to remember. We suggest using an ice cream or cookie scoop to portion out your batter into the cupcake liners. If the cupcake tins are over filled they will rise too much and consequently collapse under the weight once they are removed from the heat.
Fill the cupcake liners to 2/3 full for the best rise and most even bake. Under fill and the cupcakes will likely over bake and become flat and dense. Over fill and there is risk of uneven baking as well as the dreaded collapse when they are taken out of the oven.
How to decorate Vanilla Cupcakes
These vanilla cupcakes were the dessert centerpiece at a dear friend's baby shower. The decor was an adventure theme with iconic whites and blues for a darling baby boy. The cupcakes provided the perfect treat to accentuate the theme, and everyone loved how fluffy and delicious they were.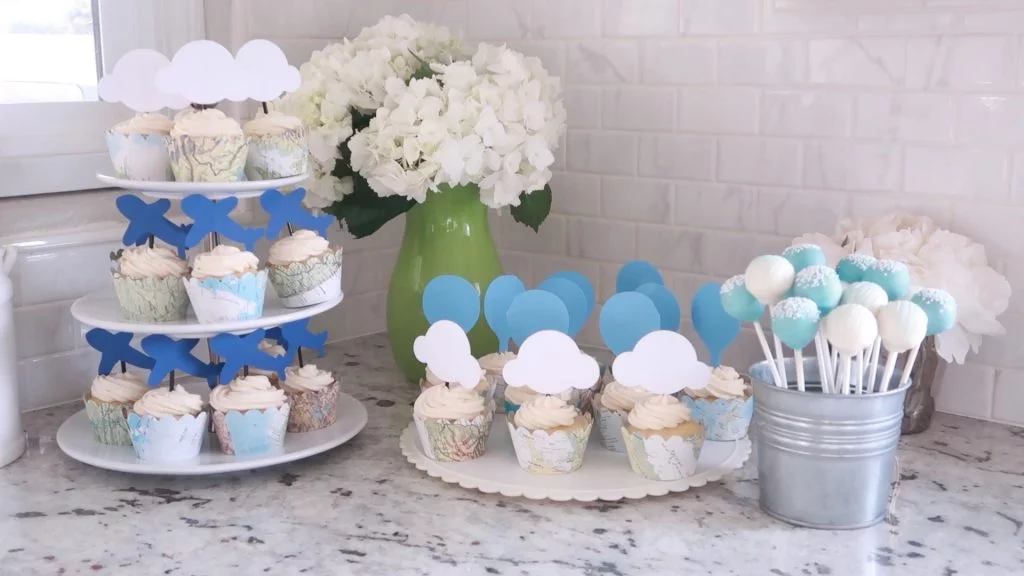 The baby shower decor team spent a craft night together with my silhouette machine. It's such a handy crafting tool. We made OODLES of decorations for the party. Including the toppers you see here for the cupcakes.
These Explorer Map Cupcake Wrappers came from Amazon and finished the dessert them perfectly. We filled the balloons with helium and cotton to make clouds.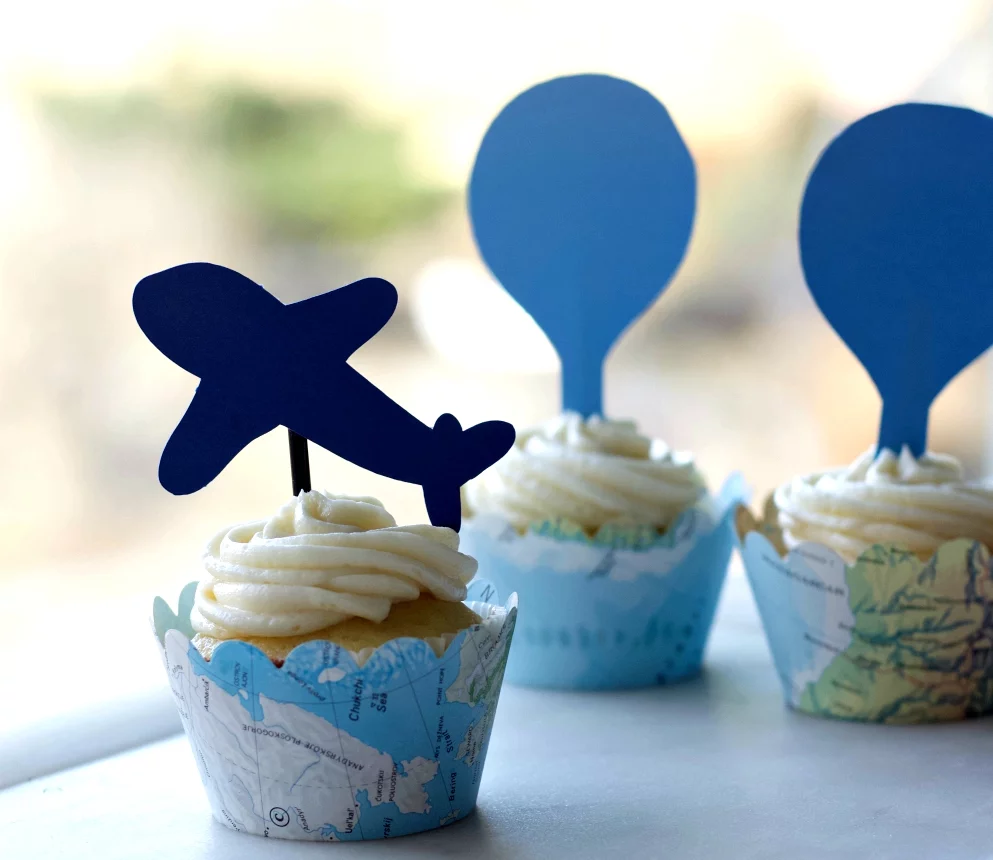 How do I store Cupcakes?
Cupcakes are a delicate baked good that doesn't hold well for more than a day or two. Store any unfrosted cupcakes in an airtight bag or container in a cool, dry place until you are ready to frost and serve them. Store any decorated cupcakes individually wrapped in an airtight bag or container.
We do not recommend storing your cupcakes in the fridge. Storing cupcakes in the fridge will dry them out and can even increase the crystallization process of the sugars and flour, making them go stale quicker.
Looking for more Cupcake recipes? Check out Homemade Food Junkie Cupcake Corner. You're sure to find the perfect Cupcake recipe for you or your event.
Homemade Vanilla Cupcakes with Buttercream Frosting
Use real vanilla extract rather than imitation flavoring for best results.
Room temperature ingredients blend together best. Set out your eggs, unsalted butter and other dairy ingredients an hour or so before you make any cakes or cupcakes.
Do not over-mix the cupcake batter. Cake batter is very delicate and needs to be mixed on low speed just until the ingredients are combined.
Fill your cupcake liners evenly and only half to 2/3 Full.
Do not open the oven door early to check on the cupcakes. This can cause your cupcakes to fall and not rise properly.
The key to a great cupcake is air and lightness in the batter.
Cover them as soon as they are cooled to the touch. This keeps them soft and moist.
Frost the day you plan to eat them for best results. This will leave you with soft and fresh buttercream
This Recipe makes 12 cupcakes full sized cupcakes or 24 mini cupcakes. It easily doubles for a large crowd event.
Your Printable Recipe Card: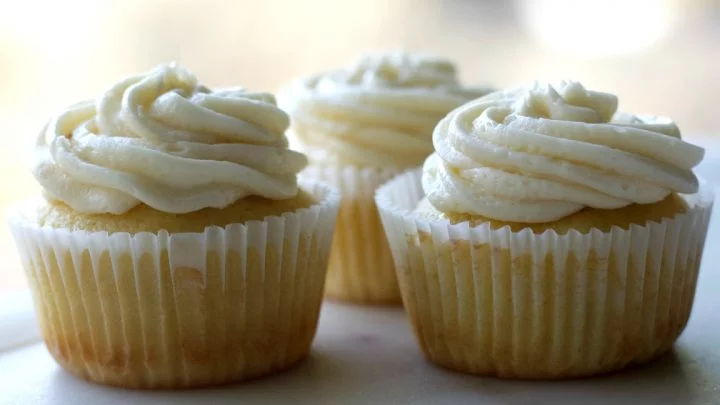 Yield:

12 frosted cupcakes
Super Moist Vanilla Cupcakes
Vanilla cupcakes are universally popular at parties. Cupcakes bring a party table to life when appropriately decorated and coordinated to your party theme. This cupcake recipe holds well and remains moist. Perfect party choice!
Ingredients
Cupcakes:
1-1/3 cup all-purpose flour
1-1/4 teaspoon baking powder
1/2 tsp. salt
1/2 Cup unsalted butter,-softened
1 Cup granulated sugar
2 large eggs
2 tsp. vanilla extract
1/2 Cup full fat sour cream
Buttercream Frosting:
1 Cup unsalted butter- softened
4 Cups confectioners sugar
1 Tablespoon vanilla extract
4-5 tbsp milk
Instructions
To make the vanilla cupcakes:
Preheat the oven to 350 F
Sift together flour, baking powder, and salt.
Beat the butter and sugar until thoroughly creamed together, add in eggs one at a time. Add in the vanilla and sour cream. (do not over-mix the batter)
Start adding in the dry ingredients slowly, beating between additions (I like to add them in thirds)
Use an ice cream scoop or a small spoon to fill a cupcake lined tin. These liners will need to be filled a little over halfway. If you fill them all the way to the top, your cupcakes will rise way over.
Bake for 18-22 minutes, watch for them to start turning a light golden brown, use a toothpick to check for doneness.
Cool completely on a wire rack before frosting and decorating.
Frosting:
Beat butter (softened to room temperature) until it is pale in color (at least 3-5 minutes)
Add in powdered sugar in additions, until mixed completely with butter
Next, add the vanilla extract and the milk (the milk you will need to add accordingly, start with 4 tbsp and if its still too thick, add another tbsp)
Notes
Store prepared cupcakes in an airtight container at room temperature for up to 2-3 days or in the refrigerator for up to five days.
Recommended Products
As an Amazon Associate and member of other affiliate programs, I earn from qualifying purchases.
Nutrition Information
Yield
12
Serving Size
1
Amount Per Serving
Calories

481
Total Fat

27g
Saturated Fat

17g
Trans Fat

0g
Unsaturated Fat

9g
Cholesterol

102mg
Sodium

168mg
Carbohydrates

57g
Fiber

0g
Sugar

46g
Protein

3g
Follow Us:
We enjoy meeting you on our social networks. Follow us on Facebook, Pinterest, Instagram . Tag us with your pictures of our recipes and comment on how it went for you. We would love to see what you do with them.
We often like, comment and share your posts of our recipes on our daily Instagram stories.
Ask questions and rate the recipe in the comments section below. Please share what you did with this recipe. We are always looking for more and better ways to make homemade food. Other cooks love your ideas!
Recent Posts:
Original vanilla cupcake Recipe Found at: live well bake often