Lemon Crinkle Cookies are a fun spring cookie to make with the kids or bring to a party. Made from scratch with a delicious vanilla cookies dough infused with fresh lemon juice and zest, these are fluffy and light with a bright, sweet lemon flavor.
This recipe makes the best lemon crinkle cookies, and come together quickly and easily. They are perfect to serve at birthdays, picnics, garden parties, and baby showers. The soft, fluffy texture is not lacking despite the fact that these not cake mix lemon crinkle cookies.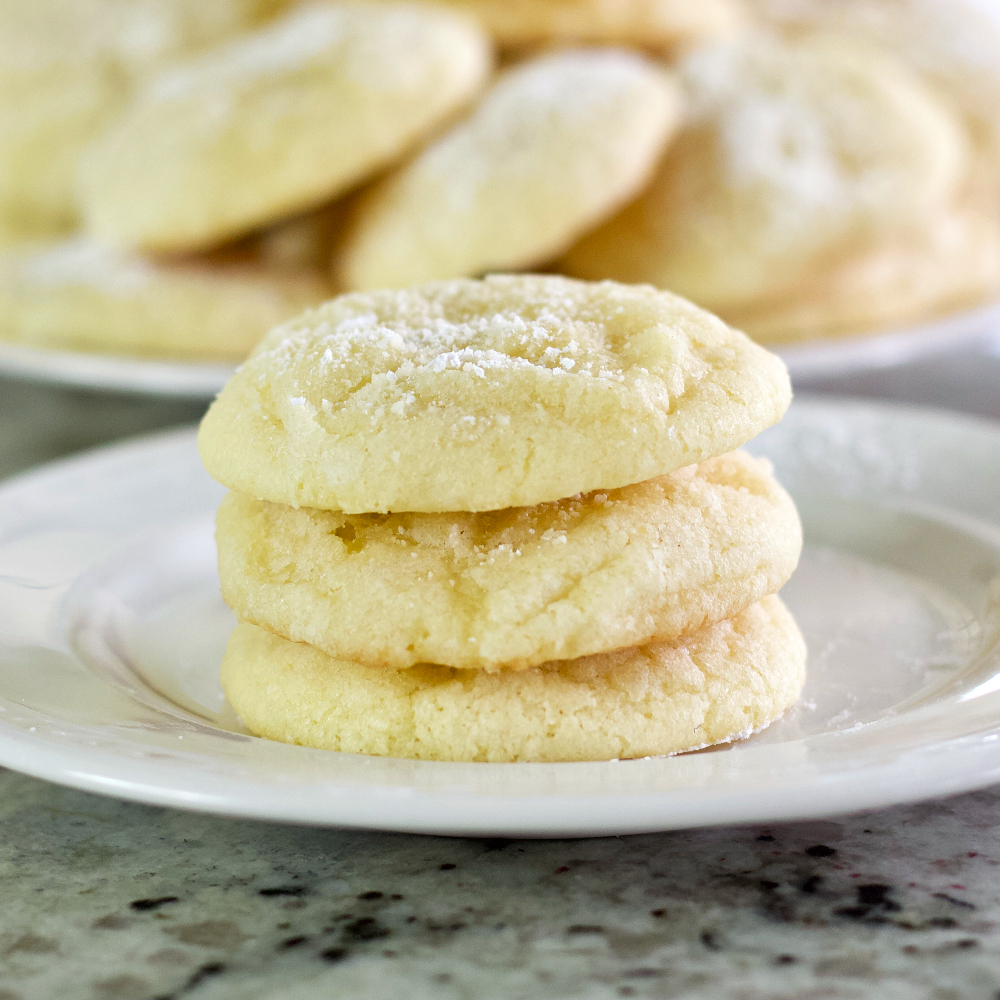 Making your own homemade cookies is a great way to cut down on low quality ingredients, elevate the flavor of your cookies, and create something exactly how you want it. Lemon crinkle cake mix cookies are a popular option for these treats, but we wanted to make them ourselves, completely from scratch.
We couldn't be happier with how they turned out. The flavor is divine, the texture is soft and pillowy, and the ingredients are familiar and natural for optimal quality and satisfaction.
Crinkle cookies have been around since the 1950's with the original cookie being made from chocolate. Helen Fredell from St. Paul Minnesota is credited for the recipe, which appeared in Betty Crocker's cookbook 'Cookie Carnival'
In the cookbook Betty tells of a time that she visited Helen and was served the famous chocolate crinkle cookies. She begged Fredell for the recipe and that was that. The chocolate crinkle cookie has been loved for generations which many other flavors joining in.
These delicious cookies are soft, pillowy treats that are perfect during spring and summer when lemons are fresh and abundant. Lemon crinkle cookies are soft baked for a fluffy texture, and dusted in powdered sugar for a sweet finish and aesthetic flair that accentuates the crinkled surface that bakes into them.
The cookies are made of a simple vanilla cookie dough that is infused with fresh lemon juice and lemon zest for a bright, citrusy dessert that everyone loves.
Crinkle cookies are known by their name, and the recognizable texture is what makes them what they are. If you are having trouble getting your cookies to have the iconic crinkled, or cracked, surface you may want to chill the dough in the fridge.
This is a delicate cookie dough, similar to sugar cookies, and because of that it can fall and not achieve the consistency that crinkle cookies are known for. You will notice in our recipe that we did not chill the dough, though it is a popular standard in most crinkle cookie recipes.
We did not find it necessary for the desired outcome that we were going for; but if you want a more pronounced crinkle we recommend chilling the dough for about 3 hours before working them into balls.
Crinkle cookies can dry out and bake dense, flat, and hard just like any other cookie. Here are our suggestions for what to do if your lemon crinkle cookies are coming out of the oven dry and firm.
Firstly, make sure you are following the recipe and measurements exactly as called for. An excess amount of dry ingredients like flour will definitely make your crinkle cookies heavy and dry because of the un equal ratio of liquids to flour.
Over mixing is another common error in the baking world, and will result in flat, dense baked goods. When the dough is mixed for too long the ingredients will begin to break down, and the air will be beaten out of the dough. Only mix until everything is just combined.
Baking too hot, or too long will dry out your cookies because of the exposure to high heat, as well as the extended time. When baking cookies make sure you bake at the proper temperature, and for the shortest time called for to start with. Check the cookies when they are done and continue baking if needed.
Storing your cookies properly will extended the freshness, flavor, and moisture of the cookies. Place the fully cooled cookies into an airtight container and keep in a dark, cool place for up to 3 days.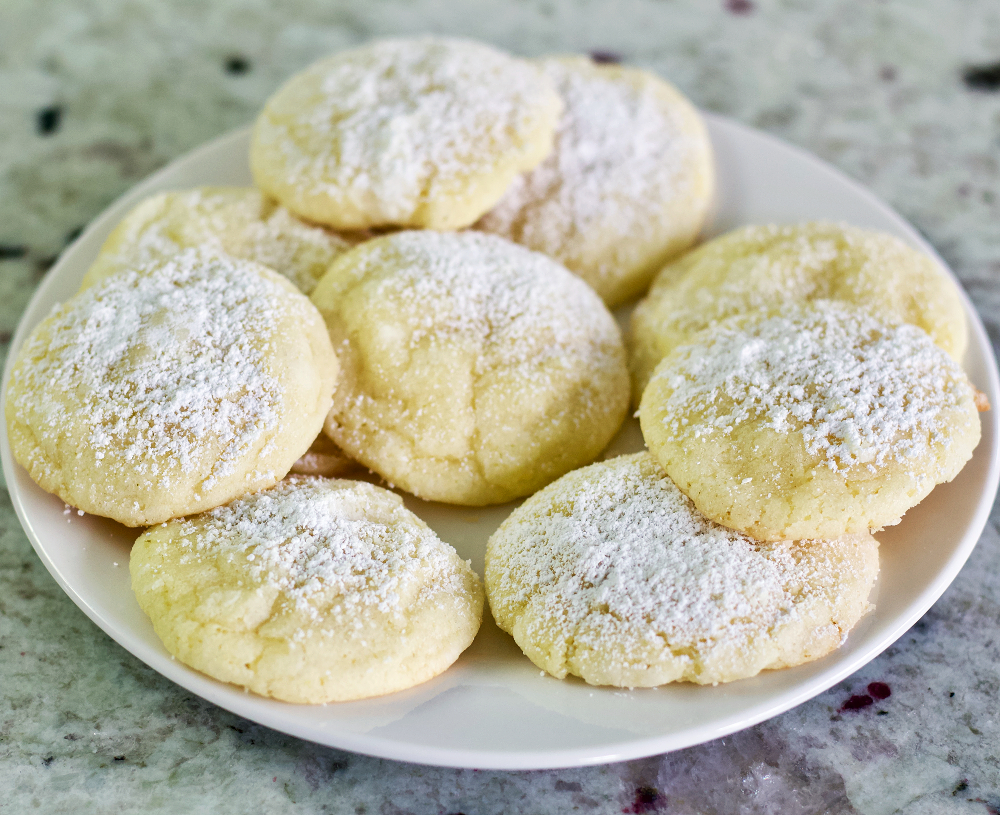 Yes, your crinkle cookie dough can be made ahead of time and kept in the fridge until you are ready to use if necessary. The chill time will be beneficial in achieving a more pronounced crinkle through the surface of the cookie.
If you are serving these cookies at an event, they can easily be made a day ahead and stored in an airtight container until you are ready to serve them. When they are stored properly, these cookies will hold their moisture and stay bright in flavor.
Lemon extract, though not ideal for this recipe, can be used if necessary. These delicious lemon cookies are made with fresh lemon juice and extract for the very best flavor. Lemon extract can be used but the flavor will be different, and the recipe would need to be adjusted slightly.
Can I substitute the powdered sugar?
If you are looking for a cookie with far less sugar, but the same texture and appearance, try substituting the icing sugar with dry powdered milk. This will give the crinkle look to the cookies without the addition of sweetness.
Mix 1 cup dry powdered milk with 1 cup of cornstarch and roll the cookie dough balls in this mixture. You can add a powdered sweetener if desired, but this is a good alternative for those looking to lessen the amount of sugar in the recipe.
The beauty of lemon cookies is in their simplicity. If you are just learning how to make lemon crinkle cookies, let us assure you they are simple and sweet. But, if you are looking to add some pizzaz to this recipe, here are a few ideas to try.
Add a dash of almond extract to deepen the flavor of the dough
Make them a batch of Meyer lemon cardamom crinkle cookies by using the aromatic spice
Serve alongside fresh berries
Consider adding a dash of lavender extract for a pop of floral
Enjoy with floral teas
What makes the crinkle texture?
The powdered sugar coating will help to accentuate that iconic crinkle on these lemon cookies. When the chilled dough bakes and expands, the sugar coating is pushed aside as the interior of the cookie breaks into view.
Rolling the individual cookie balls in icing sugar is an important step for taking these from simple lemon cookies, and making them award winning lemon crinkle cookies with divine flavor and a beautiful texture with that eye catching crinkle.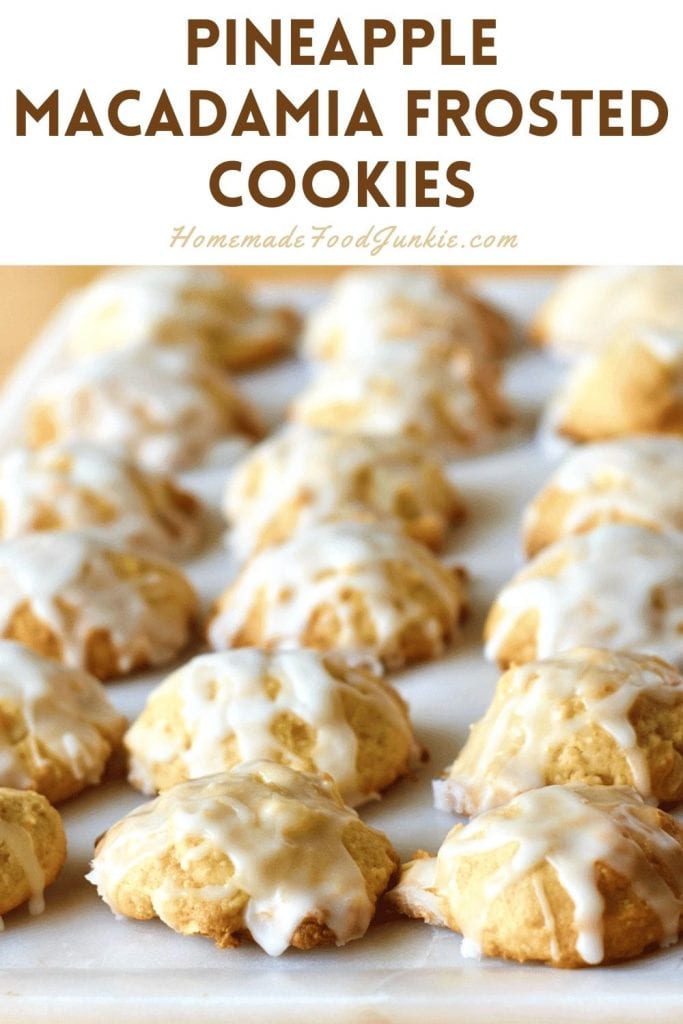 Lemon Crinkle Cookie Recipe
This is a simple recipe for chewy lemon crinkle cookies you are sure to love. Full of fresh lemon zing with a sweet powdered sugar top.
Below is our printable recipe card complete with tips to get that crinkle just right and a recipe demonstration video.
Your Printable Recipe Card
Yield:

30 cookies
Lemon Crinkle Cookies
Additional Time:
10 minutes
This is a simple recipe for lemon crinkle cookies you are sure to love. Full of fresh lemon zing with a sweet powdered sugar top. So delish!
Ingredients
1/2 Cup softened butter
1 Cup granulated sugar
1 Tablespoon lemon juice
1 tsp. lemon zest
1 egg
1 tsp. vanilla extract
1 1/2 Cups Flour
1/4 tsp. salt
1/4 tsp. baking powder
1/4 tsp. baking soda
1/2 Cup powdered sugar
Instructions
Prep:
Preheat oven to 350 degrees F.
Line baking sheet with parchment or silicone mat. If you have neither of these oil the pan.
Make the Lemon Cookie Dough:
Cream the butter and sugar In a stand mixer.
Add the lemon juice, zest, egg and vanilla.
Mix together until combined.
Add in the flour, salt, baking powder, and baking soda into the mixer.
Mix on low until cookie dough forms.
Spread powdered sugar on a small flat plate.
Pinch off a piece of dough
Roll into a one inch ball.
roll the ball of dough through the powdered sugar until evenly coated.
Place 2 inches apart on prepared cookie sheet.
Repeat until baking sheet has 15 cookies in four rows of three.

Finish:
Bake at 350 degrees F for 9 to 10 minutes.
When the tops barely start to brown remove from oven.
Let the cookies cool on the baking sheet for a few minutes until they start to crinkle.
Once crinkled Sift powdered sugar over tops.
Transfer to cooling rack.
Cookie bottom close up. .
Notes
Crinkling is a result of several factors. These are not cake mix cookies so the result is not a puffy cracked cookie. But you can encourage better crinkling with these tips.

Tips for Crinkling:
Never omit either the baking soda or baking powder in this recipe. They must both act together to give you crinkling.
Roll the cookies in granulated sugar prior to rolling them in the powdered sugar.
Keep dough at Room Temperature.
If you have a hot oven reduce the temperature to 325 Degrees F.
Bake one baking sheet at a time in the middle of the oven.
Nutrition Information
Yield
30
Serving Size
1
Amount Per Serving
Calories

86
Total Fat

3g
Saturated Fat

2g
Trans Fat

0g
Unsaturated Fat

1g
Cholesterol

14mg
Sodium

61mg
Carbohydrates

13g
Fiber

0g
Sugar

9g
Protein

1g
Follow Us:
We enjoy meeting you on our social networks. Follow us on Facebook, Pinterest, Instagram . Tag us with your pictures of our recipes and comment on how it went for you. We would love to see what you do with them.
We often like, comment and share your posts of our recipes on our daily Instagram stories.
Ask questions and rate the recipe in the comments section below. Please share what you did with this recipe. We are always looking for more and better ways to make homemade food. Other cooks love your ideas!
Recent Posts: