Malibu Coconut Rum drinks are wildly popular. This rum liqueur is perfect for Sweet fruity drinks, Tiki drinks, cruise line cocktails and light party drinks.
For drinking at home or entertaining it's fun to have a few knockout cocktail recipes in your back pocket that don't break the bank.
Here are seven of our favorite crave worthy Malibu Coconut rum drinks. You'll find a new drink we created along with a few classics and current populars.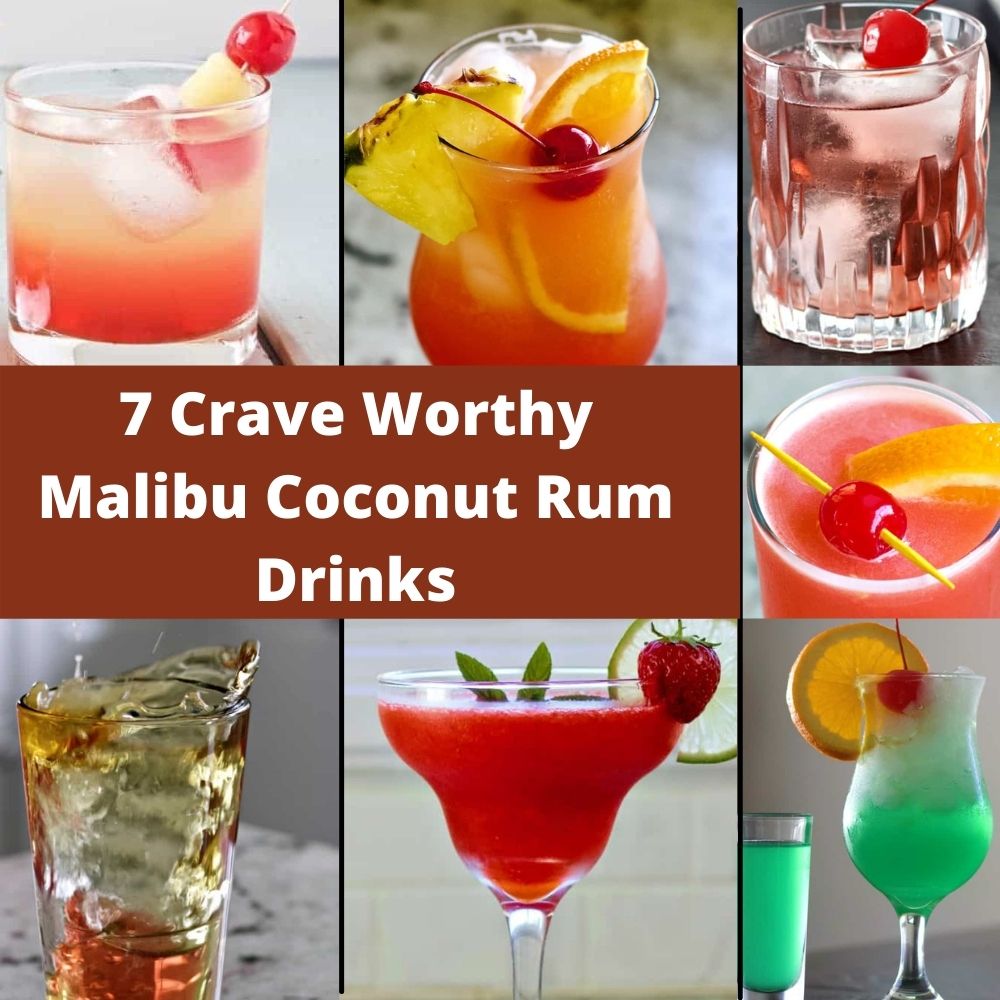 If you need ideas on how to use up that bottle of Malibu rum…Hint: That one you just found sitting at the back of your wet bar… Read on. 🙂
Malibu Coconut Rum Fun Facts:
Malibu rum is a rum flavored liqueur made with Caribbean rum.
Alcohol content is 21% or 42 proof.
The shelf life of Malibu rum is two years. IF you keep it closed tightly. (we had a rather unfortunate experience with fruit flies that entered through a pour spout- that was disgusting and we had to throw it out.)
The original Malibu rum is coconut flavored. And this is the Malibu rum we are using for this collection. Many other flavors are out there so stay tuned for more inventive drinks.

Malibu Coconut Rum Drinks Collection:
We have included some tried and true crowd pleasers for parties. Things are fun and simple with a bottle Malibu.
Be at the top of your entertainment game with these Dazzling drinks. Watch our video playlist to see us make each of these rum drinks.
7 Crave Worthy Malibu Coconut Rum Drinks
Malibu Coconut Rum Drinks have wide appeal. Grab a bottle of Malibu Coconut rum and make these. We put together seven AMAZING coconut rum drinks you will love and so will your friends.
Follow us on Instagram and tag us with your pictures or our recipes you make at home. We love to see what you do with them!
More Rum Drinks You May Enjoy:
Looking for more rum cocktail Recipes to enjoy your favorite rums? Try these!
Take a look at our entire cocktail section for even more ideas on alcoholic drinks