Enjoy the Bacardi cocktail year round. It's a beautifully romantic drink, a fun summertime refreshment or a cheerful Christmas party offering. Make this classic bacardi drink with just three ingredients. It's quick and easy.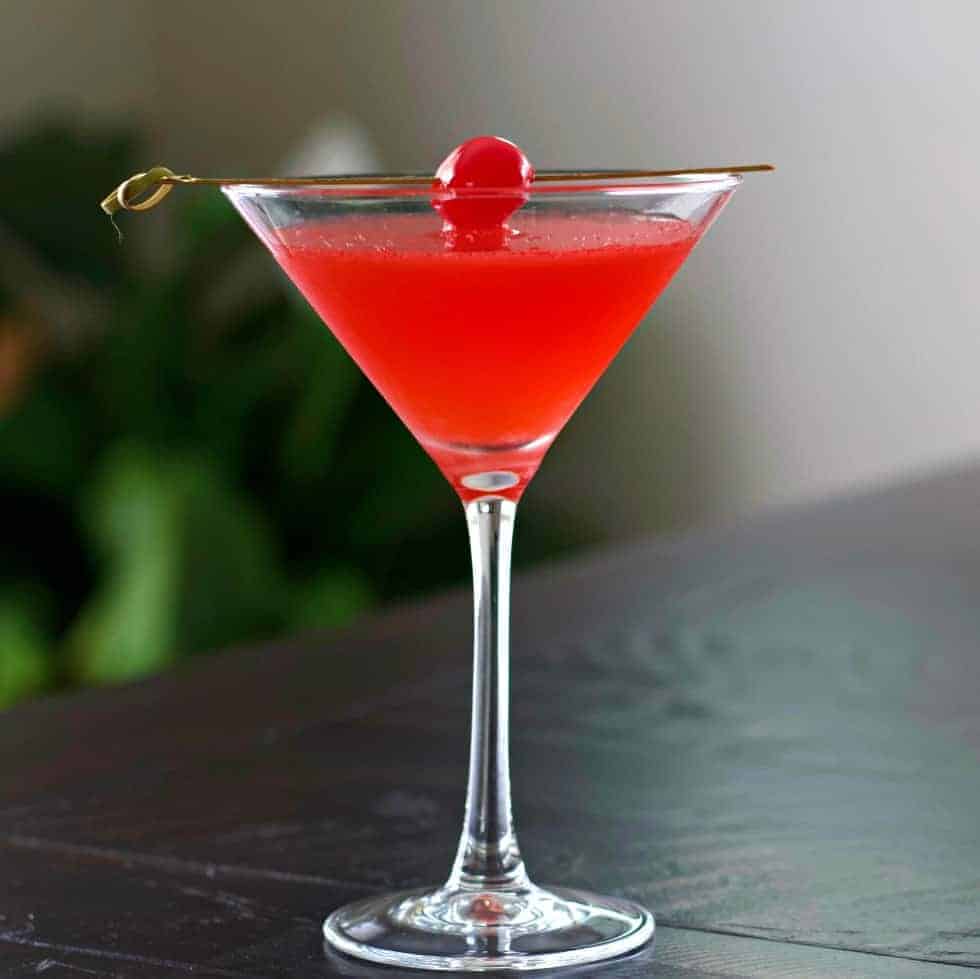 You and your guests will love this delicious, elegant and very pretty red cocktail. You can put one together in almost no time and it's inexpensive to make
This yummy sweet rum drink makes a good choice for many occasions and events.
My husband and I both LOVE how this cocktail tastes. It's a perfect choice for parties and events since it is universally appealing. It's also a perfect 'at home' date night drink for two.
That stoplight red makes quite the statement on a party table. And it takes only a few minutes to make.
This alcoholic drink has the prettiest presentation. That gorgeous grenadine red color is enhanced with the simple garnish of a Maraschino cherry on top. That's all it needs.
More Rum Drinks:
You can make rum drinks to enjoy all through the year. These drinks use several different types of rum. Spiced, dark and malibu.
Ingredients for this Rum Cocktail:
This Bacardi mixed drink is a sweet cocktail with a nice balance of rum and grenadine simple syrup. The lime adds the perfect counterpoint flavor.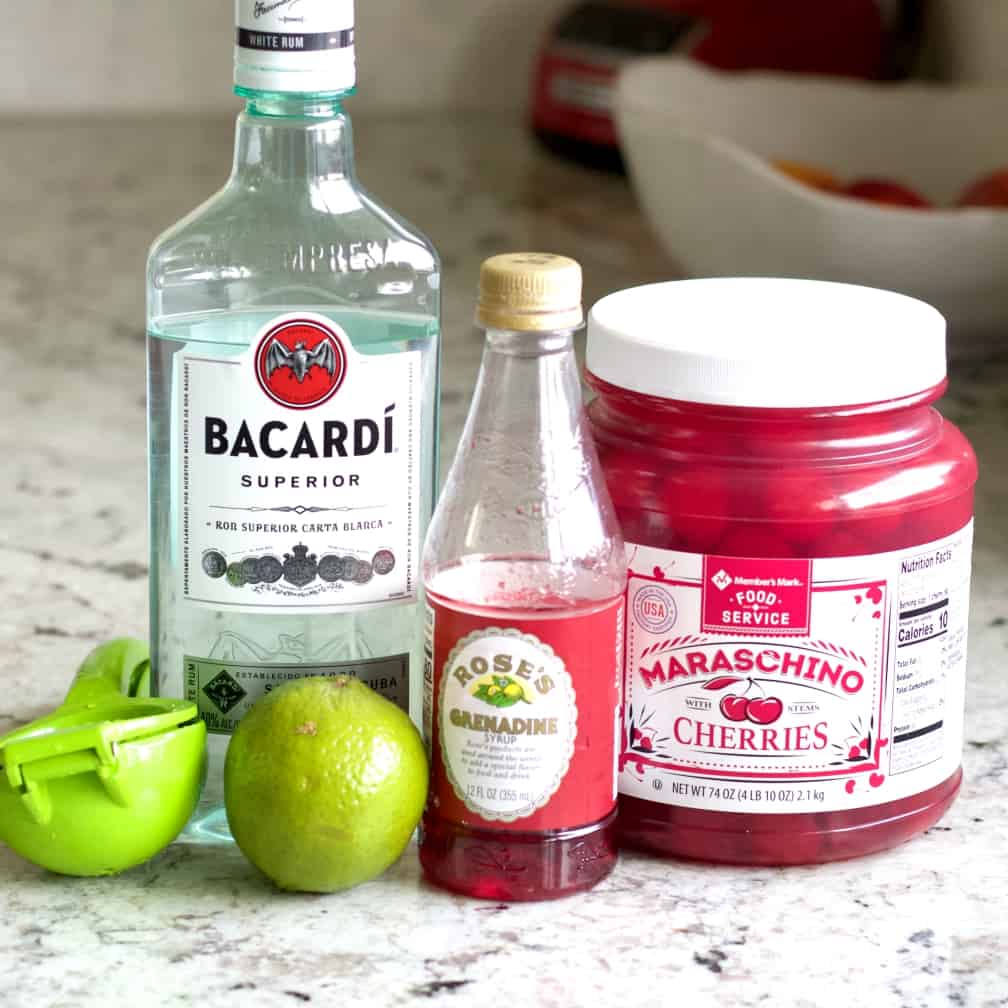 The Ingredients:
We are using Bacardi white rum. Bacardi light is also fine in this recipe.
A Fresh Lime. Bottled lime juice can work but fresh is best.
Grenadine simple syrup
Maraschino cherry on a pick for garnish.
What is Bacardi?
Bacardi is a brand of rum. Read the history of the oldest privately help distillery in this article. This company has a rich (and interesting) history spanning over 150 years.
The Bacardi company has won 550 awards in the course of that time making it the most awarded rum in the world .
Thier white rum is well known and appreciated for the following characteristic flavor profile.
The white rum is inexpensive as alcoholic beverages go. For the purchase price it makes a nice mix in for this sweet rum drink.
You can also make this Bacardi mixed drink with bacardi gold rum.
The Gold flavors include: Vanilla, buttery caramel, toasted almond and sweet banana notes balanced by the warm zest of orange peel and a light, oaky finish. So it will obviously give you a different experience. But also very tasty.
Is Bacardi Gluten Free? :
Almost all rums are naturally gluten free and safe for those with gluten sensitivity. EXCEPT some spiced rums and….
Bacardi Silver contains malt and is not gluten-free. It was discontinued several years ago but you might still see some Bacardi Silver out there.
Bacardi Rum Cocktail Recipe:
Here is a quick visual walkthrough of the process of making this Bacardi rum drink. Please also watch our video for the complete recipe demonstration.
This is a simple shaker drink. Just add the ingredients, shake and pour it into your Martini glass for the classic look it deserves.
The Cocktail Glass:
A classic martini glass adds elegance, sophistication and class to this drink. The martini glass is called for and definitely adds to the drinking experience.
Garnish Ideas:
The single cherry on top is our choice of garnish. But we can offer your a few more if you need them.
Add a sprig of fresh mint to float on top of the glass.
Cut a lime round and set it on the side of the glass.
or make a lime twist for the side of the glass.
Combine the cherry with a twisted lime round and pierce them with a pick. Set them on the glass top or side.
Let us know how you garnish this cocktail. And which bacardi rum did you use? How did this recipe work for you? We'd love to know more about your experience in the comment section below.
Yield:

1 Bacardi Cocktail
Bacardi Cocktail Recipe
Beautifully romantic, summertime refreshment or a cheerful Christmas party drink. Enjoy this Bacardi cocktail year round. It's a classic bacardi drink that is easily made from just three ingredients. And the cherry...
Ingredients
2 oz. Bacardi white, light (or gold) rum
1 oz. Fresh Lime Juice
1/2 oz. grenadine
Maraschino Cherry
Instructions
Add Ice to your cocktail shaker
Pour in the bacardi
Squeeze the lime juice into the shaker
Add the grenadine
Shake until the shaker is very cold (about 30 seconds)
Pour the bacardi rum cocktail into a martini glass.
Garnish with a maraschino cherry on a stick.
Nutrition Information
Yield
1
Serving Size
1
Amount Per Serving
Calories

183
Total Fat

0g
Saturated Fat

0g
Trans Fat

0g
Unsaturated Fat

0g
Cholesterol

0mg
Sodium

5mg
Carbohydrates

14g
Fiber

0g
Sugar

9g
Protein

0g