Make this Low Carb dinner with cabbage and ground beef in your skillet in only 30 minutes. High fiber unstuffed cabbage roll recipe is full of fiber which helps lower the carb load in your diet.
This Keto friendly cabbage and ground beef dinner is a great way to create a healthy and filling meal. This dinner provides a great dose of protein and filling fiber. The low carb cabbage and ground dinner also makes fantastic leftovers and is a great addition a meal prep menu.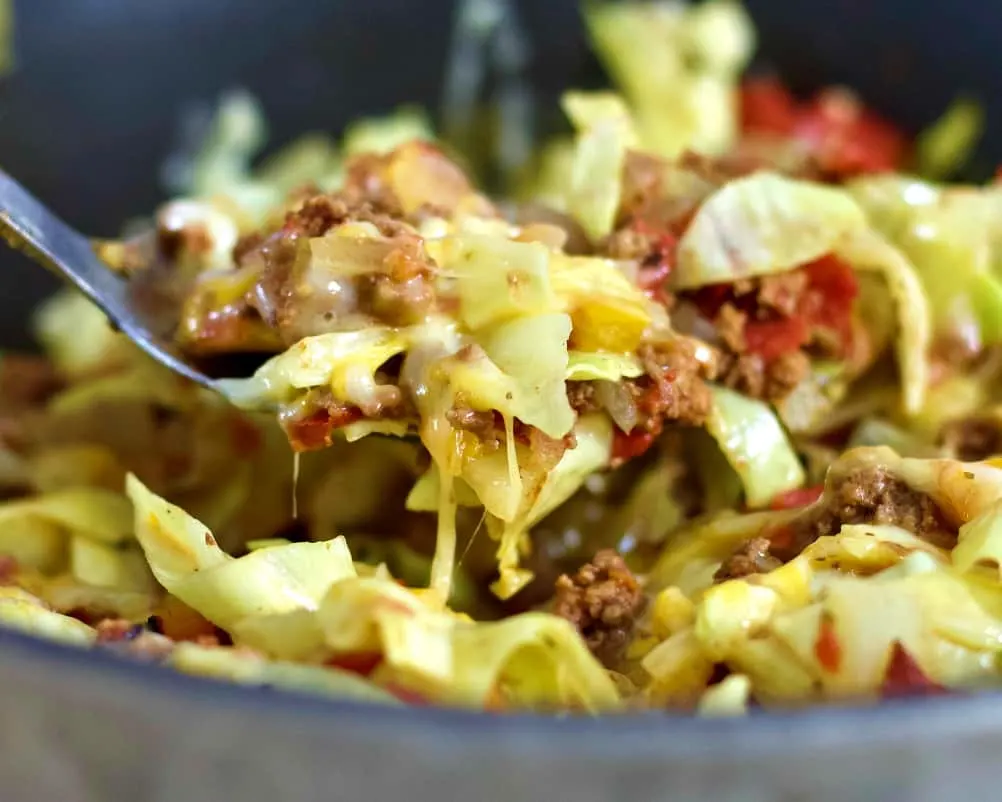 Are you looking for a quick and easy skillet meal? This cheap low carb dinner idea with cabbage and ground beef is a perfect choice.
What type of Ground Beef is Low Carb/Keto?
All beef is considered low carb. Ground Beef does not contain carbohydrates. However, certain ground beef is more beneficial to the keto diet. This has to do with the fat content of the ground beef. We use organic ground beef. That is a very lean hamburger. For keto you may want to choose a higher fat content in your meat. This will increase the fat intake versus carbs which is good for maintaining ketosis.
How long does it take to brown beef?
Browning ground beef properly will take around 7-10 minutes per pound of meat. Properly browned ground beef should not have visible pink on the surface. The meat should be cooked until it is just browned but not overdone. Overcooking ground beef will result in tough and chewy meat. To maintain the perfect texture and juiciness, cook the meat until the pink no longer remains.
How long should cabbage leaves be cooked?
Cabbage should be cooked covered for 10-15 minutes or until the leaves start to wilt and soften. Cabbage cooks best when there is steam to help soften the tough leaves. Cover the pot while cooking cabbage to capture the steam and aid in the cooking process. Remove cabbage when it is soft and can easily be pierced by a fork or knife.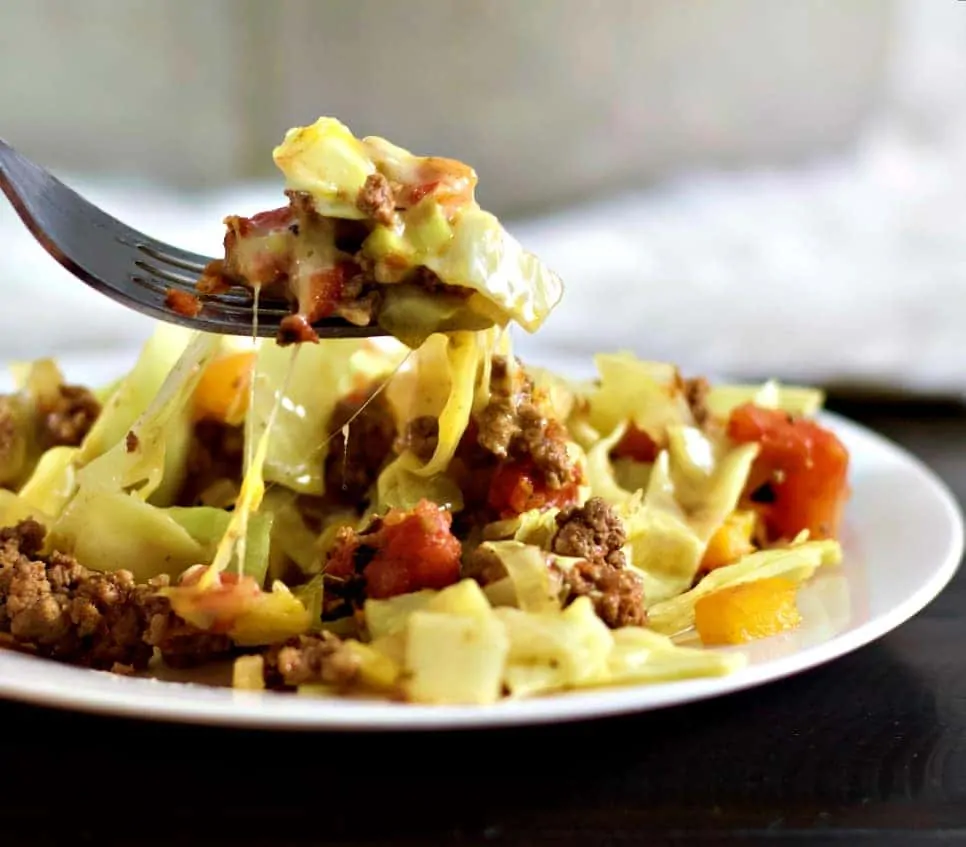 What sides go with unstuffed cabbage dinners?
This delicious meal makes a great main course. We like to pair it with healthy options for a side. Here are a few of our favorite sides for the unstuffed ground beef and cabbage dinner:
Green Salad
Stir Fried Vegetables
Cauliflower Rice
Mashed Cauliflower
Bacon Ranch Brussel Spouts
Roasted Vegetables
Sautéed Mushrooms in Butter
Zucchini Fries
Garlic Butter Green Beans
Low Carb Cornbread
Grilled Eggplant
Low carb Cabbage rolls are delicious. But they do take some time. When you're in a hurry. Whip up this quick dinner instead.
It's important to keep meals nutritious. This Low carb ground beef recipe for dinner helps keep your daily number of carbs in check.
This dinner delivers a LOT of protein and other nutrients to feed your family well.
More Low Carb Dinner ideas:
All of the recipes pictured below are low carb and very quick to make. These are all well tested recipes we love and know you will too.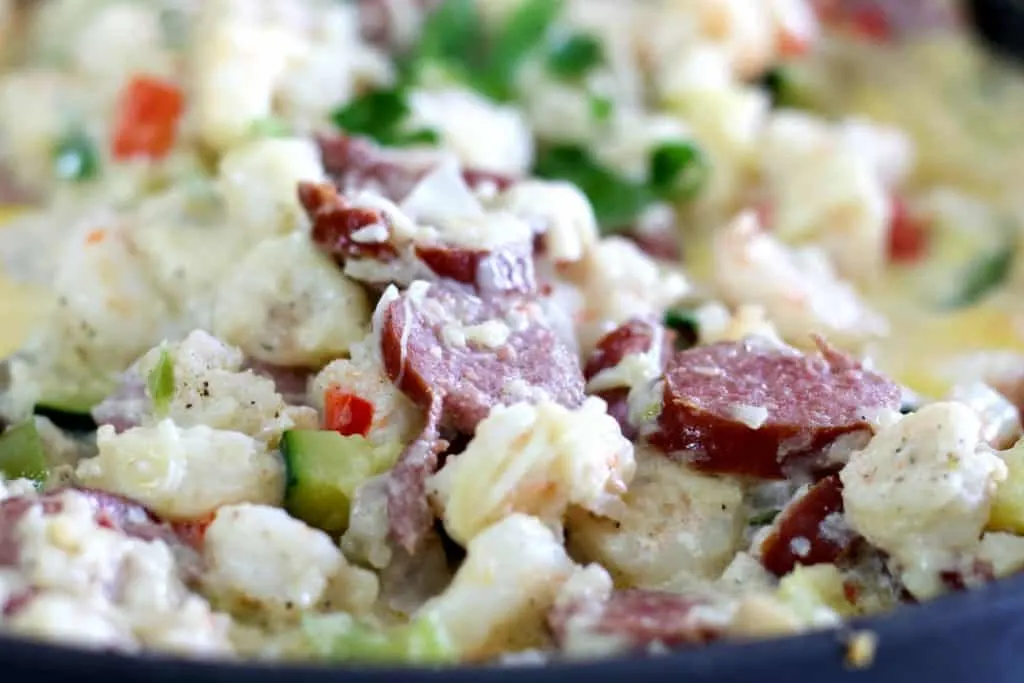 Unstuffed Cabbage Rolls Recipe:
Ingredients:
Here are the ingredients we are using for this delicious low carb recipe. With just a few changes this is a yummy keto dinner.
Hi Fiber Low Carb vegetables:
This gluten free Cabbage stir fry dinner is full of healthy vegetables.
According to this informative Healthline article these vegetables have the following carbs and fiber content.
Cabbage- 5 grams of carbs per cup. 3 grams of fiber. NET 2 carbs.
Bell Peppers: 9 grams of carbs per cup of chopped pepper. 3 grams of fiber per cup. NET 6 carbs
Onions: 12 grams of carbs per 1/2 Cup. 2 grams of fiber. NET 10 carbs
Fire Roasted Canned Tomatoes: 12 grams of carbs. 4 grams of fiber. NET 8 carbs.
Make this an easy KETO Ground Beef Recipe:
If you are committed to the KETO diet for weight loss you will have very stringent low carb requirements. We have suggestions below for ways to lower the carbs to keto approved levels.
Notice the onions are the highest in net carbs by far. And that single ingredient can take this recipe from KETO to low carb. Not a bad thing unless you need to stay in Ketosis.
Suggestions to make this a KETO ground Beef Recipe:
To make this a KETO meal it needs to get under 8 NET carbs. Which means the carbs minus the fiber is under 8.
To reduce the carbs and make this a KETO casserole recipe:
Omit the onions or reduce the amount of them in half.
In place of the onion Substitute celery which only has 1 net carb per cup.
Our keto suggestions make this recipe a cheap KETO dinner recipe with lots of protein and fiber. You are going to enjoy it.
As a KETO casserole made in the skillet or Instant pot this recipe is full of satisfying flavors and fats. And it's easy to change up. If you want to substitute a seasoning or another low net carb vegetable feel free to do so.
If you follow a KETO diet please let us know your suggestions to make this recipe Keto compliant.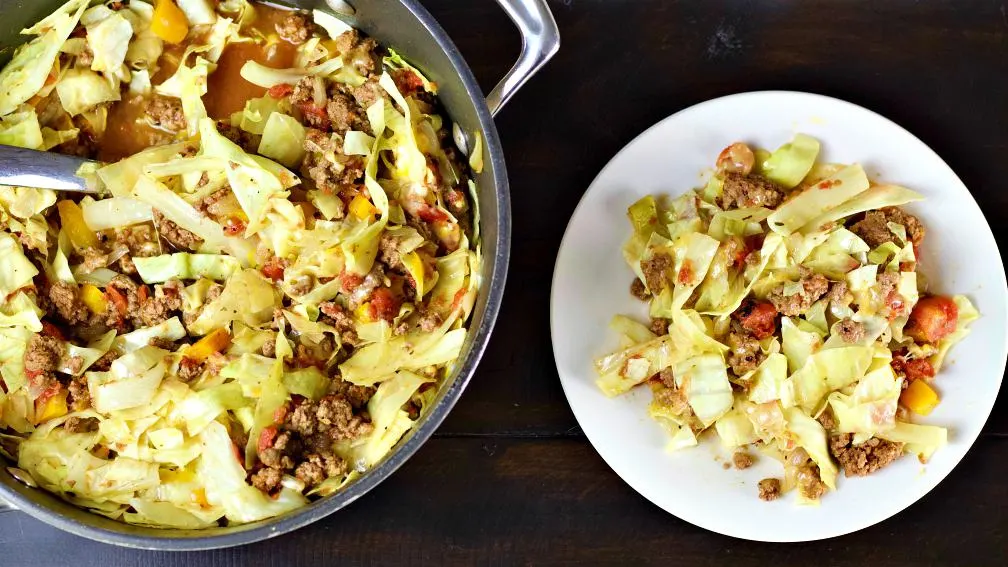 Visual Guide to this meal:
This low carb dinner is very simple. Just chop, brown and cook. Watch our video for a complete recipe demonstration of this skillet recipe.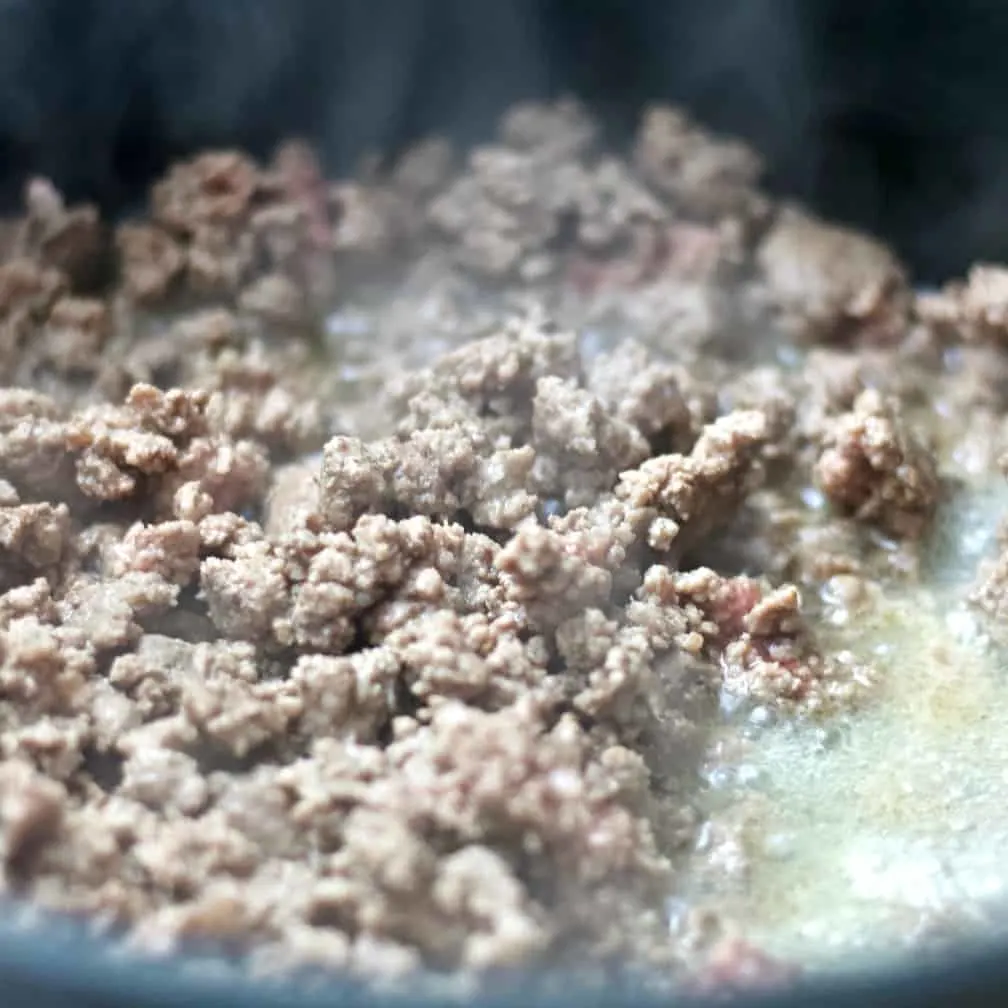 Instant Pot Instructions:
Make this recipe with the sauté function in your instant pot. This recipe never needs to go under pressure.
Follow the recipe prep instructions as directed.
Use the saute function to brown the meat and vegetables.
Cover the pot with the glass lid and cook on sauté until the cabbage is wilted.
Top with cheese and serve when it's melted.
Your Printable Recipe Card: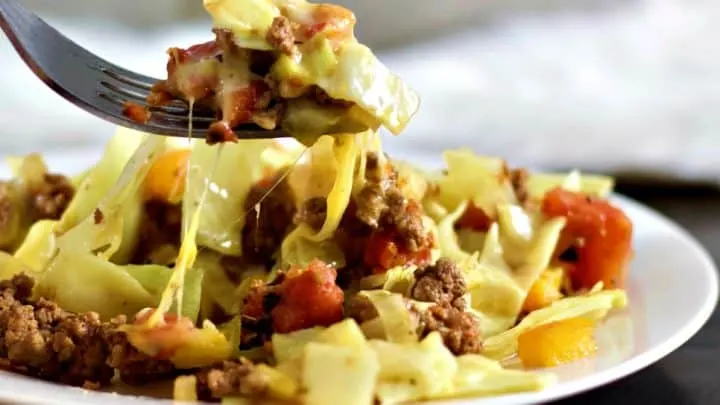 Yield:

6
Unstuffed Cabbage Ground Beef low carb dinner
This cabbage dinner is low carb and high in fiber. Ground beef and cheese add lots of healthy protein. This quick and easy skillet meal is done in about 30 minutes. Your whole family will enjoy this one.
Ingredients
3 Tablespoons Oil
1 lb. lean Ground Beef
1 Bell Pepper
1 onion
1 14 oz. fire roasted diced tomatoes
1/2 tsp. Smoked Paprika
1/2 tsp. Dried Oregano
1/2 tsp. Garlic Powder
1/2 tsp Onion Powder
1/2 tsp. Italian seasonings
1/2 tsp. pepper
1/2 tsp. salt
4 Cups Green Cabbage
2 Cups Shredded Cheddar-Jack Cheese blend
Instructions
Prep the vegetables:
Chop the onions, peppers and put them together in a medium bowl.
Chop the head of cabbage into narrow strips about two or three inches long by 1/2 inch wide. Set aside.

Brown the Hamburger:
Set your skillet to medium heat.
Add the oil.
Add the hamburger and sprinkle it with salt, pepper and other spices.
Break apart the hamburger into small evenly sized pieces.
Cook until browned. Remove from skillet and set aside
Sauté the Vegetables:

Pour the chopped onions and peppers into your skillet and cook a few minutes until tender.
Finish:
Add the browned hamburger back into the skillet.
Add the fire roasted tomatoes and stir together.
Pack the chopped cabbage slices over the hamburger mixture and cover with a lid.
Cook until cabbage is wilted. (about 15 minutes-check and stir occasionally)
Remove cover and add shredded cheeses
Cover and let the cheese melt 5 minutes.
Refresh spices as desired.
Serve from the skillet.


Notes
To make this dinner KETO:

Omit the onion and replace with celery or increase the peppers.
This will bring the NET carbs of this recipe down to KETO level (Under 8 carbs).
Instant Pot Instructions:
Follow the recipe prep instructions as directed.
Use the saute function to brown the meat, spices and vegetables.
Cover the pot with the glass lid and cook on sauté until the cabbage is wilted.
Top with cheese and serve when it's melted.
Nutrition Information
Yield
6
Serving Size
1
Amount Per Serving
Calories

453
Total Fat

30g
Saturated Fat

12g
Trans Fat

1g
Unsaturated Fat

15g
Cholesterol

109mg
Sodium

607mg
Carbohydrates

13g
Fiber

4g
Sugar

6g
Protein

34g
Follow Us:
We enjoy meeting you on our social networks. Follow us on Facebook, Pinterest, Instagram . Tag us with your pictures of our recipes and comment on how it went for you. We would love to see what you do with them.
We often like, comment and share your posts of our recipes on our daily Instagram stories.
Ask questions and rate the recipe in the comments section below. Please share what you did with this recipe. We are always looking for more and better ways to make homemade food. Other cooks love your ideas!
Recent Posts: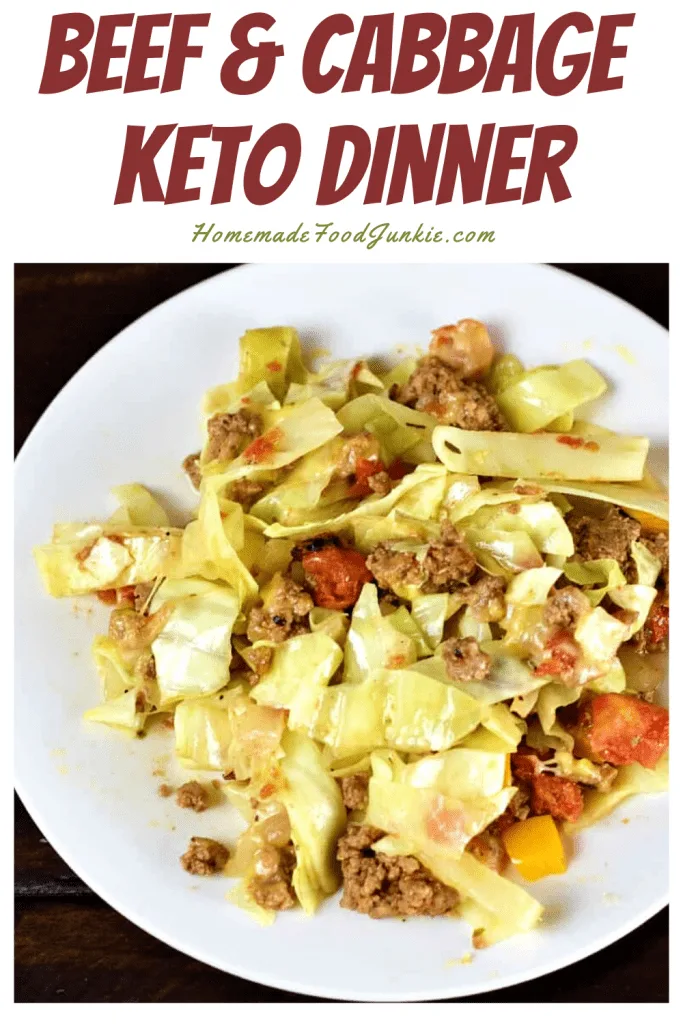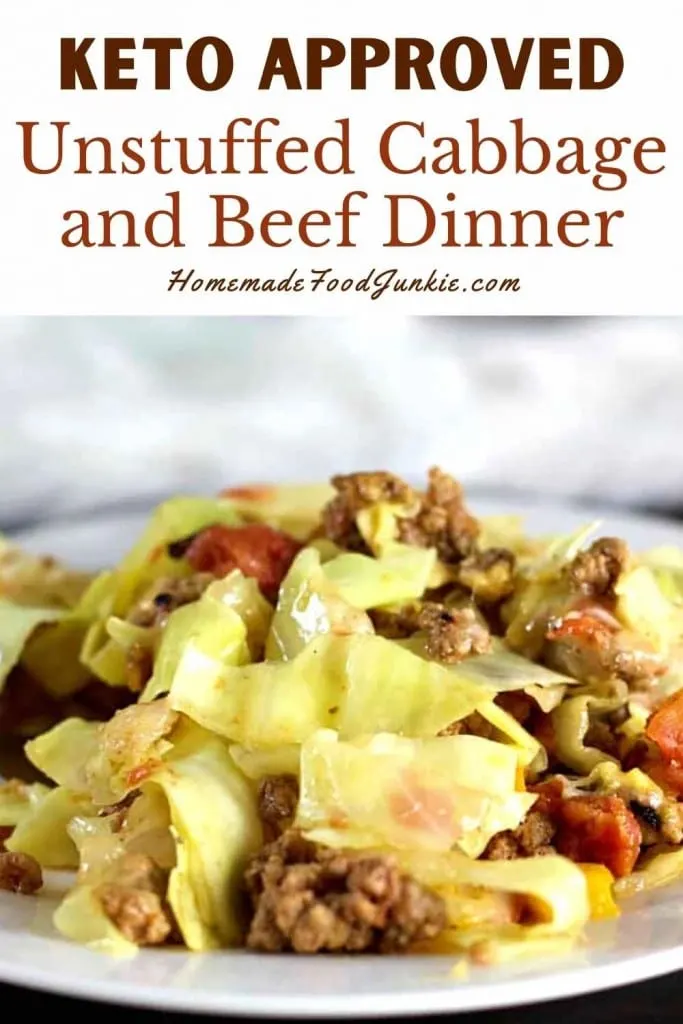 Recipe Source: Wonky Wonderful Check out this site too!