German cabbage rolls recipe (Krautwickel) is so full of flavor. This delicious dinner is a perfect home cooking recipe. After tasting them I KNOW your family will love these.
German Cabbage rolls are a filling dinner that can be made with different kinds of ground meat. For this recipe we used a mixture of ground hamburger meat and moose meat. These rolls are easy to make once you get the hang of it. The process is well worth the result
This recipe is from my Sister in Law Brigitte. Brigitte is one of the best cooks you are ever going to meet in the kitchen. She has worked as a cook professionally and her whole life at home is all about good home cooking.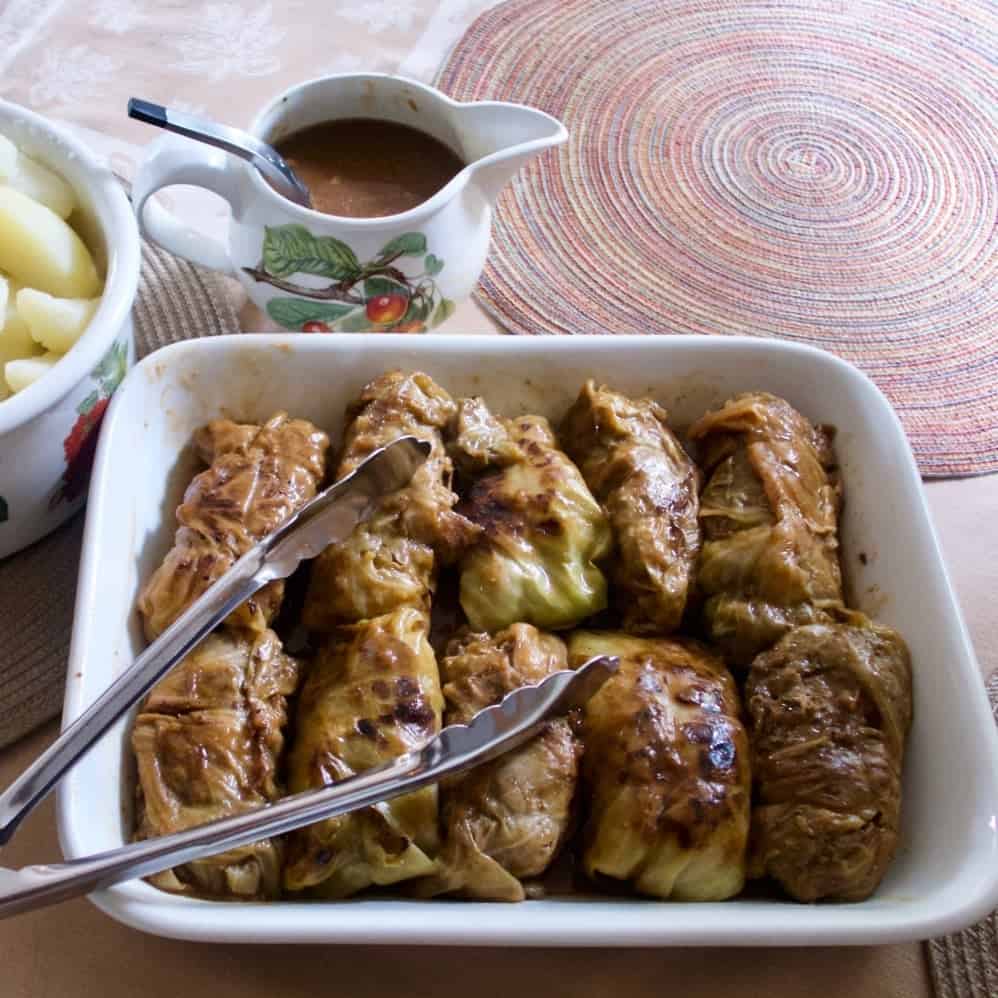 I HIGHLY recommend you watch her make this recipe. This recipe is a perfect match for an entry level cook. Brigitte's tips and methods make it easy.
Why are my Cabbage Rolls tough?
Cabbage Rolls are tough when the cabbage leaves have not been cooked long enough. Make sure that the cabbage leaves are soft before removing the dish from the oven. If the cabbage rolls are tough and chewy, the dish needs to be cooked longer. Most of the tenderizing and softening process will be done while the cabbage leaves are boiling.
Since cabbage leaves are very dense and fibrous, they made need to cook longer than the recommended cooking time. If you are having difficulty working with the cabbage leaves after the boiling process, return them to the boiling water and boil longer.
What is Krautwickel?
Krautwickel means "cabbage wrap" when translated from German to English. This dish has been popular for years in Europe. This dish is traditionally eaten warmed up, but it can also be eaten cold. Krautwickel makes great leftovers and is filling meal. These cabbage rolls are filling and can be eaten as a main dish or served as a side for a large dinner.
What kind of Meat goes in Cabbage Rolls?
Any type of ground meat can be used in cabbage rolls. The most popular meat to use in cabbage rolls is ground beef. Here are a few other options for ground meat in cabbage rolls:
Ground Sausage
Ground Moose Meat
Ground Turkey Meat
Ground Chicken
Ground Venison
What side dish goes well with Cabbage Rolls?
Mashed Potatoes
Bean Salad
Corn Bread
Sauerkraut
Spaetzle
Roasted Potatoes
Rye Bread
Pierogies
Roasted Carrots
Goulash
Borscht Soup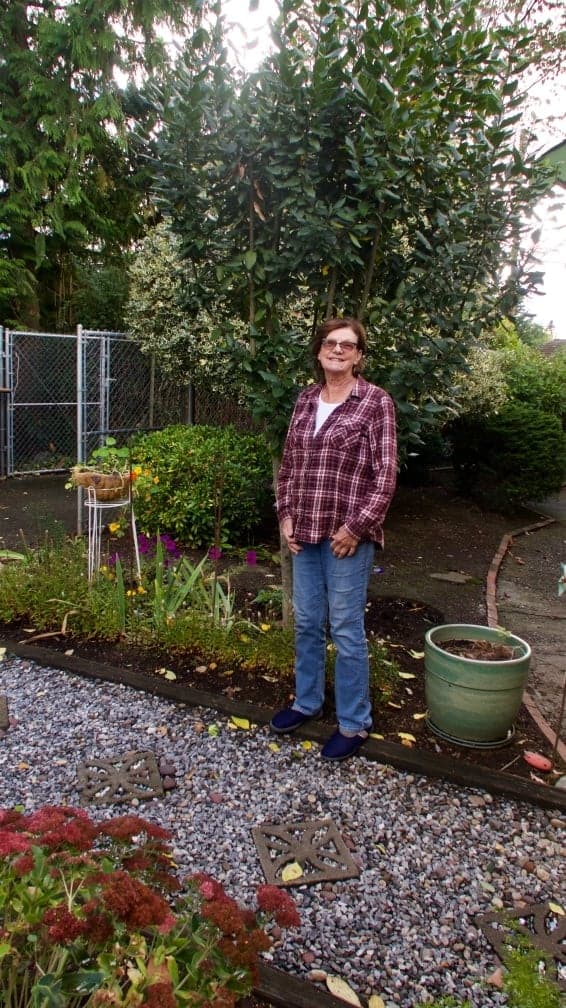 This bay leaf tree she grew herself from a seedling. Brigitte is a fabulous urban gardener.
She sent me up some dried Bay leaves and I made a German Borscht Soup and many other yummy meals with them. I didn't know Bay leaf Trees would grow here!
More Cabbage Recipes:
You WILL have cooked leftover cabbage after choosing only the large leaves to roll. You may even need TWO heads of green cabbage to get enough leaves large enough to roll.
Here are some more delicious cabbage recipes to help you use up your extra Cabbage leaves.
Brigitte showed me the cook book the local German government gave her on her wedding day. It's one of her old stand by cookbooks to this day.
Every bride of Brigitte's generation living in the City of Wurzburg Germany received this cookbook. Put out with the help of the local businesses the cookbook had advertisements from all the local shops.
It is also full of helpful household cleaning tips and childrearing helps. Just what every bride could want.
The other cookbook she references for this recipe is German Cookery by Elizabeth Schuler.
Brigitte uses her own method and ingredients along with the culinary wisdoms found in these books to bring us this fantastic weeknight or special occasion dinner.
German Cabbage Rolls (krautwickel)
This recipe is unique to Brigitte. But cabbage rolls are a VERY popular dinner in her birth country of Germany where she was raised. Read more about the origins of cabbage rolls here.
Meaty, rich and flavorful. These are so good and filling. And then there is the gravy. A delicious combination.
Cabbage Rolls are a staple for German cooks because it's delicious and very frugal. This recipe makes a lot for a small family.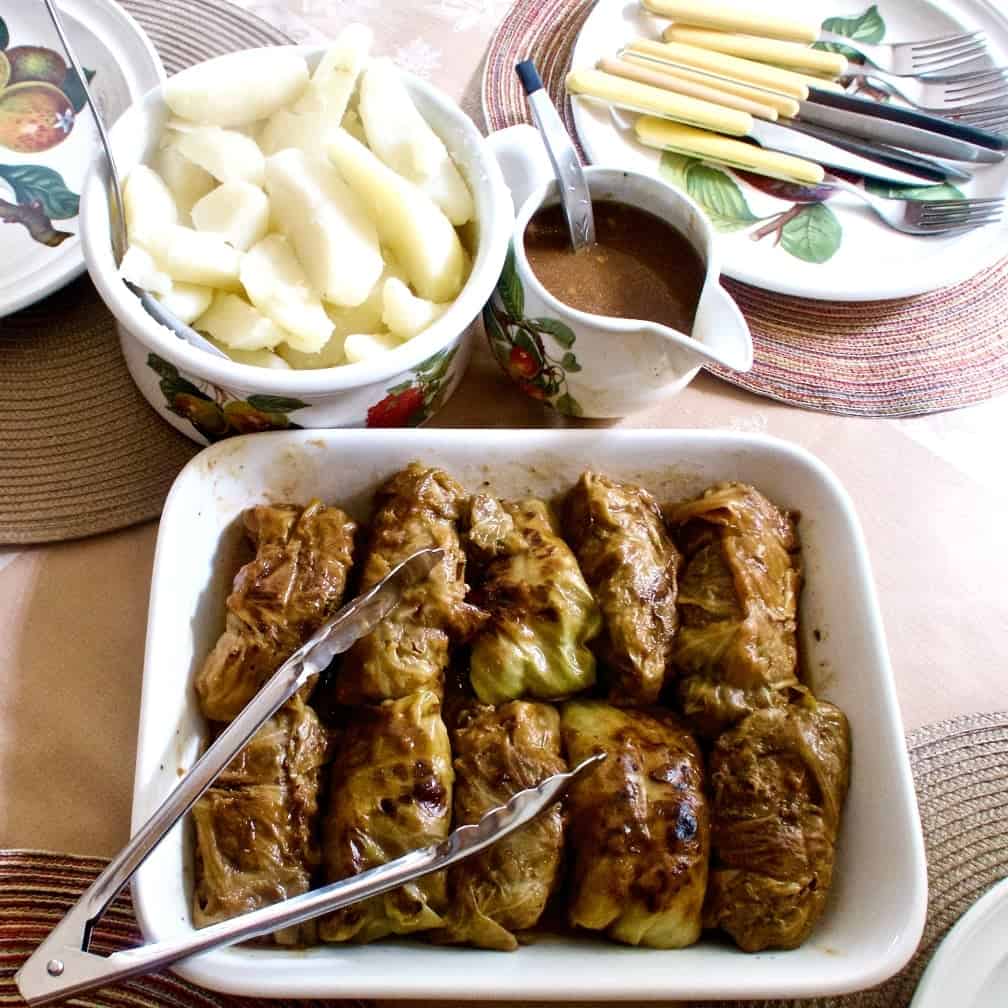 Brigitte's Tips for cabbage roll recipe:
Brigitte did not mix the meat filling in the video. Use her recipe and mix it up like a meatloaf. Brigitte actually used a 50/50 mixture of Moose meat.
I made Smoky Moose Meat Skillet Dinner as well. Very yummy! and full fat hamburger. Moose meat is very lean so you need the full fat hamburger to keep it moist.
No moose meat handy? You can make it a 100 percent hamburger recipe. It will taste great. Moose is very similar in flavor to beef.
BEFORE you fill your cabbage rolls take a bit of the meat and fry it. Adjust the seasonings at this point. This way you will have the tastiest filling for your family.
Cook the cabbage leaves until just tender. Drain the leaves and use a meat mallet (or some other like tool) to soften the tough cabbage vein so the leaf can roll easily.
Place the meat in the CENTER of the cabbage leaf not the bottom to get the cabbage to roll correctly. Then follow the recipe instructions.
Brown the cabbage rolls evenly on ALL sides, even the edges for best flavor. Another flavor tip is to brown the rolls in Peanut oil.
You can easily make this recipe in either your stove top skillet or a good sized electric frying pan.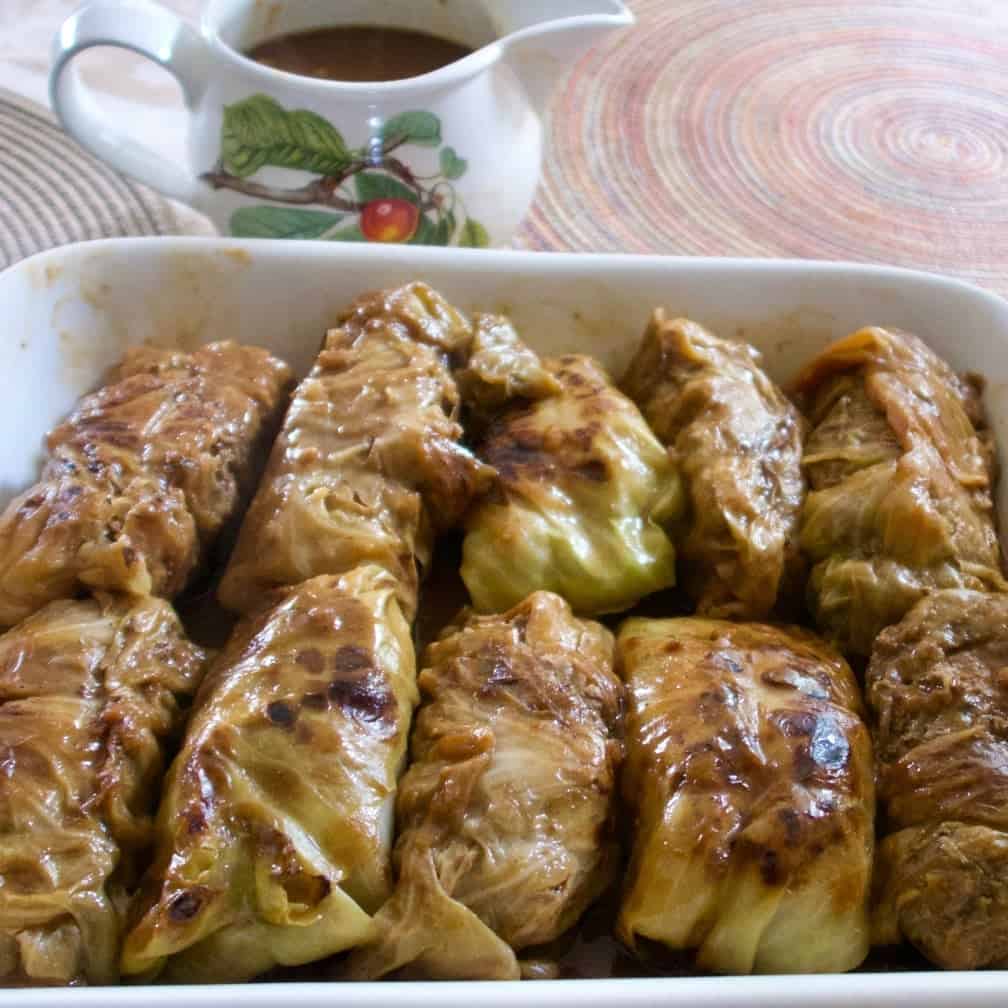 NOTE: You will have to make these cabbage rolls in a MUCH larger skillet than you see in the video (Brigitte uses her large electric skillet).
Brigitte made most of the cabbage rolls a day ahead so you are only seeing her make a few.
Enjoy this flavorful satisfying meal. Savory meaty homemade German Stuffed Cabbage rolls will be a big hit with the family.
Stuffed cabbage rolls freezing Instructions.
Brigitte freezes the rolls only without the gravy in a tupperware container.
These rolls last well in the freezer several weeks.
They are a quick and easy snack, dinner or lunch. Just whip up a new batch of gravy if you're having them for dinner and want gravy on the side.
Just thaw and microwave to reheat.
Your Printable Recipe Card:
Yield:

18 cabbage rolls
German Cabbage Rolls (krautwickel)
This German cabbage roll recipe is full of meaty flavor and includes its own gravy. This delicious dinner is very versatile and freezer friendly. Perfect home cooking.
Ingredients
20 large green cabbage leaves (1 or 2 Large cabbages) you will have leftover cabbage
Meat Filling Ingredients:
2 lb. Hamburger (may mix 50/50 with moose or pork)
1 1/2 Cups crumbled stale french bread (with enough water to soak it)
4 eggs
1 1/2 tsp. salt
1 1/2 tsp. black pepper
2 tsp. nutmeg
1 tsp. Maggi sauce
1 1/4 white onion-diced fine
1 Cup fresh parsley-dice fine
1 Tablespoon bacon grease (or avocado oil) as needed
2 Tablespoons Peanut oil (or avocado oil) as needed
Gravy Ingredients:
4 Cups Beef Broth
4 Cups water
1/4 Cup Brown Gravy Mix
1 tsp. salt
1 Tsp. pepper
1 tsp. paprika
2 Tablespoon Conrstarch
1 1/2 Tablespoon dijon Mustard
Instructions
MAKE THE MEAT FILLING:
Saute chopped Onion in bacon grease over medium heat until glossy and transparent,
Soak the bread in enough water to thoroughly wet it and make it soggy and waterlogged. Then squeeze out the excess water and set aside.
In a large bowl set the meat, maggi sauce, eggs, cooked onion, and soaked bread crumbs.
Pour all the dry meat filling ingredients over the meat and mix by hand like a meatloaf.
TEST THE FLAVOR:
Pan fry a small bit of meat until done to test for flavor. If you need to adjust the seasonings do it now and mix again by hand.
Set a large pot on the stove 2/3 Full of water. Bring to boiling while shaping the meat rolls.
Shape into 3 x 2 inch sausage shapes. Set Aside. You should get about 18 to 20 meat rolls.
COOK CABBAGE LEAVES:
Set the cabbage into the boiling water and as the leaves soften and get tender.
GENTLY pull the leaves off with tongs one at a time as the cabbage cooks.
USE ONLY THE BIG LEAVES. (you may need two heads of cabbage to keep the leaf size large.)
Lay the leaves on a large paper towel to drain.
Soften the large tough vein of the leaves with a meat mallet so the leafs will roll.
FOLD THE CABBAGE ROLLS:
Lay the leaf out on a large flat surface like a table or cutting board.
Set a meat roll INTO THE CENTER of the leaf.
Fold the cabbage leaf up from the bottom to cover the meat roll.
Bring each side of the leaf up and over the meat.
Now roll the cabbage roll up to the top of the cabbage leaf.
Repeat for all leaves until the meat rolls are used.
TIE THE CABBAGE ROLLS
Using Kitchen Twine tie the rolls up and knot them on each end (per Video).
This is all done with one continuous piece of twine as shown so the rolls can be evenly browned without falling apart. So make sure they are well secured.
BROWN THE CABBAGE ROLLS:
Set your frying pan on medium heat
Add 2 Tablespoons of Peanut oil (or your favorite high heat safe oil).
Brown the cabbage rolls on ALL sides for best flavor.
Simmer the cabbage rolls 40 minutes with 4 cups of beef broth and 4 cups of water.
MAKE THE GRAVY:
Remove cabbage rolls to serving platter or large casserole dish leave the broth in the pan.
Whisk together the dry ingredients and add water to make a loose paste.
Pour into the beef broth and whisk over medium high heat until boiling.
Boil while whisking two minutes or until thick as you like.
SERVE:
Cut the strings and remove from the cabbage rolls.
Pour 2 cups of the gravy over the cabbage rolls.
Pour the remaining gravy into a gravy server and serve on the side.
Notes
Watch the video demonstration for more details on the techniques used in making this dinner.
Freezing Instructions:
Brigitte freezes the rolls only without the gravy in a tupperware container.
These rolls last well in the freezer several weeks.
They are a quick and easy snack, dinner or lunch. Just whip up a new batch of gravy if your having them for dinner and want gravy on the side.
Just thaw and microwave to reheat.
Recommended Products
As an Amazon Associate and member of other affiliate programs, I earn from qualifying purchases.
Nutrition Information
Yield
18
Serving Size
1 cabbage roll with gravy
Amount Per Serving
Calories

431
Total Fat

35.9g
Carbohydrates

10.1g
Fiber

2.4g
Protein

16.4g
Follow Us:
We enjoy meeting you on our social networks. Follow us on Facebook, Pinterest, Instagram . Tag us with your pictures of our recipes and comment on how it went for you. We would love to see what you do with them.
We often like, comment and share your posts of our recipes on our daily Instagram stories.
Ask questions and rate the recipe in the comments section below. Please share what you did with this recipe. We are always looking for more and better ways to make homemade food. Other cooks love your ideas!
Recent Posts: