Fresh Apple Cabbage Salad is bursting with crunchy, sweet tart flavor and healthy nutrients. High-fiber, low-sodium, vegetarian and gluten-free.
This cabbage salad uses green cabbage and fresh Fuji apples to provide a tasty and nutritious base.
Montmorency cherries, Medjool dates and pecans, add antioxidants, healthy fats and vitamins.
All these flavors make a fantastic sweet and tangy flavor combination.
This Fresh apple cabbage recipe is a wonderfully flavorful nutritional powerhouse of a salad topped with a tangy balsamic dressing.
More Apple and Cabbage Salads :
Both of these cabbage and apple salad recipes are great ways to use up Fall fruits and veggies. They are full of nutrients and flavor. Your family will love them.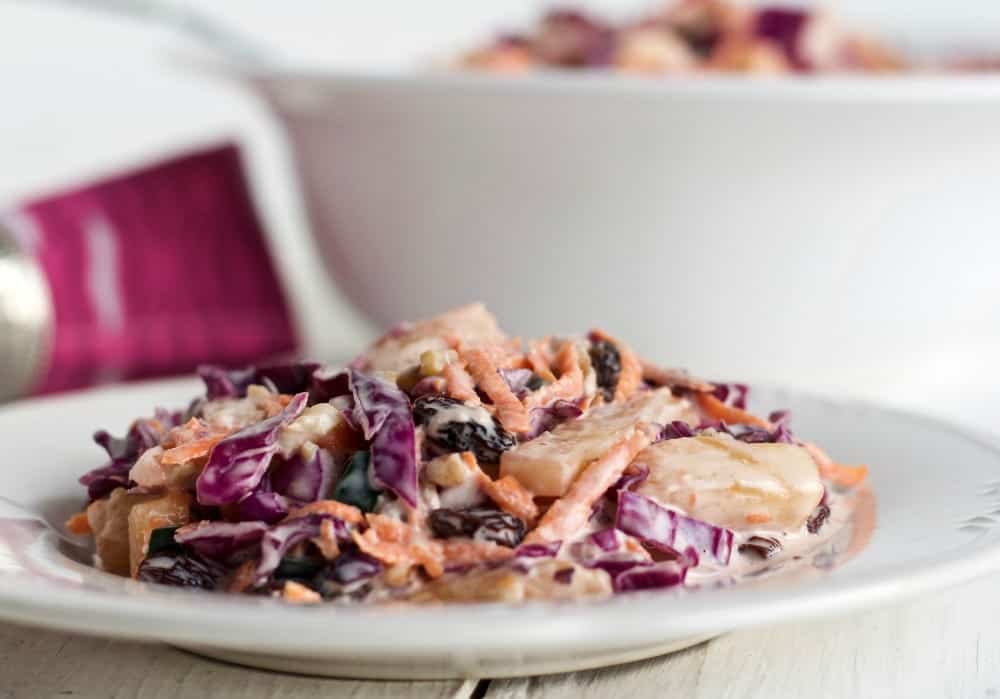 Our garden is still producing a fall crop of cabbage. Dave brought one in the other day and I decided it needed to go into a salad.
A crunchy sweet-tart, healthy salad is a perfect way to use crisp cabbage. Our Fuji apples paired up perfectly with the green cabbage. This is a wonderful flavorful fall salad.
There is a new apple variety I am SO excited about. It should work great in this apple salad recipe and many more apple recipes. It's The Cosmic Crisp Apple.
This is a brand new apple variety created by Washington State University. Apples are a BIG DEAL in our state. I'm so curious about it!
In the meantime Find fresh cabbage and apples (of any crisp or fuji type) and make this fresh, crunchy, yummy side dish or light lunch.
Fresh Apple Cabbage Salad Recipe Notes:
TIP: You want to make about as much of this salad recipe as you can eat at one sitting. The dressing on this salad is EXCELLENT. But very high in acid. It wilts the cabbage salad with apples very fast.
This recipe makes four large servings. The dressing should be put on right at serving. Go ahead and prepare the salad partially ahead of time. (except for the apple and pouring on the dressing).
Add the apple and salad dressing at serving for best results.
Store the undressed salad base in the fridge, in a zipped plastic bag. Slice the apple and dress this salad immediately before serving to keep it looking fresh and yummy!
The Greek Yogurt Dressing:
This Creamy Balsamic Salad Dressing is made with my homemade Greek yogurt and maple syrup.
It's one of our all time favorite salad dressings for several salad Recipes on this blog. Fall Garden Kale salad, and Berry Garden Green Salad are also topped with this delicious balsamic vinaigrette recipe. You won't run out of ways to use it!
Whisk it up and pour this delicious dressing on at serving time to give a piquantly sweet touch to this sweet-tart salad. Yum!
Yield:

4
Cabbage Salad with Fresh Apples
Fresh Apple Cabbage Salad is bursting with crunchy, sweet tart flavor and healthy nutrients. High-fiber, low-sodium, vegetarian and gluten-free.
Ingredients
Salad Ingredients:
1 small head green cabbage
1 Fuji apple
1/2 onion
1 cup pecans cut lengthwise
1 cup tart dried Montmorency Cherries
5 medjool dates cut lengthwise and pitted
Balsamic dressing Recipe:
2 tablespoons balsamic vinegar
1/3 cup nonfat Greek yogurt
2 teaspoons maple syrup
Instructions
Salad Assembly:
Slice the cabbage, apple, and onion into long, thins strips and put into a large mixing bowl.
Add the dates, cherries, pecans.
Toss to combine.
Immediately make dressing and serve
Balsamic Dressing:
In a small bowl, whisk together all the ingredients for the dressing.
Top the salad with the dressing.
Mix until coated with dressing and serve immediately for best appearance.
Nutrition Information
Yield
6
Serving Size
6
Amount Per Serving
Calories

329
Total Fat

17g
Saturated Fat

4g
Trans Fat

0g
Unsaturated Fat

12g
Cholesterol

12mg
Sodium

43mg
Carbohydrates

44g
Fiber

5g
Sugar

32g
Protein

4g
Pin it: