Easy baked salmon recipe with a brown sugar marinade is a perfect dinner entrè. This delicious baked salmon fillet recipe is low carb and gluten-free.
One of my favorite recipes is salmon, and I always look for new ways to prepare it.This recipe uses brown sugar to add sweetness and a glaze to the salmon fillet.
Salmon is an excellent source of protein. This easy baked salmon recipe is very healthy because it has almost no added fat, making it perfect for weight loss. All you need to make this recipe is some fresh ingredients like fresh lemon slices, olive oil, garlic salt, ground black pepper, and brown sugar.
This salmon recipe is perfect for those nights when you want to make dinner but don't have much time! It's simple and delicious, and it only takes about 20 minutes from start to finish.
The brown sugar marinade creates a sweet and crunchy crust on top of the fillet. Serve this salmon filet with a healthy salad over brown rice for a complete meal.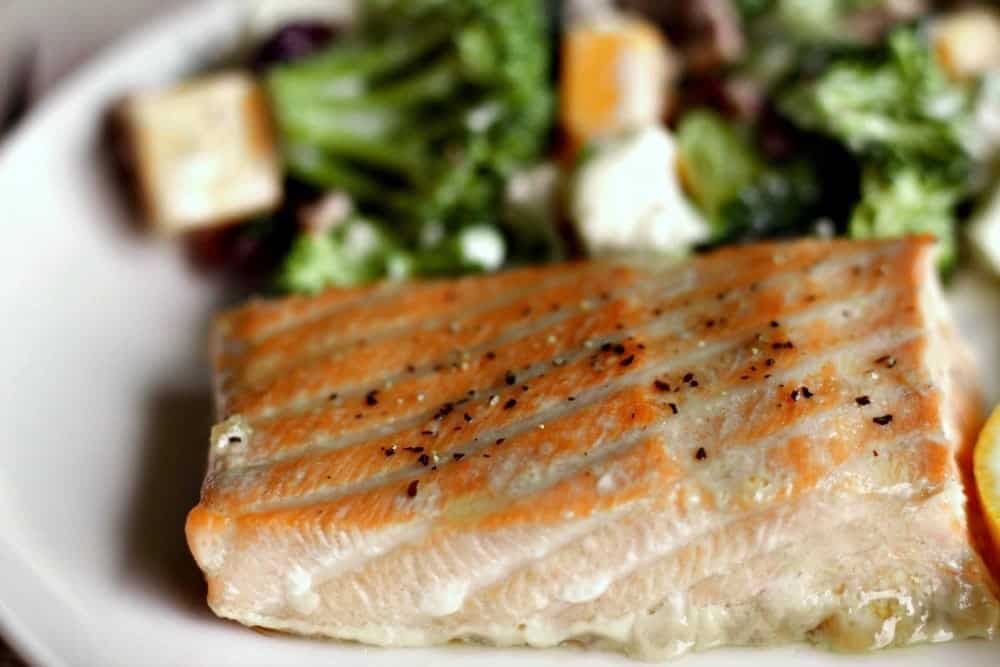 Should you bake salmon with the skin on or off?
Salmon skin contains fatty acids that are good for your heart, but removing them may make the fish less oily. If you want to remove the skin, place the fillets in a shallow dish, cover with cold water, and let sit for 15 minutes before cooking. The skin will then easily come off when you pull it away from the flesh.
If you prefer not to remove the skin, feel free to use any method you like. You can grill, broil, pan fry, or even bake the salmon.
For this recipe I've baked it both ways, most of the time when I make salmon, I just leave the skin on during the baking process. Once the fillet has been baked, the fish meat is easy to remove from the skin.
Healthy quick and easy recipes like this baked salmon wrapped in foil are perfect.
What Temperature Should you Bake Salmon?
Salmon should be baked at 425 F. A good rule of thumb is to use an oven thermometer to check the internal temperature of salmon. It should be at least 145 degrees Fahrenheit when cooked through. If you're using frozen salmon, thaw it completely before cooking.
The best way to tell if the salmon is done is by checking its color. When the salmon turns opaque, it's ready. You can also test it with a fork. Remove the salmon from the oven and allow it to rest for 5 minutes before serving.
Cooking time for salmon fillets should be around 15-20 minutes. This can vary depending on the size of the salmon pieces.
How Long Can You Keep Baked Salmon?
Baked salmon can last up to 3 days in the refrigerator if stored properly in an airtight container.
You can also freeze leftover salmon. Just place the fillets in freezer bags and keep them in the freezer until needed. Make sure you label the bags so you know how long the fillets have been frozen. Properly frozen salmon pieces should last in the freezer for up to 3 months.
To reheat frozen pieces of salmon, simply place the fillets in the microwave for 2-3 minutes per side.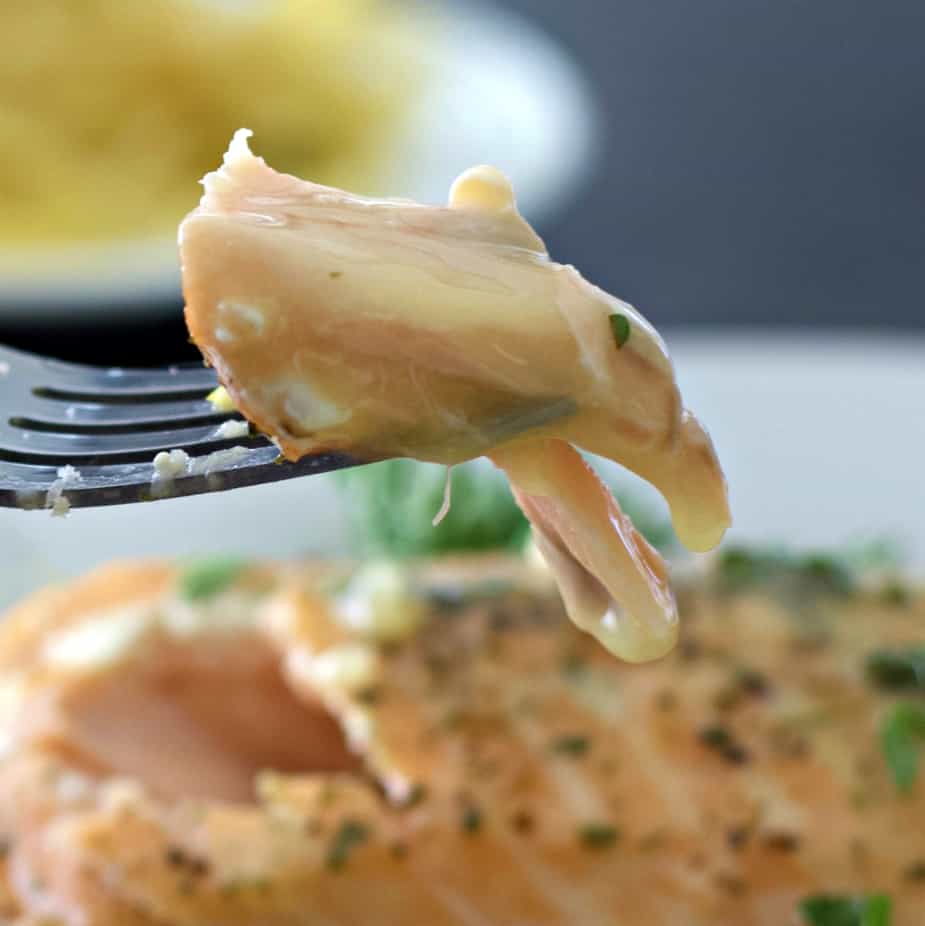 Salmon is a stellar choice for a healthy diet.
Salmon Calories:
I-4 oz. serving of plain baked salmon has only 157 calories.
Read this article to go further in depth on the nutrition of salmon. According to Healthline Salmon is one of the healthiest foods on the planet!
Salmon Health Benefits Summary:
Salmon is rich in long-chain omega-3 fatty acids which are heart healthy.
Protein in Salmon is high quality. One 3.5 oz. serving provides 22–25 grams of protein
Salmon is high in B vitamins
Salmon is also high in many other nutrients you body needs such as selenium. This is a powerfully nutritious meat.
Salmon is very low in saturated fat and cholesterol.
Salmon is also low in sodium.
Omega-3 Fatty Acides help to reduce inflammation
Baked Salmon Recipe:
Tips for this Recipe:
Use a good quality fresh fish for your recipe. There are some poor sources out there nowadays. Make sure your fish is raised in a properly regulated USA fish farm facility or wild caught.
For the most even baking Cut your fresh Salmon into portions of four equally sized fillets.
Seasoning the fillets evenly all over along with the marinade helps drive more flavor into the meat.
Refrigerate the marinating salmon fillets at least 2 hours. You can let the fillets sit in the marinade all day while your away. Or even overnight.
Wrap each fillet in aluminum foil to create a foil packet for best results.
Ingredients for brown sugar salmon marinade:
1-1.5 lb Salmon fillet
salt and pepper
lemon pepper
garlic powder
brown sugar
olive oil
lemon slices
parsley for garnish
How Long to Cook Salmon in Oven
This recipe for fresh salmon steaks baked in aluminum foil packets calls for an oven time of 15 -20 minutes. The best salmon recipes are properly cooked.
If you prefer to use frozen salmon, then thaw them first before cooking.
Grilling Salmon Steak Tips:
Salmon fillets can be grilled. Place the pieces on a hot grill pan and cook until the desired doneness is reached.
Cooking times will vary depending on how thick your salmon steak is.
To make sure that your salmon steak is well done, it should be opaque throughout.
The color of your salmon steak should be golden brown. If you have any concerns about overcooking your salmon steak, just take it off the heat and allow it to rest for 10 minutes.
After resting, slice your salmon steak and serve immediately.
Your Printable Recipe Card:
Total Time:
2 hours
40 minutes
Easy baked salmon recipe with a brown sugar marinade is a yummy and pretty healthy dinner recipe. This delicious baked salmon fillet recipe is gluten-free.
Ingredients
16 oz. salmon fillet (cut into steaks remove pin bones)
Salt to taste
Lemon pepper to taste
Garlic powder to taste
1/3 Cup Brown Sugar (for the top crust)
For the Marinade:
1/4 cup olive oil
1/3 cup brown sugar
1 cup water
Garnishes
Lemon slices
Curly leaf parsley
Instructions
Cut your fresh Salmon fillet into four equally sized steaks.
Season the fillets to taste with the salt, lemon pepper and garlic powder.
The Marinade Process:
In a small bowl, stir together the brown sugar, water and oil until sugar is dissolved.
Put the seasoned fillets into a Ziploc bag, pour in the marinade mixture, seal and turn to coat. Refrigerate at least 2 hours,(longer is better for more marinade flavor)
Baking and Broiling:
Preheat oven to 450 degrees Fahrenheit.
Remove Salmon Fillets from the Ziplock bag and place on tin foil.
sprinkle the top of each fillet with brown sugar as desired for a yummy crusty top.
Wrap each fillet in tin foil to create a steam pouch.
Place pouches on a cookie sheet in oven.
Bake for 15-20 minutes, check frequently as the size of the fillet will make cooking time vary.
When the salmon is juicy but flaking with a fork it is done. Remove from oven.
Open the foil pouches leaving the pouches on the baking sheet. (This exposes the fillet top to the heat)
Set the fillets under your broiler for a few minutes to brown the tops. (Be CAREFUL not to over cook or your fish will be dry. The idea is to caramelize the brown sugar for an extra bit of flavor)
Remove from heat and serve.
Notes
For a high protein low carb meal use your favorite low carb sugar substitutes.
Nutrition Information
Yield
4
Serving Size
4 oz.
Amount Per Serving
Calories

471
Total Fat

28g
Saturated Fat

5g
Trans Fat

0g
Unsaturated Fat

21g
Cholesterol

71mg
Sodium

280mg
Carbohydrates

30g
Fiber

0g
Sugar

29g
Protein

25g
You will not be consuming the number of calories you see here. The marinade will almost all drain off leaving the flavored meat.
More Delicious Fish Recipes:
Follow Us:
We enjoy meeting you on our social networks. Follow us on Facebook, Pinterest, Instagram . Tag us with your pictures of our recipes and comment on how it went for you. We would love to see what you do with them.
We often like, comment and share your posts of our recipes on our daily Instagram stories.
Ask questions and rate the recipe in the comments section below. Please share what you did with this recipe. We are always looking for more and better ways to make homemade food. Other cooks love your ideas!
Recent Posts: