Easy baked salmon recipe with a brown sugar marinade is a perfect dinner entrè. This delicious baked salmon fillet recipe is low carb and gluten-free.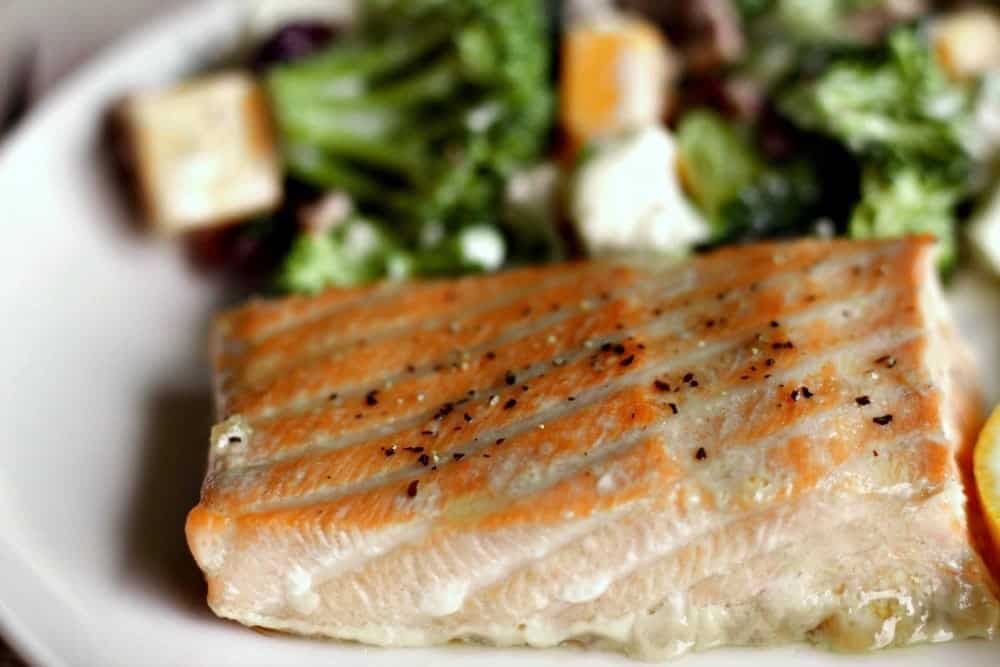 Salmon is chock full of good for you lean protein and healthy fat. Add a yummy salmon marinade for a fantastic easy healthy dinner recipe.
My husband and I have been doing lots of thinking about our healthy eating habits and lifestyle choices. Healthy eating patterns are so important to model for our children as they get older.
Which means we need to get started. Our mission this year is to cook healthy meals for our family.
Healthy quick and easy recipes like this baked salmon wrapped in foil are perfect for us. It's no trouble to put this salmon recipe together at all.
Try our Grilled Salmon Kabobs and Smoked Salmon Wraps for more easy, delicious and healthy salmon recipes.
Salmon is a stellar choice for a healthy diet.
Salmon Nutrition:
Our Printable Recipe Card has a complete nutrition label for this complete baked salmon recipe.
Salmon Calories:
I-4 oz. serving of plain baked salmon has only 157 calories.
Read this article to go further in depth on the nutrition of salmon. According to Healthline Salmon is one of the healthiest foods on the planet!
Salmon Health Benefits Summary:
Salmon is rich in long-chain omega-3 fatty acids which are heart healthy.
Protein in Salmon is high quality. One 3.5 oz. serving provides 22–25 grams of protein
Salmon is high in B vitamins
Salmon is also high in many other nutrients you body needs such as selenium. This is a powerfully nutritious meat.
Baked Salmon Recipe:
Tips for this Recipe:
Use a good quality fresh fish for your recipe. There are some poor sources out there nowadays. Make sure your fish is raised in a properly regulated USA fish farm facility or wild caught.
For the most even baking Cut your fresh Salmon into four equally sized fillets.
Seasoning the fillets evenly all over along with the marinade helps drive more flavor into the meat.
Refrigerate the marinating salmon fillets at least 2 hours. You can let the fillets sit in the marinade all day while your away. Or even overnight.
Wrap each fillet in tin foil to create a foil packet for best results.
How Long to Cook Salmon in Oven
This recipe for salmon baked in foil packets calls for an oven time of 15 to 20 minutes.
However, how long to bake Salmon at 400 degrees F is actually not that precise.
Your fillet sizes, the way you fold the foil packets and arrange them on your sheet pan will have an affect on the baking time.
Also, Every oven is slightly different in how it bakes. Your oven may have hot and cold spots or may run hot or cold.
For these reasons check the salmon frequently. Do not overcook your fish.
How to tell when your salmon is properly baked:
Salmon is easy to under or overcook. A mushy underdone fillet is no more appetizing than a dried overly crisp one. For oven baking your are shooting for a moist fillet with even flaking in the meat. Here's how to tell:
At 15 minutes remove the baking sheet from your oven. Open a foil packet.
With a fork lightly poke the fillet and twist the fork a bit. The meat is properly done when it flakes into even sizes. If the meat is undercooked it will appear undefined and mushy when poked.
For further baking: close the packet and return to oven. Bake another 5 to 10 minutes. Turn the baking sheet if you have hot and cold spots in your oven.
This salmon dinner is easy to make and so yummy. Try this recipe with Bacon Cheddar Broccoli Salad ,lemon slices and a crisp white wine.
The healthy recipe for baked salmon in foil turned out terrific. The foil kept the flavor, moisture and marinade right in the meat.
We made this dinner for a large family event. Everyone loved this Salmon recipe! This dinner is definitely going on our monthly meal planning menu.
Your Printable Recipe Card:
Ingredients
16 oz. salmon
1/4 cup olive oil
1/3 cup brown sugar
1 cup water
Salt to taste
Lemon pepper to taste
Garlic powder to taste
Lemon slices for garnish
Instructions
Cut your fresh Salmon into four equally sized fillets.
Season the fillets to taste with the salt, lemon pepper and garlic powder.
In a small bowl, stir together the brown sugar, water and oil until sugar is dissolved.
Put the seasoned fillets into a Ziploc bag, pour in the marinade mixture, seal and turn to coat. Refrigerate at least 2 hours,(longer is better for more marinade flavor)
Preheat oven to 450 degrees Fahrenheit.
Remove Salmon Fillets from the Ziplock bag and place on tin foil.
Wrap each fillet in tin foil to create a steam pouch.
Place pouches on a cookie sheet in oven.
Bake for 15-20 minutes, check frequently as the size of the fillet will make cooking time vary.
Nutrition Information
Yield
4
Serving Size
4 oz.
Amount Per Serving
Calories

260
Total Fat

28g
Saturated Fat

5g
Trans Fat

0g
Unsaturated Fat

21g
Cholesterol

71mg
Sodium

275mg
Carbohydrates

16g
Fiber

0g
Sugar

15g
Protein

25g