Lemon butter sauce is sweet and tangy, perfect for pasta or fish. This recipe uses only simple ingredients, and takes less than 30 minutes to prepare.
Lemon Butter Sauce is rich with zesty lemon flavors and smooth butter. This sauce is easy to make and can quickly dress up a meal. Top fish or pasta with this delicious and smooth butter sauce. Make this sauce and drizzle over a main course for a yummy and filling dinner.
This sauce is not difficult to make. But there are a few pitfalls to be aware of when making this recipe. We have a few tips and tricks in this post to help make your sauce successful.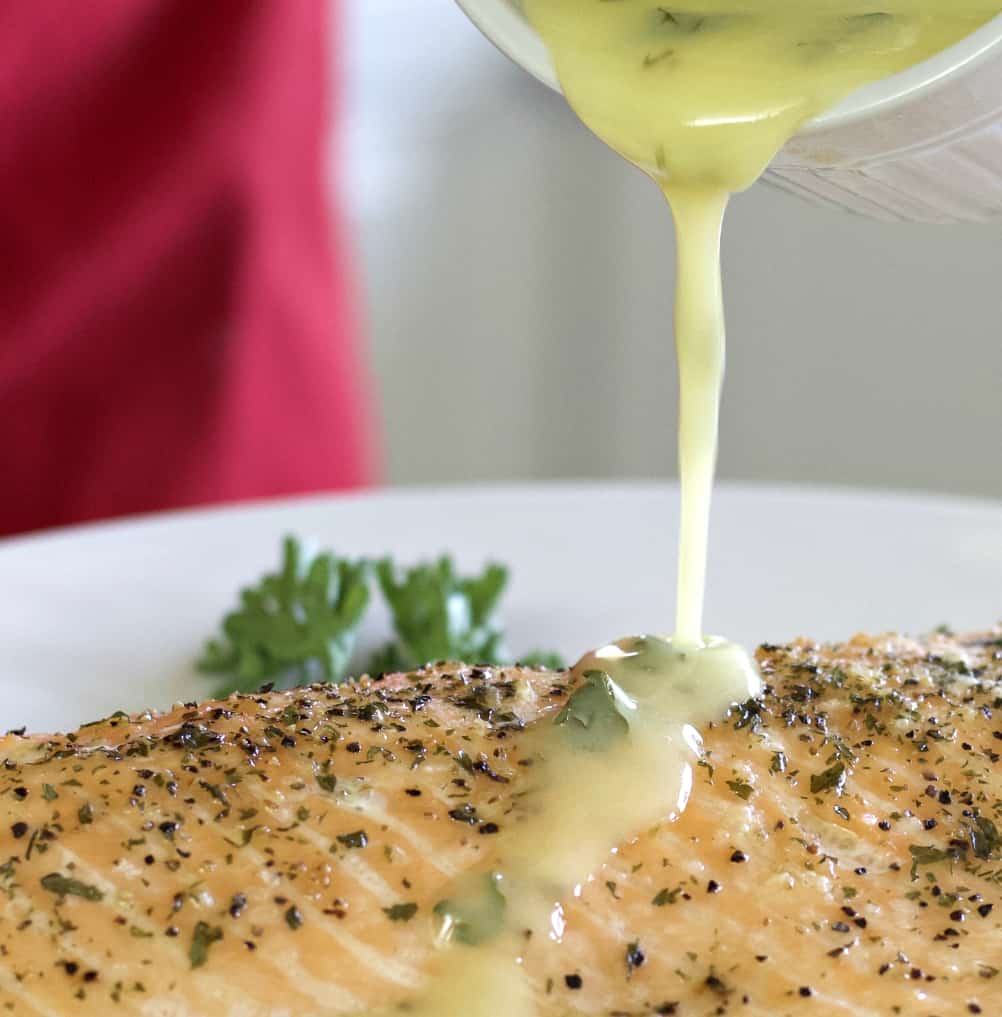 What is Lemon Butter Sauce made of?
Lemon butter sauce is made with fresh lemon juice, chilled butter, shallots, salt, garlic, and white wine. This sauce can also be made with just lemon and butter, for the best flavor we recommend adding in a few additional ingredients. The lemon butter sauce can be changed to suite dietary needs and tastes.
Why did my Lemon Butter Sauce break?
A lemon butter sauce can break because the fat has been added into the sauce too quickly. This will cause the emulsifier (the lemon juice) to fail when binding the fat molecules to the liquid molecules. This is why a key step in the lemon butter sauce is very slowly whisking the cold butter into the lemon juice. Never dump all of the butter into the sauce at once. This will cause the sauce to break and not thicken.
My Lemon Butter Sauce is too bitter
If the lemon butter sauce is too bitter you can use less lemon juice. Some lemon butter sauces are made with water as the base instead of lemon juice. You can emulsify the butter and water together by using the same steps. To add a lemon flavor in, use zest or whisk in a smaller amount of lemon juice. This sauce will produce a delicious and strong lemon flavor that compliments blander dishes beautifully.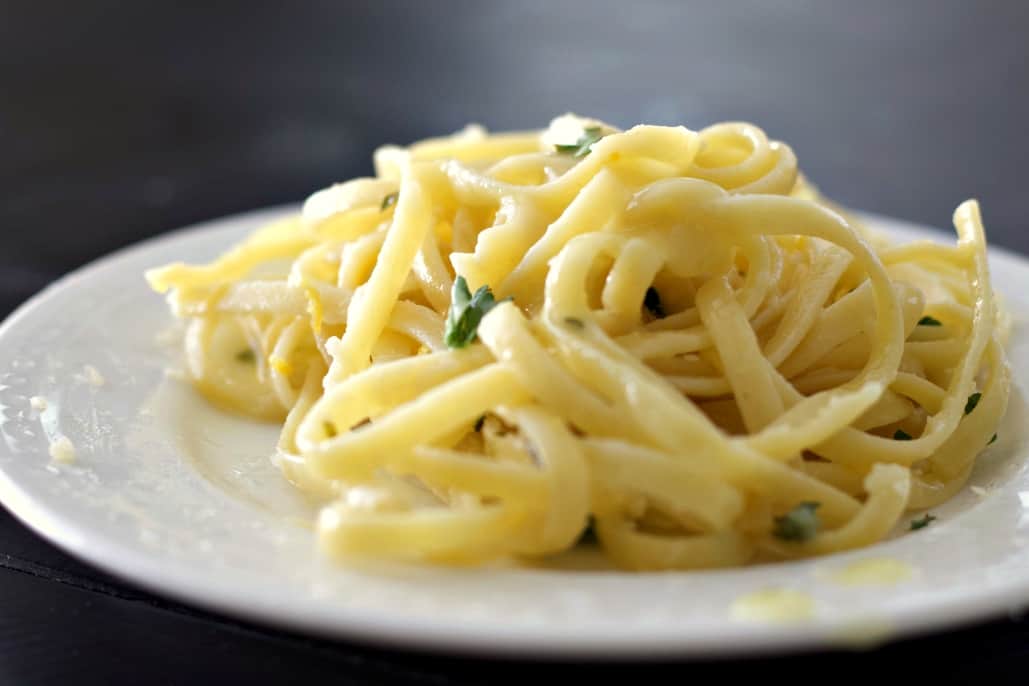 We poured it over Linguine pasta and baked salmon. In the same meal. YUM. This sauce is full of zingy lemon flavor.
The salmon and pasta were both improved. I think my favorite was the lemon butter sauce on salmon. If you love salmon try this.
We baked the salmon with salt and pepper. Removed the salmon from the oven and poured on the sauce. It was absolutely delicious and coated the fish perfectly.
This buttery rich sauce whips up in about 10 minutes. It adds so much delicious lemony garlic flavor to your meal. We highly recommend.
More sauces:
Enjoy making your own sauces? Here's a few more of our favorite savory homemade sauce recipes. Wake up your homemade recipes.
Search sauces on the blog for even more exciting sweet and savory sauce recipes.
Lemon Butter Sauce for Pasta and Fish: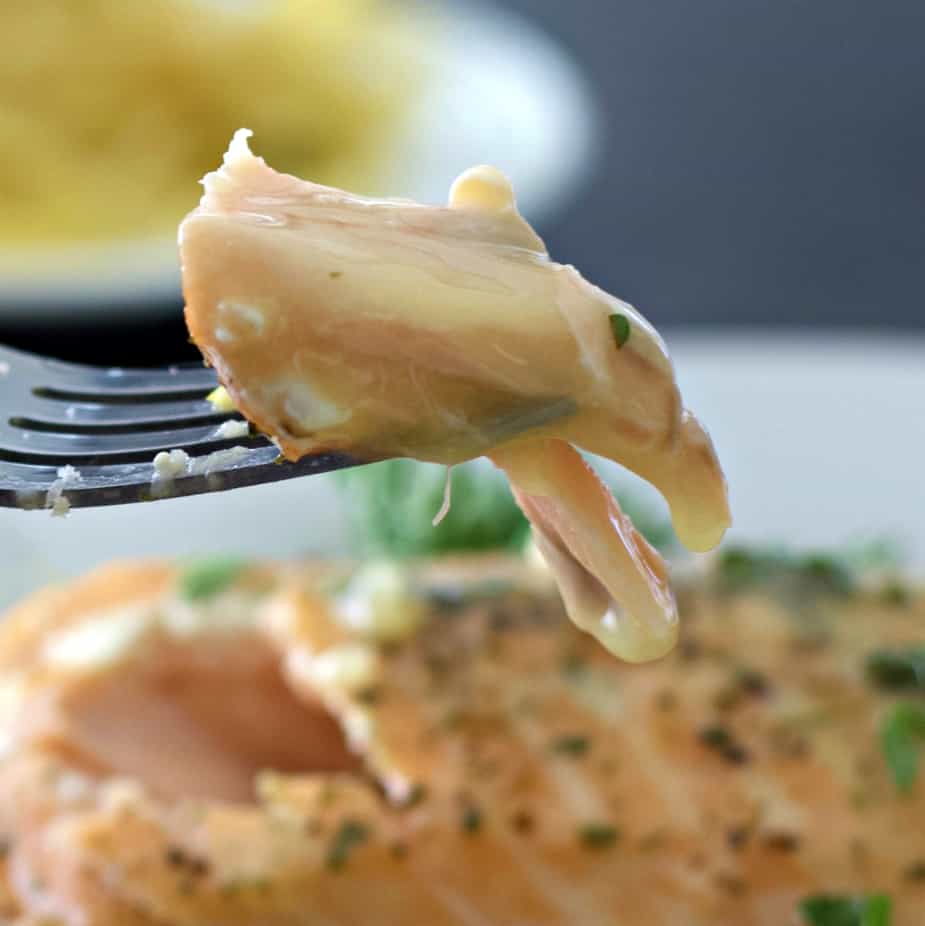 Make the lemon sauce just thick enough to cling to your portions. So good!
Ingredients:
Dry White Wine:
This richly flavored lemon garlic butter sauce features white wine. I'm using Piño Grigio this time.
However, Sauvignon Blanc, Pinot Grigio, Pinot Gris, Pinot Blanc, Sémillon are crisp wines with high acidity. All great cooking wines for this recipe.
Pino Grigio is a winner in sauces. Just a little dry white wine enhances the flavor of the dish.
By boiling down the sauce like this we concentrate the sweetness and acidity of the wine. That works very well in our lemon butter sauce.
I also use dry white wine in my wild Pheasant recipe and for this Instant pot pork gravy dinner. What a big difference a little white wine makes in the flavor and texture of sauce recipes.
Shallots (or onions):
I'm using an onion in this sauce since the store was out of shallots. I intended to use milder sweeter shallots for this recipe. If you have shallots do use them.
However, the onions in this sauce are cooked. So They will mellow into the mild sweeter flavor we need for this lemon butter sauce.
Butter:
Nothing says richness in a sauce like real butter. And melted butter is absolutely necessary for the proper emulsification of this sauce as it cooks. No substitutes.
TIP: the butter must be kept COLD until it hits the hot pan for the best results.
Garlic:
Minced garlic (or garlic juice if you want a smooth sauce) brings in a heavyweight flavor. But it blends really well with the wine, lemon and butter. Pasta and fish both love garlic.
If you want a lighter lemon sauce omit the garlic if you prefer. It is optional to this recipe.
Fresh Lemon:
Squeeze a fresh lemon rather than use bottled lemon juice for best flavor.
Garnishings:
When the sauce is completed add a bit of diced fresh curly parsley or bright fresh minced red pepper to give it a pop of color. Garlic slices can be dropped onto the top of the sauce once poured for extra texture.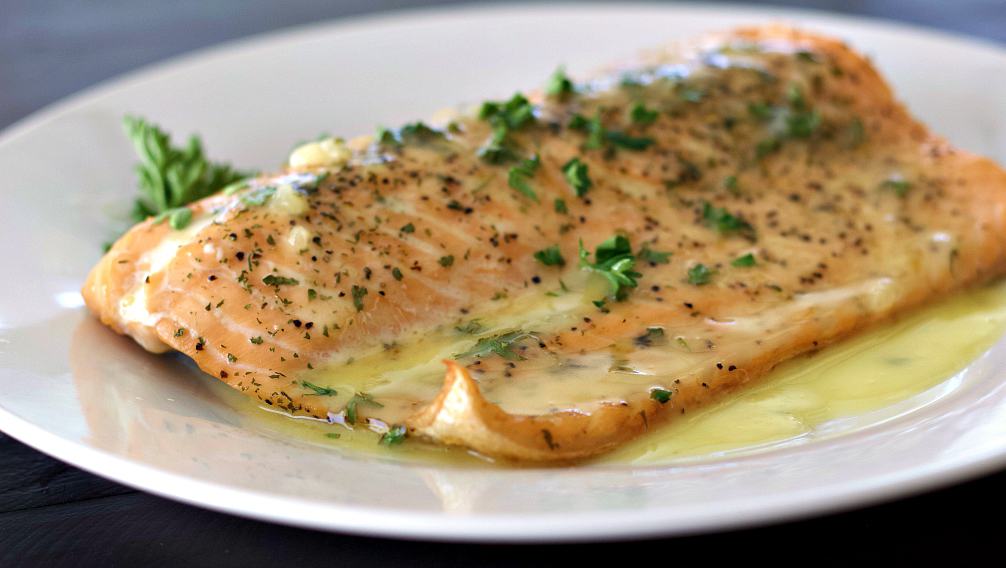 Watch the Video:
Normally I give a gallery of pictures to you to go through the process of making our recipes. This time you really need to watch the video demonstration to succeed with this sauce.
The sauce is very simple and made in just a few minutes once you learn how it is done. Below is your printable recipe card. At the bottom of the card (and in our sidebar) you will find the video.
Helpful Amazon Product Links:
How To Make a Lemon Butter Sauce-Recipe Card: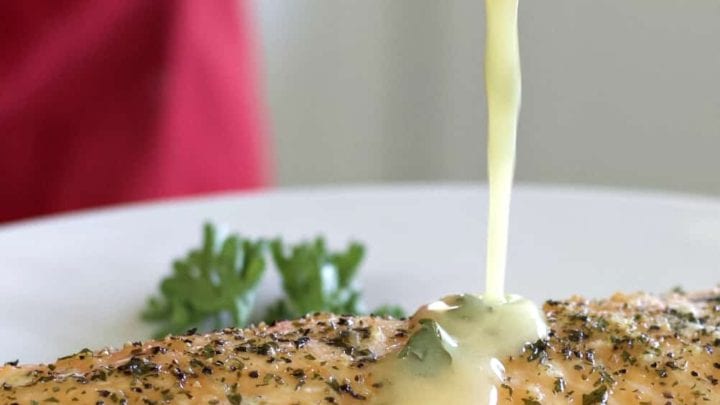 Yield:

6 oz. lemon sauce
Homemade Lemon Butter Sauce Recipe
Want to add a bit of Pizazz to your meal? This rich, zesty lemon butter sauce for pasta, fish or chicken is a natural choice. Cooks up in about 10 minutes.
Ingredients
1/4 Cup fresh lemon juice
1/4 Cup butter (chilled)
1 tsp. minced shallots (or mild onions)
1/4 tsp. salt
1 tsp. garlic (chopped fine-OPT)
2 tsp. Dry White Wine (Piño Grigio is what I used)
Instructions
Prep:
cut the lemon in half and squeeze out the needed juice into a pourable container.
Cut the butter into thin slices (1/4 inch wide) and set it back in the fridge to keep it cold.
Set a shallow skillet on the stove and heat to high.
Make the Sauce:
Pour lemon juice into heated skillet.
Add the wine, shallots and salt. (add minced garlic now if using)
Cook until reduced by half whisking as needed.
Add a pat of the COLD butter. (leave the remaining butter in the fridge until needed.) Pick up the pan by the handle and move the butter continuously so it does not burn or clarify. (TIP: The key here is to keep the butter creamy so it will properly emulsify. See video below for more on this technique).
Repeat process with the next pat of butter continually shaking the pan over the heat (lift the pan off the heat and shake as necessary to keep the butter from over cooking.)
Once the butter is completely melted and the sauce is emulsified garnish with fresh parsley and garlic slices as desired.

Notes
This lemon butter sauce also partners well with chicken.
TIP: The butter must remain cold until set in the hot pan for best results.
Nutrition Information
Yield
4
Serving Size
1
Amount Per Serving
Calories

111
Total Fat

12g
Saturated Fat

7g
Trans Fat

0g
Unsaturated Fat

3g
Cholesterol

31mg
Sodium

92mg
Carbohydrates

2g
Fiber

1g
Sugar

1g
Protein

0g
Follow Us:
We enjoy meeting you on our social networks. Follow us on Facebook, Pinterest, Instagram . Tag us with your pictures of our recipes and comment on how it went for you. We would love to see what you do with them.
We often like, comment and share your posts of our recipes on our daily Instagram stories.
Ask questions and rate the recipe in the comments section below. Please share what you did with this recipe. We are always looking for more and better ways to make homemade food. Other cooks love your ideas!
Recent Posts: