Making homemade Marinara sauce from garden fresh tomatoes, home dried tomatoes and home grown herbs produces a healthy, thick, organic sauce of amazing Italian flavor.
It makes an excellent base or accent for many many recipes! Freezes well for up to a year.
Easy Homemade marinara sauce is a good garden harvest preserving recipe. Don't do gardening? Find a local farmers market or CSA to support.
If you have a ton of tomatoes and peppers this is an excellent way to use them up and have a flavorful Italian marinara sauce on hand all year.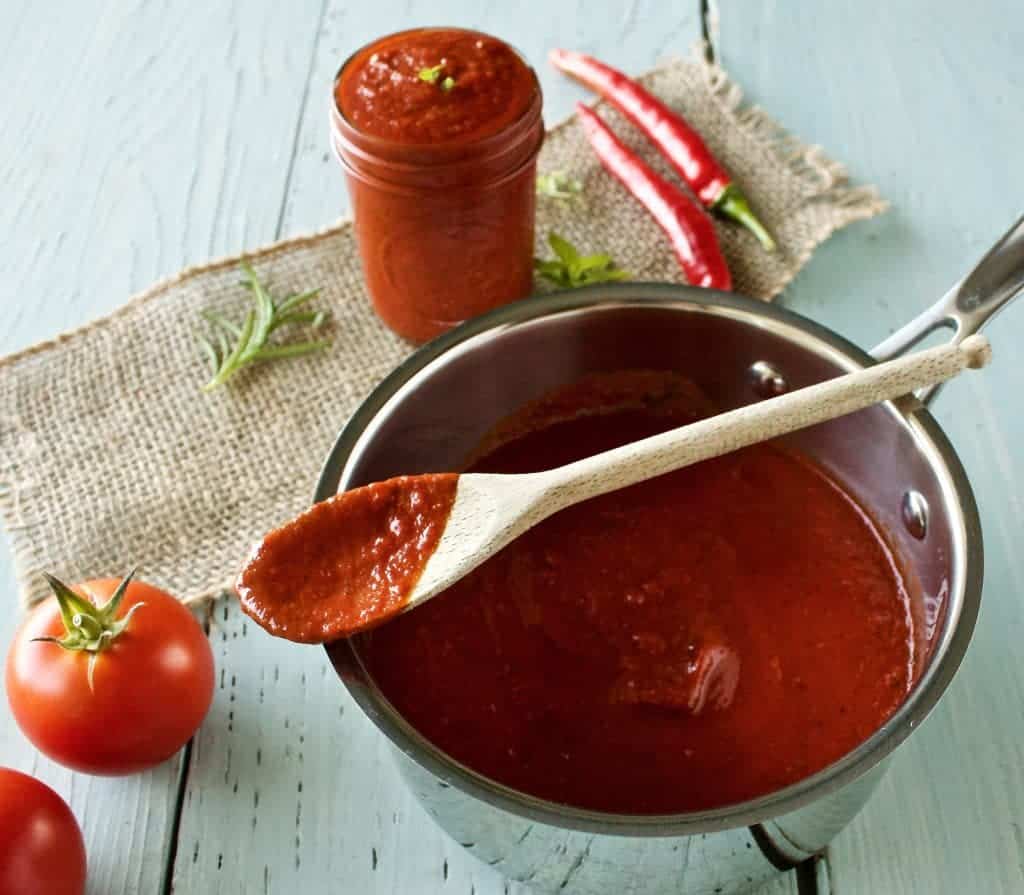 How Do you Thicken Marinara Sauce?
Marinara sauce can be thickened a number of ways. One of the best ways to thicken a Marinara sauce is by simply cooking it longer. The longer it cooks the more water reduces out of the sauce. Certain ingredients can also be added into the sauce to thicken it. A few popular add ins are cornstarch, a flour roux, and adding in a small amount of pasta water to the sauce.
Whatever method you choose, make sure you simmer the sauce longer. Stir the sauce constantly while it is simmering and thickening. Once the sauce is thickened it can be removed from heat.
How do you Make Marinara Sauce More Flavorful?
Herbs can be added into marinara sauce to make it even more flavorful. Other options are adding in fresh garlic, red pepper flakes, red wine, cream, butter, or some grated parmesan cheese. Continue tasting the marinara sauce while adding in the flavor additions. Simmer an extra 5-10 minutes until the flavor has been enhanced.
Why is my Marinara Sauce Bitter?
Bitter tomato sauce, marinara sauce, or spaghetti sauce all stem from the same common problem, tomato acidity. Tomatoes are extremely acidic. They can quickly overpower a sauce in taste and bitterness. This is why most store bought tomato sauces contain added sugar. Sugar is the best way to quickly cancel out the acidic taste of the tomatoes. Add a teaspoon full of sugar at a time to the sauce. Let it simmer, and continue tasting until the bitterness is removed.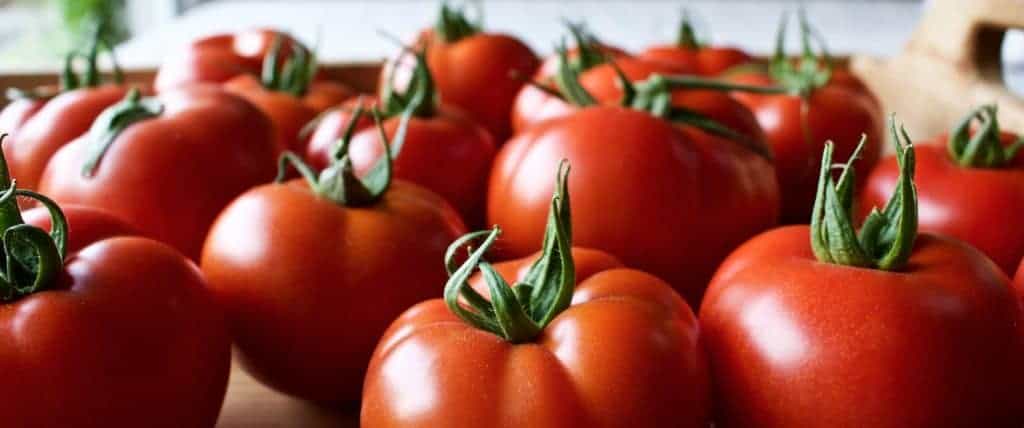 Can you Overcook Marinara Sauce?
Marinara sauce can be overcooked. When tomatoes are simmered for too long, the sugars in them can begin to break down. This will cause the sauce to have a bitter and burnt taste. To avoid over simmering marinara sauce, closely follow the recommended cook times and temperature.
Can you Add Milk to Marinara Sauce?
Milk or heavy cream can be added to marinara sauce. This is often done to achieve a thicker and creamier sauce. Milk or cream should only be added a tablespoon at a time. Stir in the milk when adding it to the sauce.
For a Vegan Marinara sauce, you can add coconut milk to the marinara sauce. Let the sauce cook down until it is a thin sauce consistency. Open a can of coconut milk and pour it into the sauce. Stir constantly until the coconut milk is fully combined into the sauce.
Tips for the BEST Marinara Sauce:
Use a good variety of garden paste type tomatoes, roasting peppers and fresh herbs in this sauce. (OR head to your nearest Farmers Market).
This tomato sauce has a slight bit of zing from the peppers, and real deep tomato flavor. And the roasting peppers, sun dried tomatoes and balsamic vinegar give this sauce incredible flavor boost! So
Homemade Sun dried tomatoes and balsamic vinegar are the secret ingredients in this recipe. The body and flavor they add is what makes this a flavorful, rich, thick sauce.
If you're not making your own homemade sun dried tomatoes (which I encourage you to do if you can!) Costco has sun dried tomatoes at a reasonable price. Dried tomatoes are so SWEET and full of herby flavor. They add a BUNCH of texture too. Don't leave them out!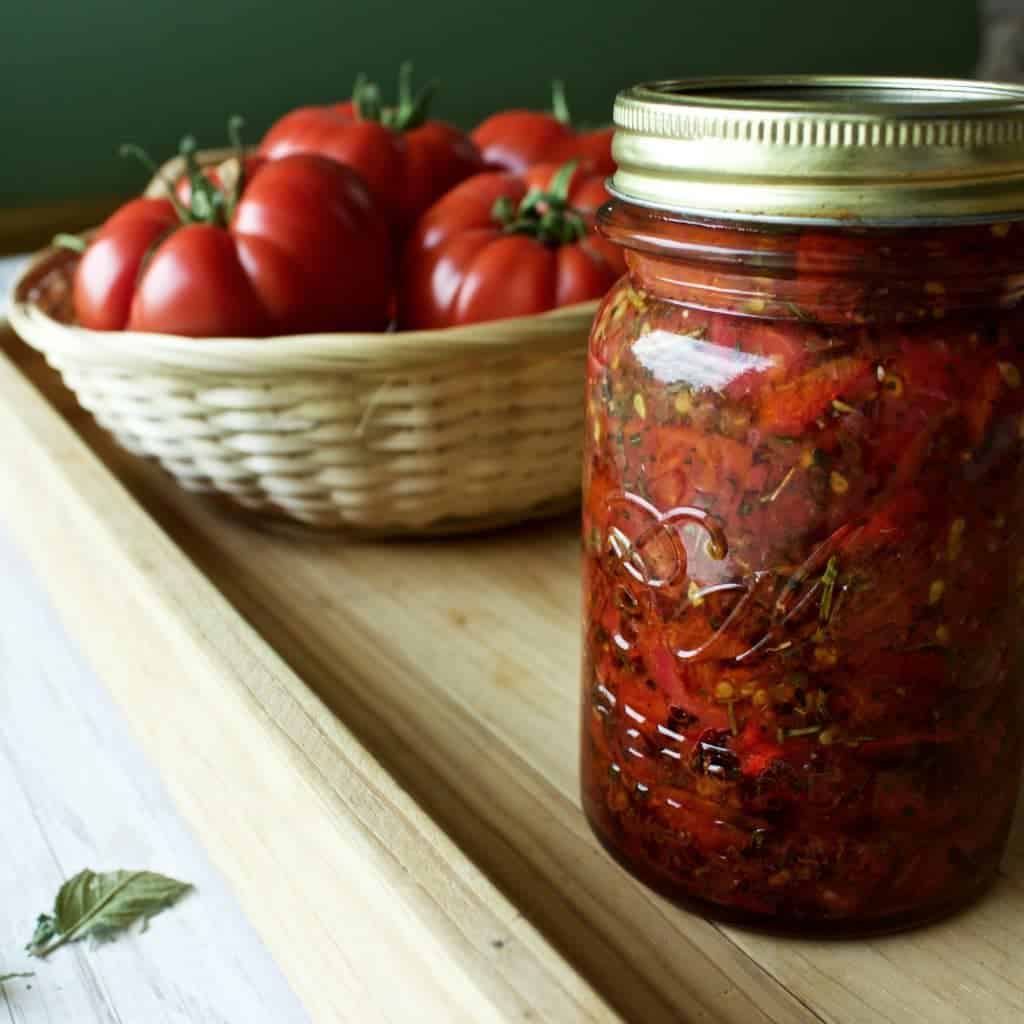 Get the best organic, vine ripened tomatoes you can find, or preferably, grow your own.
Try you local farmers market or local organic CSA farm if you do not garden. The quality and flavor of your sauce will reflect your ingredients every time.
You will notice my tomatoes are NOT paste type.
Dave grew these Arbasons so that's what I'm using. BUT if you have Romas or other good tasting paste type tomatoes they will make a thicker fuller sauce with less cooking to reduce the sauce down.
Balsamic vinegar is a healthy flavor booster you will want to use. That extra bit of rich piquant blends beautifully into the sauce and it's so good for you!
Easy Homemade Marinara Sauce Recipe:
This recipe is a good candidate for pressure canning.
Without increased acidity it cannot be safety water bathed. I no longer can so I'm referring you to the National Center for Home Food Preservation tomato sauce canning instructions. It has all you need to know about canning tomato sauce.
This recipe can be doubled or tripled as needed to use up your produce and can or freeze as much as you want. Just keep the proportions equal to the small batch recipe I'm giving you here.
Making this recipe is ridiculously easy.
Just dump everything in your pot, simmer on low until it makes a very soft mushy mess and reduces the liquid down to concentrate the flavors and build the sauce. This will take some time. A long low simmer over several hours will truly concentrate the flavors and build the sauce. If you don't have that much time you can rush it for a weeknight meal. Just add canned tomato paste to thicken it quick.
Taste the sauce and adjust the seasoning to your taste.
When the sauce is finished; run it through a food mill. No skinning the tomatoes required! Be careful with the peppers. Adjust the heat to your taste. Don't use the seeds unless you like a LOT of heat.
The Food mill will separate out the tomato skins and fresh herb pieces and sticks to produce a beautiful, thick, smooth sauce.
NOTE: I use the sundried tomatoes and balsamic vinegar to wake up the flavors in this sauce without sugar and salt so I don't call for these in the recipe. If the sauce tastes a bit flat to you try adding a small amount of sugar (start with 1 Tablespoon) and 1 tsp of salt. Then adjust to your taste preference.
To Freeze Homemade Marinara Sauce:
Use this sauce right away or ladle into ziplock freezer bags (make sure all the air is out of the bag) or vacuum pack. Label the bags with the recipe name and date.
Freeze for up to a year. Refer to the link above for canning instructions for your marinara sauce.
Enjoy the process of making your own sauce to your family's taste. Please let me know if you make this recipe. I would LOVE to hear what you do with it! Enjoy.
Your Printable Recipe Card:
Yield:

4 Cups
Homemade Marinara Sauce
Total Time:
2 hours
30 minutes
An easy harvest recipe. Make this marinara sauce and use it immediately. This sauce is suitable for freezing and canning.
Ingredients
8 large ripe tomatoes
2 peppers
1 Cup dried Italian style tomatoes
1 tsp. salt, to taste
2 Tablespoons balsamic vinegar
1 Tablespoon oregano
1 Tablespoon Rosemary
1 Tablespoon Thyme
1 Tablespoon Basil
Instructions
Place all the ingredients into a 4 quart pan on set on low heat.
Cook until the tomatoes break down into mush and the other ingredients are dissolved into the mess.
Run the whole contents of the pot through a food mill to remove the skins and make a thick sauce texture.
serve immediately or store in the fridge up to a week. This recipe freezes well in vacuum pack or ziplock freezer bags.
Nutrition Information
Yield
4
Serving Size
1
Amount Per Serving
Calories

102
Total Fat

1g
Saturated Fat

0g
Trans Fat

0g
Unsaturated Fat

1g
Cholesterol

0mg
Sodium

605mg
Carbohydrates

22g
Fiber

6g
Sugar

13g
Protein

4g
Follow Us:
We enjoy meeting you on our social networks. Follow us on Facebook, Pinterest, Instagram . Tag us with your pictures of our recipes and comment on how it went for you. We would love to see what you do with them.
We often like, comment and share your posts of our recipes on our daily Instagram stories.
Ask questions and rate the recipe in the comments section below. Please share what you did with this recipe. We are always looking for more and better ways to make homemade food. Other cooks love your ideas!
Recent Posts: