Instant pot lentil Soup with chicken sausage is a wonderfully healthy dinner idea.
This lentil soup is made in your instant pot on the soup function. OR slow cooked. Instructions are included for both methods.
This easy Lentil Sausage soup uses any garden or store produce you have and takes just 15 minutes to prepare. Set the pot and walk away. 🙂
Be versatile and flexible when making soup for your family. This homemade lentil kale soup is a wonderful recipe as it is.
OR You can make it your own with substitutions. I list the ingredients for the Italian sausage lentil soup version below.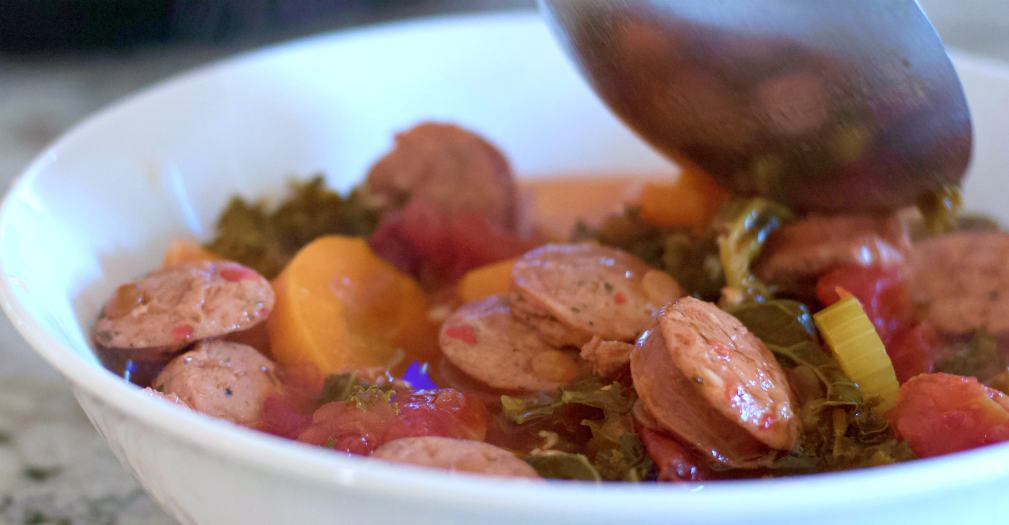 UPDATE: Nowadays I use my instant pot for all my slow cook and soup recipes.
We love soup. Here are a few of our favorite instant pot soup recipes. Look around the blog for many more.
I replaced my crock pot with a pressure cooker. This lentil soup recipe will work in either appliance just fine. The recipe card has instructions for both.
I have found and created so many Instant Pot recipes. We made a whole section on recipes using the Instant pot. Take A look.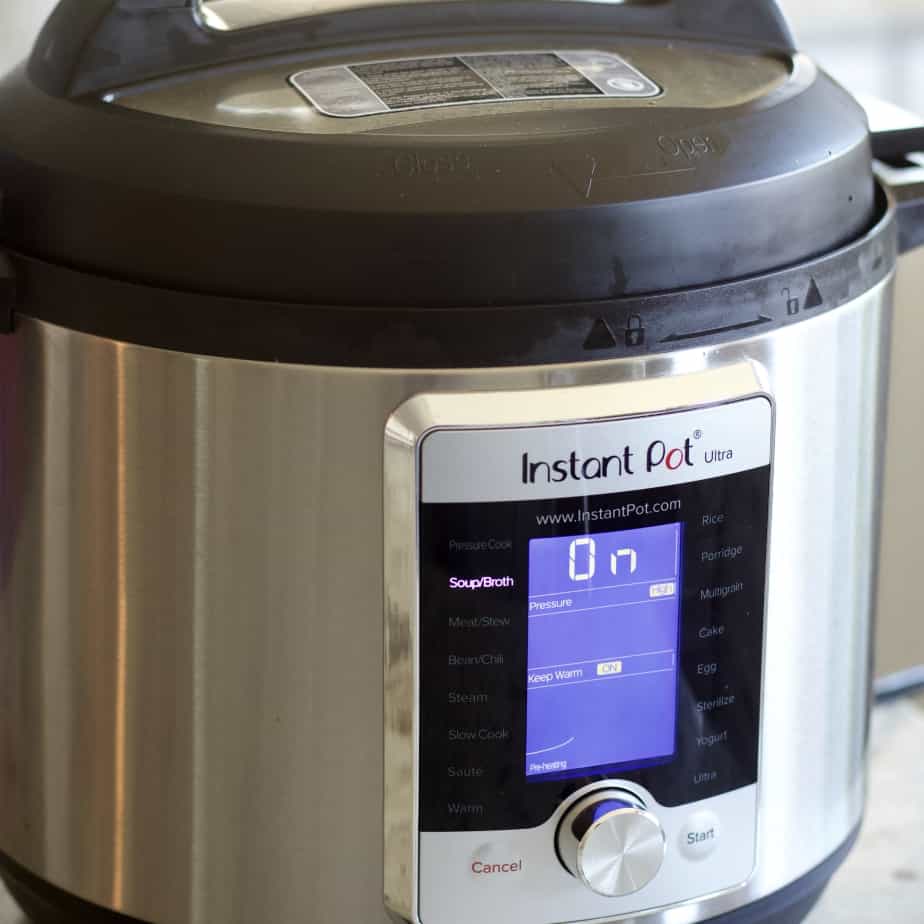 The Ingredients for Instant Pot Lentil soup:
This is an easy dinner idea because it's very easy to make your own. Use what you have and play around with this recipe. Homemade soup is not hard and fast.
These are the main ingredients we are using for the video demonstration of this lentil soup recipe. Make it your own. As I discuss below there are many different ways to enjoy this recipe.
The Lentils:
The different varieties of dried lentils will all work well in this lentil soup. Use brown lentils, red lentils or any you have in your pantry.
Want more lentils? Just double the amount to 2 Cups. The soup will be a bit thicker with more lentil flavor.
The sausage:
The sausage I use in this soup is spicy, low-fat, pre-cooked chicken sausage. We love the flavor of chicken sausage recipes. It is certainly a great compliment to the lentils in this soup and keeps the recipe much lower in fat too.
I use different sausage flavors all the time. Chicken apple sausage is a good choice for Fall harvest vegetables. But use your favorite.
Kale:
Kale adds color, nutrients and great texture to this soup. If you've never actually used kale in a soup this is a good recipe to start with.
I usually won't use greens in a soup because I hate to eat the slimy green bits they make when cooked. Kale is an exception. It has a strong flavorful leaf that holds up well under pressure and give good flavor and texture. For best results you will want to strip the kale leaves off the tough stalk.
PLEASE do not use a less strong green such as spinach or chard leaves in this soup. They will break down into slimy bits
All of the varieties of kale hold up well in soups and stews. That's true even with all the hours it simmers if slow cooking. My personal preference is the curly kale to really gain the texture I like it to have.
Lentil soup with sausage and kale is a good base for a variety of vegetables. both fresh and canned.
Use any vegetables you have that will go with lentil sausage soup. Potatoes, kohlrabi, parsnips…any veg you like can go in here.
Using your crockpot:
Originally this was a crockpot recipe. I made it on slow cook for years before the instant pot came into being.
Both soup function with quick release and slow cook function work well with this soup. Instructions for both methods are in the printable Recipe Card.
About the liquids:
Tips:
The liquids are NOT exact measurements. Feel free to adjust the liquids to make this soup perfect for your family.
When I open a can of ingredients to make soup, canned beans or tomatoes, for example. I NEVER drain the liquids out of the cans.
Draining the beans and other canned foods robs us of flavor and nutrients.
Always buy organic canned goods so you are only putting good food in your soup. We love to use every drop.
NOTE: The acidity of the tomatoes can cause a tiny bit of metal in the canned tomatoes to come off in your soup. I have never worried about it but glass jars will never add metal to your soup. 🙂
The chicken sausage and broth ingredients are pretty flexible flavor partners. Especially with so many choices of chicken sausage these days.
Mediterranean Lentil Soup Version:
If you want a Tuscan soup vibe I recommend these Ingredients.
Italian Chicken Sausage (add in 1 Tablespoon olive oil when browning to tune up the italian flavor)
Add 2 Tablespoons Italian Seasonings
Italian Stewed Tomatoes
Fire roasted tomatoes
Use a flavorful fresh pepper. Bell peppers are fine but I love the poblano varieties for extra flavor and they are great in this version.
Parmesan grated over top at serving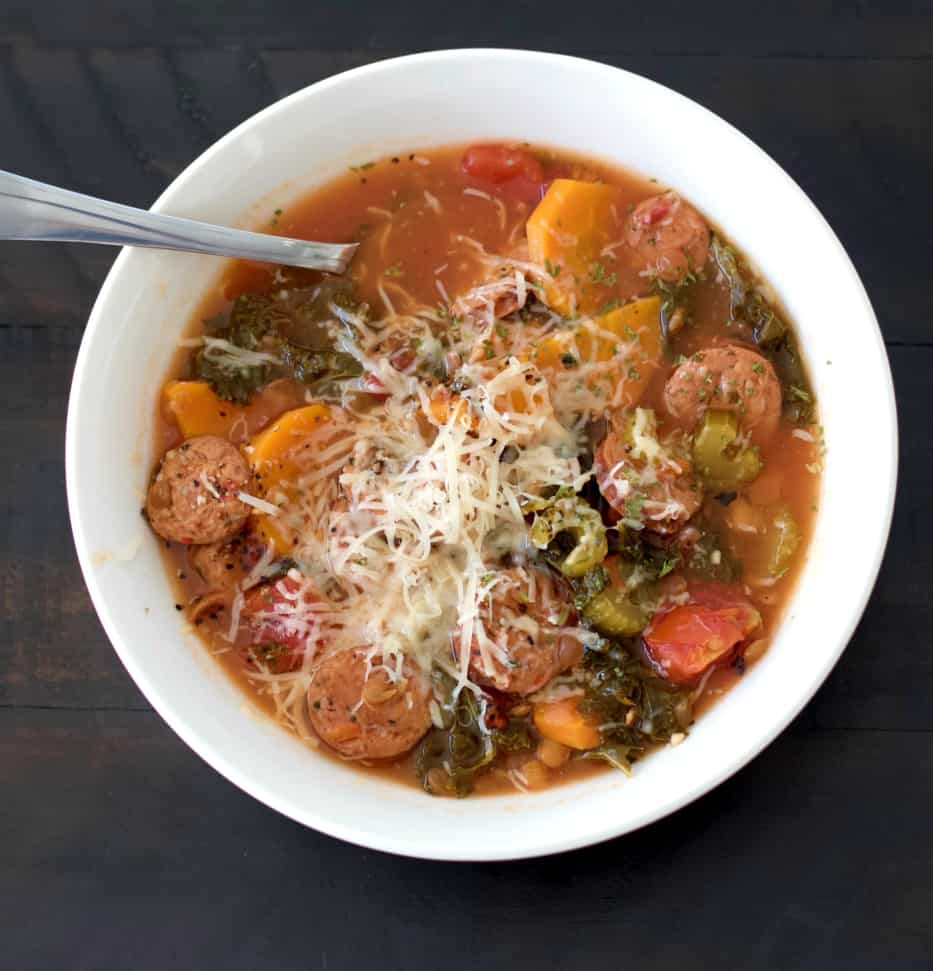 For a Plant Based or Vegan Lentil Soup:
Feel free to use chicken broth or vegetable broth in place of the water.
For a vegetarian or vegan lentil soup replace the chicken sausage with your favorite meatless sausage or omit the sausage.
If you make this easy lentil soup PLEASE comment for us and rate the recipe. We would love to hear how it goes for you!
Your Printable Recipe Card: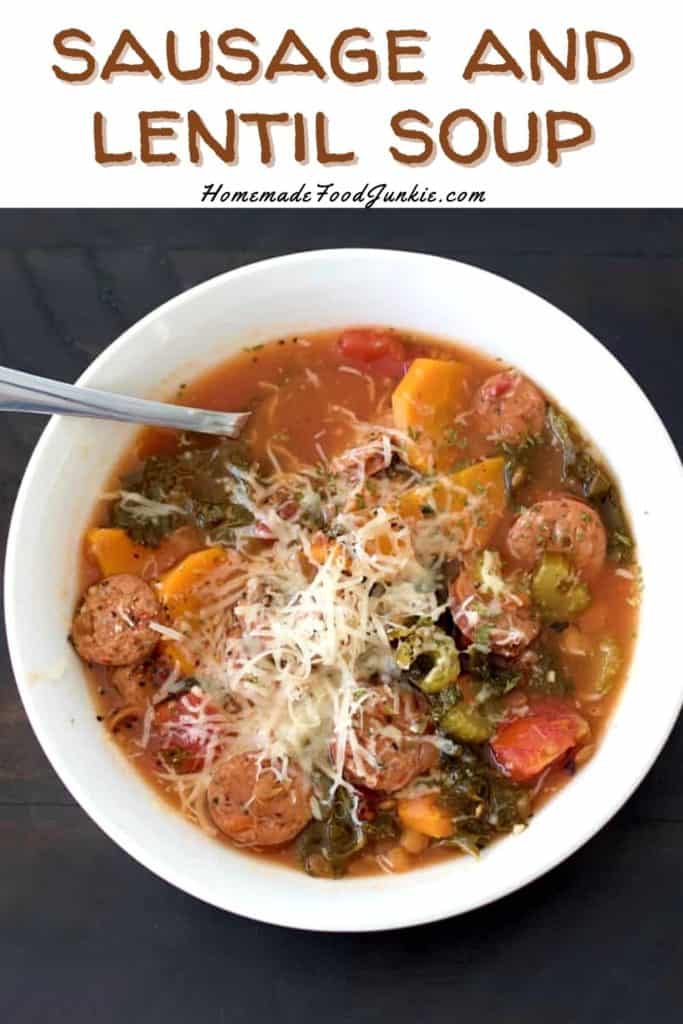 This quick and easy soup is featured on the Red TriCycle online Magazine