These sprinkle cookies are SO full of cheerful brightness, flavor and fun. Serve these at your child's next play date, kids parties, lunch box or movie night.
Sugar cookies with sprinkles are hugely popular with the whole family and very simple to make for kids… and with kids.
Funfetti cookie recipes often use a cake mix. We prefer this creamy sugar cookie recipe from scratch. It has a very soft texture.
The cookie dough is embedded with colorful sprinkles. Just like a Funfetti cake.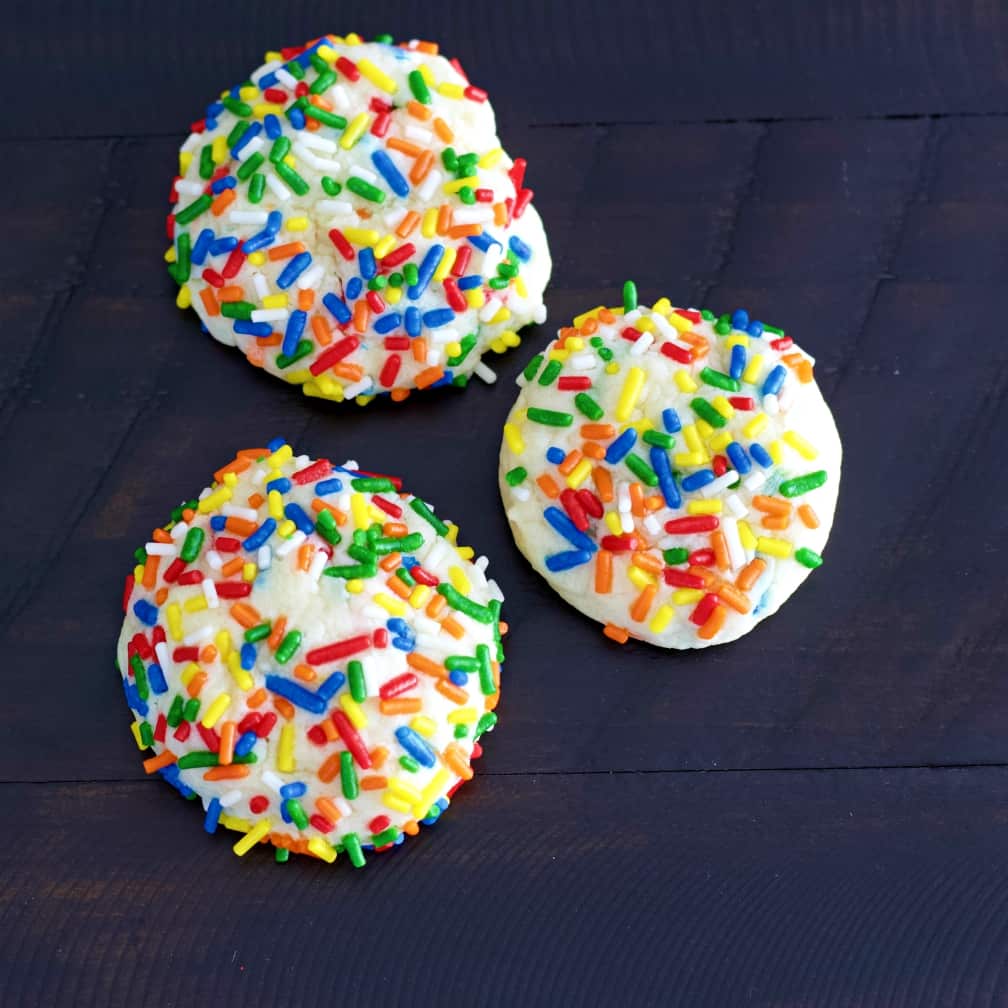 Delicious sprinkles are also baked right into the cookie top. Lots of sprinkly taste and texture. And so tender.
Set a platter of confetti cookies next to a birthday cake or any ole place. What is your party decor? Choose sprinkles that reflect the theme of your party supplies.
More Cookies to try…
If you're looking for fun cookies to make for the family or the holidays we have a complete cookie section for you to check out. Some yummy cookie recipes below.
Brightly colored rainbow sprinkles are just plain fun. Little hands can't resist em.
There is something about those colorful sprinkles. We have them baked into the cookie dough and all over on top.
Definitely a kid pleaser right there. And best of all these cookies are not just cute as candy. This confetti cookie recipe is also popular with grown ups.
Sprinkle Cookie Recipe:
For best results I recommend you use the ingredients suggested. The butter and full fat cream cheese give these cookies a very soft texture with a rich flavor.
The egg and vanilla extract you see above are made from home. 🙂 Dave's chickens and Kayti's homemade vanilla recipe. I'm going to convince her to post that vanilla recipe someday. It turned out great!
I used Betty Crocker Parlor Perfect brand confetti sprinkles. However, they recently changed their sprinkle recipe. So taste before you bake and make sure they are what you expect. We liked them.
Your Visual Guide:
Here is a quick step visual guide for you.
Please also watch our video demonstration of this recipe to catch all the details.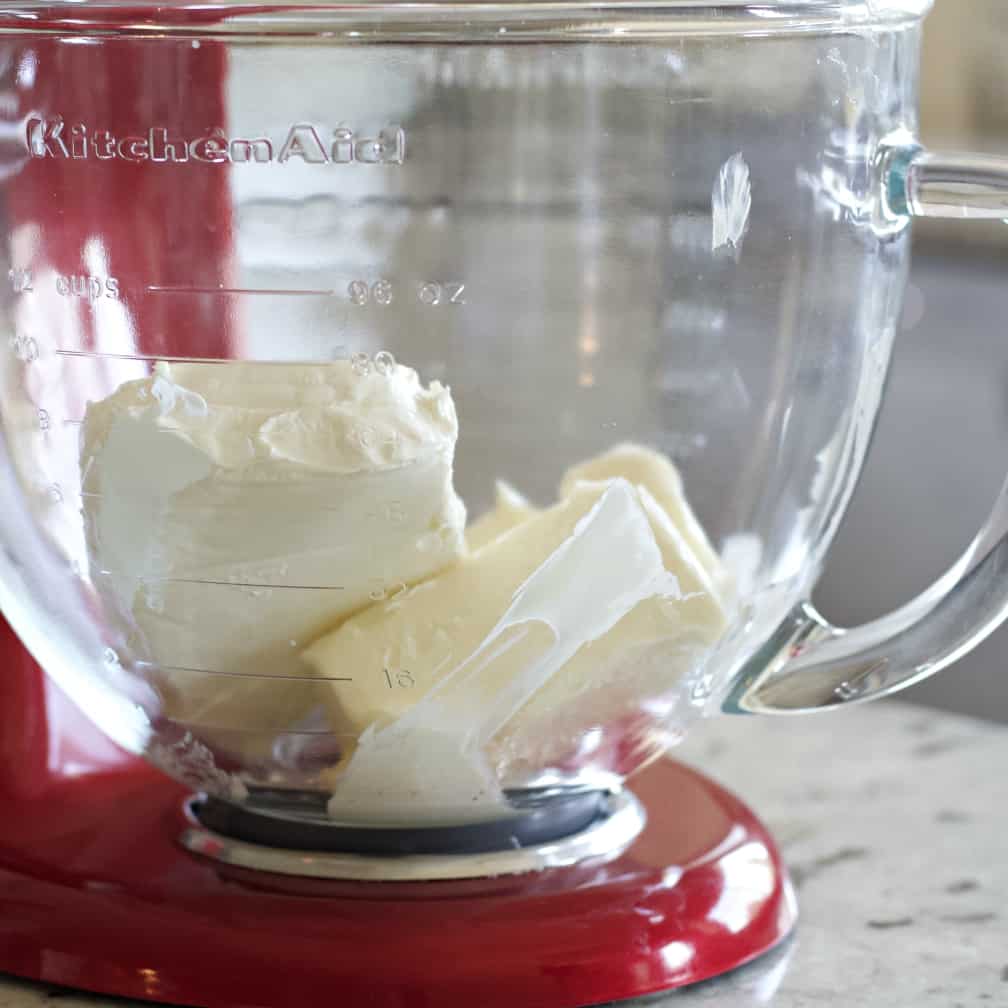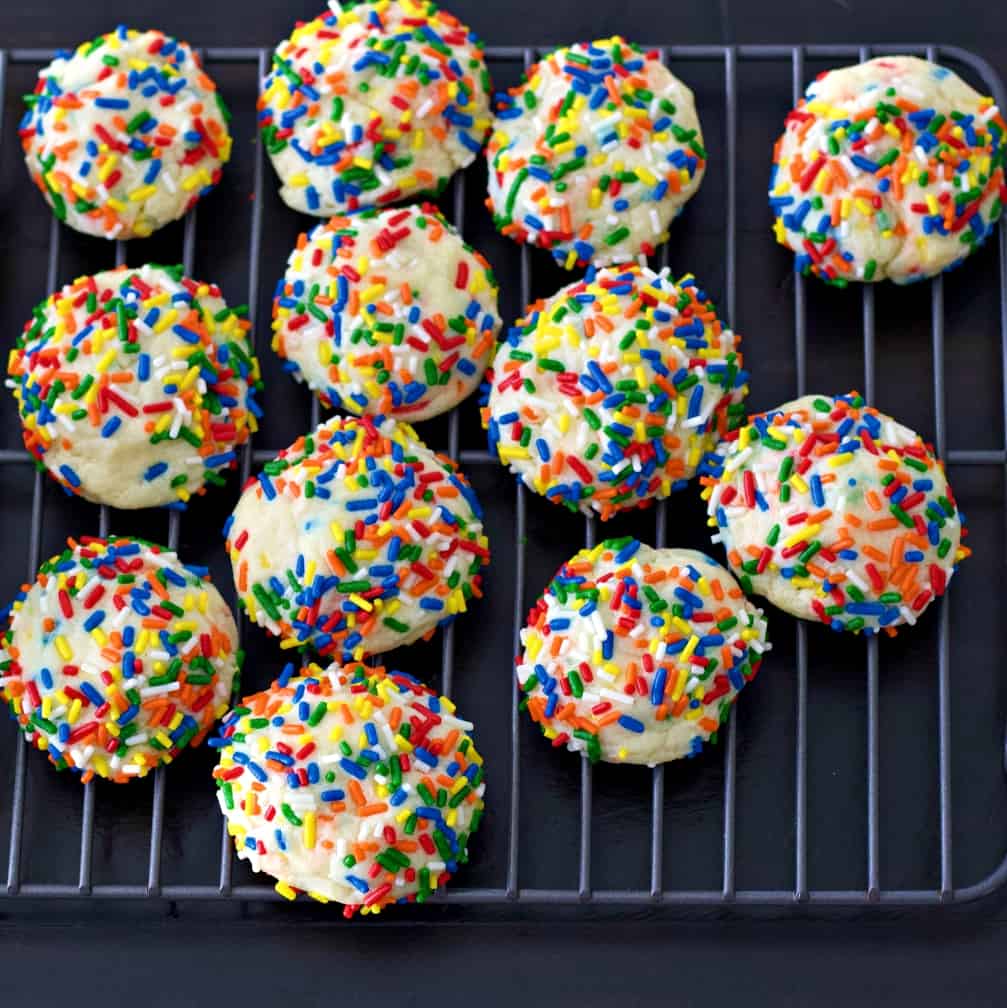 These cookies should NOT overbake. The cookies are finished when only SLIGHTLY browned. Immediately Remove from the oven to a cooling rack.
Your Printable Recipe Card: