Sugar cookies are a classic treat that everyone loves, but why not take it to the next level with a delicious caramel twist? This Caramel Sugar Cookie recipe makes soft, chewy cookies filled with gooey caramel that adds a touch of richness and depth to each bite. They are the perfect combination of sweet, buttery and caramel flavor that will have you reaching for just one more.
This recipe is easy to follow and requires only a few simple ingredients. Whether you're an experienced baker or just starting out, you'll find this recipe to be a crowd-pleaser. So preheat your oven and let's get started on making these heavenly Caramel Sugar Cookies.
These cookies are perfect to include children in the process. Kids can help with mixing the ingredients, as well as unwrapping and placing the caramel candies. And they will LOVE the taste test at the end. 🙂 Enjoy this indulgent warm sugar cookie recipe on a cold afternoon or serve them up for an event or gathering, they are sure to be a favorite.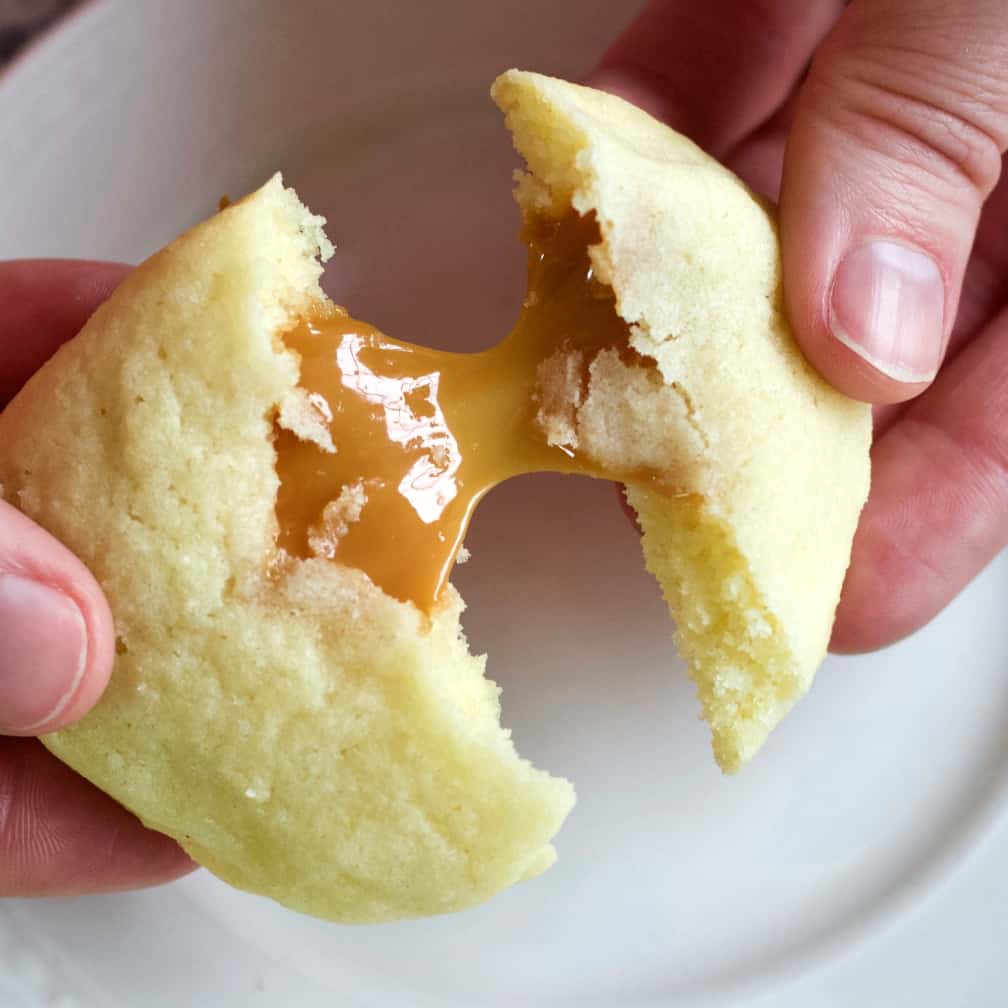 How can I make my Sugar Cookies taste even better?
The beauty of a Sugar Cookie recipe is their delicate flavor profile. A well baked, soft sugar cookie can hold its own fresh out of the oven, be decorated with intricate designs and embellishments, or even finished with extras such as sprinkles, candy bits or a dusting of cinnamon and sugar.
For this recipe, the simple flavors of a classic sugar cookie work well because it allows the caramel filling to stand out as the show stopper. But, if you're looking to elevate the flavor of your sugar cookie dough you could try adding any of these popular spice blends and extras to your dough prior to baking.
A blend of cinnamon, nutmeg and ginger to bring out a Holiday flavor
The zest of orange, lemon or lime for a bright citrus finish
A small amount of the juice of an orange or lemon to your dough
Add a blend of pumpkin pie spices
Grate fresh vanilla bean into your dough
A dollop of Nutella or peanut butter
Add almond or coconut extract to your dough
Are Sugar Cookies Better with Butter or Shortening?
The preference between using butter or shortening in sugar cookies is largely a matter of personal taste and health.
Butter-based sugar cookies tend to have a rich, buttery flavor and a soft, tender texture. However, butter can also cause the cookies to spread more during baking. We have compensated for that in this recipe. These caramel cookies are flat but still have some structure.
A Shortening-based sugar cookie recipe will tend to be a bit more stable during baking, resulting in a thicker and less spread-out cookie. They also tend to have a neutral flavor, making them a good choice if you want the other flavors in your cookie to shine.
Ultimately, the best choice for your sugar cookies depends on the desired flavor, texture, and appearance of your finished product. You can also try a combination of butter and shortening for a compromise between flavor and stability.
Following the sugar cookie recipe measurements is very important in baking, too much sugar, melted butter, over mixed dough, and too much bake time will all lead to hard, brittle cookies. it's important to remember to only mix your cookie dough until everything is combined, and do so with a gentle hand.
Once your cookies are baked and cooled, be sure to store them in an airtight container or sealed bag to prevent them from drying out. Having cookies exposed to the air for long periods of time will draw out the moisture making them firm and hard, and even lose some of their delicious flavor.
The texture of sugar cookies is determined by the ratio of ingredients and the method of preparation.
Sugar cookies can become hard if they are overbaked or if the dough contains too much flour or not enough moisture. Soft sugar cookies typically contain more fat, such as butter or oil, and have a lower baking temperature. Additionally, adding a liquid sweetener like corn syrup or molasses to the dough can help keep the cookies soft.
Storing and freezing this Sugar Cookie Recipe:
Storing:
This caramel sugar cookie recipe makes cookies that stack and store well once fully cooled. To store or travel these sugar cookies simply place parchment paper between the layers of cookies to prevent the caramels from getting sticky.
They store well at room temperature up to a week if kept in a cookie jar or air tight container.
Freezing Instructions:
To freeze these cookies:
make sure they are completely cooled.
freeze them without touching. Set them on a baking sheet or cooling rack lined with parchment paper. Then lay the baking sheet flat in your freezer.
Once the cookies are completely frozen set them into your freezer safe container or freezer safe Ziplock storage bag in layers.
Put a piece of parchment paper between each layer of cookies, this will help them not freeze together and become stuck.
Suck out all the air from the container for longer freezing time.
Label the container with the recipe name and date.
Freeze up to 6 months.
Defrost by un wrapping the cookies and setting them in the fridge or on the counter.
These Caramel Filled Sugar Cookies can be frozen for up to three months. To defrost and serve set the cookies out at room temperature a few hours before serving.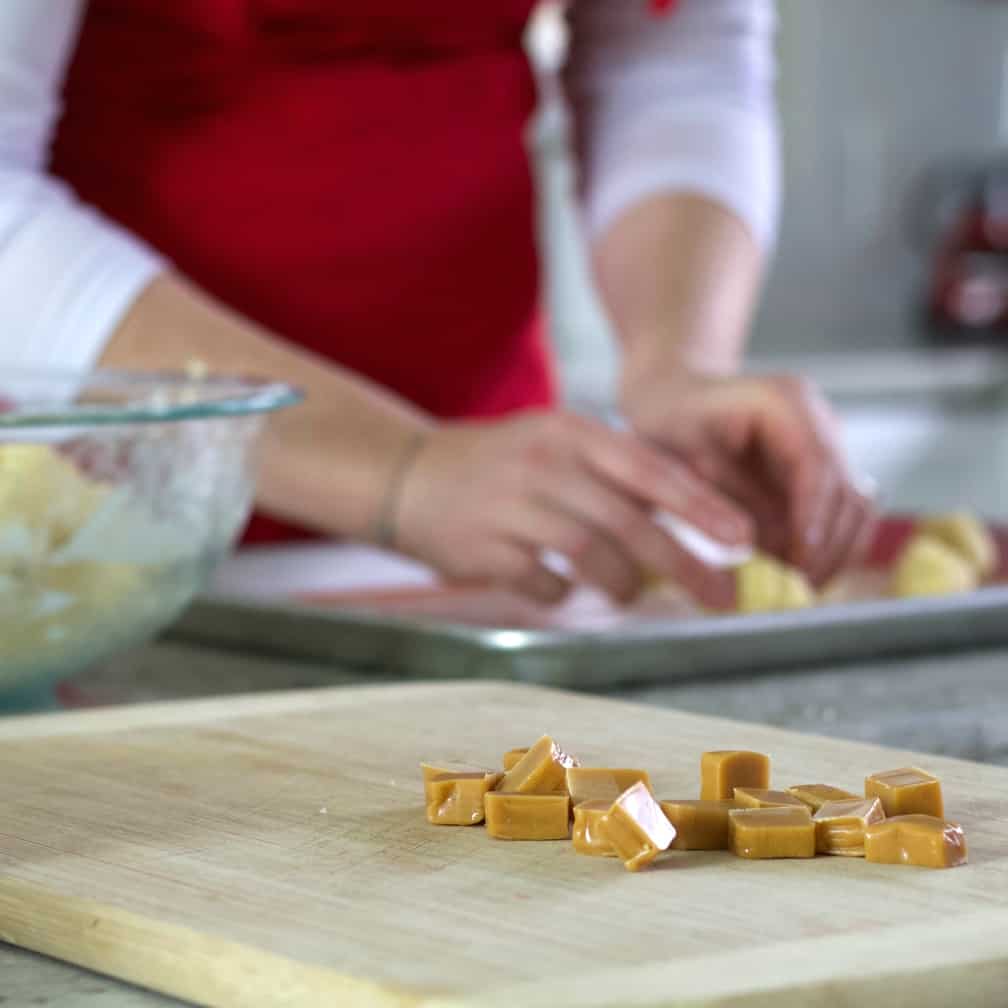 This is a simple Thanksgiving or Christmas sugar cookie recipe that doesn't require fancy decorating.
Should I chill sugar cookie dough?
Yes, it is normally recommended to chill sugar cookie dough before baking. We make an exception with this recipe.
Here's the benefits to chilling your sugar cookie dough:
Chilling the dough allows the ingredients to meld together and helps to prevent the cookies from spreading too much while baking. It also allows the flavors to develop and intensify, resulting in a tastier cookie.
Typically, sugar cookie dough should be chilled for at least 30 minutes to an hour before shaping and baking. For best results, you can even chill the dough overnight. Just be sure to let it sit at room temperature for a few minutes before rolling and cutting to make it easier to handle.
For this caramel filled sugar cookie, we don't want to over chill the dough. This will make the dough difficult to fill with the half caramel. Keep the dough cool so it is easy to handle but don't let it gt cold enough to stiffen completely.
Caramel Stuffed Sugar Cookie Recipe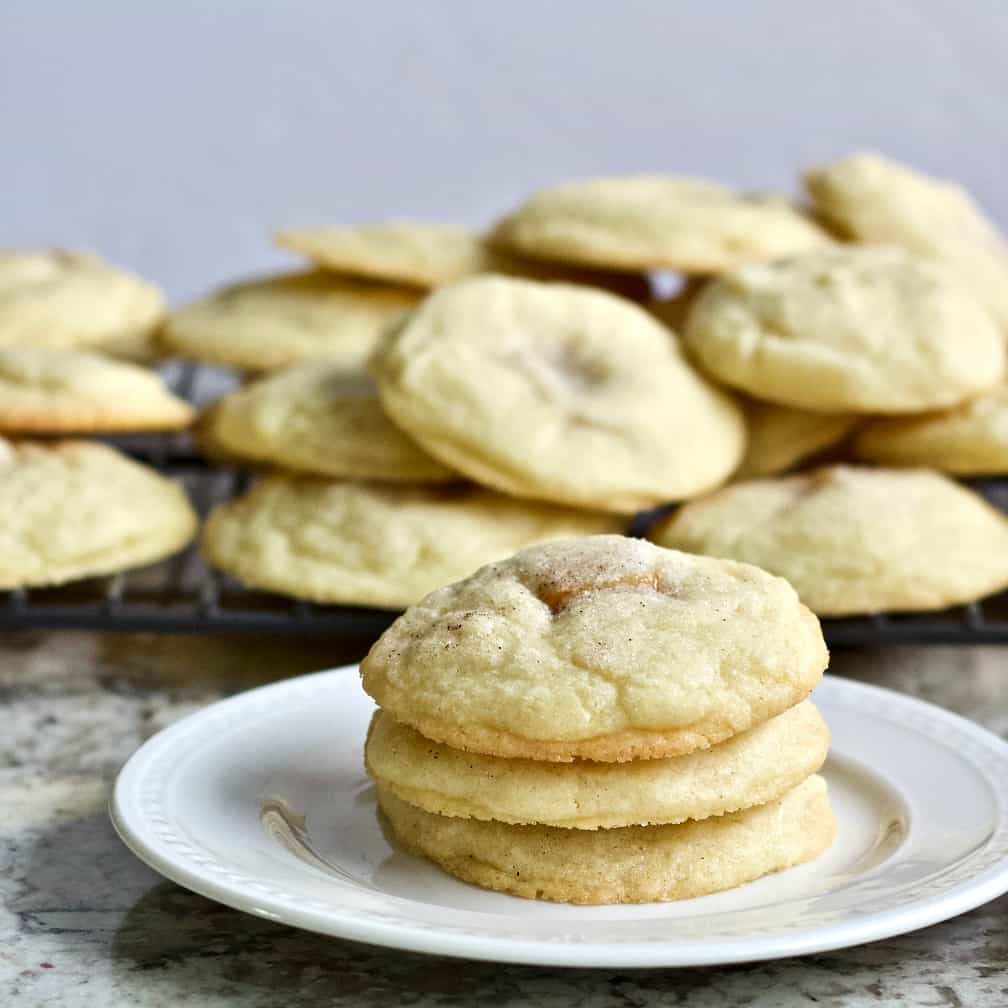 Caramel Sugar Cookie Recipe Tips:
For the best sugar cookie recipe results follow these tips.
Chill the dough only 20 minutes or less. We want this dough pliable enough to set the caramel into it. Too cold dough will make this difficult.
If your house is very warm, Cool the dough between batches in the fridge if necessary. This keeps the dough easy to work with and gives the best baking results.
Put the caramel in the middle to upper third of your dough ball. If the caramel is placed near the bottom of the cookie dough ball it will bake to the cookie sheet.
Be careful to not over bake. The cookies are baked when the top of the cookie slightly cracks. When the cookies are browned they are overdone and will be hard instead of chewy.
Keep the baked cookies on your baking sheets about 10 minutes before removing them to your cooling racks. This will ensure the caramel is cooled and will transfer well.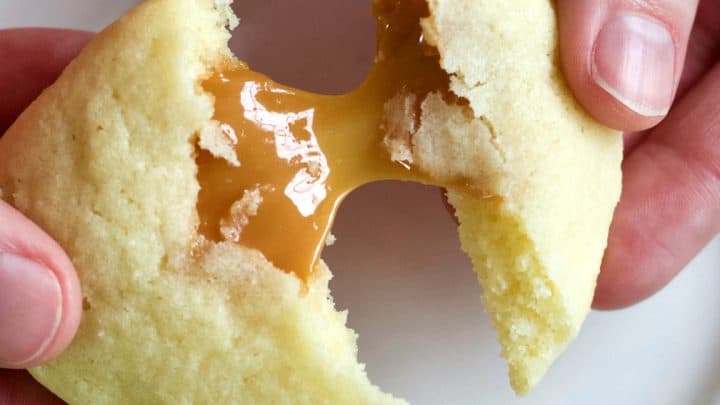 Yield:

24 sugar cookies
Sugar Cookie Recipe with Caramel Filling
This classic sugar cookie recipe is a favorite all year round. Add a caramel in the center with a sugar spice sprinkle on top. Now you have a divine Fall Cookie the whole family will love
Ingredients
2 1/2 Cups Flour
1/2 tsp. Baking powder
3/4 tsp. salt
1 1/2 Cups sugar
1 3/4 Sticks butter (7/8 Cups)
2 eggs
2 tsp. vanilla
Instructions
Grease your cookie sheets (OR use silicone matts)
PREHEAT OVEN TO 350 DEGREES F.
Sugar cookie instructions:
Whisk together the flour baking powder and salt in a medium mixing bowl.
In a separate large mixing bowl add SOFTENED butter and sugar and mix together with your electric mixer until it it light and fluffy.
Add the room temperature eggs and pure vanilla extract into the sugar /butter mixture and mix together.
Add the dry ingredients one third at a time, mixing after each addition until all the dry ingredients are completely mixed and a cookie dough is formed.
Cut all of the caramels in half.
TO ADD THE CARAMELS into each cookie:
Pinch off a one inch ball of dough and make a well in it.
Place a half caramel into the dough well and fold the dough firmly around the caramel.
Place the THICKEST side of the dough on the cookie sheet.
OPTIONAL sugar cinnamon topping:
Mix together 2 Tablespoons sugar and one Tablespoon cinnamon on a flat plate.
Flip the cookie so the thicker dough is on the bottom.
Make a small indent on the top of the dough.
Sprinkle the cinnamon sugar on the top fo the cookie dough.
Set the cookie dough ball thicker side down on your baking sheet 2 inches apart.
Baking Instructions:
Bake in your preheated oven for 13 minutes or until the tops of the cookies crack slightly.
Remove from oven and LEAVE ON THE BAKING SHEET for 10 minutes.
Now remove to cooling rack. This will help the caramels solidify and remain in the cookies.
Serve when cooled but still warm.
Notes
TIPS:
To keep the dough easy to work with and for the best baking results cool the dough between batches in the fridge.
Put the caramel in the middle to upper third of your dough ball to keep it in the cookie as it bakes. If the caramel is placed near the bottom of the cookie dough ball it will bake to the cookie sheet.
The cookies are baked when the top of the cookie slightly cracks.
Keep the baked cookies on your baking sheets about 10 minutes BEFORE removing them to your cooling racks. This will ensure the caramel is cooled and will transfer well.
Recommended Products
As an Amazon Associate and member of other affiliate programs, I earn from qualifying purchases.
All of these cookie recipes are easy to make, and kids enjoy helping make these cookie recipes too. They all make wonderful snacks, party food and food gifts.
Follow Us:
We enjoy meeting you on our social networks. Follow us on Facebook, Pinterest, Instagram . Tag us with your pictures of our recipes and comment on how it went for you. We would love to see what you do with them.
We often like, comment and share your posts of our recipes on our daily Instagram stories.
Ask questions and rate the recipe in the comments section below. Please share what you did with this recipe. We are always looking for more and better ways to make homemade food. Other cooks love your ideas!
Recent Posts: