Our Eggnog cookies bring delicious holiday flavors to any Thanksgiving or Christmas party. These are DELICIOUS drop cookies with rich eggnog flavor.
And so easy to make. Make them like any drop cookie. Just mix, drop them on a cookie sheet and bake. We have included an optional buttercream frosting if you want to dress them up pretty.
However, these Flavorful Holiday cookies need no added embellishments to win your tastebud devotion. The best eggnog cookies (and these are a contender for that prize), are a rich combination of spices and eggnog.
Unfrosted and unadorned the eggnog treats make tasty Fall goodies for gifting in a pretty Christmas cookie box or adding to an adorable holiday party tray. Your family will beg you to add them to your cookie jar and lunchboxes too.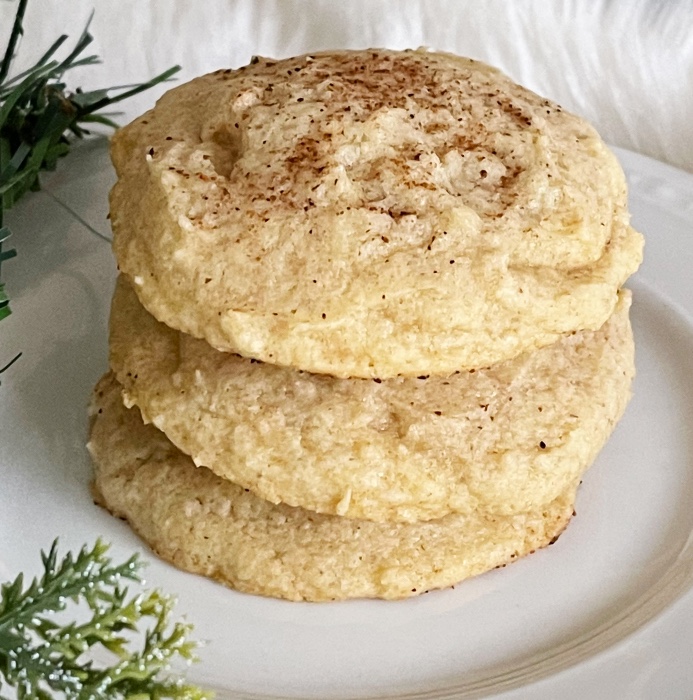 This eggnog cookie recipe is a simple cookie. We love them unfrosted and eat them all through the holiday season straight from the cookie jar.
How do you make Eggnog Cookies?
This recipe for these tasty eggnog cookies scales easily. Just double the batch by doubling the ingredients. Same goes with cutting this recipe in half. Just use half of all the ingredients.
Eggnog Cookies Ingredients:
Like most sugar cookies, the major ingredients in these cookies are flour, spices, baking powder, butter, eggs and sugar. These cookies replace milk with eggnog for that rich Christmasy flavor.
Eggnog makes a DELICIOUS holiday sugar cookie. Our family can go through a batch in one night. We use a richly flavored eggnog from a local dairy. It makes a difference. See if you can find eggnog from a local dairy. It's fun to support local farms. You might get lucky, as we have, and find unique and amazingly good eggnogs.
Substitutions For Eggnog Cookies:
Always use the best ingredients and stick to the recipe whenever you can for best results. But when you are out of something, here's a few ideas on substitutions that can save you a trip to the store.
If you want a stiffer, denser cookie replace 1/2 of the flour with whole wheat white flour. The cookies will be rounder and thicker and may need a few more minutes of baking time.
Coconut oil makes a nice substitute for butter as it adds its own delicious flavor. Use 1/2 Cup coconut oil for 3/4 Cup butter in this recipe.
If you enjoy rum flavor, replace the vanilla with rum flavoring. Or add a teaspoon of rum in alongside your vanilla flavoring.
Both Nutmeg and cinnamon can be replaced with mace, touch of ginger, pumpkin pie spice or allspice. This will affect the flavor of the cookies but they will still have a yummy holiday aroma and taste like Christmas.
Out of eggs? Flax eggs can replace them. Read here for more on Flax. Flax eggs are made by combining 1 tablespoon flax meal with 3 tablespoons water. Wait five minutes for the flax to absorb the water and use instead of egg in your recipe. This cookie recipe calls for 2 egg yolks so use 2 Tablespoons flax meal and 5 tablespoons water to replace them.
Ideas on Vegan Eggnog Cookies:
I have made vegan cookies like these peanut butter cookies, and vegan pie crust, by simply replacing the butter with coconut oil and using flax eggs rather than real eggs.
But I have never used vegan eggnog or vegan butter. So with that in mind, I offer the following ideas on how to make this recipe vegan and still retain its character.
replace the eggnog with vegan eggnog.
Use vegan butter, or replace the butter with coconut oil as per the substitution section.
The eggs can be replaced with flax eggs as we discuss in the substitution section above.
Omit the frosting as we did, or use vegan butter and eggnog.
Feel free to adjust the spices and flour amounts to taste as needed to attain the vegan eggnog cookie of your dreams.
Can you Freeze Eggnog Cookies?
These eggnog cookies freeze well for up to two months unfrosted. Layer them in a rigid airtight freezer container and place parchment between the rows of cookies so they don't stick together.
To Defrost these cookies:
Remove container from freezer.
Allow to defrost at room temperature until the cookies easily separate from the parchment paper.
Remove cookies to wooden board or plate to continue warming.
Frost now if doing so.
Serve at room temperature.
Here is our printable recipe card.
Yield:

24 cookies
Eggnog Cookies Recipe
These easy eggnog cookies will quickly dissapear off your party platter. Make them with the kids. We've included an optional Frosting recipe for those looking to add a note of indulgence. These are so tasty, the frosting is not necessary. Everyone loves these holiday cookies.
Ingredients
2 1/4 cups all purpose flour
1 tsp baking powder
1/2 tsp cinnamon
1/2 tsp ground nutmeg
1/4 tsp cloves
1 1/4 cup white sugar
3/4 cups butter (softened)
1/2 cup old fashioned eggnog
1 tsp vanilla extract
2 egg yolks
Optional Buttercream Eggnog Frosting:
3 Cups powdered sugar
1/4 cup softened butter
1/3 Cup eggnog
1 tsp. vanilla or rum flavoring
Topping:
Sprinkle with ground nutmeg to taste
Instructions
Prep:
Preheat oven to 325 degrees F.
Gather your ingredients.
Line 2 baking sheets with silicone mats or parchment paper.
Method:
In a medium mixing bowl whisk together flour, baking powder and spices. Set aside.
In a large bowl cream sugar and butter with an electric mixer or large wooden spoon.
Pour in the egg yolks, vanilla and eggnog and blend on medium speed until smooth.
Add the dry ingredients in three small batches mixing until the flour mix is just combined. Do not overmix.
Place tablespoon sized cookie dough balls on lined baking sheets. We use a cookie scoop and highly recommend it for uniformity of cookie size.
Bake 15 minutes or until done. Remove to cooling rack and sprinkle nutmeg on top.
Cool and serve.
Optional Frosting:
In a medium bowl mix together powdered sugar and butter with an electric mixer.
Pour in the vanilla and eggnog. (Adjust the consistency of the frosting with the amount of eggnog you use.)
Mix the frosting until it smooth and spreadable.
Use a knife or small frosting spatula to spread the frosting on the cooled eggnog cookies.
Sprinkle ground nutmeg over the frosting as desired.
Notes
Can you use real rum in this recipe?
Yes, you can replace the rum flavoring with up to one tablespoon of real dark or spiced rum to add flavor. if the cookie dough is not quite as stiff as you prefer sprinkle in a bit of flour until the dough is firmer.
Can you freeze eggnog cookies?
These eggnog cookies freeze well unfrosted for up to 2 months.
Place them in air tight rigid freezer container (rather than freezer bags).
Layer the cookies flat with parchment paper in between the layers to avoid breaking the cookies.
To Defrost cookies: Open the box of frozen cookies and unpack the cookies frozen so they hold together well.
Arrange cookies on platter and serve.
Or place them on parchment paper and frost them as desired.
Nutrition Information
Yield
24
Serving Size
1
Amount Per Serving
Calories

249
Total Fat

10g
Saturated Fat

6g
Trans Fat

0g
Unsaturated Fat

3g
Cholesterol

51mg
Sodium

96mg
Carbohydrates

37g
Fiber

0g
Sugar

27g
Protein

3g
More Holiday Cookie Recipes:
The holiday season is a great time to make homemade peppermint candy, hot cocoa mix, and holiday Bark. Make some shortbread cookies to add to those party trays. Enjoy!
These are a few of our favorite holiday cookies. They look great on party trays.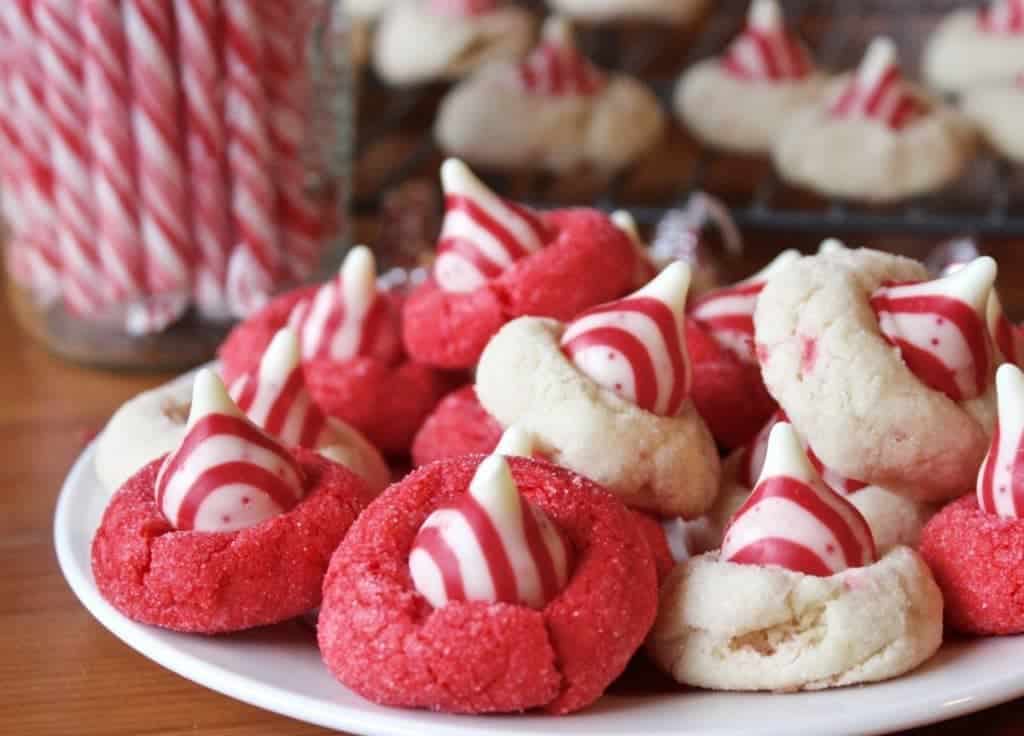 Follow Us:
We enjoy meeting you on our social networks. Follow us on Facebook, Pinterest, Instagram . Tag us with your pictures of our recipes and comment on how it went for you. We would love to see what you do with them.
We often like, comment and share your posts of our recipes on our daily Instagram stories.
Ask questions and rate the recipe in the comments section below. Please share what you did with this recipe. We are always looking for more and better ways to make homemade food. Other cooks love your ideas!
Recent Posts: