Homemade Hot Cocoa mix. Make your own hot cocoa mix and enjoy a chocolate, rich, comforting drink made with a few ingredients you know and can trust! This Low-Sodium, Vegetarian, Gluten-Free  mix stores easily in an airtight container, has a long shelf life and makes a perfect gift!
Every fall, hot chocolate mix suddenly becomes a necessity at our house. We love an occasional cup of hot chocolate and so do the grandkids. I have made it before from scratch when my kids were little, and then I started buying Swiss Miss in the large Costco packs. Pure laziness, but I liked the convenience, I admit! I wanted some packets around for the winter season to brew up an occasional cup. Little indulgences you know…when the damp and cold need chasing off!
It's about the time of year I start looking for my annual Costco box of Swiss Miss Packets. So I googled the ingredients (don't ask me why, but I wanted to know what was in it). Suffice it to say, Yuck! I can do better than that! It's time I got back to making my own hot chocolate mix again!
I started looking for a homemade hot cocoa mix. My old recipe has long gone missing so I checked out several homemade mixes online and found this recipe on the Kitchn. I like it because it is simple and uses ingredients I know and trust. Things I don't mind eating and feeding to my grandkids!
Recipe Notes on Homemade Hot Cocoa Mix:
This recipe does use powdered milk: But it doesn't need to. That just adds a bit of richness.
If you prefer, you can eliminate the powdered milk and use any nut or dairy milk you like when heating it. I used coconut milk today. The flavor was gorgeously rich and chocolatey.
I also made this mix in a microwave with water, like you would an instant packet of store bought cocoa. It works just fine and tastes way better than store-bought! Just heat it until those chocolate chunks stir all the  way up. About a minute; or heat a teapot of water on the stove to boiling. But this is not as thickly rich as the milk base!
I love that this mix uses chocolate chunks. I spent a bit of time chopping (use your food processor if you prefer). The resulting texture and flavor of the mix rewarded me richly. Yes, I am the one that savored this lovely treat today.
A cup of Hot Cocoa topped with whipped cream and ground cinnamon. A Chocolate spoon on the plate to stir in extra chocolate for fun! Such a cheerful comforting treat!
Let's Make It!
Chop the chocolate up fine
mix the powdered milk, chopped chocolate, salt and cocoa powder together in a large bowl.
Store this mix in an airtight container
Couldn't be easier and it holds well if kept in an air tight container for several months. Note though, this only makes six servings. I doubt it will last six months!
Gift This Recipe:
This recipe is easy to make and looks adorable in a cute jar. I'm going to make a few batches for gifts! Such an inexpensive, personal gift for a friend or co worker. I have a few recipients in mind. I'm thinking it would be so nice for chocolate lovers to open as a gift; especially if it also included a few extras.
I may search around a bit and find a way to include some toppings and garnishes along side a jar of this mix. I may even make some chocolate spoons to go with the mix. After having stirred the spoon into my hot cocoa and eating the chocolate off the spoon…yes, they definitely have to be part of the gift!
What do you think of that? I 'm also considering cinnamon, shaved chocolate, cayenne, ginger, some cute chocolate sprinkles. What would you use?
To Make a Cup of CoCoa with this homemade Hot Cocoa mix:
Set a pan on the stove on low.
Add one cup of any  dairy or nut milk you like
Add 3 Tablespoons of the mix to the milk and stir until it's thoroughly combined.
Heat until warmed to your taste
Pour the heated cocoa into your heat proof cup and garnish as you desire. I loved it with whipped cream and ground cinnamon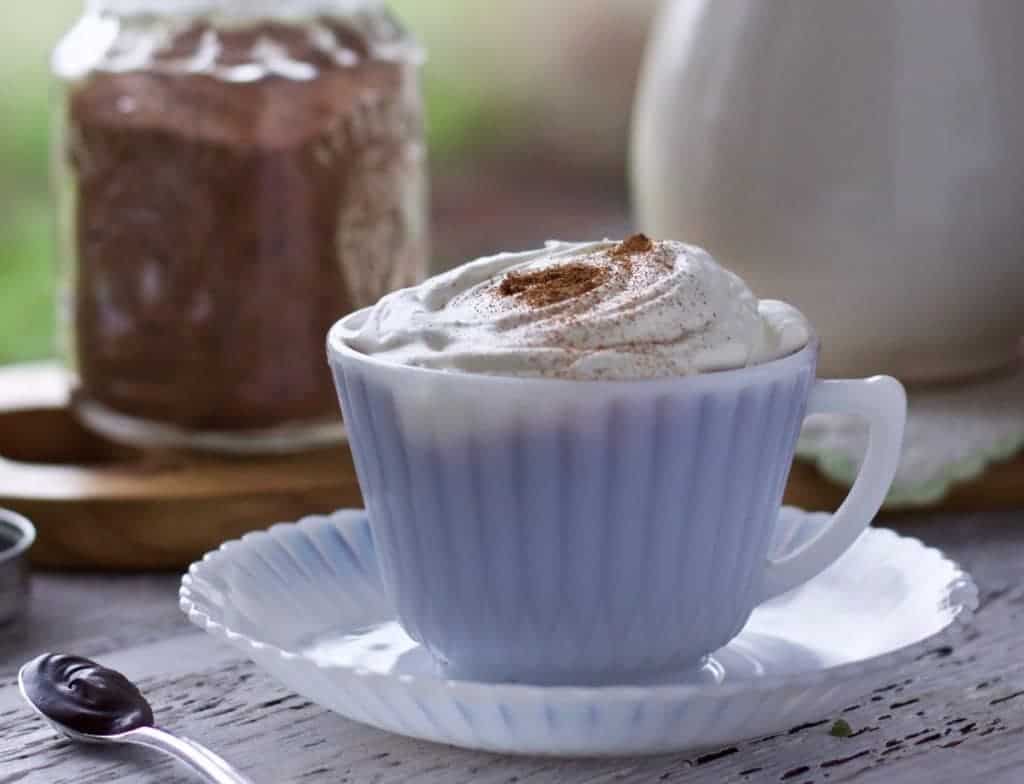 Ingredients
3 oz. Semisweet Chocolate (I used 2 oz. semisweet and 1 oz. unsweetened Bakers chocolate)
1/2 Cup Dutch Process Cocoa Powder
1/2 Cup Organic sugar
3 Tablespoons Powdered milk
1/8 tsp. sea salt
Instructions
Chop the chocolate into fine pieces. Either chop with a large knife, or use your food processor.
In a large bowl add the cocoa, sugar, salt and chocolate pieces.
Whisk together thoroughly.
Store in an airtight container.
To use the mix for one cup of hot cocoa:
Pour one cup of milk or any nut milk (I used Coconut milk) into a one quart pan set on low.
Add 3 Tablespoons of the cocoa mix and whisk it together until its thoroughly mixed and warmed to your taste.
Granish as you desire: Suggested toppings include Whipped cream and ground cinnamon.
Pin it: 
This Recipe Post is part of The Best Homemade Food Gifts Collection by TheHealthyHelperBlog.com
Recipe source: The Kitchn
SaveSave