Pressed cookies make a pretty display on your dessert table. This spritz cookie recipe is a tried and true family recipe. Learn how to use the marcato cookie press and see our complete video review.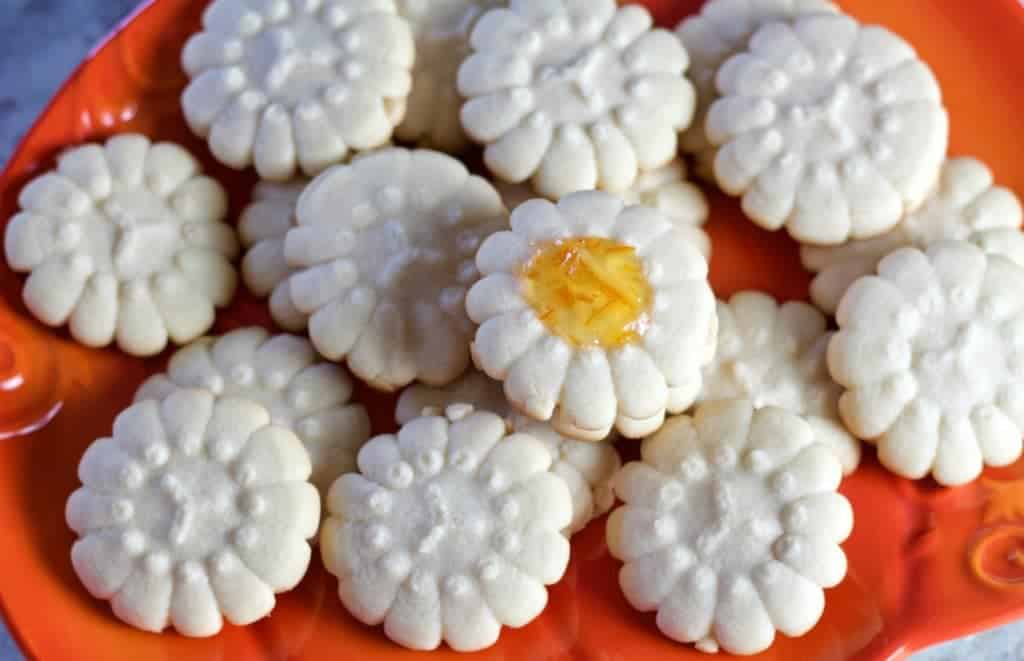 Need a last minute pressed cookie to spruce up your party table? Give these yummy shortbread cookies a try. This recipe works great for any cookie press. Delightful shapes can be created in minutes.
WATCH THIS VIDEO for the Pressed Spritz Cookie recipe demonstration and Marcato Cookie press demonstration on how to use a cookie press.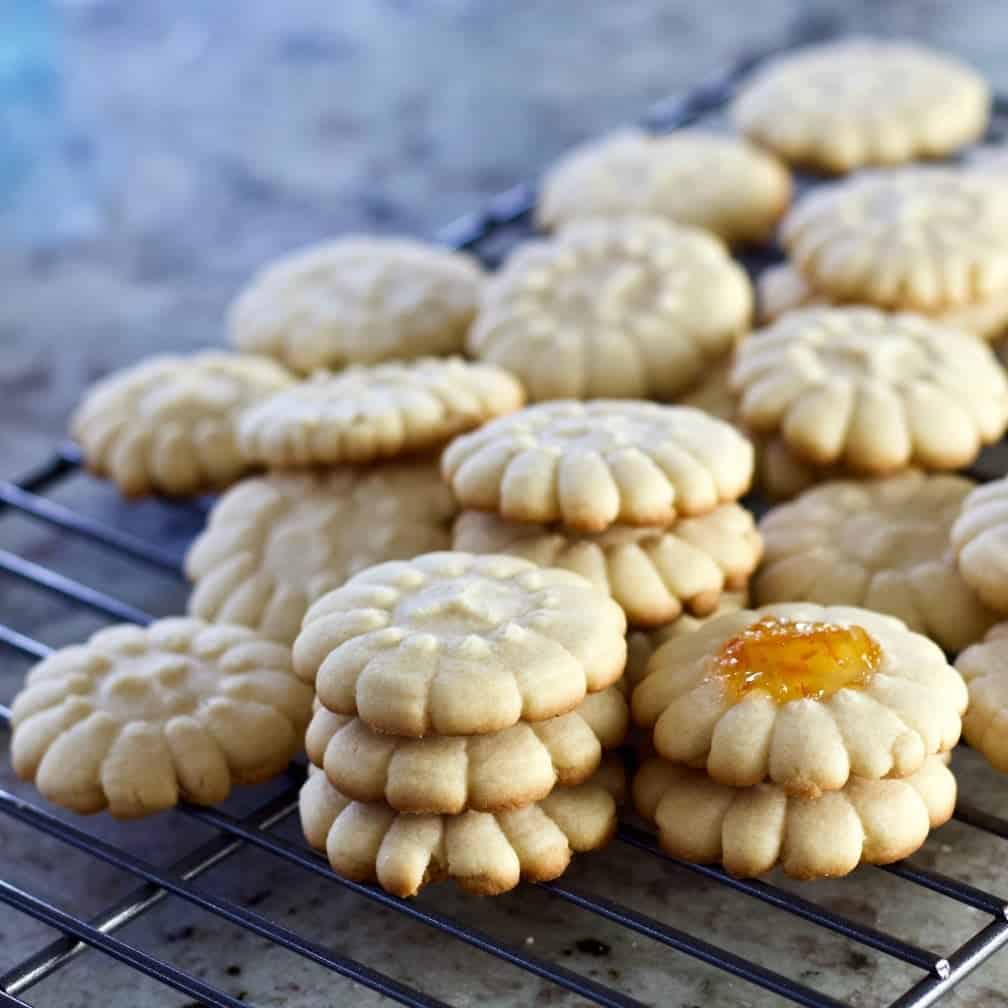 I have the really ancient cookie press my mom used about a million years ago. Grandma gave it to her. It's old. Really old!
I finally figured out how to use the thing, after mom came over a while ago and showed me. It was all in parts and I couldn't make sense of it. Soooo…
I used it a few times and decided I liked the concept but needed a better tool for the job.
I FINALLY bought a new Spritz cookie press. It's a beauty. Of course you see what I'm comparing it too.
We made Grandma's Pressed cookie recipe in the demonstration video to show off the Marcato and demonstrate how easy it is to make these adorable holiday treats.
Marcato Cookie Press:
The beautiful white cookies on this post are from our new Marcato cookie (biscuit) press. If you need a cookie press…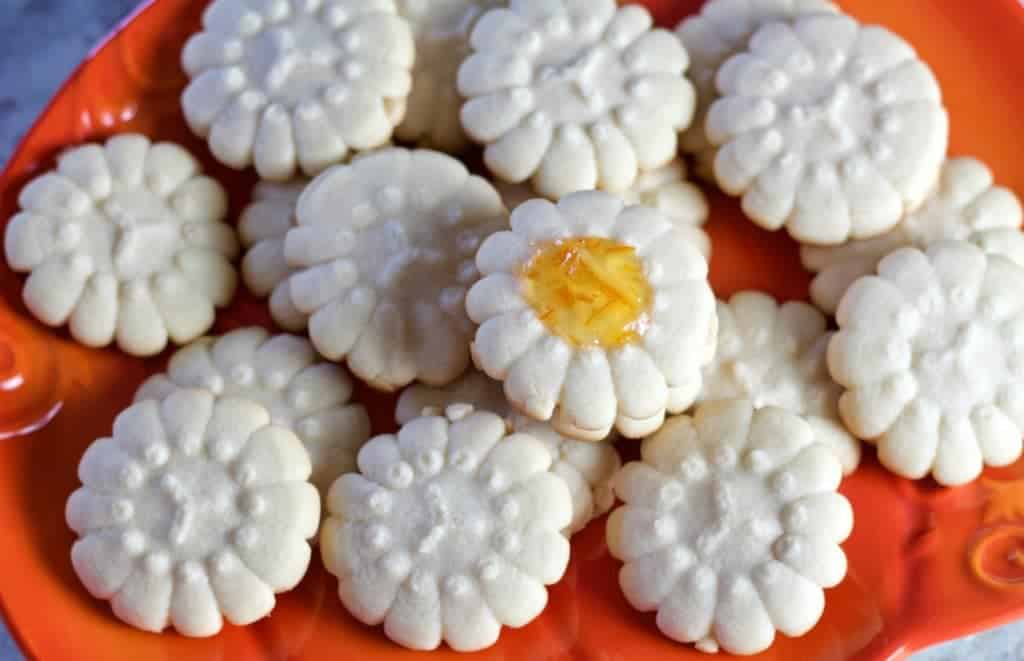 The Marcato is a well built cookie press (this one should last generations like mine did) that works well. It is made in Italy. The press is made of stainless steel, gives you two sizes of cookies. This cookie or biscuit maker includes 20 disks.
THIS IS NOT a sponsored post. Kayti and I just like this press and decided to review it for you. She uses it in our Pressed cookie recipe video.
The only downside to this press that we saw. This cookie press includes only traditional cookie shapes. We were really hoping for some holiday shapes. Grandma's press does have cute Christmas shapes. I like that.
Spritz Cookie Press Recipe:
My ancient cookie press came with a hand written recipe I have transcribed into this post. I'm guessing it was Grandmas and she wrote it for mom…and now I'm sharing it with all of you.
We all love it. This recipe is easy to make and work with. Perfect shortbread texture and flavor too.
I remember eating these cookies from holiday trays at Grandma Cash's house. They were always delicious and very cute party favorites. So now I arrange them on my party tray for the grandkids to nibble.
That is if I can keep them away from my husband! He loves these cookies, so some of them are going into hiding!
If you decide to color the dough:
Divide the dough into a separate bowl
add the color you prefer and mix it up until you like the color tone.
Press the dough into your favorite shapes and bake! It's a cinch!
I also used the icing recipe here to create designs on the cookies with sprinkles.
This Spritz cookie recipe makes about 60 small cookies or 40 large .
Compare the Cookie Results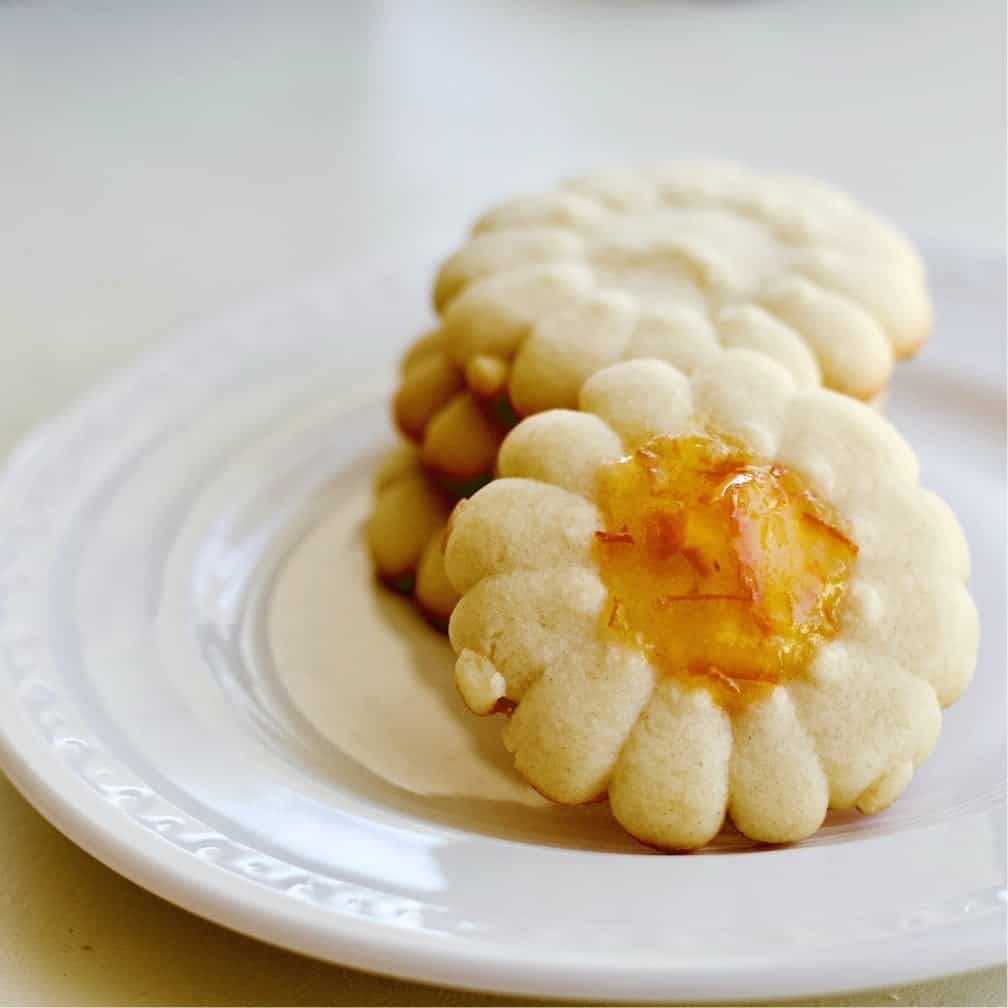 The cookies below were made with my Grandma's old spritz cookie press. My Marcato cookie press makes much prettier cookies with cleaner sharper lines in the cookie shapes.
The marcato is very easy to use once you get the hang of it and it's well built. It has a box to store it's parts too.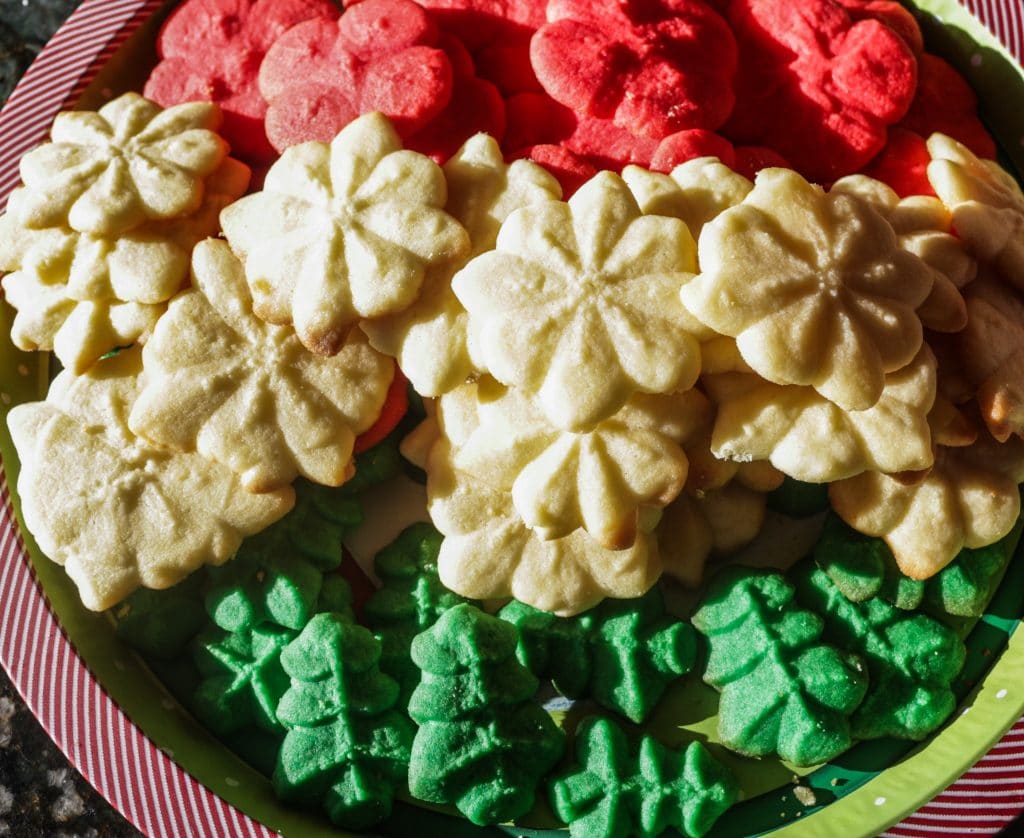 Spritz cookies are a lot of fun to make and decorate. especially if you have junior cooks around that want to help. Older kids can handle the press and little ones can help with the sprinkles. 🙂
If you have favorite icings or other ideas for these pressed spritz cookies share them in the comments section. I'd love more ideas.
Simple glaze Recipe :
1 cup powdered sugar
1 tsp. vanilla
Add 1/2 Tablespoon milk and continue to thin to desired consistency.
Put the glaze in a quart resealable bag and cut off a tiny corner.
Trace the patterns on the cookies with lines of glaze
Sprinkle Christmas sprinkles over the glaze. The sprinkles will stick the glaze enhancing you cookie design.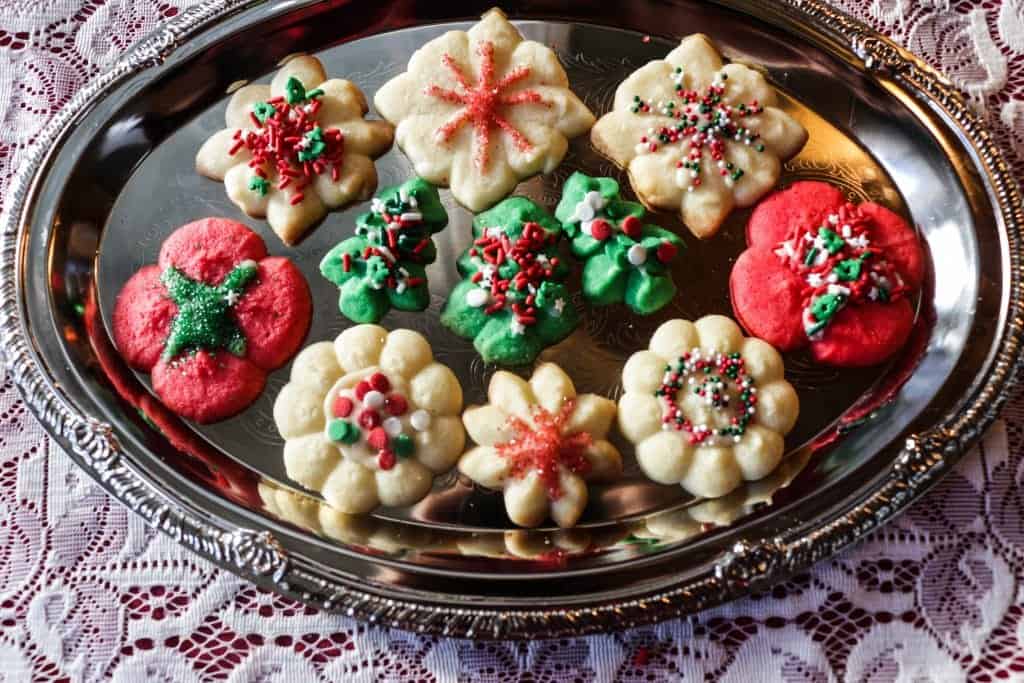 Follow the link for another popular Decorating icing that is dairy free.
Your printable recipe Card: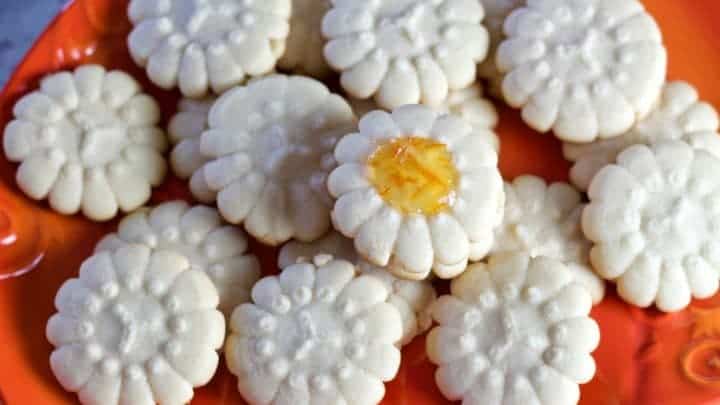 Yield:

60 small or 40 large cookies
Pressed Spritz cookies
decorating time:
30 minutes
Make delicious shortbread pressed spritz cookies into holiday shapes by putting them through a cookie press! Pressed cookies make a pretty display on your holiday table and they are so EASY to make!
Ingredients
For the Cookies:
3 1/2 Cups all-purpose flour
1 tsp.baking powder
1 1/2 Cups butter
1 egg
1 Cup sugar
1 tsp. vanilla
1/2 tsp. almond extract
Icing:
1 Cup powdered sugar
1 tsp. vanilla
1 Tablespoon milk
Instructions
Preheat oven to 400 degrees F.
In a medium bowl whisk together flour and baking powder. Set aside.
Beat butter for 30 second with an electric mixer in a large bowl.
Add sugars and beat till fluffy and pale yellow.
Add egg, vanilla, almond extract and beat.
Gradually add dry ingredients to beaten mixture, in small batches, beating after each addition until the ingredients are all thoroughly combined. Do not over mix!
Force dough through your cookie press onto an ungreased cookie sheet.
Bake in oven for 7 or 8 minutes until just done. They should be almost but not quite browned on the edges. Watch them!
Cool on wire rack.
For the icing:
Mix the powdered sugar, vanilla and milk.
Adjust to the consistency you desire by adding milk in TINY amounts. Beware it is easy to go from too thick to too thin.
Decorate the cookies with icing and sprinkles as desired.
Notes
This dough may divided into smaller amounts for different coloring groups.
Nutrition Information
Yield
40
Serving Size
1
Amount Per Serving
Calories

134
Total Fat

7g
Saturated Fat

4g
Trans Fat

0g
Unsaturated Fat

2g
Cholesterol

23mg
Sodium

57mg
Carbohydrates

16g
Fiber

0g
Sugar

8g
Protein

1g
Did you make this recipe?
Please leave a comment on the blog or share a photo on Instagram
Pin it: