No Bake cookies are a universally popular sweet treat. These yummy cookies are made on your stovetop in just a few minutes. Plop them on a tray, cool and eat. Your family will beg you for more.
No bake chocolate oatmeal cookies are a wonderful indulgence to have in your recipe box.
This gluten free treat is perfect for movie nights and spontaneous desserts.
Whip up a batch and pack them into your cooler for road trips, potluck parties, picnics, or the lunchbox.
Kids adore them and so does everyone else.
Just keep them at room temperature or cooler so they don't melt.
More cookies to Love:
There are SO many delicious cookie recipes on this blog. When you feel like it explore our cookies recipes. We love cookies. If you're a cookie soulmate we can help you indulge your sweet tooth.
No Bake Cookie Recipe:
When you don't want to do an hour in the kitchen with mixing bowls and baking sheets, No bakes come to the rescue.
One pot, some measuring tools, your stove top and 10 minutes is about all you need to complete a batch of these chocolate cookie treats.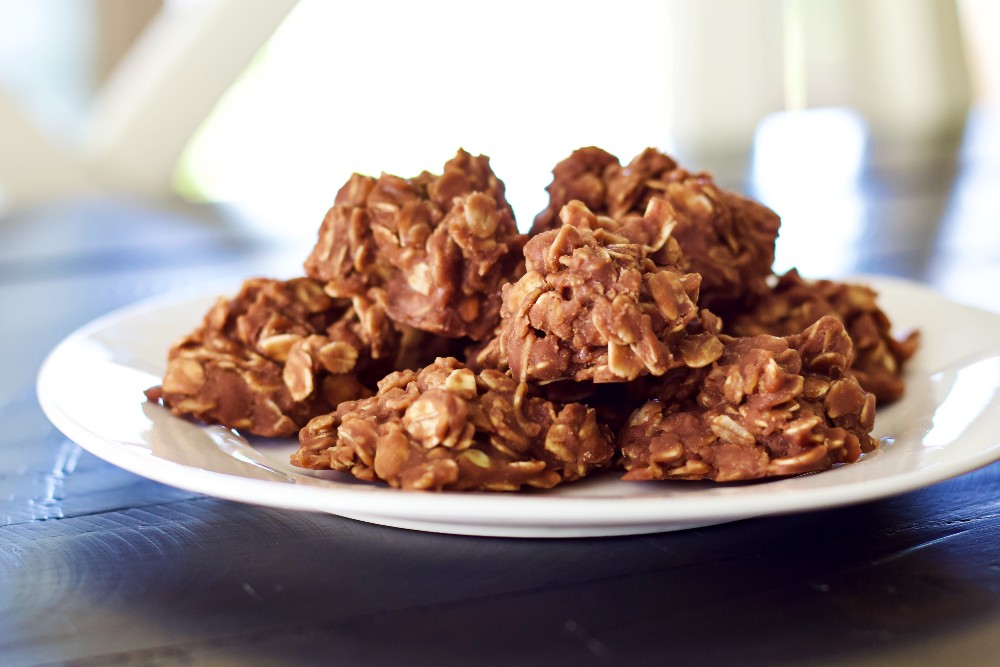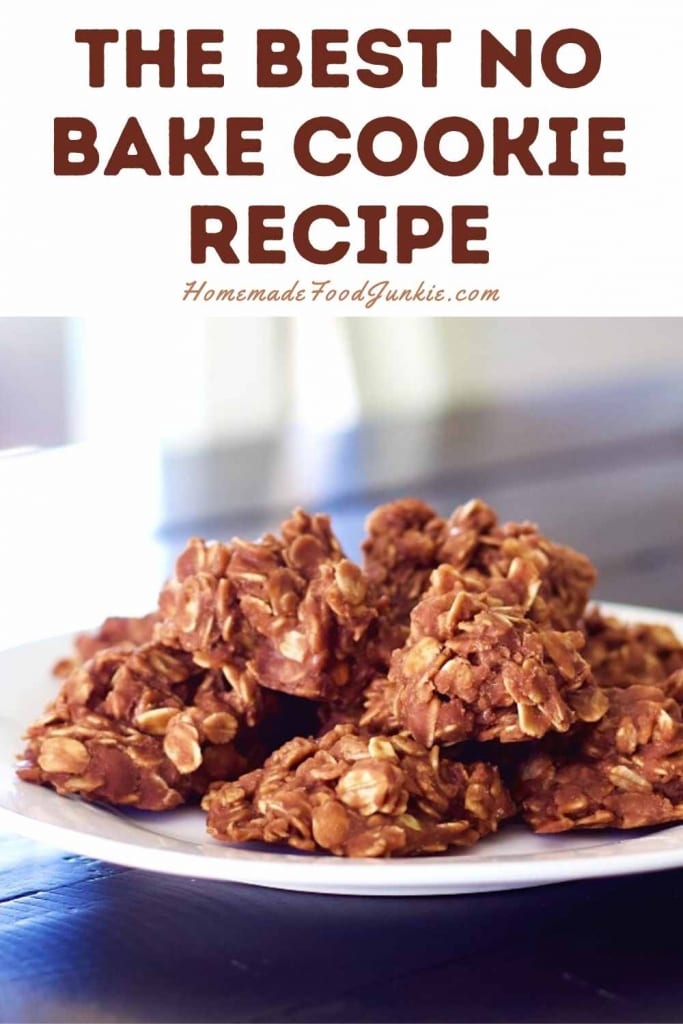 Cookie Tips:
Things to keep in mind when making these cookies. You really need to stay focused. And you need a minute timer or clock near by you can easily read from your stove.
These ingredients cook together at a boil. For ONE critical minute they must do a full roiling boil. Then remove the pan from the stove. The timing of the cooking is the key to success with these cookies.
If you undercook the chocolate sauce the cookies will not set up. They will be wet and gooey.
If you overcook the sauce the cookies will be dry and crumbly. It's all in the sauce.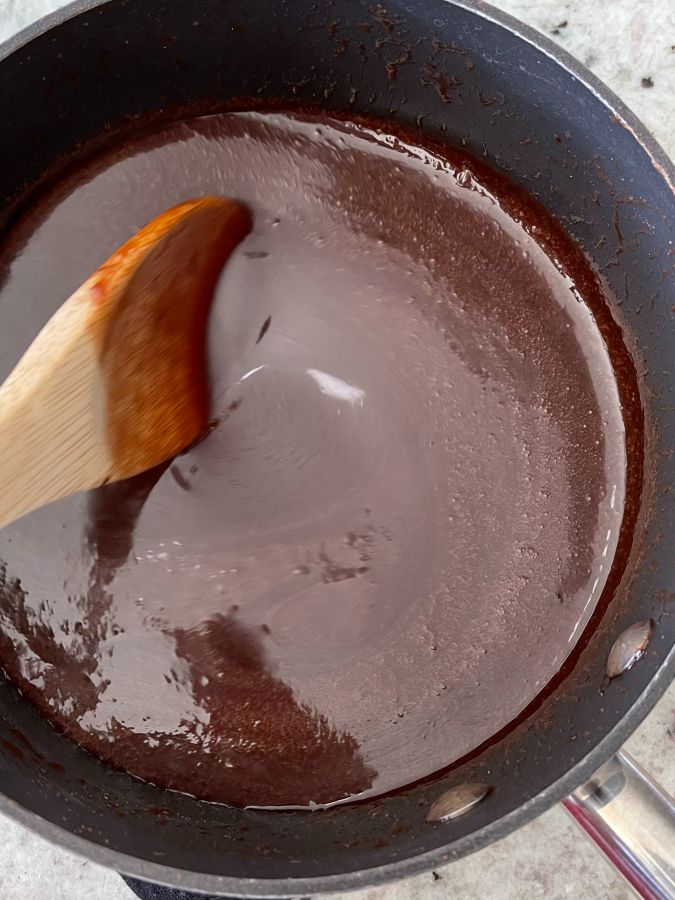 Ingredients:
granulated sugar
cocoa powder
butter
milk
Creamy peanut butter
vanilla extract
Rolled oatmeal
Substitutions:
I use creamy Jiffy peanut butter for this recipe. Natural peanut butter is a bit tricky to get properly set up.
quick oats rather than the rolled oats. Do NOT use steel cut oats.
Dutch Process dark cocoa powder rather than light.
Almond butter, biscoff spread or sunflower seed butter in place of creamy peanut butter.
Coconut oil can replace the butter since they both solidify.
any non dairy milk can replace the milk in this recipe.
If you are an old hand at this recipe and know of other substitutions that result in a stable yummy cookie please comment below for our other bakers.
Joy And Sunshine Blog has a yummy version of Healthy No Bake Cookie for this recipe. If you want to replace the sugar see how she did it.
These cookies will last a few days in an air tight container. They do dry out if left out on the counter overnight exposed to air.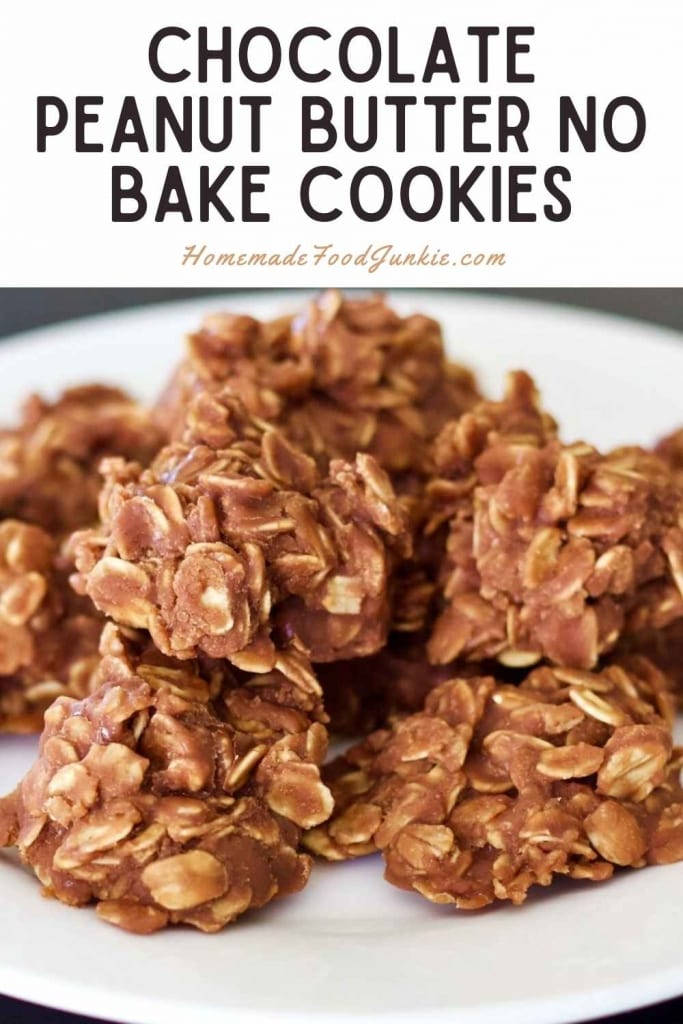 Freezing:
You can freeze these cookies up to three months in an air tight freezer container. Allow to thaw overnight in the fridge before serving.
YOUR PRINTABLE RECIPE CARD:
Here is your printable walkthrough of this cookies recipe. If you print the recipe out the pictures will not print. This is to save you paper and ink.
Please also watch our recipe demonstration video at the bottom of this recipe card.