No Bake cookies bring together that universally loved pairing of peanut butter and chocolate for a simple oatmeal based cookie that is prepared on your stove top with no additional baking required.
These cookies are a quick treat that your family is sure to love, and the ingredient list is short and sweet making them a simple bake for everyone.
Although they are quick to make with very few ingredients they can present some problems with texture and setting when the recipe isn't followed. We have all of the best tips you need to make the very best creamy, well balanced no bake cookies ever.
The most common problem people encounter with no bake cookies, is a gooey, unset cookie blob. This is due to the mixture not being boiled long enough. When you have a cookie recipe that is simple and very basic, the magic is in the details. Boiling the no bake cookie mixture allows the sugar to reach what is known as the 'soft ball stage' and this is necessary for your cookies to set properly.
Our best tip is setting a timer for the boiling time to ensure the mixture is cooked long enough, but also not over boiled.
This would be the second most common complaint with no bake cookies, and it is also attributed to the boiling time. If the no bake cookies are dry and crumbly, very likely you over cooked the mixture. One thing about these cookies is that they really are more of a fudge confection, as opposed to a true cookie.
This is why the boiling time matters so greatly. Sugar is one of the main ingredients in this recipe, and it requires precise cook times. Too long and the sugar crystals have been broken down and over cooked; not long enough and the sugars have not reached that all important stage of caramelization and structure.
There are many delicious cookie recipes on this blog. If you are looking for a more traditional cookie, explore our cookies recipes.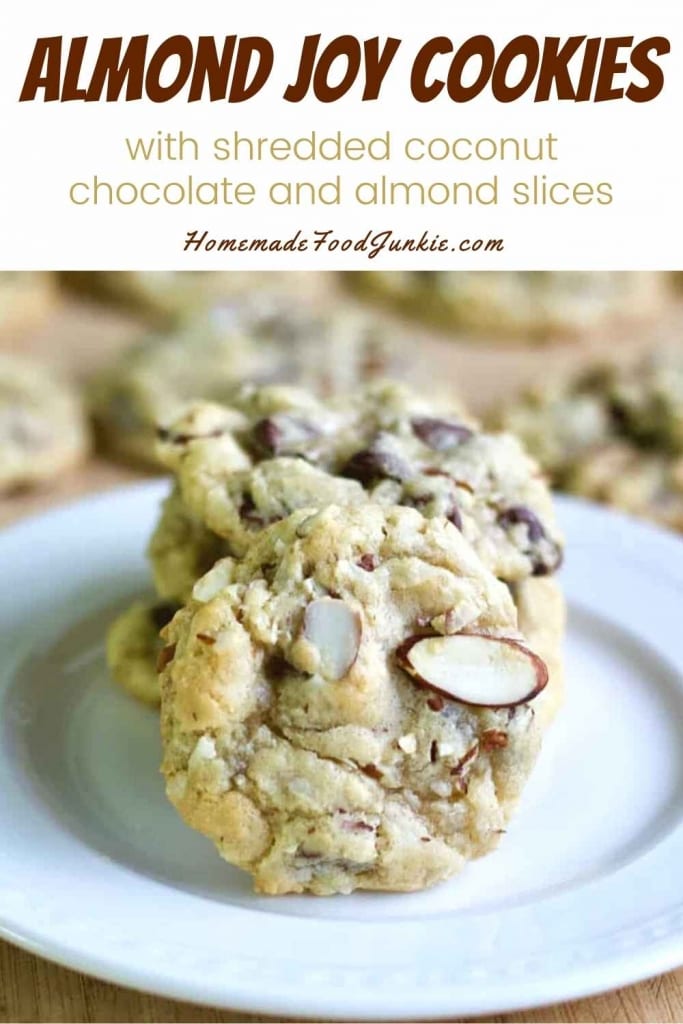 No bake cookies can be stored at room temperature in an air tight container or bag for about 1 week. You can also store them in the fridge in an air tight container for up to 2 weeks. It is important to keep them out of direct sunlight and not store them in a hot environment as they will soften and melt due to their high sugar and chocolate content.
They can be stored in the freezer as well. Be careful to ensure they are in a freezer safe, air tight container to avoid freezer burn. No bake cookies can be kept in the freezer for up to 2 months, longer than this and the texture and flavor could be compromised.
Quick oats are the oatmeal that is used in no bake cookie recipes. Quick oats are soft and have a palatable texture even when unbaked. Because no bake cookies are just that, not baked, you would not want to substitute them with old fashioned, or steel cut oats.
Old fashioned oats have more body and texture to them; they can be used in no bake cookie recipes but will give the cookies a much stronger texture that many find unpleasant. Steel cut oats would present a very harsh, firm and gummy texture that would make no bake cookies inedible. They would not be an appropriate substitution for this recipe.
No Bake Cookie Recipe:
You need a medium soup pot
A few measuring tools
Your ingredients
Tin foil or wax paper for the cookies to cool and set, and 10 minutes to complete a batch of these chocolate cookie treats.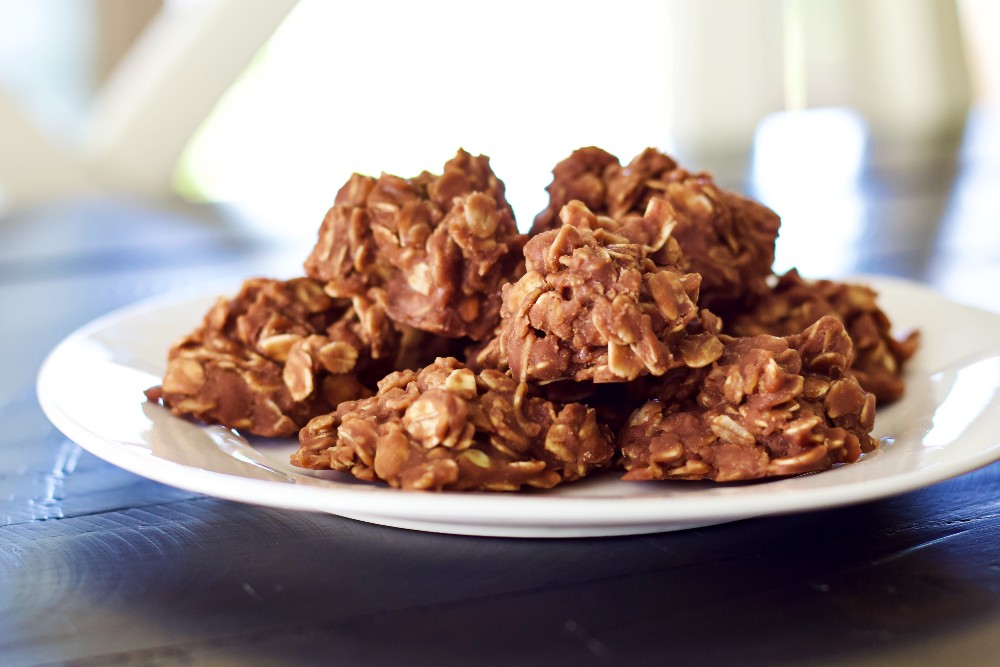 Recipe Tips:
You need a minute timer or clock near by you can easily read from your stove.
Once the wet ingredients have reached a boil, the timing of the cooking is the key to success.
If you undercook the mixture the cookies will be wet and gooey.
If you overcook the mixture the cookies will be dry and crumbly.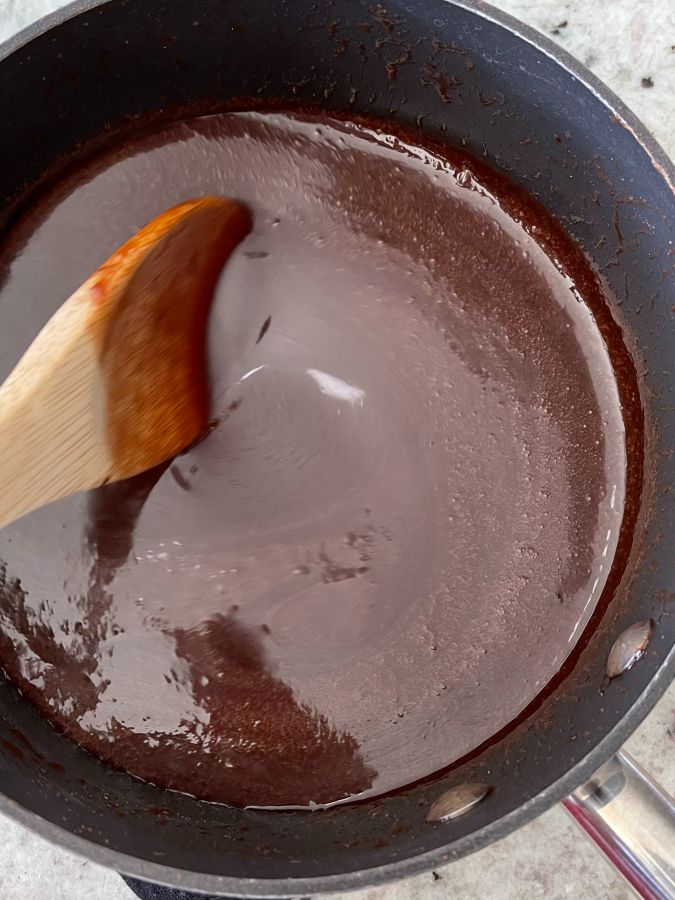 Ingredients:
Granulated sugar
Cocoa powder
Butter
Milk
Creamy peanut butter
Nanilla extract
Quick oatmeal
Substitutions:
Rolled or old fashioned oats can be used in place of quick oats but will present a stronger texture.
Dutch Process dark cocoa powder rather than light.
Almond butter in place of creamy peanut butter.
Coconut oil can replace the butter since they both solidify.
Non dairy milk can replace the milk in this recipe.
Joy And Sunshine Blog has a yummy version of Healthy No Bake Cookie for this recipe. If you want to replace the sugar see how she did it.
YOUR PRINTABLE RECIPE CARD:
Here is your printable walkthrough of this cookies recipe. If you print the recipe out the pictures will not print. This is to save you paper and ink.
Please also watch our recipe demonstration video at the bottom of this recipe card.
Yield:

24 cookies
No Bake Cookies
No Bake cookies are a delicious homemade chocolate cookie made on the stove top in just a few minutes. No baking. No batches. Just cook, stir and cool.
Ingredients
2 C granulated sugar
4 Tablespoons cocoa powder
1 stick organic butter
1/2 C milk
1/2 C peanut butter
1 Tablespoon vanilla
3 cups rolled oatmeal
Instructions
In a 2 qt. saucepan melt butter, sugar, milk and cocoa.
Whisk the ingredients until completely blended and bring to a FULL ROILING boil.
Let the sauce boil while stirring constantly for exactly one minute.
Remove from heat.
Immediately add the peanut butter and stir until it melts. Add in the vanilla and oats and thoroughly stir with a wooden spoon.
Stir until all the ingredients are completely combined and then immediately make into cookies as follows.
Place tin foil or waxed paper on the counter and IMMEDIATELY spoon the cookie mixture onto the surface with a teaspoon.
You will make 24 little cookie shaped globs.
Let them sit on the foil or parchment until they are cooled and set.
Serve.
Notes
No bake cookies are easy if you follow the instructions exactly.
TIPS:
You are making a form of candy when cooking the chocolate sauce. It must be EXACTLY timed to a minute boil and then removed from heat or the sauce will harden too soon and the cookies will be dry and crumbly.
The cooked chocolate sauce will begin to set as it cools. So quickly add the peanut butter, vanilla and oatmeal. Stir and get the cookies shaped and on the foil immediately. Otherwise the cookie mix will harden in your pan.
Substitutions:
quick oats rather than the rolled oats. Do NOT use steel cut oats.
Dutch Process dark cocoa powder rather than light.
Almond butter or sunflower seed butter in place of creamy peanut butter.
Coconut oil can replace the butter since they both solidify.
any non dairy milk can replace the milk in this recipe.
If you are an old hand at this recipe and know of other substitutions that result in a stable yummy cookie please comment below for our other bakers.
These cookies will last a few days in an air tight container. They do dry out if left out on the counter overnight exposed to air.
Freezing:
You can freeze these cookies up to three months in an air tight freezer container. Allow to thaw overnight in the fridge before serving.
Nutrition Information
Yield
24 cookies
Serving Size
1
Amount Per Serving
Calories

144
Total Fat

7g
Saturated Fat

3g
Trans Fat

0g
Unsaturated Fat

3g
Cholesterol

11mg
Sodium

59mg
Carbohydrates

20g
Fiber

1g
Sugar

17g
Protein

2g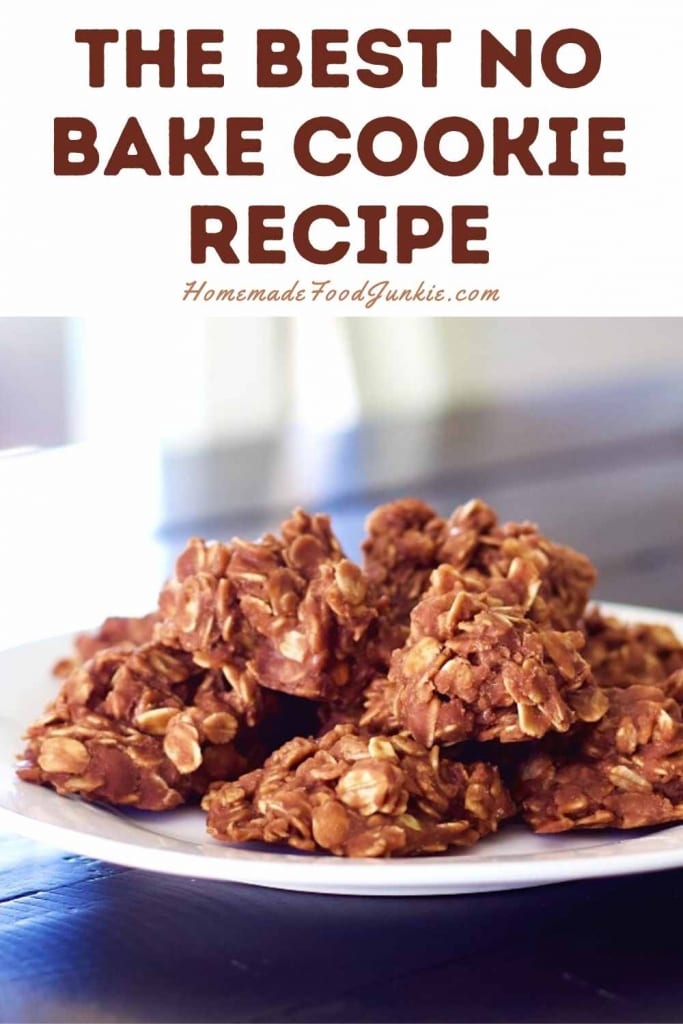 Follow Us:
We enjoy meeting you on our social networks. Follow us on Facebook, Pinterest, Instagram . Tag us with your pictures of our recipes and comment on how it went for you. We would love to see what you do with them.
We often like, comment and share your posts of our recipes on our daily Instagram stories.
Ask questions and rate the recipe in the comments section below. Please share what you did with this recipe. We are always looking for more and better ways to make homemade food. Other cooks love your ideas!
Recent Posts: