Delicious Almond Joy cookies made with coconut, chocolate, and almonds. They taste like the popular candy bar Almond Joy bars. These cookies are absolutely scrumptious!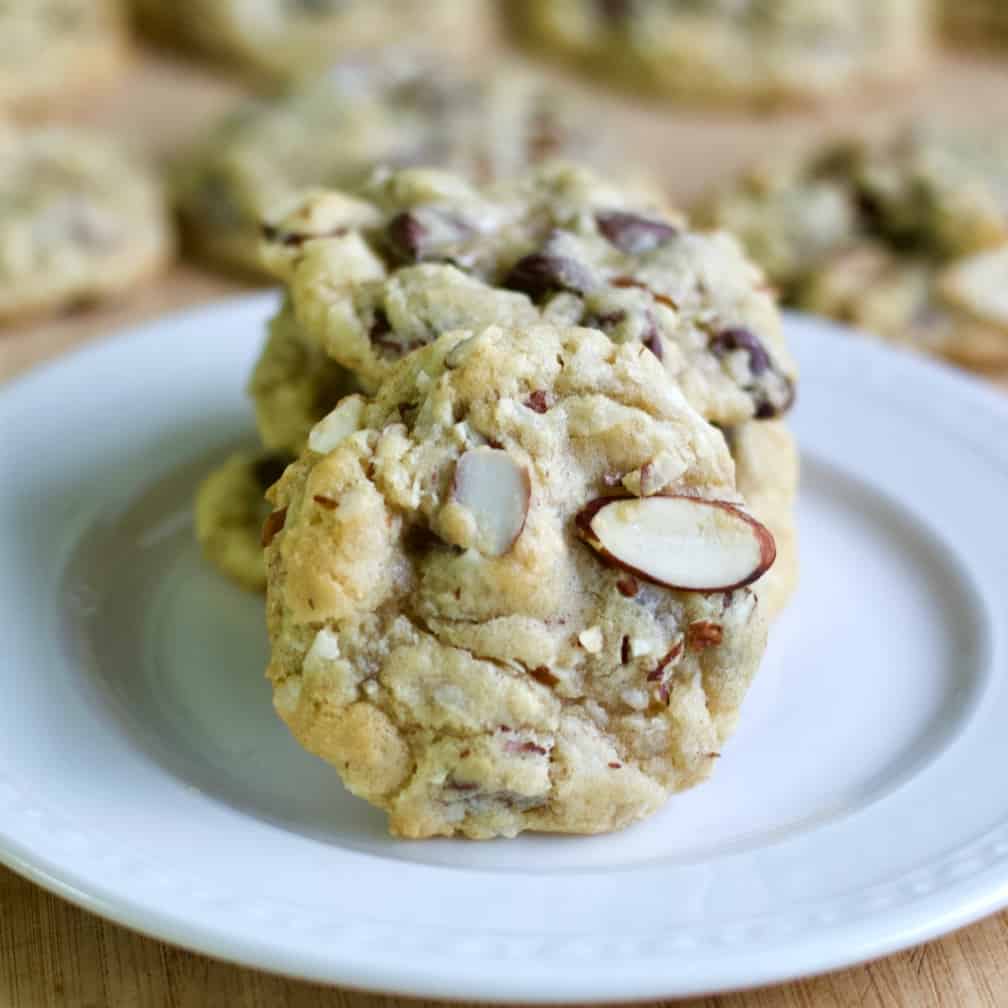 Almond Joy candy bars are one of my all time favorites! Whenever I need a quick candy bar fix it's always my go-to treat.
Almond Joy cookies had to happen.
I found this Almond Joy cookie recipe from Facebook on my newsfeed several years ago. We've been making them ever since.
I just love how easy and quick these are to whip together. They are perfect for snacks and a tasty treat with morning coffee.
We've been making these cookies for years now. My two year old is addicted to them. So are the grown ups.
I love setting them out for parties. They freeze well so I can just pull a bag out of the freezer and set them out.
More Cookie Recipes to Try:
Looking for more cookie recipes? We have MANY great cookies for all seasons and events. Here's a few of our favorites.
These little gems of flavor are perfect holiday cookie recipe. They make a good party food contribution, bake sale fundraiser recipe or teacher gift.
Make these delicious bites of yum as Almond Joy Christmas Cookies. Put them on a party tray or Box em up cute and gift them to your friends.
These cookies last for days in your cookie jar without going stale. REALLY good lunch box and after school cookies too. All the kids love these coconut chocolate chip cookies with nuts.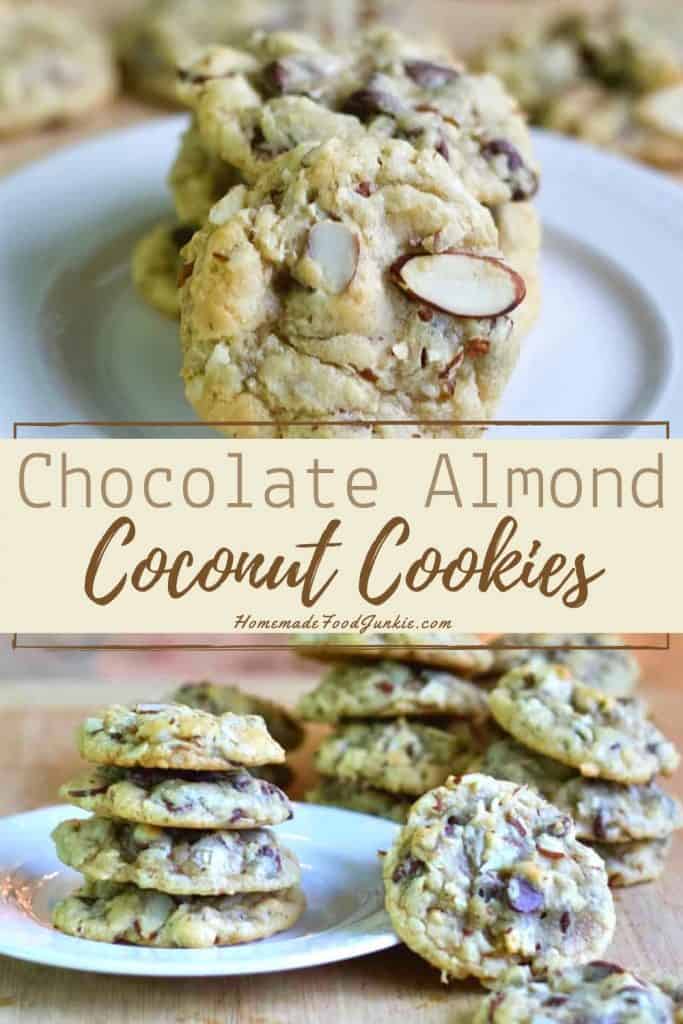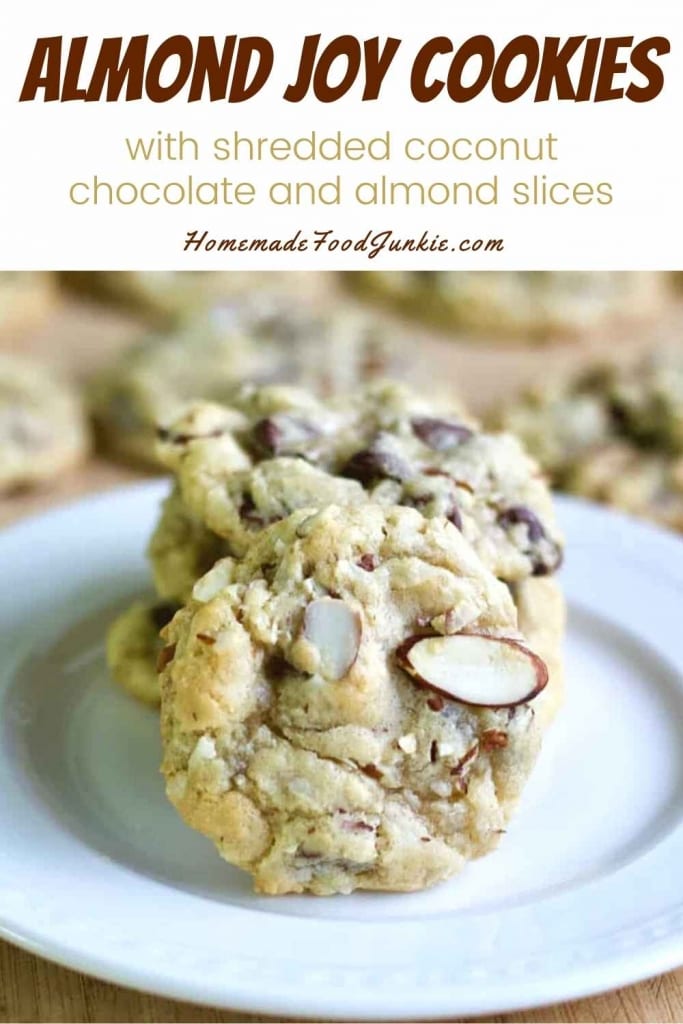 Almond Joy Cookies Recipe Notes:
These cookies are very simple to make. Like most chocolate chip cookie recipes Almond Joy Cookies are a quick mix and bake drop cookie.
This cookie recipe is a great Christmas cookie recipe, large batch cookie for fundraisers, freezer, lunchbox, after school treat or any party recipe.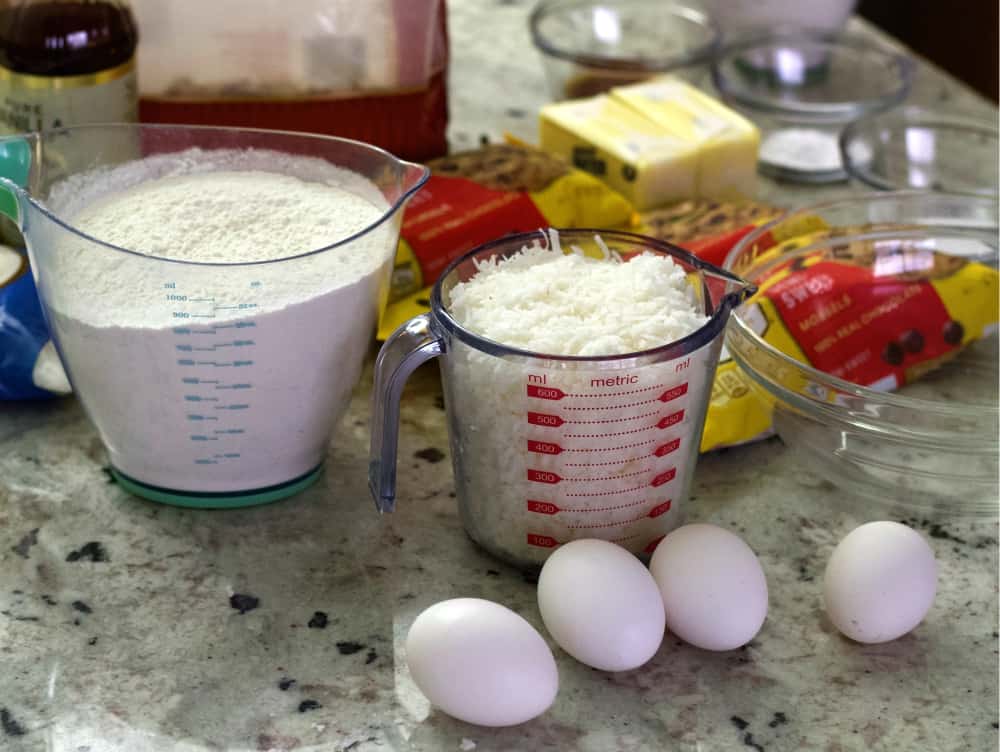 TIP: This cookie dough is STIFF. You can start these in your stand mixer but you will need a strong large mixing spoon and some muscle to complete the mixing. DON'T add extra liquids. They will bake perfectly if you make the recipe exactly as written.
Baking Tips:
TIP: For the most evenly sized cookies with the best shape. Roll them into one inch balls as shown OR scoop them with a cookie scoop so the drops are about the same size. This will give best baked results.
Any bakers perfect cookie is open to debate. Are you a crispy cookie lover or is soft and gooey your preference?
I happen to fall in the soft gooey cookie camp. I bake these cookies until JUST barely browned and then I remove them and let them finish on the cookie sheet a few minutes before removing to the cooling racks.
TIP: For a crisper cookie leave them in a few minutes longer. Don't walk away from the first batch. Watch it until you know how long it takes your oven to get the doneness just right.
The Process:
This is a simple drop cookie recipe. But we prefer to roll these cookies since the dough is stiff.
Tip: prep your baking sheet with parchment or silicone mats for easy removal after baking.
They are SO simple to make and people LOVE them. BUT cut the recipe in half unless you want to freeze some or serve a large crowd.
Listed Process:
Preheat oven
Rough chop your sliced almonds.
Mix together sugars, butter, eggs and vanilla extract, baking soda, and salt.
Beat with an electric mixer until they are combined.
Add in the flour mixing well in between additions.
Finally stir in by hand the chocolate chips, shredded coconut, and the sliced almonds.
Drop cookies dough on prepared baking sheet . Use a cookie scoop for the most even size.
bake cookies for 9-12 minutes or until they are just starting to turn brown.
Cooking times may vary based on your oven, keep a close eye on your first batch so you don't burn them.
Remove to cooling rack. Cool to room temperature.
If you like cookies that are well done bake them at 350 for 10-12 minutes. If you enjoy softer cookies then bake them at 350 F for 9-10 minutes.
Freeze Them:
This recipe makes a LOT. 65 cookies more or less depending on how big you make them. So it's perfect for baking ahead for the holiday season and freezing.
Freezing Instructions:
Bake and COMPLETELY cool the cookies.
Lay the cookies flat on a baking sheet with parchment paper (not touching).
Freeze them an hour or so until solid.
Remove the frozen cookies to your ziplock freezer bags (or freezer proof containers) and carefully stack the cookies so they don't break.
Use wax paper to make layers in the bag so the cookies don't stick together.
Label the bag with recipe name and date.
Store them in your freezer up to two months.
Defrost Instructions:
Remove the bag from freezer.
Lay the cookies on your party tray, arrange them in your gift box with parchment between the layers or stack them in your cookie jar.
Let them defrost naturally.
Do NOT microwave them or they will become an awful blobby mess.
Your Printable Recipe Card:
Pin it:
Recipe adapted from: cantstayoutofthekitchen.com