Our creamy Broccoli Cauliflower Soup is easy to make, satisfying and makes a delicious vegetarian cream soup. By combining broccoli and cauliflower in a cheesy, buttery sauce you have a whole food meal that everyone will love.
Pair it with some Soft Dinner Rolls, A side of Roasted Acorn Squash, or our Kale Apple Salad with Honey Dressing for a full dinner. This soup makes a fantastic Fall dinner option for a busy family as it's quick and easy to make, and filled with hearty ingredients that are nutritious and tasty.
What are Creamed Veggie Soups made of?
Most creamed vegetable soups are made by building a roux and creating your sauce base from that. Adding in whatever vegetables you desire and allowing them to fully cook down, then adding in seasonings and any additional liquids such as broth, milk or cream. Once everything has simmered for a time, everything is blended to a fine consistency making creamed soups the texture of tomato soups with no pulp or chewable foods left.
Our Broccoli Cauliflower soup is a heartier creamed soup that is not blended, instead the delicate pieces of veggies are left to give the soup a satisfying texture. This also allows the flavors to stand individually rather than being blended into a merge of one flavor profile.
What is the difference between a Chowder and a Cream Soup?
Chowders and cream soups are similar but do have some distinct differences when it comes to the final presentation. Chowders are thicker in consistency and cream based while cream soups have a much thinner consistency, a smooth or blended body and are made with a broth.
By this definition this soup would be closer to a chowder as our base is made from milk, butter and cheese; and our texture is hearty and thick which closely resembles a chowder as opposed to a smooth creamed soup.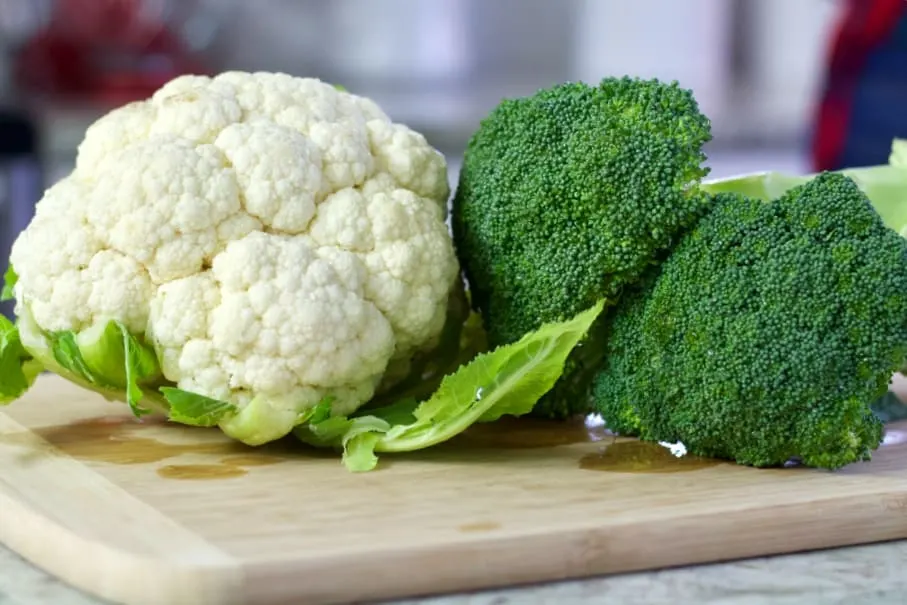 Cheesy Creamy Broccoli Cauliflower Soup Recipe
Select good quality fresh broccoli and cauliflower.
Frozen vegetables can be used in place of fresh, but it is not our first choice. If you are using frozen, allow them to thaw and remove any excess liquids.
You can easily adjust the amount of cheese, flour and milk. You can always use vegetable broth to thin the soup if you wish to cut down on the creamy thickness of it.
This cheesy broccoli soup recipe works well with different cheeses. Cheddar is a good choice but the original recipe actually calls for Jack cheese. Colby-Jack mix is what you see in our video.
Adjust the chunkiness of this recipe as you wish. After the vegetables are steamed you can use your immersion blender, food processor or larger blender to puree the soup if you want a smoother consistency.
While steaming the broccoli and cauliflower, make your cheese sauce. Gauge the amount of your ingredients for the cheese sauce upon your own preferences for thickness and taste.
Start with the proportions listed in the recipe and go from there. Add in the veggies and cheese after you make the sauce and adjust the consistency of the soup to your preferences. Salt and pepper to taste.
To make a KETO Broccoli Cauliflower Soup
If you want to make this soup low carb or Keto approved, try some of these tips and substitutions
Add more cauliflower than called for and less broccoli
Use a KETO approved thickener like Arrowroot or tapioca starch with equal parts water.
Use almond or coconut milk in place of the dairy milk called for, or use heavy cream and vegetable broth.
How long is Broccoli Cauliflower Soup good for?
This soup makes delicious leftovers and will hold in your fridge for three days when stored in an airtight container. If you would like to freeze this soup you can definitely do so! Once the soup is cooled transfer it to a freezer safe container and store it flat in your freezer for up to three months.
To thaw and reheat this soup, transfer it to your fridge and allow it to slowly thaw. Once it is thawed dump it into a large stock pot and slowly heat it on your stove top.
Method for cooking Broccoli Cauliflower Soup Recipe
This hearty winter soup is quick to make on your stove top. Cheesy Broccoli Cauliflower Soup is best made in your heavy bottomed stock pot or Dutch oven. This soup runs the risk of scorching or curdling since it has a cheese and milk base. Because of this we do not recommend cooking it in your slow cooker or Instant Pot.
Steam your chopped veggies and then set the steamer insert aside while you make the cream sauce. Dump the veggies and cheese into the large pot full of cream sauce and allow it to simmer for a bit. Total time should be about 30 minutes to make this delicious meal.
Visual Guide
Below is a quick walkthrough of this recipe. For more complete details please watch our video demonstration of making this Broccoli Cauliflower Cheese Soup.
Helpful Tools and Equipment:
Your Printable Recipe Card: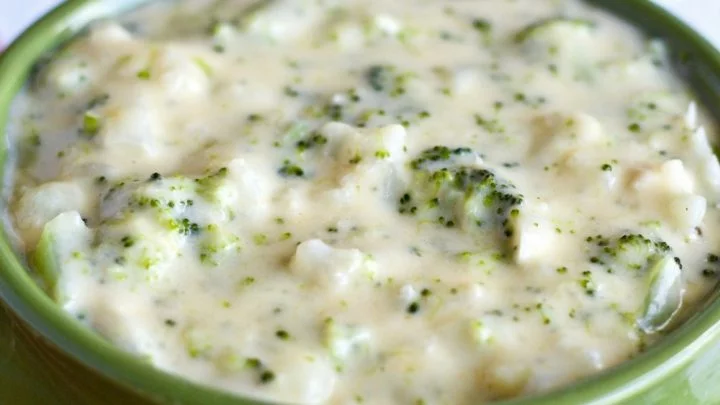 Yield:

10 people
Broccoli Cauliflower Soup Recipe
An easy delicious, low carb meal ready in about 30 minutes. Rich creamy and cheesy. This filling soup makes a fantastic meatless meal.
Ingredients
1/2 Cup butter
1/4 Cup flour (or low carb thickener)
1 tsp. salt, Optional
4 Cups whole milk
1 large head broccoli, fresh is best (about 4 cups chopped)
1 large head cauliflower, fresh is best(about 4 cups chopped)
4 Cups shredded Cheese, Colby-Jack mix recommended but any will do.
Instructions
PREPARING THE VEGETABLES
Steam the broccoli and cauliflower in the soup pot (or however you wish) until slightly firm with good texture and color.( about 8 minutes on high heat) Do NOT cook them to mushiness. Remove the veggies and Set aside.
Make the White Sauce
In the large soup pot, melt the butter on low heat.
Raise heat to medium and add the flour.
Whisk the flour and butter together until it bubbles and immediately pour in 1 cup of milk while whisking.
Add the remaining milk slowly as the sauce thickens, whisking constantly.
FINISHING THE SOUP
Pour the steamed vegetables and shredded cheeses into the sauce. Stir until all the cheese is melted.
Bring up to slow boil while stirring to thoroughly mix the ingredients. REDUCE the heat to simmer stirring often.
serve at once or store in the fridge for several days covered.
REHEATING INSTRUCTIONS
Remove cold soup from fridge and let sit to room temperature. Place on stove on low heat. Stir often to avoid burning the soup as it heats to serving temperature.
Notes
When making this soup adjust the thickness as you prefer. The sauce will thicken after you add the veggies and cheeses. Stir the soup constantly to avoid burning.
For KETO DIETERS:
Add more cauliflower than called for and less broccoli
Use a KETO approved thickener like Arrowroot or tapioca starch with equal parts water.
Replace the milk with almond or coconut milk
Nutrition Information
Yield
10
Serving Size
1
Amount Per Serving
Calories

373
Total Fat

28g
Saturated Fat

17g
Trans Fat

0g
Unsaturated Fat

9g
Cholesterol

79mg
Sodium

676mg
Carbohydrates

14g
Fiber

3g
Sugar

7g
Protein

18g
Follow Us:
We enjoy meeting you on our social networks. Follow us on Facebook, Pinterest, Instagram . Tag us with your pictures of our recipes and comment on how it went for you. We would love to see what you do with them.
We often like, comment and share your posts of our recipes on our daily Instagram stories.
Ask questions and rate the recipe in the comments section below. Please share what you did with this recipe. We are always looking for more and better ways to make homemade food. Other cooks love your ideas!
Recent Posts:
This recipe was originally posted on September 22, 2014