The Amaretto sour is a popular and classic cocktail and well drink. Ask for this drink in any bar or lounge. Or make it yourself at home with just a few simple ingredients.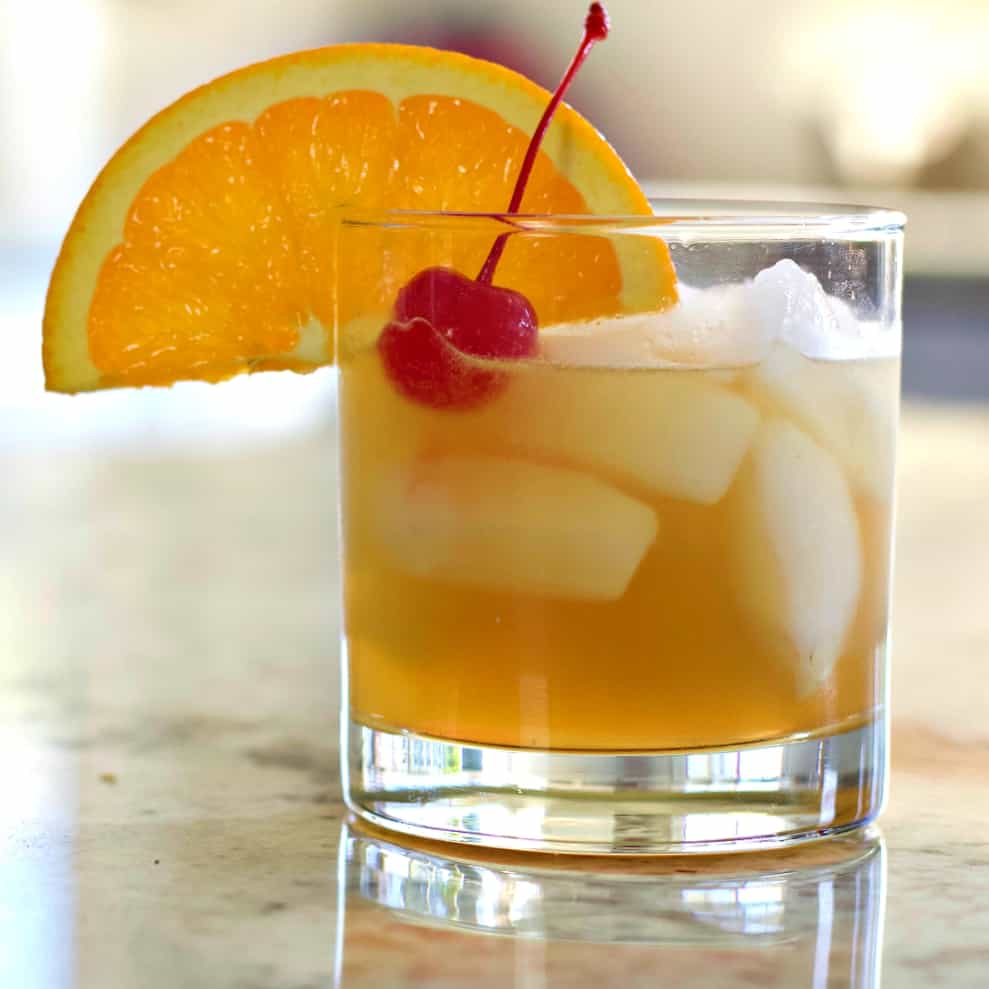 Enjoy this sweet alcoholic drink. It is very easy to make at home.
Browse our Complete Cocktail Section
All you need is a very few simple ingredients, some ice and your cocktail shaker.
Amaretto Sour Recipe:
Our recipe for this classic cocktail could NOT be easier. Almond liqueur, simple syrup and a squeeze of fresh lemon.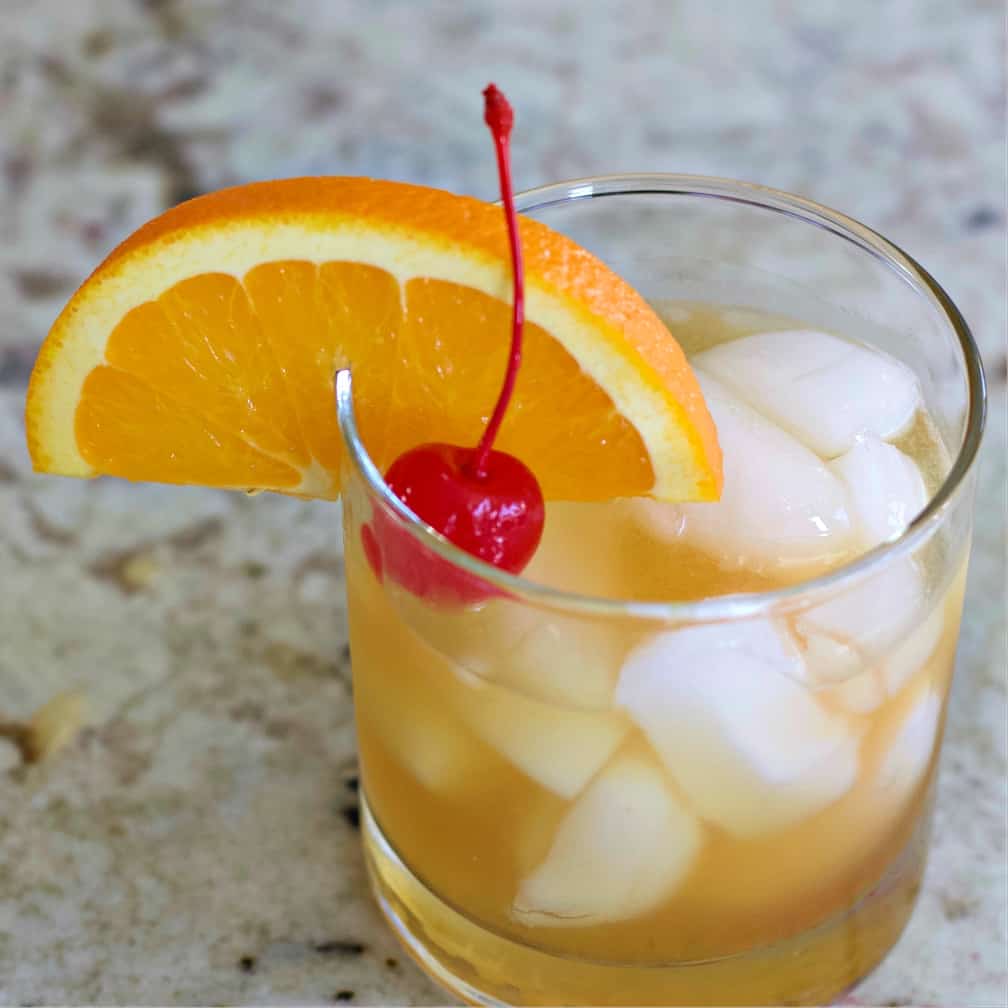 Garnish it with a slice of orange and put a cherry on top for fun. Viola! A simple and delicious after dinner drink or light cocktail for your guests.
Ingredients: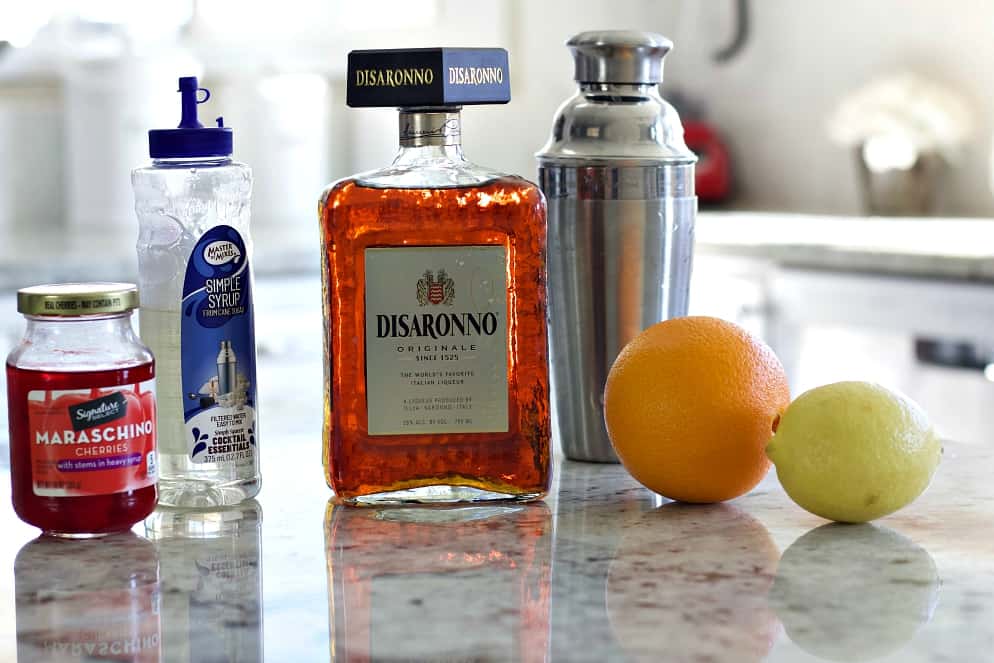 Almond liqueur
Simple Syrup
A fresh squeeze of Lemon
We really enjoy our amaretto sour just like this. REMEMBER The quality and freshness of ingredients will always affect your outcome.
This is so simple to make. No packaged sour mixes are necessary. Using a fresh lemon squeeze and a touch of simple syrup allows you to adjust the flavors as you wish.
Amaretto Liqueur:
We chose one of the two original Italian brands. The Disaronno Almond Liqueur is made by the The Reina family.
Their amaretto recipe has a long and venerable history including a family legend that claims first rights to the beginnings of this liqueur. It's delicious but fairly spendy.
Any almond liqueur will work in this recipe as long as it's a decent quality.
I'm not so sure a homemade almond liqueur is a good idea for this drink recipe. However, I'm including a link to one for you. If you make your own almond liqueur tell us how it goes!
Here's a homemade almond liqueur recipe by food.com if you want to give it a try.
Garnish:
A fresh orange slice (in the glass or on the side as you prefer)
One maraschino cherry on top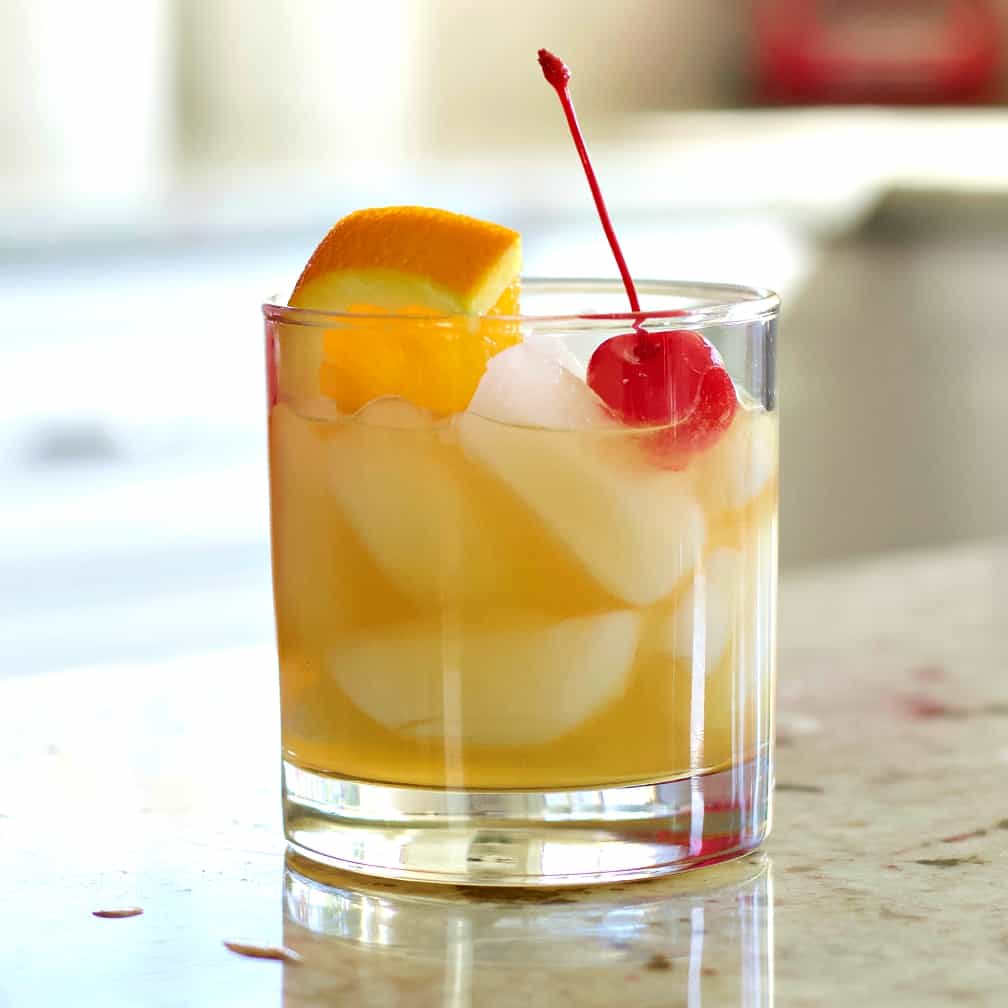 How to Make Amaretto Sour:
Here is your complete guide to constructing this yummy refresher. Please also watch our video for more information.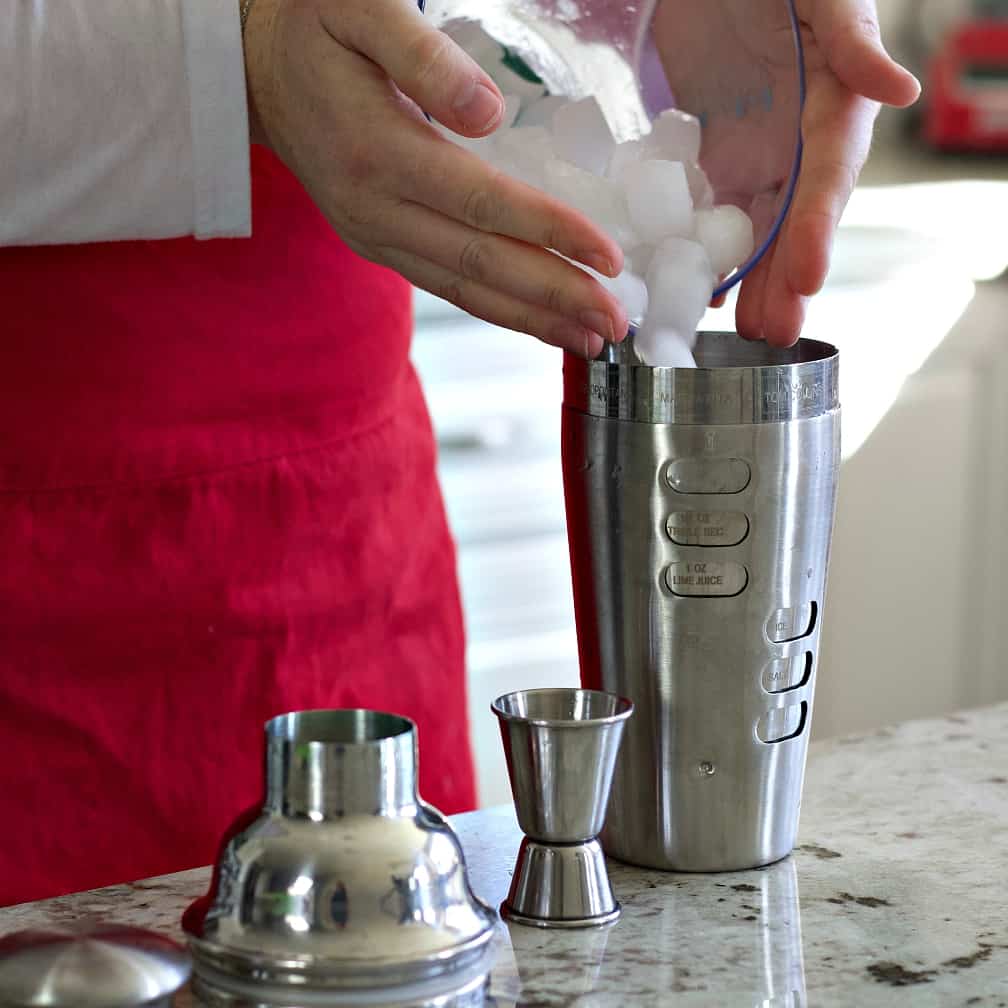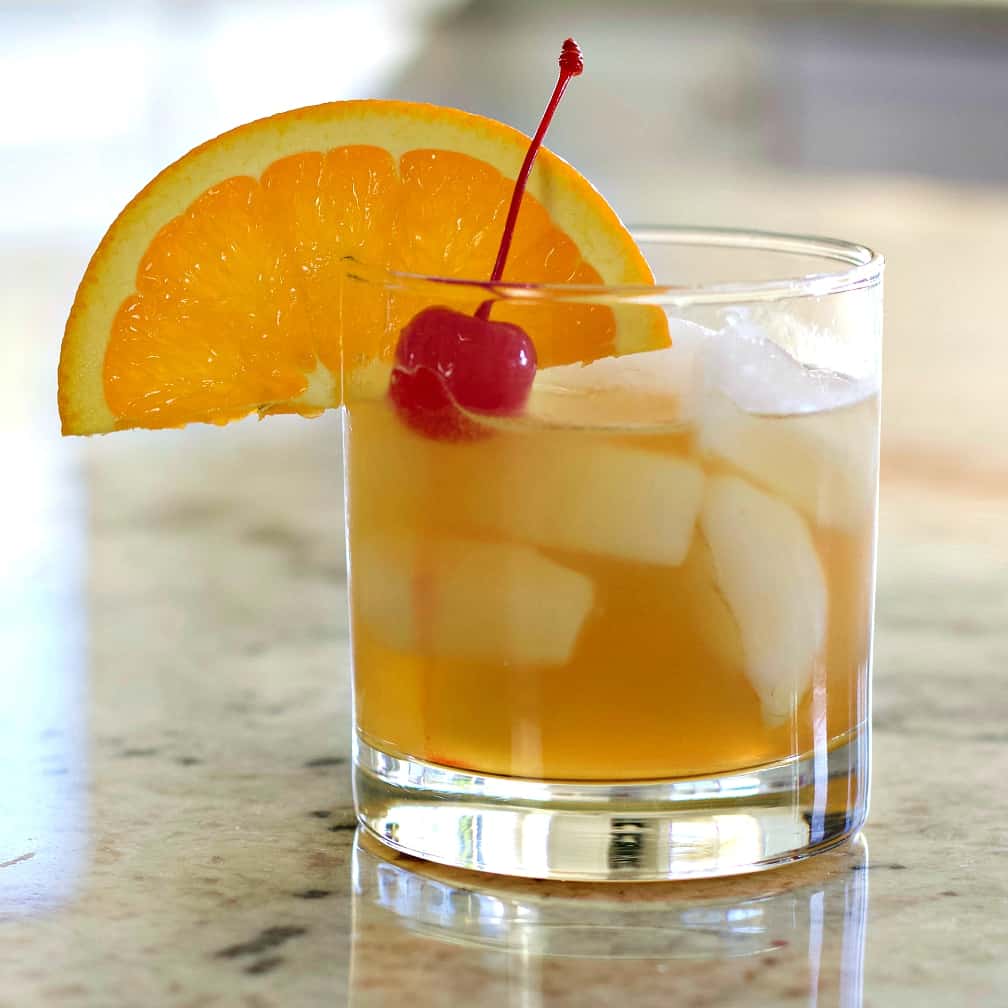 Variations:
There are MANY ways to change up this classic cocktail Recipe. We are giving the simplest and lightest version here. It makes a delicious and much cheaper way to enjoy a drink with your guests.
But if you're looking for a bit more punch and froth we have a few ideas for you.
Here are a few ways to experiment with the Amaretto Sour Recipe.
Add vanilla vodka one to one with the amaretto
add bourbon Half amount to the Amaretto
Add a half ounce or so of egg white in the shaker (Makes it frothy)
The simple syrup is actually optional. (add it to taste)
Adding extra alcohol will also increase the kick of your cocktail. Remember to drink responsibly. These go down real easy. 🙂
Your Printable Recipe Card:
Yield:

1 Amaretto Sour
Amaretto Sour Cocktail
The Amaretto Sour is a delicious cocktail that pairs tangy and sweet flavors together. This cocktail is easy to make and a great addition to any gathering.
Ingredients
1.5 oz Amaretto Liqueur
1 oz Simple Syrup
Juice from 1/2 Lemon
Instructions
Fill a cocktail shaker with ice
Pour all ingredients into the shaker
Put the lid back on the shaker and shake for 30-60 seconds until all ingredients are chilled
Fill a whiskey glass halfway with ice
Pour the cocktail into the glass
Garnish and serve right away.
Notes
Garnish
Maraschino Cherry
Slice of Orange
VARIATIONS:
Add vanilla vodka one to one with the amaretto
add bourbon Half amount to the Amaretto
Add a half oz or so of egg white in the shaker (Makes it frothy)
The simple syrup is actually optional. (add it to taste)
Nutrition Information
Yield
1
Amount Per Serving
Calories

228
Total Fat

0g
Saturated Fat

0g
Trans Fat

0g
Unsaturated Fat

0g
Cholesterol

0mg