This rich, creamy and flavorful homemade Alfredo sauce provides a huge wow factor for your Italian recipes.
Alfredo sauce is easy to make at home. This sauce can be whipped together with a few simple ingredients that are on hand. Making homemade Alfredo sauce is a simple way to make complete meals from scratch.
Once you learn how to make Alfredo sauce from scratch your recipes become unique and extra special. Nothing beats a fresh, made from scratch, homemade Alfredo sauce.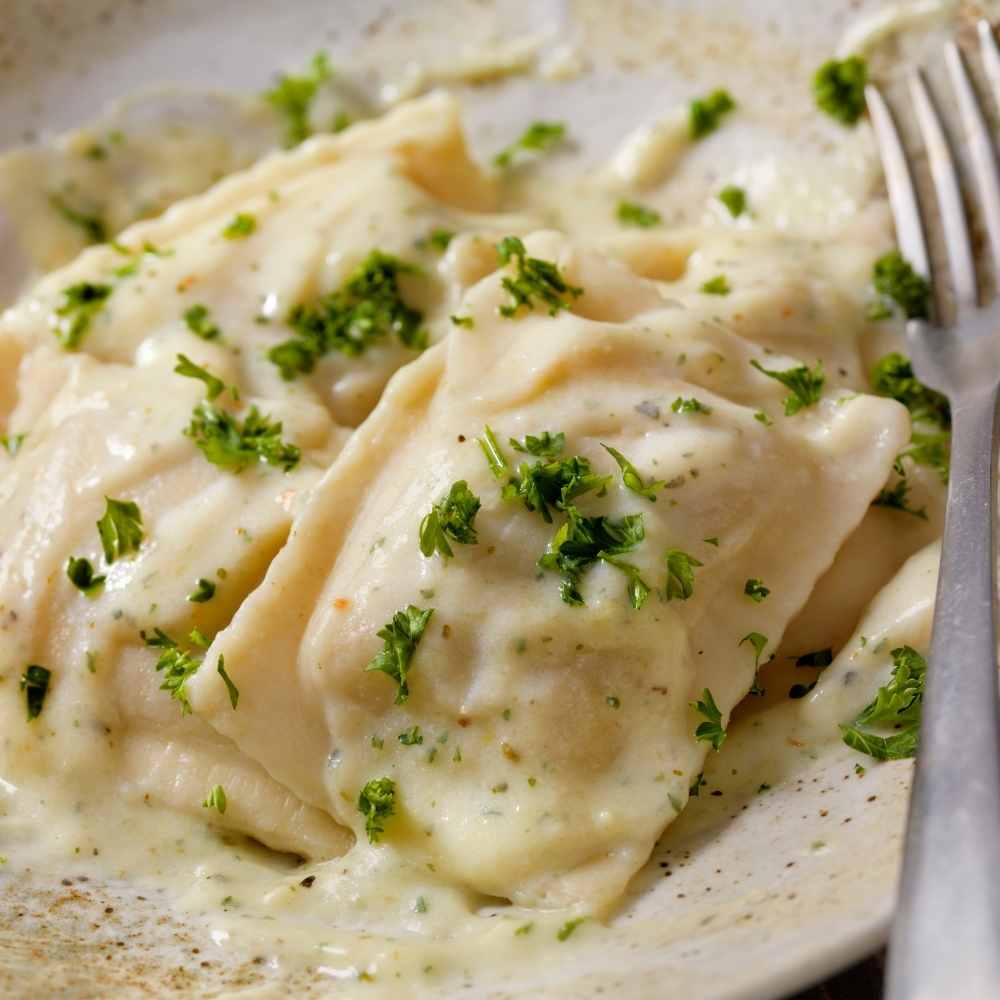 Using milk for Alfredo Sauce in place of Heavy Cream
Milk can be used instead of heavy cream for homemade Alfredo sauce. Heavy cream has a higher calorie and fat content than whole milk. You can replace the heavy cream for milk in Alfredo sauce without sacrificing the flavor. Heavy cream helps the sauce thicken and maintain a creamy texture. When omitting the heavy cream, you may need to use other ingredients to create a thick and creamy Alfredo sauce. Flour is a great option to thicken a milk sauce with.
How do you make homemade Alfredo sauce not gritty?
Gritty Alfredo sauce is usually the result of cheese not properly melting into the sauce. To avoid gritty sauce, slowly add the grated cheese stirring in between additions. Fresh grated cheese will melt easier than the pre shredded cheese. Use fresh parmesan for best results. The fat content of the milk is also important. The ingredients need a higher fat content to bind to. Do not use skim milk or 2% for Alfredo sauce. Whole fat milk will work best for a creamier sauce.
More Recipes That Use Alfredo Sauce:
This sauce is SO useful. I use it for my Chicken Alfredo Lasagna, Chicken Tortellini Alfredo and Twisted Tuna Casserole. Need a different flavor? It's very easy to change your spices and cheeses.
I made this sauce recipe last night. It's my 'go to' homemade white sauce for Chicken Garlic Pizza. It's also the base sauce for our Broccoli Cauliflower Cream Soup (I just use other cheeses).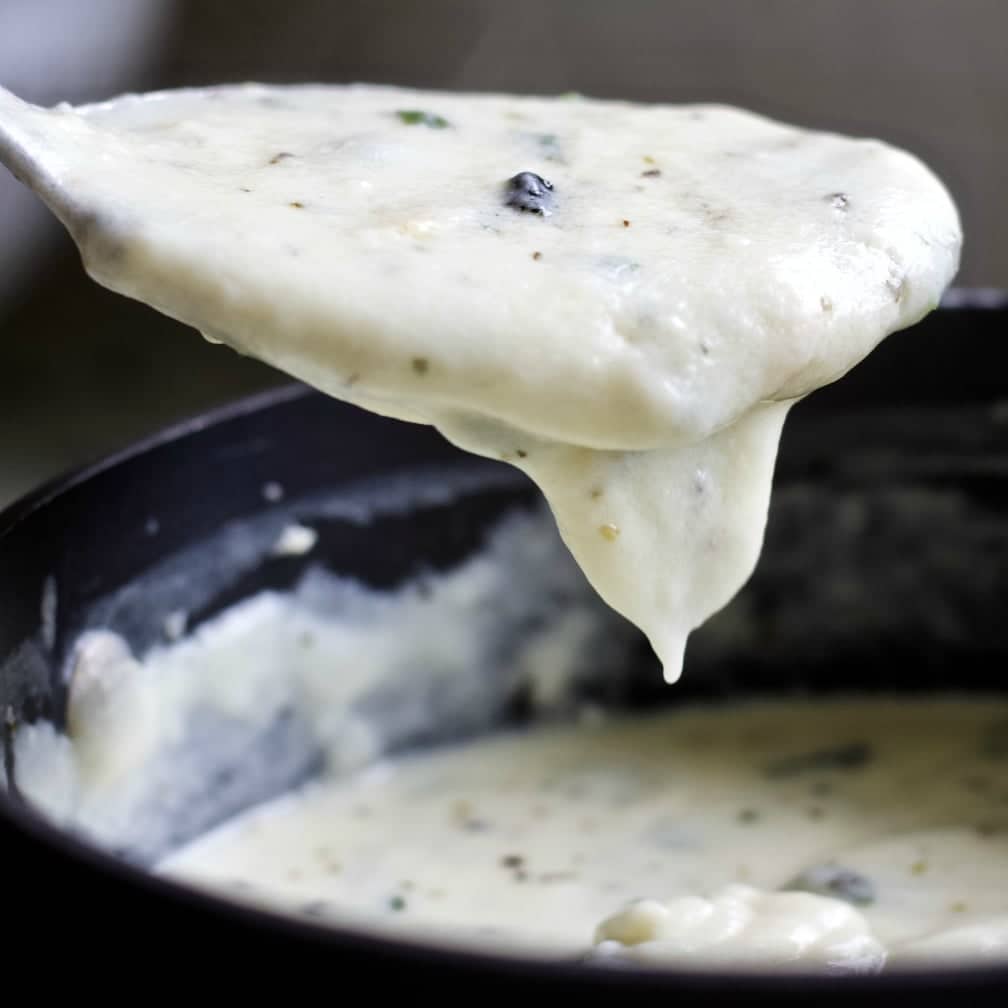 Whip up a version of this sauce for just about any recipe that needs an italian cheesy cream sauce base.
This is really just a basic white sauce with the addition of garlic, parmesan cheese and italian spices. White sauces are very handy in the kitchen. This alfredo sauce recipe is easy to make your own.
Make this once as directed. You will be sold. It's SO much better than a store bought alfrefo sauce and you will discover how easy it is to keep the sauce integrity while adjusting the ingredients dramatically.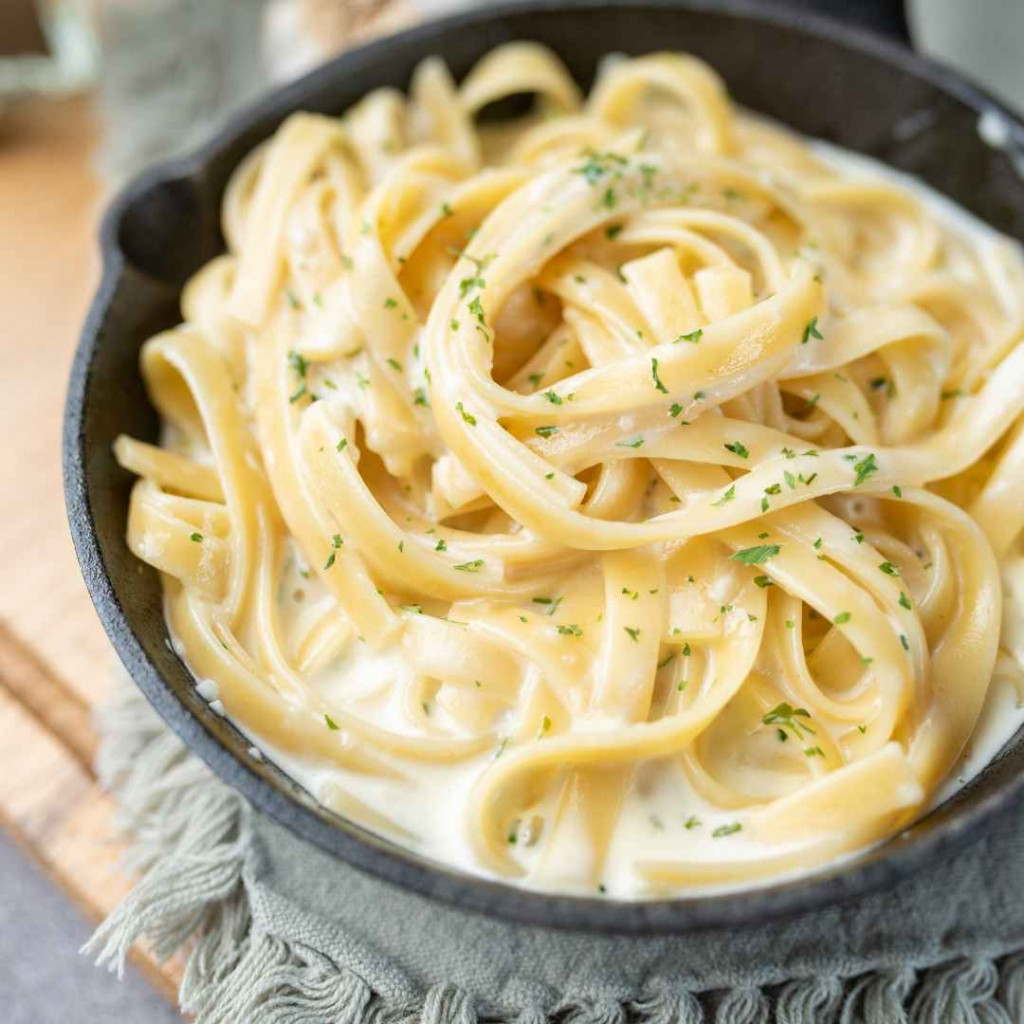 Homemade Alfredo Sauce Recipe:
When it's made as directed this is great sauce for many Italian style vegetarian recipes as well as meat recipes. In fact, originally this sauce was developed for a vegetarian Fettuccine dish.
According to Wikibooks this sauce originated from a Fettuccine recipe developed by Alfredo Di Lelio for his restaurant in Rome in 1914 and named for him.
I am sharing my own milk and butter adaptation of the American version of Alfredo sauce.
The very best thing about this quick alfredo sauce is it's versatility. Once you learn how to make this sauce you can do so much with it.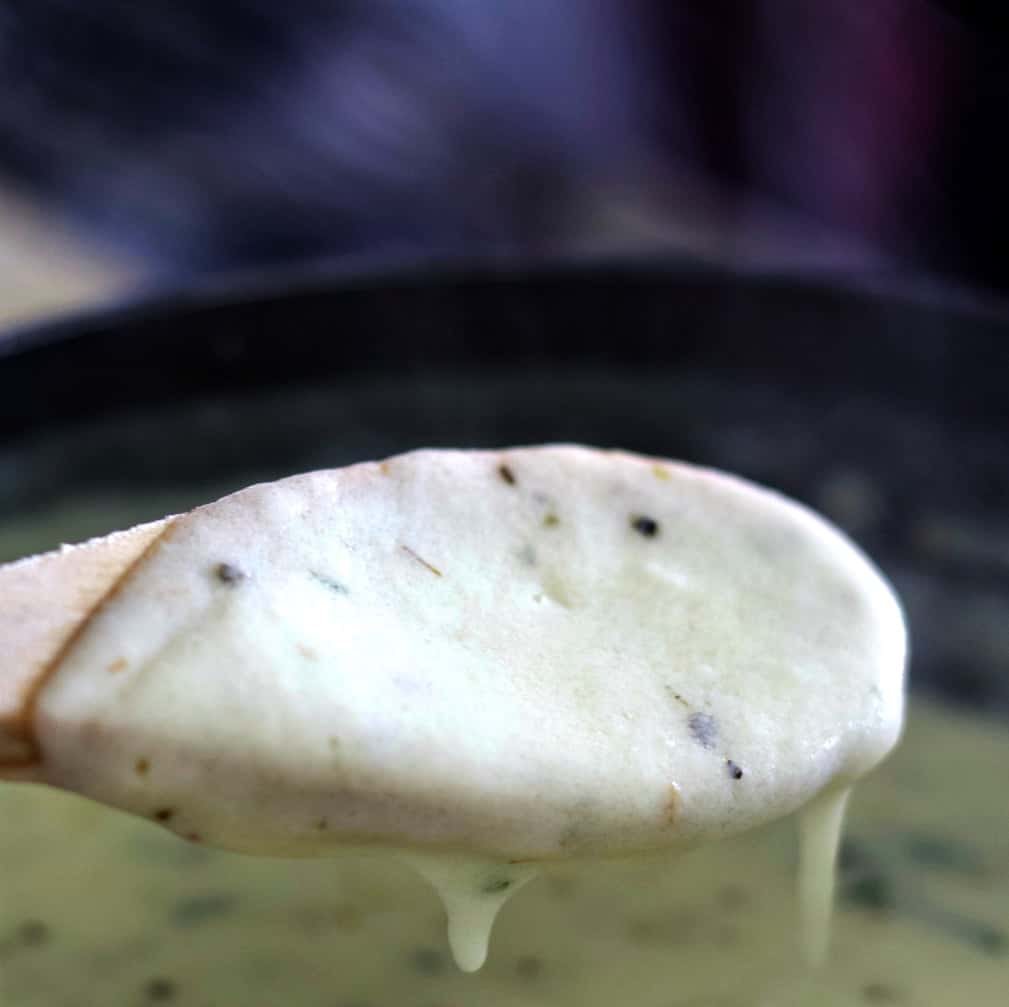 Alfredo Sauce Homemade with Milk Cooking Suggestions:
This alfredo sauce recipe with milk is so versatile you can even omit the mik! Replace it with a good chicken or vegetable broth.
You may also choose half n half or heavy whipping cream in this homemade alfredo sauce with milk recipe. But be careful. These heavier dairy products with more fat will tend to thicken fast.
Your milk will thicken best if it's a whole milk rather than skim. The butter and cream in your whole milk are the binders for this sauce.
Remove the alfredo saucw from the heat as soon as it thickens. Over cooking this homemade recipe for alfredo sauce will cause it to burn. You will also lose the milk binding. Which means your sauce will go from perfect to thin and runny.
Butter is the best fat option. However, You can change out the butter for avocado oil or olive oil. The thickening and binding will work but may take a little longer. I have tried coconut oil in this recipe but it didn't work too well.
Whisk this sauce constantly until thickened for best results. The only time I have trouble with this sauce is when I get distracted and leave it alone. It only takes a few minutes to make. Give it your complete attention.
To thicken this sauce add 2 tablespoons of flour mixed with water to form a rue. Boil gently until the sauce is thick as you want it.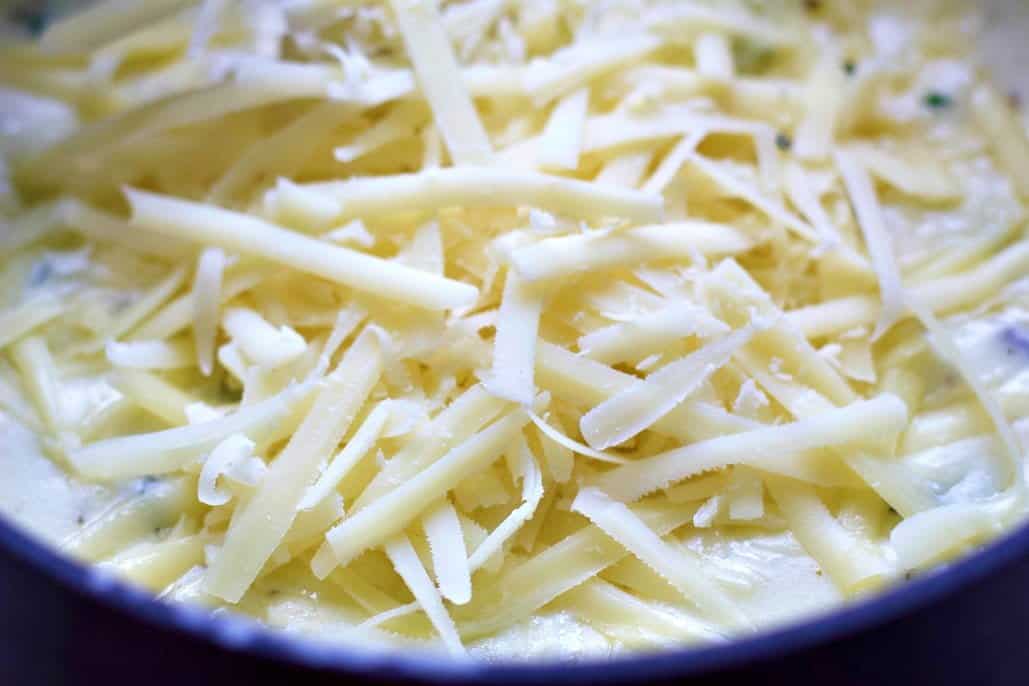 The Ingredients:
Parmesan cheese is a very good choice for this Italian recipe. You will want to use fresh grated parmesan. Stay FAR away from the can of sawdust on the shelves they call parmesan. Do NOT use it in this recipe if you want a decent texture and flavor result.
Other hard cheeses like Jarlsburg work as well as parmesan. Just grate them small before adding them to the sauce or they will have trouble melting into the sauce.
Softer milder cheeses like cream cheese or mozzarella will melt in well. The alfredo.sauce recipe will have a gluier consistency and lighter flavor.
Add fresh herbs like rosemary, oregano or other Italian herbs that will hold up to the cooking process and release their flavors for you.
Fresh basil can be replaced by these other herbs or just add them in as you prefer.
Fresh Roasted garlic really adds deeper garlic flavor but any minced garlic will work fine.
How to Store this Sauce:
After you make this homemade.alfredo sauce it will thicken as it cools. It makes a rich creamy sauce with lots of flavor.
If you have extra sauce you may store it in the fridge covered for up to a week. It will thicken and harden as it gets cold. To reuse the cold sauce heat it gently and thin as needed with a tablespoon of milk or cream.
To Freeze:
You can freeze this sauce in an airtight container for a month.
To Defrost the sauce:
Set the frozen alfredo sauce on your counter for an hour or so and gently reheat it over low heat. You may need to thin the sauce with a bit of milk or cream. Adjust the sauce seasonings and consistency as needed.
Your Printable Recipe Card:
Yield:

4 cups of Alfredo Sauce
Homemade Alfredo Sauce
Homemade alfredo Sauce is quick to make. This rich, creamy and flavorful homemade pasta sauce provides a wow factor for your recipe.
Ingredients
1/2 C butter
1/4 cup white flour
3 cups milk or as needed until thickness of sauce is pleasing.
1 cup Parmesan cheese
Italian seasonings
chopped fresh basil to taste
2 garlic cloves diced and crushed or 2 tsp. garlic powder
Instructions
In a 2 quart saucepan melt butter on low with garlic and seasonings.
Whisk it until well blended.
Add the flour and whisk it on medium high until the flour-butter mixture bubbles gently and thickens.
While whisking it continuously, Add the milk 1 cup at a time and cook until it thickens.
Add the fresh shredded Parmesan.
It will continue to thicken so keep adding milk until it develops the sauce consistency you want, whisking constantly.
Use in your recipe as directed.
Notes
This is a very useful sauce. It can be adjusted to your taste by choosing different herbs and spices to work with your recipes.
To adjust the consistency of the sauce add or reduce the milk. Remember this sauce will thicken as it cools. Also pasta will absorb the sauce so using a looser sauce is best for pasta dishes.
*The video for this recipe show us make this sauce for our Chicken Tortellini Alfredo Recipe.
Nutrition Information
Yield
16
Serving Size
1/4 cup
Amount Per Serving
Calories

115
Total Fat

9g
Saturated Fat

5g
Trans Fat

0g
Unsaturated Fat

3g
Cholesterol

24mg
Sodium

219mg
Carbohydrates

6g
Fiber

0g
Sugar

0g
Protein

4g
Follow Us:
We enjoy meeting you on our social networks. Follow us on Facebook, Pinterest, Instagram . Tag us with your pictures of our recipes and comment on how it went for you. We would love to see what you do with them.
We often like, comment and share your posts of our recipes on our daily Instagram stories.
Ask questions and rate the recipe in the comments section below. Please share what you did with this recipe. We are always looking for more and better ways to make homemade food. Other cooks love your ideas!
Recent Posts:
Recipe adapted from Bakerette.com