Chicken Tortellini Alfredo with homemade Alfredo sauce. Put it together with fresh vegetables, chicken and cheese tortellini. They all combine to make a wonderful Italian taste sensation. This recipe is quick to make and delicious.
Chicken tortellini alfredo is a perfect recipe for a busy day. I have made this recipe in many forms over the years. It's always well received.
Chicken Alfredo Tortellini Video:
Dave and I raised five kids. Large quick dinner recipes were our family mainstay. I am the master of tasty 30 minute meals. This is a good one.
Easy pasta dinners like this are still a staple at our house. We love this kind of meal.
Chicken Alfredo Recipe with Tortellini :
This chicken afredo recipe requires a fast hustle in your kitchen for about 30 minutes.
The recipe comes together beautifully at the end. Slip on your dancing shoes for a quick burst of speed.
Your reward is a Chicken Alfredo recipe with lovely cheesy tortellini and a really rich flavorful homemade alfredo sauce. The family will love it. Heaven.
The Pasta:
This Alfredo recipe is designed for tortellini pasta. Traditionally you may think Fettuccine when you visualize chicken alfredo pasta.
I believe fresh cheese tortellini is a step up from fettuccine in this recipe. Tortellini is filling and flavorful with a cheesy filling and many textured fluted edges.
Refrigerated Tortellini is full of cheesy flavors that blend well with the parmesan cheese in the alfredo sauce.
I do NOT recommend dried tortellini for this recipe. The sauce coats the fresh tortellini better and the flavor is superior.
Tortellini cooks very quickly. Cook your fresh tortellini according to the package instructions.
Cheese tortellini usually only boils for about 2 or 3 minutes. After you drain it and set it aside it will continue to cook a bit.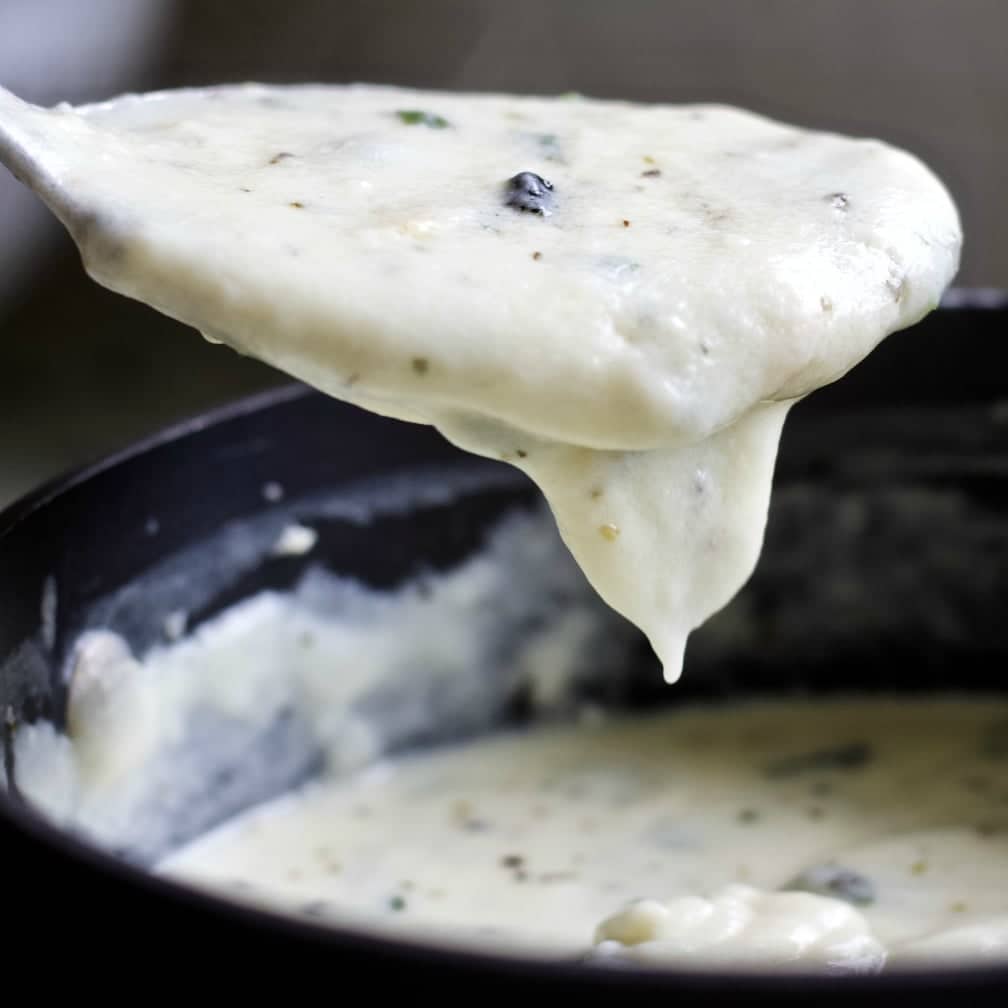 Homemade Alfredo Sauce:
Alfredo sauce offers a rich creamy texture and gorgeous Italian flavors to your meal. Store bought sauce cannot compete with homemade. TRUE.
The ingredient list and instructions for this delicious easy alfredo sauce are right in the recipe card.
I wrote an entire post on Homemade Alfredo sauce if you need ideas for substituting ingredients or other recipe hacks.
But. If you prefer a REALLY easy chicken alfredo recipe … store bought alfredo sauce will work in a pinch.
Vegetable Substitutions:
I chose bright orange carrots, lots of fresh garlic, green celery and leafy kale for my vegetables. They work well together in this recipe.
Kale is an especially good leafy green in a stir fry meal. Its color, flavor and texture hold up well under heat and give wonderful nutrition and pops of color.
If you wish to substitute the vegetables in this chicken tortellini recipe good choices are:
onions- either green onions, yellow or white. About 1/2 cup.
fresh green beans cut into one inch pieces.
asparagus tips and tender stalk cut into one inch pieces.
All the fresh Italian herbs like rosemary, oregano and basil work great in this recipe to your taste.
If you have the carrots and celery I highly recommend them.
And kale. It adds so much.
AND the garlic is non negotiable. Go to the store!
Making Homemade Chicken Alfredo with Tortellini:
Start the water for the noodles
Start the chicken in the heated skillet
prepare the veggies and add them in with the chicken
put the noodles on to boil
make the chicken alfredo sauce
Combine the drained, cooked noodles, alfredo sauce and cooked chicken and veggies together and enjoy!
In about 30 minutes you'll have a yummy, filling dinner for 12. With Lots of yummy leftovers for lunch or an extra freezer dinner.
Freeze This Recipe:
This alfredo recipe makes a lot. If you don't need all of it take half of the recipe and freeze it like this:T
Place your leftover alfredo chicken tortellini in an airtight freezer bag or container.
Label the container with the recipe name and date.
Print the reheating instructions on the container.
Freeze for up to one month.
Defrost in refrigerator.
Reheat gently in your microwave. Stir to avoid cold spots.
Meal Planning:
This is a good meal planning recipe. Here are some suggestions:
Make the entire recipe. Serve half to your family and use half for a meal train recipe.
Freeze it for a scheduled dinner when you are gone. This is an easy reheat once it's defrosted. Perfect for your teen to serve. Just label it well and defrost it a day ahead.
The extras can also make great microwave lunches for work days.
Your Printable Recipe Card: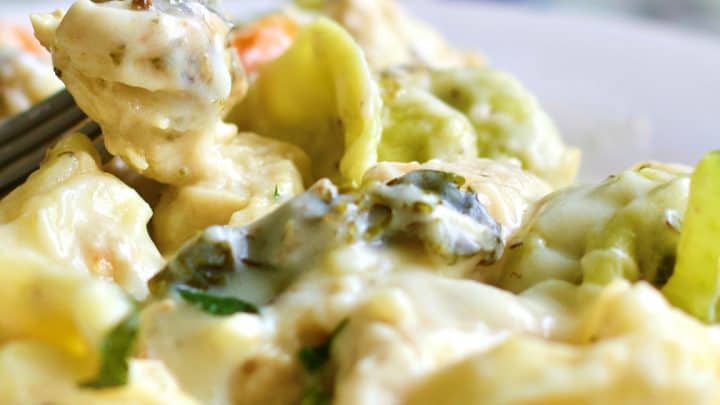 Yield:

12 servings
Chicken Alfredo Tortellini with Homemade Alfredo Sauce
Chicken Tortellini Alfredo with homemade Alfredo sauce from scratch. Put it together with fresh vegetables, chicken and cheese tortellini. They all combine to make a wonderful Italian taste sensation. This recipe is quick to make and delicious.
Ingredients
3 boneless, skinless, chicken breasts chopped into one inch cubes
3 medium to large carrots cut into sticks(julienne)
3 cloves of fresh garlic-crushed, or 5 garlic shallots minced up the stem
2 tablespoons fresh celery minced with leaves
2 Cups kale, rough chopped, into strips
3 tablespoons coconut oil
24 oz package fresh cheese tortellini noodles
For the Homemade alfredo sauce:
1/2 C butter
1/4 cup white flour
3 cups milk or as needed until thickness of sauce is pleasing.
1 cup Parmesan cheese
1 Tablespoon Italian seasonings
2 Tablespoons chopped fresh basil to taste
2 garlic cloves diced and crushed or 2 tsp. garlic powder
Instructions
Put a large pot on to boil for the noodles
Place a large skillet on the stove and melt 2 tablespoons coconut oil
Add chicken and simmer on medium low, while preparing the vegetables
mince and crush the garlic, chop the celery fine, cut the carrots into sticks and chop the kale into strips. Add the vegetables to the skillet with the chicken, raise the temperature to medium and put a lid on it.
When the pot of water boils, add in 1 tablespoon coconut oil and the noodles. Cook according to the package directions. When they are done drain them and set aside in the covered pot.
Make the alfredo sauce as follows:
In a 2 quart sauce pan melt butter on low with garlic and seasonings.
Stir it until well blended.
Add the flour and whisk it on medium high until the flour-butter mixture bubbles gently and thickens.
While whisking it continuously, Add the milk 1 cup at a time and cook until it thickens and then add the Parmesan.
It will continue to thicken so keep adding milk until it develops the sauce consistency you want, whisking constantly. Then remove from heat and it's ready to use!
When the chicken and vegetables are done and tender, add in the tortellini and cover with the alfredo sauce. Gently stir it together and serve!
Nutrition Information
Yield
12
Serving Size
1
Amount Per Serving
Calories

436
Total Fat

20g
Saturated Fat

12g
Trans Fat

0g
Unsaturated Fat

6g
Cholesterol

82mg
Sodium

555mg
Carbohydrates

41g
Fiber

3g
Sugar

2g
Protein

23g
Follow Us:
We enjoy meeting you on our social networks. Follow us on Facebook, Pinterest, Instagram . Tag us with your pictures of our recipes and comment on how it went for you. We would love to see what you do with them.
We often like, comment and share your posts of our recipes on our daily Instagram stories.
Ask questions and rate the recipe in the comments section below. Please share what you did with this recipe. We are always looking for more and better ways to make homemade food. Other cooks love your ideas!
Recent Posts: