Twisted tuna casserole is moist, rich, flavorful comfort food with a sauce made from scratch and a tasty, crunchy topping.
Tuna casserole is easy switch out ingredients for diet friendly substitutions. Tuna casserole can easily be made gluten free. This casserole is a filling meal that makes great leftovers.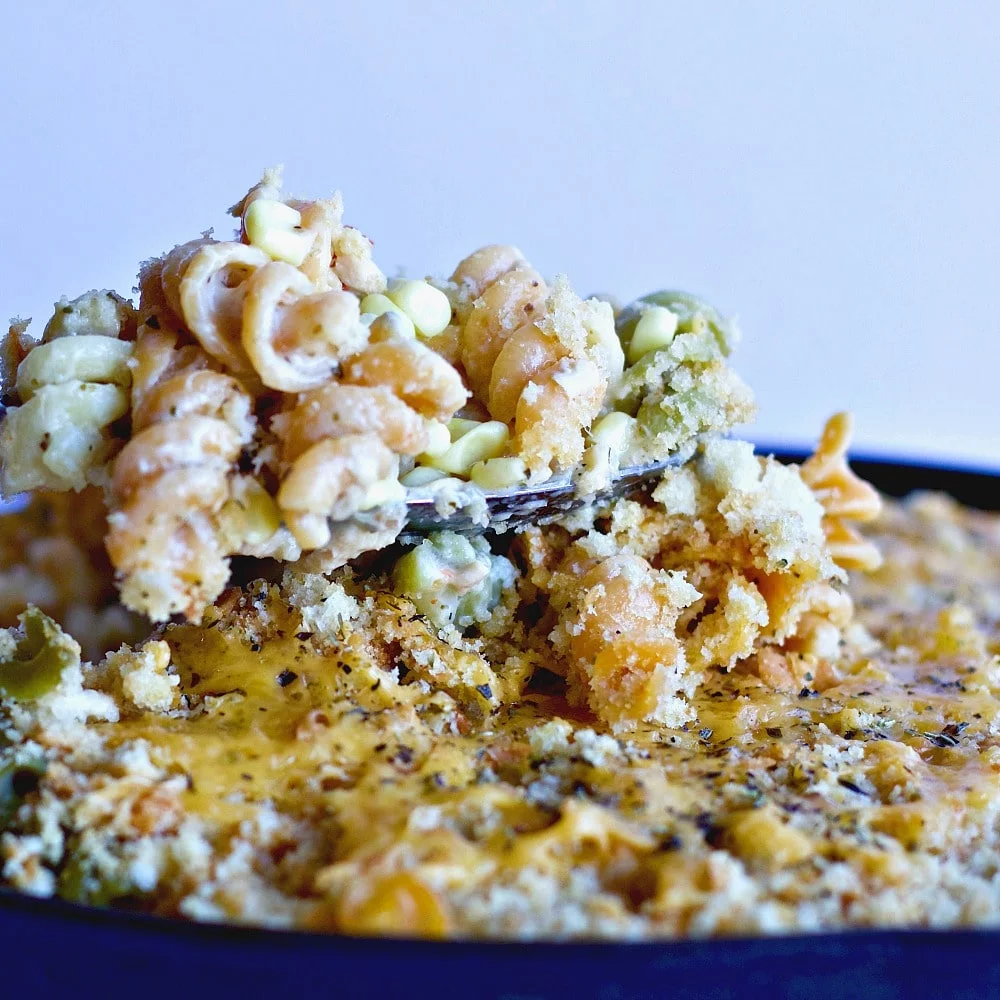 I 'twisted' my original recipe for this old family favorite Tuna casserole. I ditched the cans and created this new version all from scratch. This version is lower carb and lower, healthier fat too. We love it!
It hardly takes any longer to make this 'from scratch' version. Need low carb? Use quinoa noodles or any low carb noodle. Need lower fat? use a lower fat cheese (or omit the cheese).
Why Is My Tuna Casserole so Dry?
Dry Tuna casserole is most often the result of an improper sauce to noodle ratio. The noodles will absorb a lot of liquid during the baking process. Tuna casserole needs to have lots of liquid before baking to compensate for the noodle absorption. For this recipe we use a homemade sauce that fits the noodle to sauce ratio perfectly.
Sometimes baking the casserole too long or uncovered can also result in a dry meal. Make sure you follow the correct baking times and temperatures for Tuna casserole. It's best to leave the casserole covered at least 30 minutes. If you want the top browned, remove the tinfoil and bake an additional 5 minutes. The top should be slightly brown with a crunchy texture.
Do you Eat Tuna Casserole Hot or Cold?
Tuna casserole is best when eaten immediately after cooking. It can however be eaten hot or cold. Fresh cooked tuna casserole is delicious and filling. Cold tuna casserole makes a great option for a potluck or picnic dish. Just make sure to follow safe food guidelines if the casserole is kept out of the refrigerator for long periods of time
Can Tuna Casserole be Frozen?
Tuna Casserole can be frozen. This casserole works great frozen unbaked or fully baked. Tuna Casserole also lasts up to 7 days in the fridge. Just make sure you are storing your leftovers in an airtight container. Make sure to put them in the fridge or freeze them less than 2 hours after cooking. Tuna Casserole should not be left out for long periods of time at room temperature.
To freeze Tuna Casserole follow these steps:
Freezing unbaked tuna casserole
Make Tuna Casserole according to instructions
The noodles should still be slightly firm, not all the way cooked through.
Place all ingredients in baking dish
Wrap tightly with plastic wrap
Cover with tinfoil
Label the casserole with the date
Place in freezer
This casserole can be frozen for up to 3 months
Thaw and bake
Freezing baked tuna casserole
Let casserole cool to room temperature
Place leftovers in freezer
flash freeze for 3 hours until frozen solid
Remove from freezer and place leftovers in a freezer safe container
Label the container with the date
Place in freezer
Using Quinoa in Tuna Casserole in place of noodles
Quinoa can be used in place of noodles for a Tuna casserole. Quinoa is a great noodle substitute for those that need a gluten free option. To use quinoa instead of noodles follow these simple steps:
Wash 1 cup of quinoa
Bring 2 cups of water and 1 cup of quinoa to a boil
Add a pinch of salt
Cover pot
Reduce heat to Medium
Cook quinoa about 15 minutes
Remove quinoa from stove
Fluff with fork
Add to casserole during the noodle step in place of the noodles.
At the bottom of this post I've added a gluten free option for you from a reader of Homemade Food Junkie. Any way you make it this is a good recipe. It's easily adjusted to your families tastes and nutritional needs!
This recipe makes a really great freezer meal. It's easy to double so make an extra for the freezer. Wrap it up tight so it can last up to 3 months in your freezer without a problem. Follow the steps above for freezing your Tuna Casserole.
To serve. Completely defrost before baking as directed in the recipe.
To bake frozen: Add 1/2 Cup water(or milk) over the topping and keep tightly wrapped with foil while baking. Add about an extra 30 minutes to the baking time. Serve when bubbling.
Twisted Tuna Casserole Recipe:
Making this recipe from scratch allows you to personalize the recipe. I really like a moist tuna casserole with lots of flavor. Not interested in boring or dry. I used to hate tuna casserole. I jazzed this one up so it's much moister and has that nice crunchy top. Love it!
Decide which seasonings you prefer and jump in to this recipe. This is our favorite Tuna Casserole ever. We would LOVE for you to let us know how this recipe works for you.
Sauté the veggies first. I use Avocado oil for high heat cooking. Avocado oil is an excellent, heart healthy high heat oil.
Homemade White Sauce Instructions:
While the noodles are cooking, and your veggies are simmering, make your white sauce.
Melt butter in a pan.
Whisk in some butter and spices.
Heat it to a boil and when it gets thick, slowly add milk or chicken broth.
whisk away until it smoothes and thickens to your desired consistency.
This sauce is Very easy and very fast to make. Just watch it so it doesn't scorch!
While the sauce is thickening…
Flake your albacore tuna into the sauteed veggies
Add the white sauce and stir it up.
Drain the noodles and add the sauce and veggies.
Stir ingredients together and add to a casserole dish.
Now for the topping:
Shred your cheese and crush the croutons.
The croutons are a must for this delicious, crunchy crust.
After your casserole filling is in your ovenproof dish, spread the cheese on top ( I chose to mix a little into the casserole too this time).
Sprinkle the crushed croutons over the cheese and, finally, pour some lowfat milk on the top, about 1/2 cup to add a bit of steam and moisture into the crust without adding more butterfat. This casserole has a lot of fat so I'm slimming it down a bit this way and it tastes great too!
Bake it!
Baked to perfection with a golden brown cheesy, crunchy, crust and a moist noodly center. Full of flavor and nutrients! Enjoy!
Please rate this recipe and share your experiences. That's how we found the gluten free option that works so well. Our Reader friend Angie shared. We are so excited to find new information and versions of our recipes that work for special needs or just make you happy.
GLUTEN FREE OPTION for Twisted Tuna Casserole:
changing the flour to Bob's all purpose gluten free mix,
the noodles to my favorite gluten-free alternative (Ancient Harvest quinoa elbows)
and gluten-free breadcrumbs for the topping.
It came out great. This post talked me through making my own homemade white sauce and it was so easy and good. I actually just used a half package of ranch dip mix for my seasonings. I love tuna noodle casserole and hadn't made it in so long."
Thank you Angie for taking the time to let us know how you made this recipe gluten free
Here is your Printable Recipe: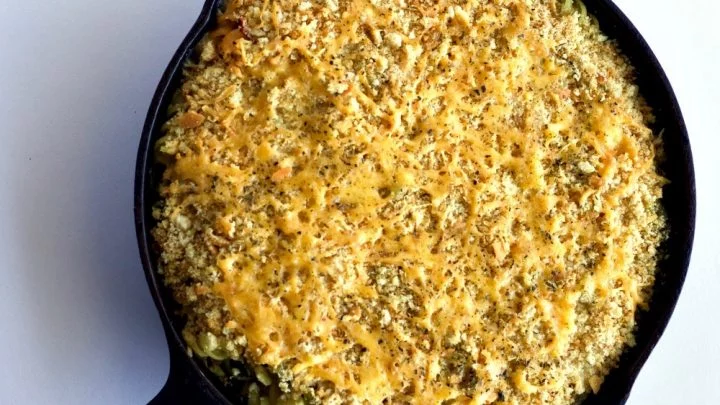 Yield:

10 servings
Twisted Tuna Casserole
Twisted tuna casserole is moist, rich, flavorful comfort food with a white sauce made from scratch and a tasty, crunchy topping.
Ingredients
1/4 cup coconut oil, divided
1 8 ounce package uncooked quinoa or Gluten free or lower carb option, egg or other noodles.
1/2 medium onion, finely chopped
1 stalk celery, finely chopped
1/2 jalapeno pepper, to taste,- minced with no seeds
1 7.5 ounce can Albacore tuna packed in water, drained and flaked
1 cup frozen peas or corn, thawed( I used corn tonight. Delicious!)
1 clove garlic, or 1 garlic shallot, minced
salt and pepper to taste
For the sauce
1/4 cup all-purpose flour
2 to 4 tablespoons butter, melted
2 1/2 cups milk
seasonings for the white sauce-to taste, tonight I used dried Ranch dressing seasonings, Garlic or....what do you like?
For the Topping
2 cups seasoned focaccia croutons, crushed (also much lower in carbs than bread crumbs)
1 cup shredded Cheddar cheese
Instructions
Preheat oven to 375 degrees F (190 degrees C).
Oil a 1 1/2 qt. baking dish with 1 tablespoon coconut oil.
Bring a large pot of lightly salted water to a boil. Add noodles, and one tablespoon oil; cook for 8 to 10 minutes, until al dente, and drain.
Melt 2 tablespoons coconut oil in a skillet over medium-low heat. Stir in the onion, pepper, celery, and garlic, and cook 5 minutes, until tender. Continue to cook and stir until most of the liquid has evaporated. Then turn it off and let it rest on the stove as you do the next steps.
Melt butter,(be SURE to use butter in the white sauce, I tried coconut oil and it will NOT work) in a medium saucepan, and whisk in flour, until smooth. Gradually whisk in milk, and continue cooking 5 minutes, until sauce is smooth and slightly thickened. Season with salt, pepper and your other favorite seasonings(try basil or a little oregano).
Stir together tuna, peas or corn, veggie mixture, and cooked noodles. Transfer to the baking dish.
Top with cheese, and crushed croutons. Pour 1/2 cup milk, evenly over the top of the casserole.
Bake 25 minutes in the preheated oven, covered, until bubbly and lightly browned.For a larger casserole(if you double it), add ten minutes, but keep a watch on it.
Notes
NOTES Use Gluten free flour and noodles and bread crumbs for a gluten free version of this recipe.This casserole make 10 SMALL but filling servings.
Nutrition Information
Amount Per Serving
Calories

322
More Delicious Casseroles: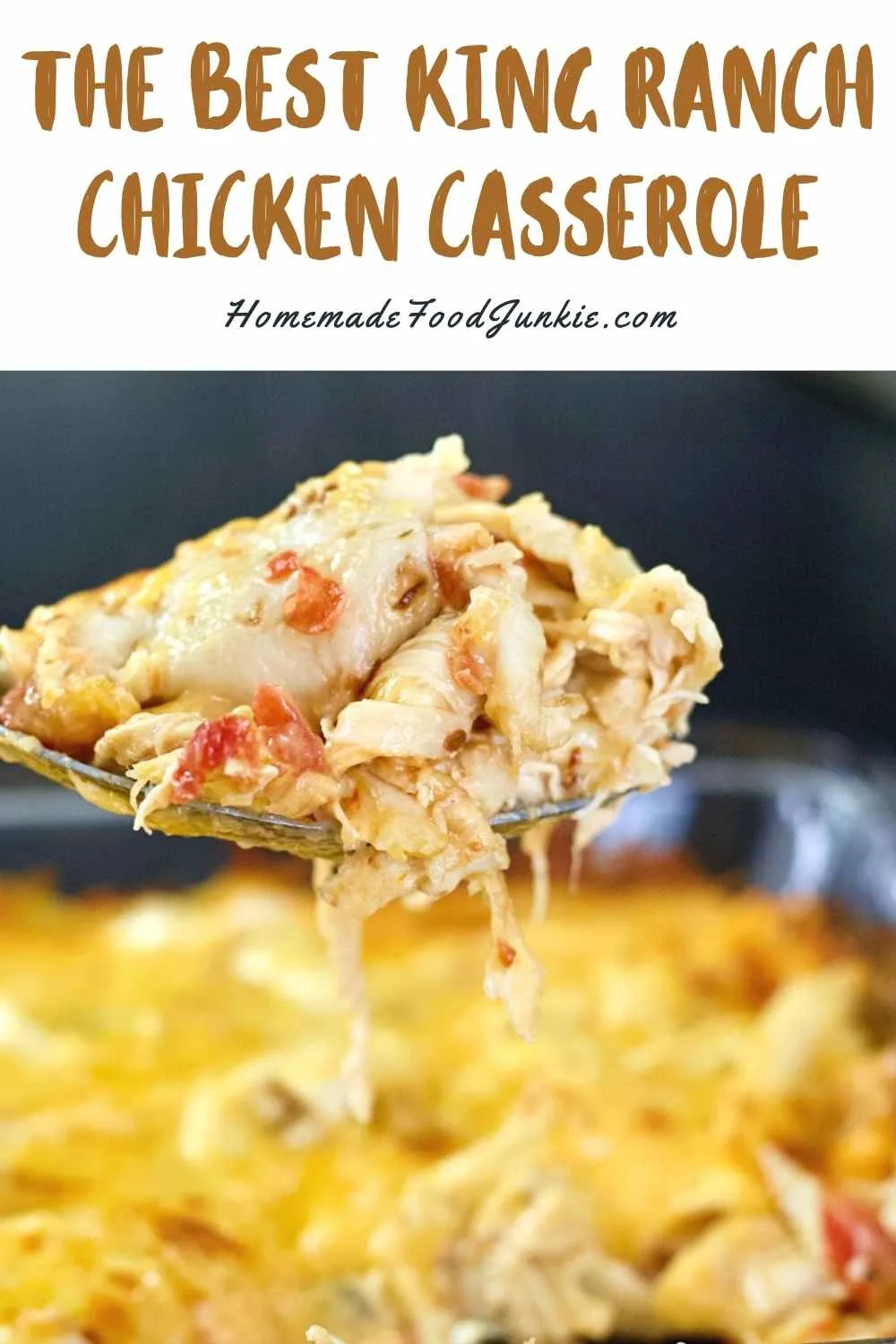 Follow Us:
We enjoy meeting you on our social networks. Follow us on Facebook, Pinterest, Instagram . Tag us with your pictures of our recipes and comment on how it went for you. We would love to see what you do with them.
We often like, comment and share your posts of our recipes on our daily Instagram stories.
Ask questions and rate the recipe in the comments section below. Please share what you did with this recipe. We are always looking for more and better ways to make homemade food. Other cooks love your ideas!
Recent Posts: