Blackberry cobbler is stuffed with luscious, juicy healthy blackberries, nestled into a moist, sweet dough. Coconut oil gives this old-time summer dessert an upgrade with healthy fat and flavor.
This is one of the BEST blackberry desserts I have ever made. Really Truly. And it's in the oven in 10 minutes.
Blackberries bushes are extremely prolific on our property. The birds love em and spread blackberry seeds ALL over!
Consequently, we are surrounded by ACRES of blackberry bushes. We clear them out of our fields and fence lines as best we can. The rest we eat fresh off the vine. I always freeze several batches too.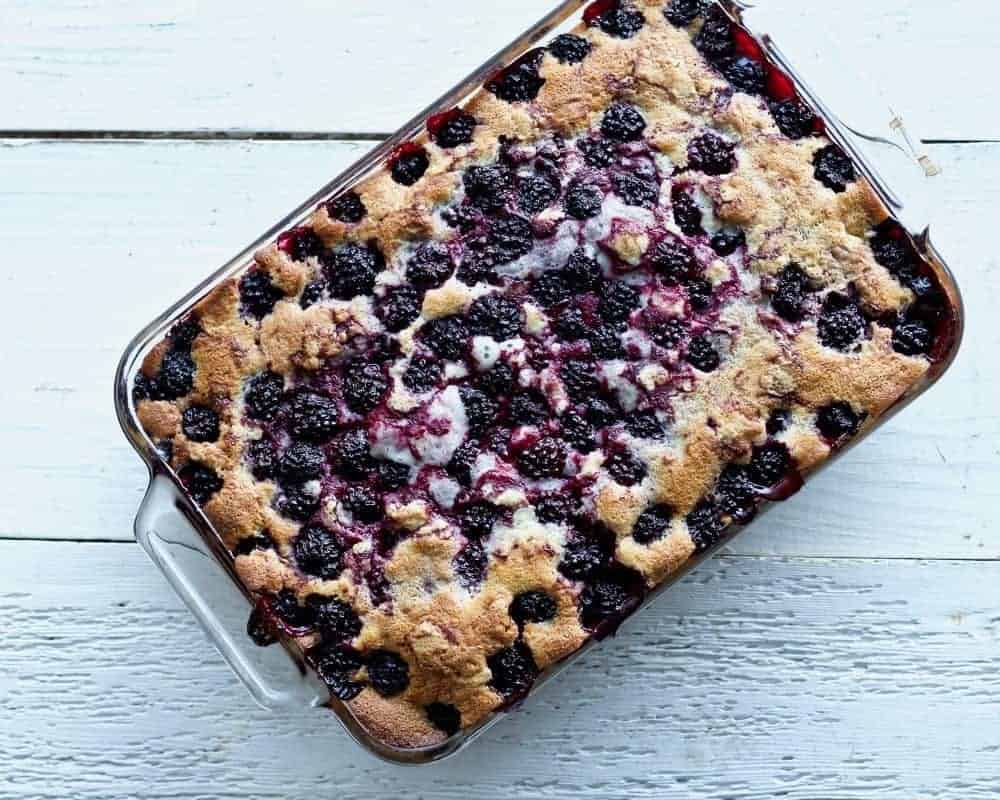 This Blackberry cobbler recipe in particular is one of our favorite blackberry desserts. I make it a LOT since it's So EASY!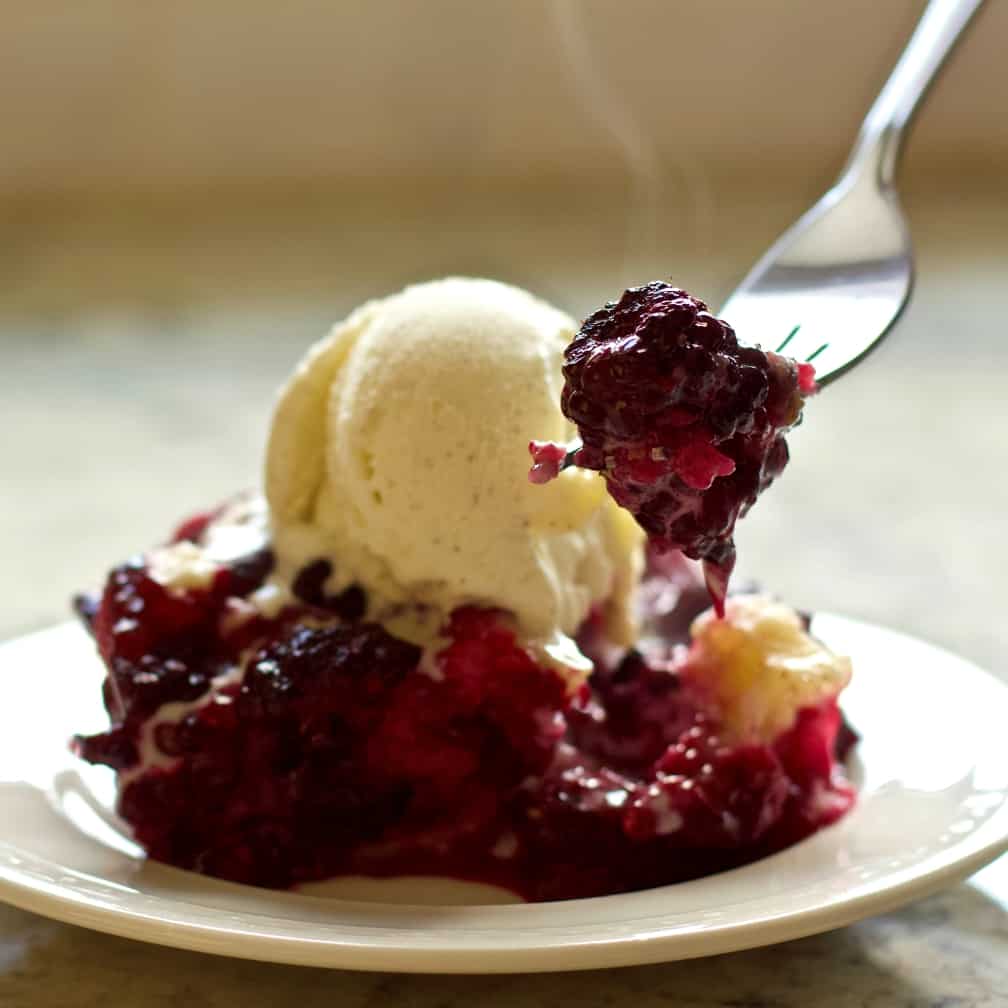 The sweet moist dough is so yummy and crammed with blackberries all the way through.
Grow your own garden for the best produce like we do or buy from a reputable, local organic farm, farmers market, fruit stand or your local food co-op. This is a wonderful farm to table recipe.
I really DON'T recommend growing blackberries. They are EXTREMELY invasive. At least they are here in our temperate climate.
If you get crazy enough to plant them. Find a THORNLESS variety like this. Whacking back our thorny ole blackberry bushes is a blood sport. You won't enjoy it.
Blackberries are among the Healthiest fruits.
My family ought to set longevity records. We eat TONS of blackberries throughout the year.
Yep, we expect to live pretty much forever.
I have quite a few blackberry recipes on this blog both sweet and savory. Blackberry are a wonderful late summer harvest. They make so many wonderful dishes.
More blackberry Recipes You May Enjoy.
Blackberries are full of fiber and have one of the highest levels of cancer fighting anti-oxidants. Follow the link above to learn more about the nutrition of blackberries.
Blackberry Cobbler is a delicious combination of a slightly sweet dough and healthy blackberries. Is it healthy?? Ummm probably not with the high carb sweet dough. But it's good!
This blackberry cobbler is officially kid approved by my three granddaughters of various ages. One of whom will not touch fruit (is that strange or what?) in any form.
She perked right up after being lured into the first bite of this cobbler and eagerly devoured more and more! Blackberry cobbler might be her fruit breakthrough. 🙂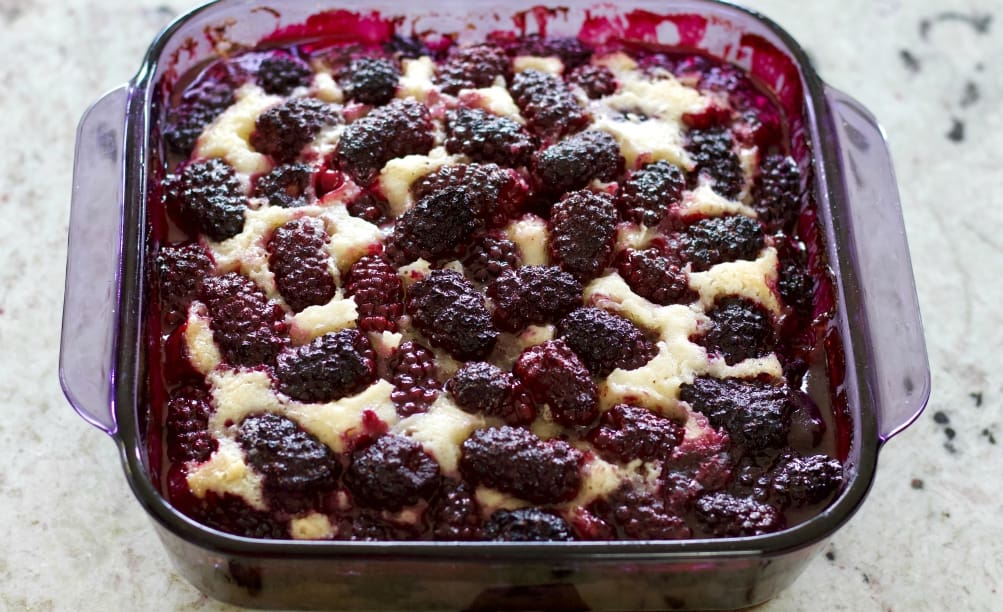 This cobbler makes an easy dessert to take to parties and potlucks. Everyone loves it. You will need to set the dish in a box lined with an old towel if it's juicy to protect your car. Blackberry juices stain!
Fresh or frozen blackberries are a useful fruit in the kitchen year round. I often pull a bag of frozen blackberries out of the freezer to whip up this quick and easy recipe. It cozies up cold winter nights.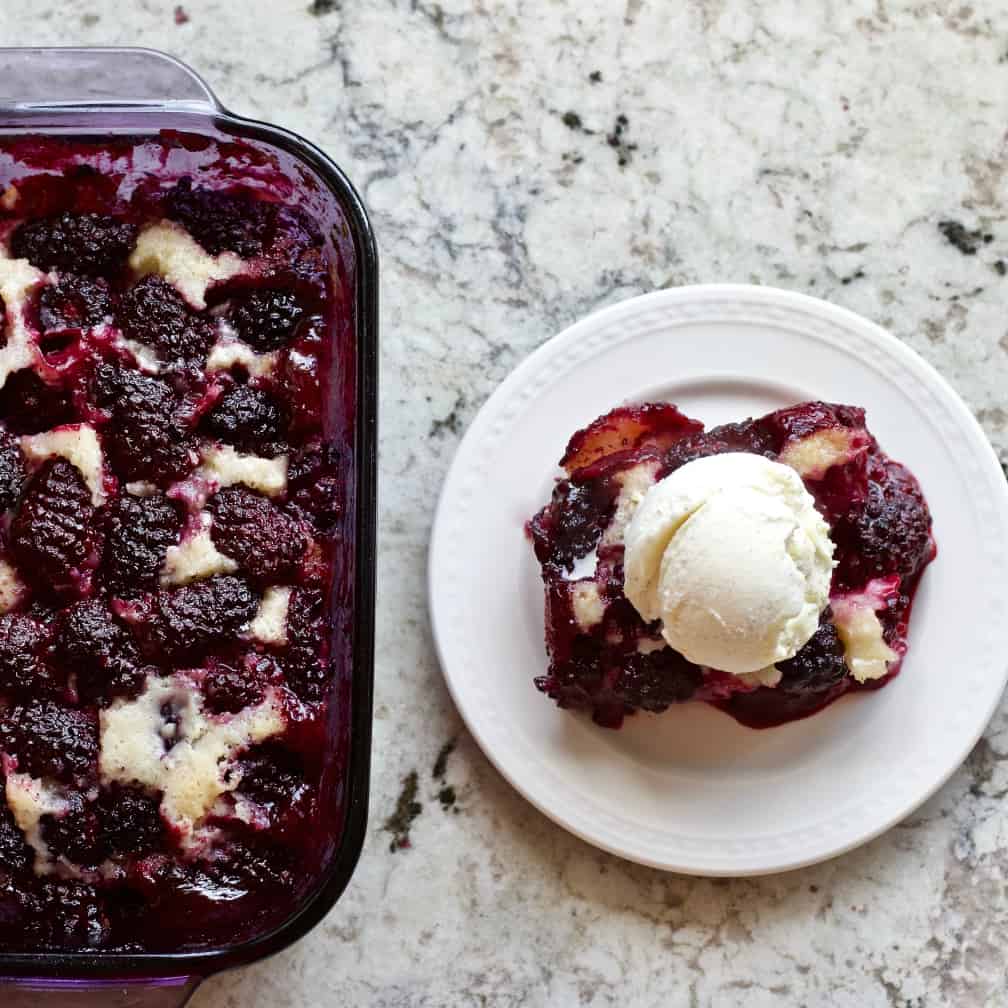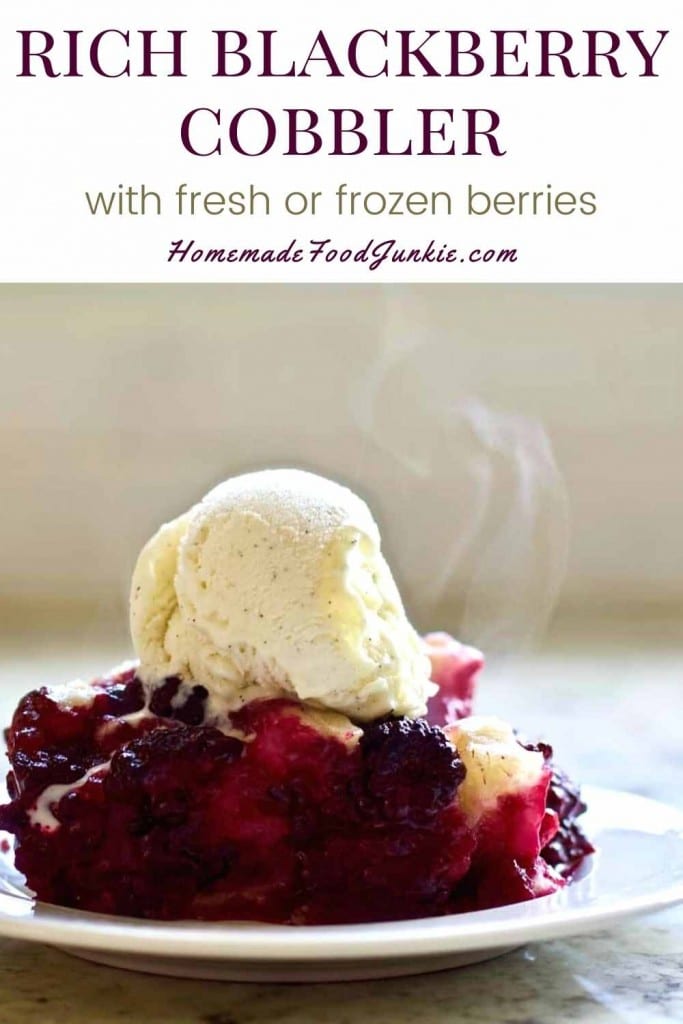 Blackberry Cobbler Recipe:
This blackberry recipe is a fast way to enjoy blackberries and use them up. This easy blackberry cobbler is ready to pop in the oven in about 10 minutes not counting blackberry picking time here. 🙂
The 9 x 13 baking dish you see pictured in this article is a DOUBLE BATCH. This recipe Makes a 9 x 9 blackberry cobbler as written.
This recipe works with both fresh and frozen blackberries. It is written for fresh. Follow the tips below for frozen berries.
TIPS For frozen berries:
Measure the berries frozen and stir them in that way too.
Just break apart any berry clumps.
Watch the liquid level of your fresh or frozen berries.
Drain any extra juice off so the recipe bakes correctly.
Using Coconut oil.
Coconut oil adds a wonderful flavor to baked goods. If you haven't tried it in your baking I hope you do. However…
If you don't happen to have any coconut oil on hand substitute butter or avocado oil one to one. Either will work great as a substitute.
How to Make a blackberry Cobbler:
Here is the method for making this blackberry dessert. Bake this cobbler recipe until the dough is barely browned and set.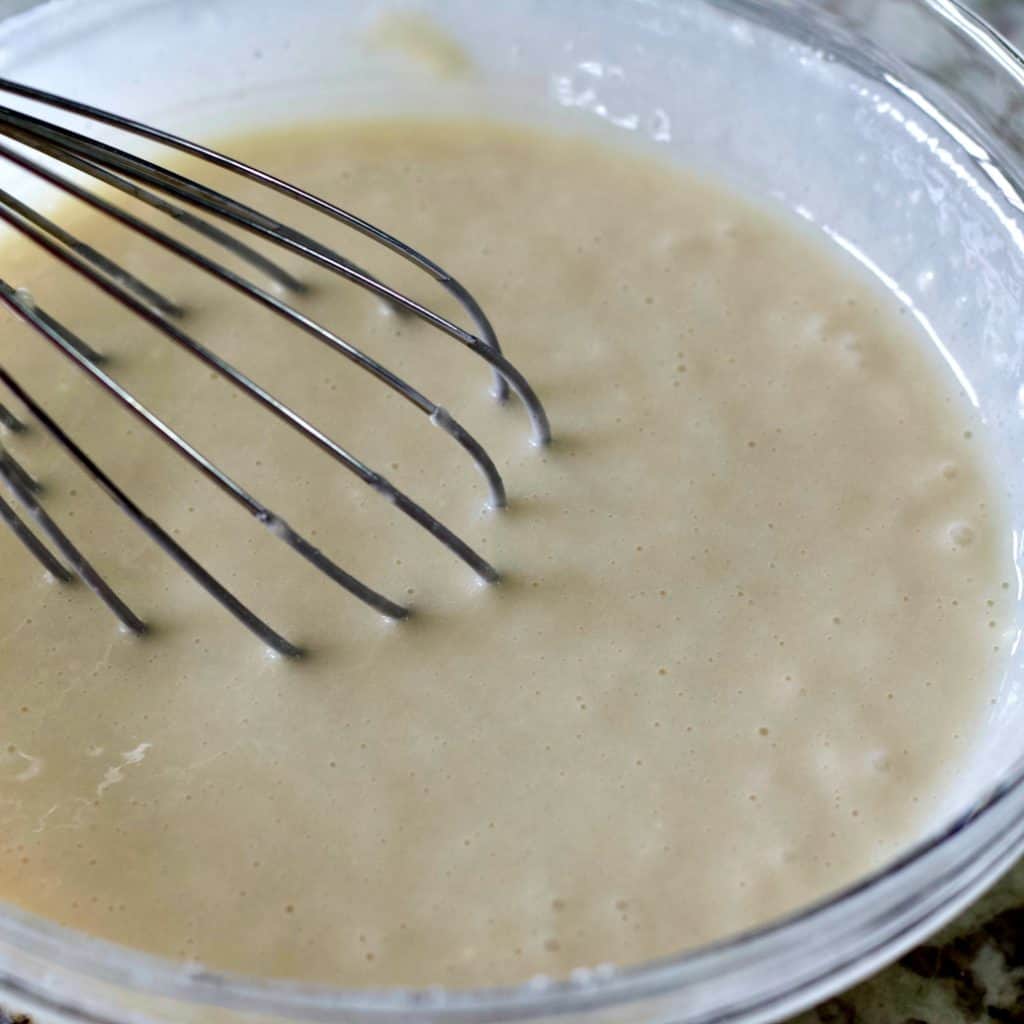 Serving Suggestions: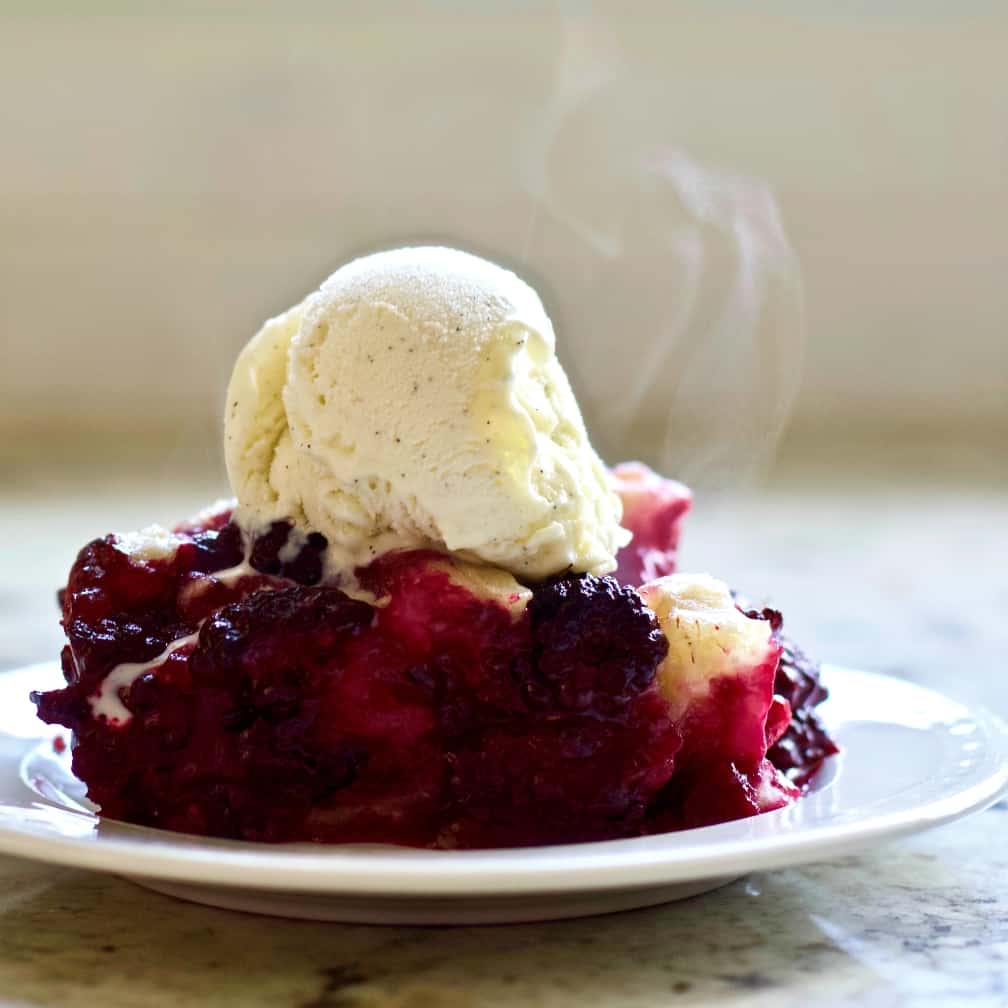 Top this easy dessert recipe off with homemade Whipping cream or a scoop of vanilla ice cream.
We LOVE this cobbler with homemade French Vanilla Bean Ice Cream or Blackberry Cheesecake Ice Cream. I make them in my cuisinart Ice Cream maker for a touch of decadence.
Your Printable Recipe Card:
Yield:

9-1 Cup servings
Blackberry Cobbler Recipe
Total Time:
1 hour
10 minutes
Blackberry cobbler is stuffed with luscious, juicy healthy blackberries, nestled into a moist, sweet dough. Coconut oil gives this old-time family favorite dessert an upgrade in healthy fat and flavor. Enjoy your dessert!
Ingredients
4 Tbsp melted coconut oil (or butter)
1 cup all purpose flour
1 tsp. baking powder
1 tsp. salt
1 cup sugar
1 cup milk
1 tsp vanilla
4 Cups of blackberries
Instructions
Prep:
Preheat oven to 350 degrees
Prepare the blackberries by putting them in a bowl of standing water while you do the other recipe steps. Then drain them well and pick out any bits of bush, webs, or moving ickies, before putting them on the top of the cobbler.(If you're buying them pre-washed, don't immerse them in water at all.)
For the cobbler:
Spread melted coconut oil in the bottom of a glass 8 x 8 pan, or 9 inch pie plate.
In a medium bowl whisk together flour and baking powder and salt.
Add in the sugar, milk and vanilla; then pour the batter layer over coconut oil. No stirring.
Add the blackberries in a layer over the batter. The "batter" will bake up around it.
Bake for about 1 hr. Cobbler will be golden brown.
Notes
NOTE: This recipe is for a 9 x 9 pan. To make it a 13 x 9 pan please double the recipe.
Recommended Products
As an Amazon Associate and member of other affiliate programs, I earn from qualifying purchases.
Nutrition Information
Yield
9
Serving Size
1 Cup
Amount Per Serving
Calories

233
Total Fat

7g
Saturated Fat

5g
Trans Fat

0g
Unsaturated Fat

1g
Cholesterol

2mg
Sodium

328mg
Carbohydrates

41g
Fiber

4g
Sugar

25g
Protein

3g
Please pin this recipe and share it with your friends on social media. Comment and rate this recipe. We all want to know how it went for you! Thank you and have a great day!
Adapted from menu musings