Ham and Cheese Sliders are easy appetizers or Hors D'oeuvre to make and serve. If you need a popular finger food recipe or game day appetizer here you go!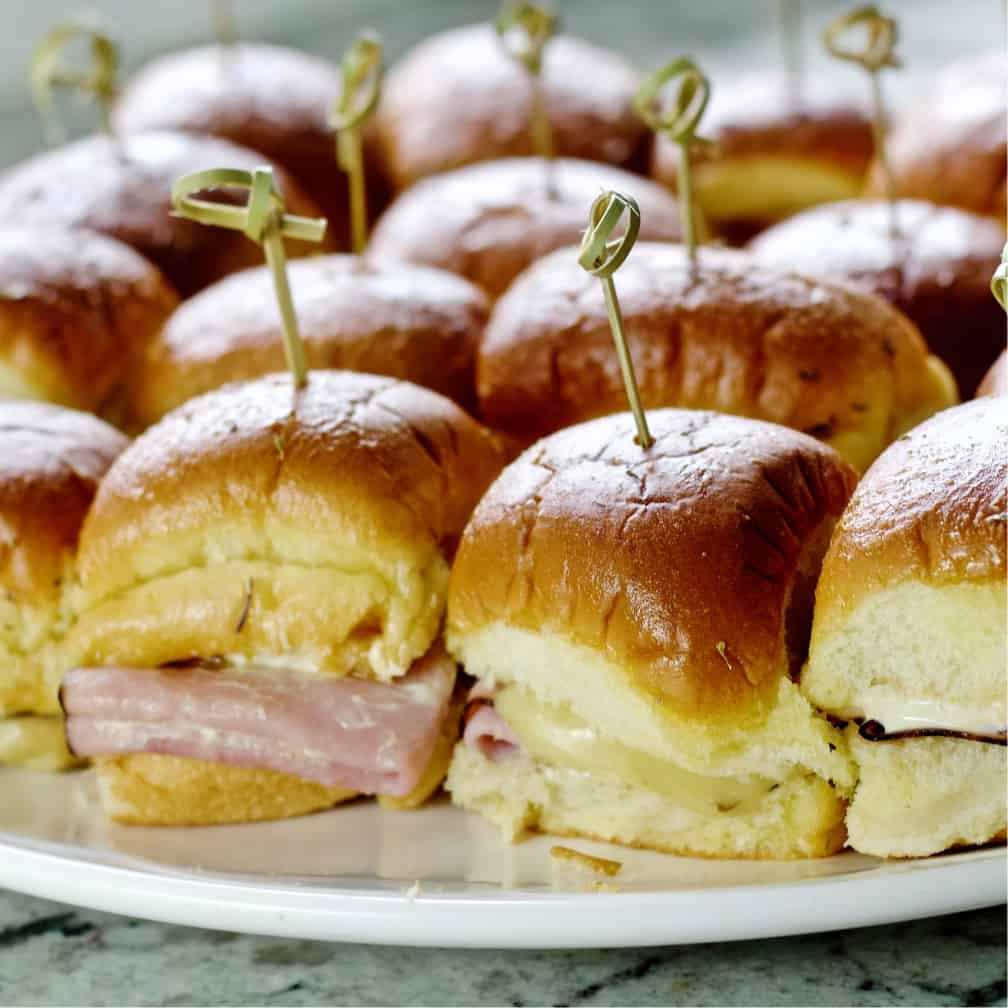 Choosing the appropriate appetizers or hors d oeuvres for Party food ideas can seem overwhelming. and difficult.
Let us help you out. Are you serving a meal? If not, sliders are a good choice for hor d'oeuvres.
Sliders fit right in at many different events and venus. Your party guests will find them easy to grab off trays without a lot of muss or fuss. Just keep napkins handy for crumbs.
Watch me Make this Ham Appetizer
Sliders are more than a mouthful but are easy hor dourves to munch while mingling in large group or watching 'The game' with a more intimate grouping.
Looking for more easy party foods and Appetizer Recipes? Visit our Complete Appetizer and Hors D oeuvre recipes Section.
This is handy finger food for a party. Sliders are especially popular for super bowl appetizers. Guys love these soft sweet rolls full of gooey cheese and ham.
These are simple appetizers to make and are easy to serve and clean up. No plates, knives or forks required.
Just load them on a tray and pass them around. It will come back empty. Refill!
What is a slider?
The original slider was small square hamburger created by the White Castle Restaurant. They started the whole concept of fast food with those baby hamburgers.
They even created the hamburger bun! I have no idea who decided to call them sliders.
My Son in Law loves these sliders. He thinks they taste like White Castle Sliders. I'm not sure that is possible since the White Castles were made with ground beef. Maybe the sauce is similar?
The slider concept, once started, mushroomed into the home cooks territory. Now the versions are very creative.
The baby hamburger is still a mainstay. However, you'll find an endless variety of sliders at events everywhere nowadays. Homemade food is so fun!
Where to serve Sliders?
Ham sliders are easy party food to make and serve. These are well loved super bowl food and appetizers for a cocktail party.
However don't get stuck in the super bowl party rut with sliders. you can pretty much serve these horderves all through the year at any gathering.
They fit right in almost anywhere if they are presented with an eye to the party theme. Wedding receptions, graduations, baby showers…
Need christmas appetizers? Add some greenery to the serving tray or serve them on a red paper doily. These also make fun Thanksgiving appetizers when themed in harvest colors.
Ham and Cheese Slider Recipe: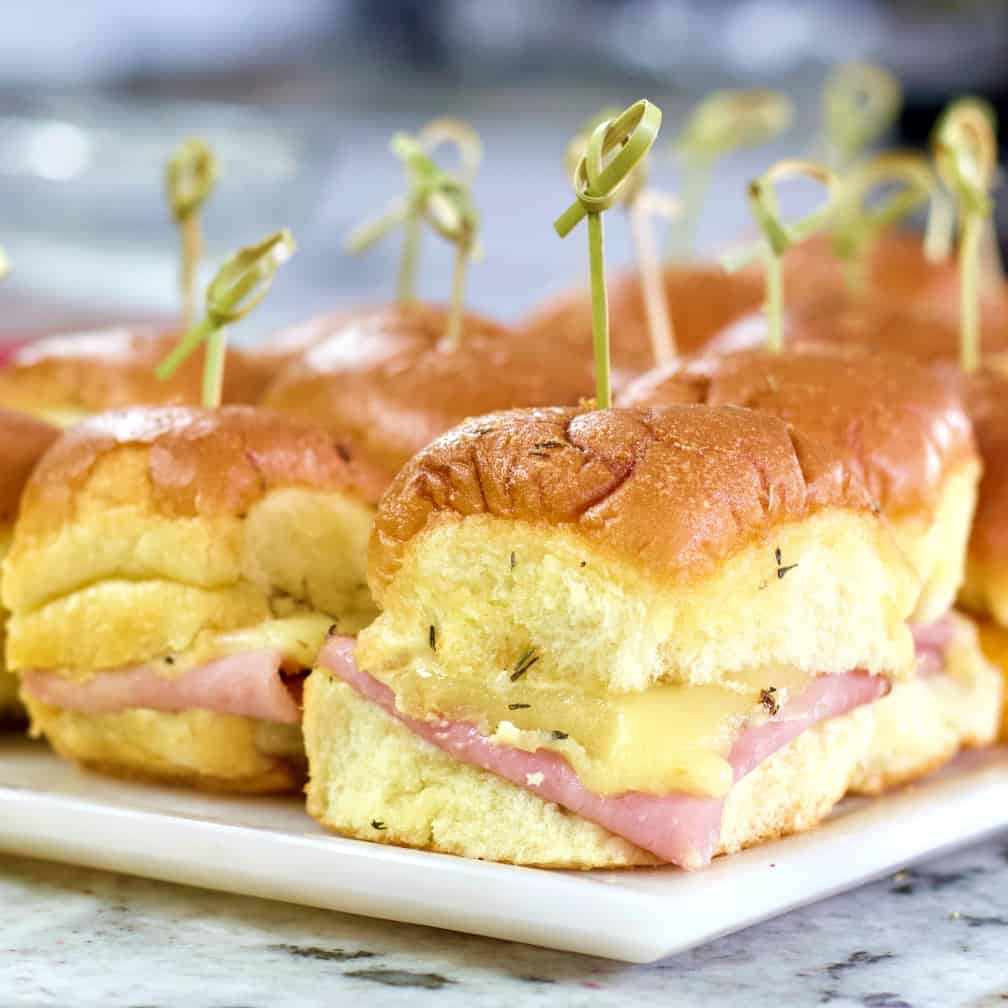 You can make these with any ham you like. I used very thin sliced Black forest Deli ham and folded it to fit the dinner roll.
You can also use baked ham sliced thin and cut to the roll size. Make this a leftover ham recipe and enjoy a batch of sliders for lunch or dinner.
Same with the cheese. you know how versatile this recipe can be. Choose whatever cheese you love with ham.
I suggest soft smoked gouda, pepper jack swiss, sharp cheddar. Whatever cheese tastes good with the honey mustard sauce.
TIP: If you don't have a lot of time on party day you can assemble the rolls ahead.
The Day Before:
Apply cooking spray to a 9 x 13 inch pan
Put the rolls close together in the pan.
Cover with plastic wrap and store in the fridge up to a day before your party.
During the party: Baste the top of the rolls, cover with foil and bake. Serve them warm immediately.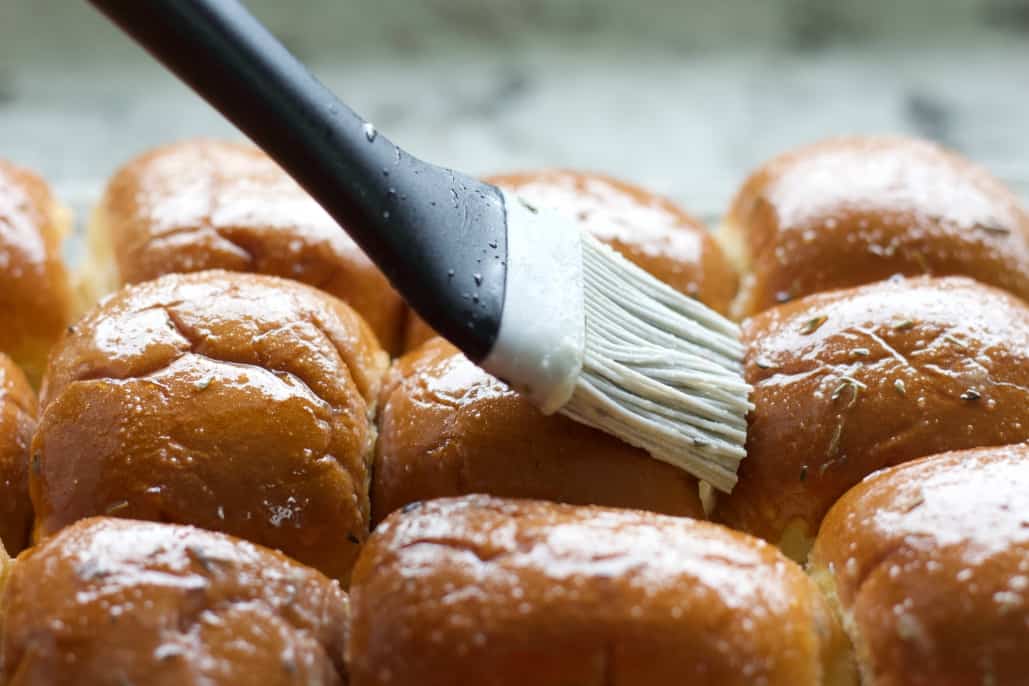 Ingredients:
TIP: Soft, Squishable and sweet Hawaiian rolls are perfect to house the slider fillings. I chose Franz brand. Kings Hawaiian rolls are also a popular choice.
Ham- Choose a thin sliced deli ham or pre-sliced spiral ham.
Cheese- of your choice
FILLING SAUCE:
Mayonnaise
Honey mustard dressing
BUTTER BASTING SAUCE:
butter
onion powder
garlic powder
dried thyme
Yield:

24 sliders
Ham and Cheese Sliders
A quick and easy finger food for a party. These popular appetizers are very popular and delicious. The seasoned butter top and honey mustard dressing add the perfect counterpoint to the ham and cheese fillings. Your guests will love them!
Ingredients
1 tsp. Thyme
1/4 tsp garlic powder
1/4 tsp. onion powder
1/4 Cup butter
1/4 Cup honey mustard dressing
1 Cup mayonnaise
24 Hawaiian rolls (or other sweet dinner rolls)
16 oz. ham (deli or thinly sliced ham)
Instructions
Preheat oven to 350 degrees F.
On a breadboard cut each roll in half.
In a small bowl Mix together the mayonnaise and honey mustard dressing.
Spread the mayonnaise mixture on each roll on both cut sides.
Lay one slice of ham and one slice of cheese on each roll bottom.
Put the tops on the rolls and set them closely together in a 9 x 13 baking pan.
In a different small bowl add the butter. Melt it in your microwave and add the onion and garlic powder and thyme. Mix together.

Spread the butter mixture over all of the roll tops and sides with a basting brush. Use all of the butter mixture.
Cover the baking dish with foil.

Bake covered 10 minutes.
Remove foil and bake an additional 10 minutes until the cheese is melted and the tops are crispy.

Remove from oven, skewer each slider with a pick if desired.
Place on your serving tray and serve warm.
Notes
These sliders are very easy to make with pre-sliced cheeses and pre-cut deli ham. Black forest deli ham, Honey ham or any ham you prefer will work in this recipe. You may use a spiral ham if you don't mind the work of cutting the pieces to fit your rolls. Use up your leftover ham and make these for a family lunch or snack. So good!
Likewise you may choose any cheese you prefer.
Recommended Products
As an Amazon Associate and member of other affiliate programs, I earn from qualifying purchases.
Nutrition Information
Yield
24
Serving Size
1 slider
Amount Per Serving
Calories

214
Total Fat

13g
Saturated Fat

4g
Trans Fat

0g
Unsaturated Fat

8g
Cholesterol

38mg
Sodium

347mg
Carbohydrates

17g
Fiber

1g
Sugar

5g
Protein

7g