This refreshing and nutritious crunchy Green and White broccoli cauliflower salad is an excellent side to any meal. It's also great for taking to potlucks and other foodie events.
This pretty green and white salad is loaded with fresh vegetables. The crisp broccoli and cauliflower combine with freshly chopped green onions to create a perfect flavor balance. Toss it with the creamy dressing for a deliciously blended salad.
This green and white cauliflower broccoli salad is an old, old recipe. We found it in a collection of recipes made into a cookbook by a church group back in the day. It's Called The Avon Church Cookbook. Grandma gave it to me. Thank you Grandma!
These Church recipe books were popular ways to raise money for projects. This was an old church group. Some of these recipes are true treasures from over a hundred years ago. This easy broccoli cauliflower salad recipe is a healthy and attractive salad your family will enjoy.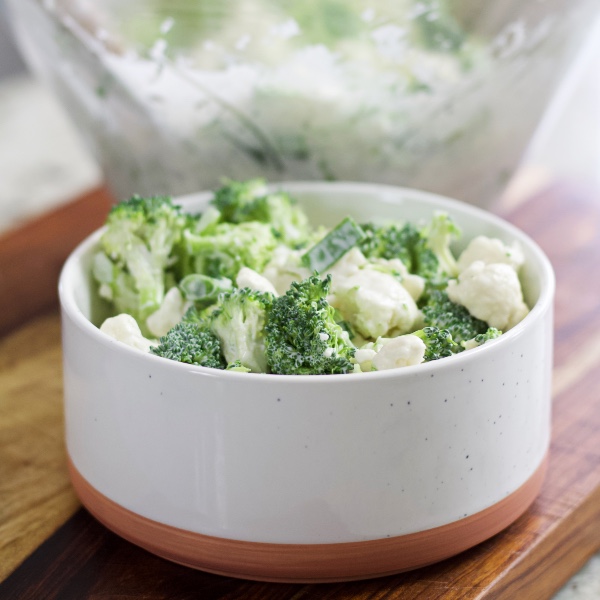 Healthy Broccoli Cauliflower Salad:
How healthy is broccoli salad? It is healthy if you consider the nutrients and fiber broccoli and cauliflower offer in this salad.
Broccoli salad can be a very healthy and nutritious dish, depending on the amount of dressing added. When you mix cauliflower in with broccoli you are doubling down on some very important nutrients you body needs.
Broccoli is a great source of fiber, vitamins, and minerals, such as vitamin C, vitamin K, potassium, and folate.
Cauliflower is also a great source of fiber and vitamins C and K.
Additionally, the green onions in the salad provide additional nutrients as well as flavor.
However, To really make this a truly healthy salad; use a sugar substitute and our healthy homemade Avocado Mayonnaise. Also make this a lighter dressing by substituting Greek yogurt for the sour cream.
Dressing for Broccoli Cauliflower Salad:
The creamy cauliflower broccoli salad dressing is made with mayonnaise, sour cream, and a hint of Worcestershire sauce. It is the perfect complement to this salad. Whether it's for a family gathering or a weekday dinner, this salad is sure to be a crowd-pleaser.
But with a few tweaks you can adjust the flavors of the salad dressing and any special dietary needs you may have.
This is a vintage recipe broccoli cauliflower salad. They did not use a lot of sugar back then. So this salad dressing is not very sweet. To Make a Sweet Broccoli cauliflower salad you will need to add more sugar, or add another sweet ingredient like craisins, raisins, or other chopped dried fruit.
If you enjoy more spice, try adding more Worcestershire sauce, or other spicy sauces you may prefer. Make it to your own personal preference. Homemade is all about that.
Vegan Options:
This broccoli and cauliflower salad without bacon is a wonderful option for vegetarians. But needs a few tweaks for vegans.
To make this a recipe for cauliflower broccoli salad vegan, you will need to replace the mayonnaise and sour cream in the dressing with vegan substitutes. Here's how:
Replace the mayonnaise with a vegan mayonnaise alternative such as Vegenaise or Just Mayo.
Replace the sour cream with a vegan sour cream alternative such as Tofutti Sour Supreme or Forager Project's Sour Cream.
When selecting vegan mayonnaise and sour cream alternatives, be sure to check the ingredients to ensure they are free from animal products. Once you've made these substitutions, simply follow the recipe as written to create a delicious vegan broccoli cauliflower salad.
If your looking for a broccoli Cauliflower bacon salad recipe, hop over to our delicious broccoli bacon salad and just replace half the broccoli with cauliflower. Easy peasy.
Keto Broccoli Cauliflower Salad:
To make this recipe a keto broccoli and cauliflower salad, you will need to make the following changes:
Replace the sugar in the dressing with a keto-friendly sweetener such as stevia or monk fruit sweetener.
Replace the regular mayonnaise with a keto mayonnaise made with avocado oil or coconut oil. Try our Homemade Healthy Avocado Mayonnaise recipe for this.
Use full-fat sour cream in the dressing to ensure it is keto-friendly.
Reduce or eliminate the green onions if you are following a very low-carb or ketogenic diet.
By making these substitutions, you can create a delicious, satisfying low carb broccoli cauliflower salad that fits within the guidelines of a keto diet.
Interesting Salad Add Ins:
This is an easy side dish with few ingredients. It's yummy as is. However, You can mix and match this salad recipe with your favorite ingredient add ins. Don't be afraid to experiment with ideas to create a unique and flavorful vegetable salad that suits your taste buds.
Consider adding some of these ingredients to for extra flavor and texture:
Nuts: Chopped nuts such as almonds, walnuts, or pecans can add a crunchy texture and nutty flavor to the salad.
Seeds: Pumpkin seeds, sunflower seeds, or sesame seeds can add a nutty, salty and slightly crunchy texture to the salad.
Dried fruits: Raisins, cranberries, or apricots can add a touch of natural sweetness and chewiness to the salad, balancing out the savory flavors.
Fresh herbs: Chopped fresh herbs like parsley, cilantro, or chives can add a burst of freshness and add color to the salad.
Cheddar Cheese Cubes: Cheddar cheese offers some contrasting texture and flavor to the crunchiness of the vegetables.
Vegan cheese: Crumbled vegan cheese, such as dairy-free feta or vegan Parmesan, can add a tangy and creamy element to the salad.
Olives: Sliced or chopped olives, such as Kalamata or black olives, can add a briny and tangy flavor to the salad.
Fresh fruit: Chopped apples, grapes, or pears can add a refreshing sweetness and crunch to the salad.
Broccoli Bacon Cauliflower Salad:
For Keto or meat lovers, bacon adds a wonderful smoky flavor to add to this salad. To make this a cauliflower broccoli salad with bacon stir 1/2 pound of chopped cooked, drained and cooled bacon. For more ideas on this go to our Broccoli Bacon Salad Recipe.
How long does it last in the fridge?
The shelf life of broccoli cauliflower salad in the fridge depends on the freshness of the ingredients used and the dressing. This broccoli cauliflower salad recipe as written, with dressing stirred in, can last for up to 3-4 days in the refrigerator when stored in an airtight container. So you can make this salad ahead to avoid overloading a busy day.
The vegetables in the salad may become softer and lose their crunchiness over time in the fridge. To help maintain the freshness of the salad, you can store the dressing separately and add it to the salad just an hour or so before serving. This will prevent the vegetables from becoming soggy.
If you're using a vegan dressing alternative with different ingredients, the shelf life may vary, so it's best to check the label or manufacturer's instructions for guidance.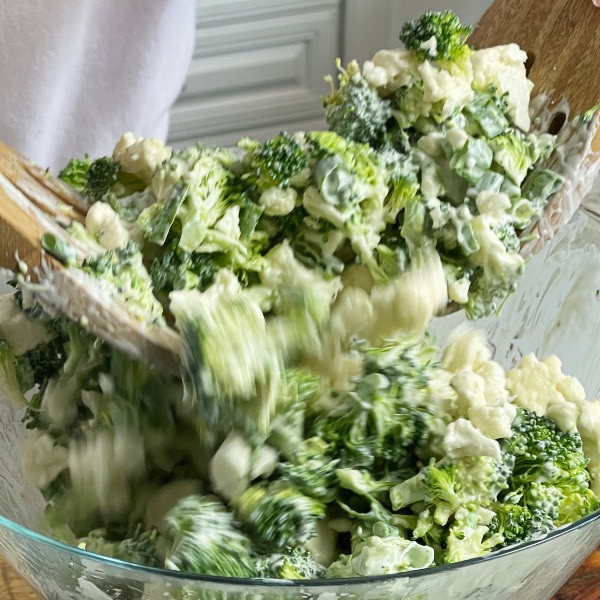 Why Chill The Salad Before Serving?
Chilling the salad is not strictly necessary. However, it can greatly enhance the overall taste and texture of the dish, and we all want our culinary efforts to be at their best.
Why Chilling the salad before serving is a good idea:
Flavor melding: Allowing the salad to chill in the refrigerator for a period of time allows the flavors of the ingredients and dressing to meld together, resulting in a more cohesive and flavorful salad. The dressing can permeate the vegetables, enhancing their taste and creating a more harmonious combination of flavors.
Texture improvement: Chilling the salad can help improve the texture of the vegetables. It can help crisp up the broccoli and cauliflower, giving them a fresh and crunchy texture that is enjoyable to bite into. Chilling can also help the flavors of the dressing to set, thickening it slightly and giving it a creamier consistency.
Temperature control: Serving the salad chilled can provide a refreshing contrast to other warm or room temperature dishes, making it a perfect side dish for a warm-weather meal or a summer gathering.
If you opt to avoid the lengthy chilling process, try to use fresh crisp vegetables that are cooled to fridge temps. Same with the dressing. Remember, The dressing will always show its best flavors when chilled after stirring into the vegetables.
Yield:

8 to 10 servings
Green & White Broccoli Cauliflower Salad
Total Time:
2 hours
15 minutes
This refreshing and nutritious crunchy Green and White broccoli cauliflower salad is an excellent side to any meal. It's also great for taking to potlucks and other foodie events.
This pretty green and white salad is loaded with fresh vegetables. The crisp broccoli and cauliflower combine with freshly chopped green onions to create a perfect flavor balance. Toss it with the creamy dressing for a deliciously blended salad.
Ingredients
1 Medium head cauliflower (about 4 Cups)
2 heads broccoli (about 4 Cups)
2 bunches green onions (about 1 Cup chopped)
Dressing Ingredients:
1 Cup mayonnaise
1/2 Cup Sour cream
1 Tablespoon sugar
1 Tablespoon apple cider vinegar
1/2 tsp. Worcestershire sauce (to taste)
1/2 tsp. salt
1/2 tsp. black pepper
Instructions
Chop all vegetables into one inch pieces (bite sized).
Pour vegetables into a large salad bowl.
In a medium bowl Whisk together all dressing ingredients.
Pour the dressing over top of vegetables.
Toss with salad tongs.
Chill 2 hours or more to allow flavors to infuse.
Serve.
Notes
Please read our entire post for ideas on how to make this recipe healthier, vegan and for ideas on how to change up the recipe.
Nutrition Information
Yield
8
Serving Size
1 Cup
Amount Per Serving
Calories

261
Total Fat

24g
Saturated Fat

5g
Trans Fat

0g
Unsaturated Fat

18g
Cholesterol

20mg
Sodium

368mg
Carbohydrates

11g
Fiber

4g
Sugar

4g
Protein

3g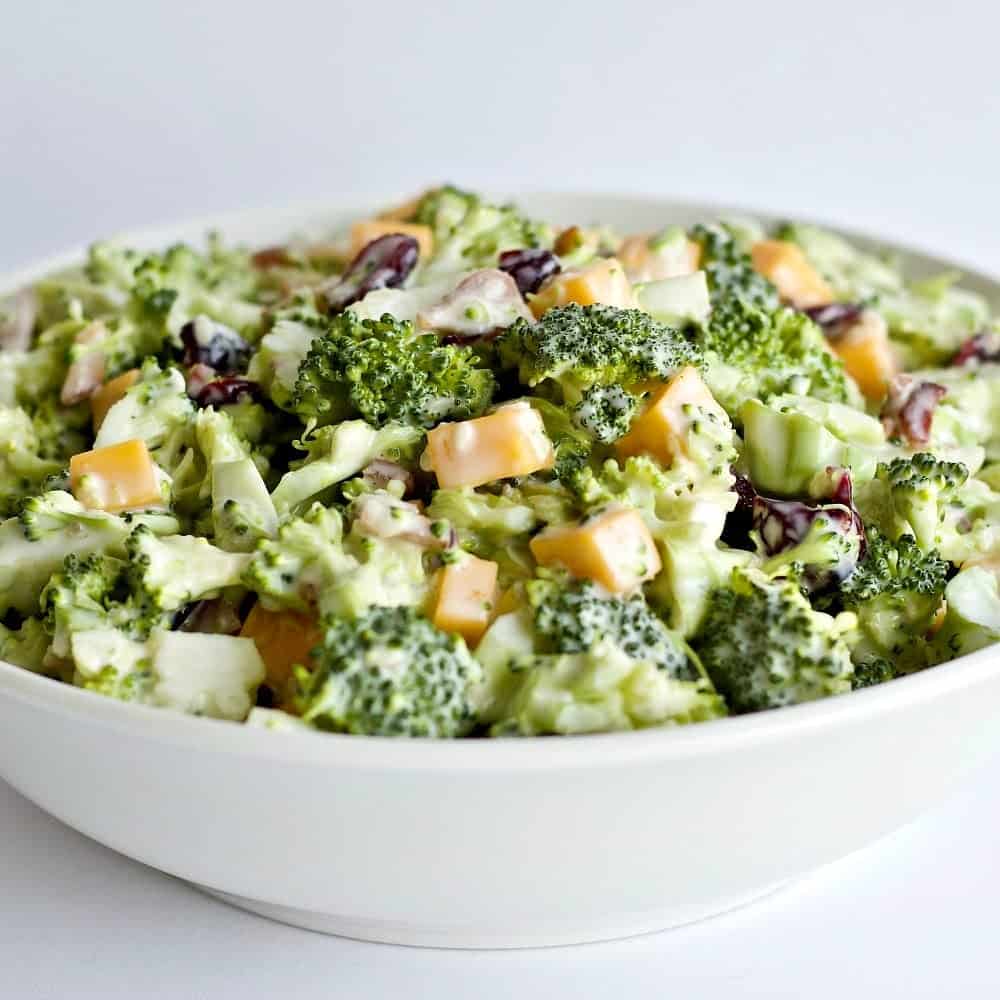 Follow Us:
We enjoy meeting you on our social networks. Follow us on Facebook, Pinterest, Instagram . Tag us with your pictures of our recipes and comment on how it went for you. We would love to see what you do with them.
We often like, comment and share your posts of our recipes on our daily Instagram stories.
Ask questions and rate the recipe in the comments section below. Please share what you did with this recipe. We are always looking for more and better ways to make homemade food. Other cooks love your ideas!
Recent Posts: