Our classic Orange Julius recipe is a sweet, refreshing beverage. This fruity drink is perfect for warm weather or as a tasty treat any time of year. This classic creamy, cold, sweet beverage has been a beloved favorite for nearly a century. It tastes like a creamsicle in a glass.
With its frothy texture and bright orange flavor, Orange Julius is a delicious and satisfying way to quench your thirst and satisfy your sweet tooth.
In our recipe for orange Julius with orange juice, vanilla, milk and sugar we'll show you how to make the traditional Orange Julius at home in mere minutes. Kids love these!
Whether you're hosting a party, enjoying a lazy afternoon at home, or just looking for a tasty pick-me-up, this Orange Julius recipe is sure to hit the spot. So fire up your blender, grab some ice, and let's get started.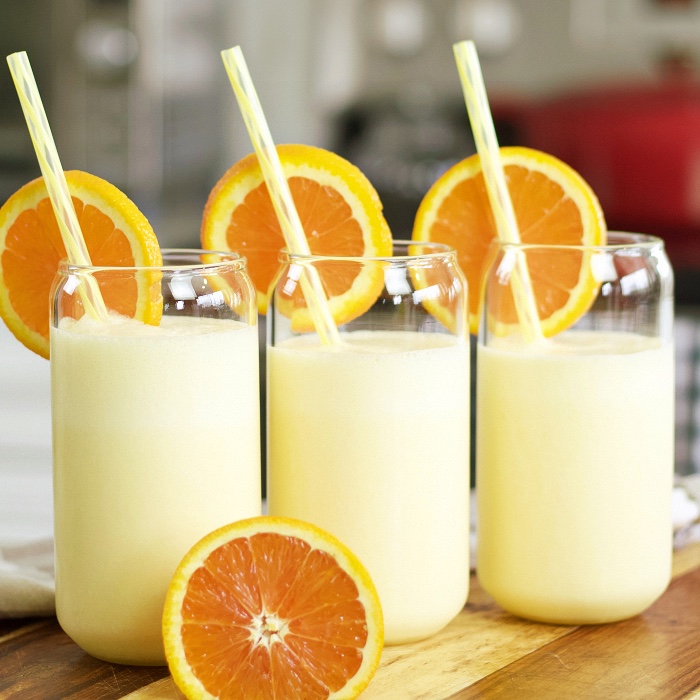 History of The Original Recipe For Orange Julius:
The original Orange Julius recipe is a delicious and popular sweet drink created by Julius Freed in the 1920s. He sold his frothy orange juice drink at Orange Julius stands in Los Angeles, California.
What does an Orange Julius have in it? The original recipe consisted of blended orange juice, milk, sugar, ice, and a secret ingredient that gave it a frothy texture. We don't know what that secret ingredients is, but is likely was powdered egg white to build that frothiness.
The drink quickly became popular as Mr. Freed opened Orange Julius stands throughout California and then across the United States. It became an iconic part of American culture over time. Today, Orange Julius is owned by Dairy Queen and can be found at Dairy Queen locations and other food courts around the world.
Orange Julius is usually served as a refreshing and sweet beverage, in a tall, clear plastic or glass cup with a straw. The drink is served chilled, with plenty of ice to keep it cold. Its a good partner to your favorite Hamburger or Hot Dog.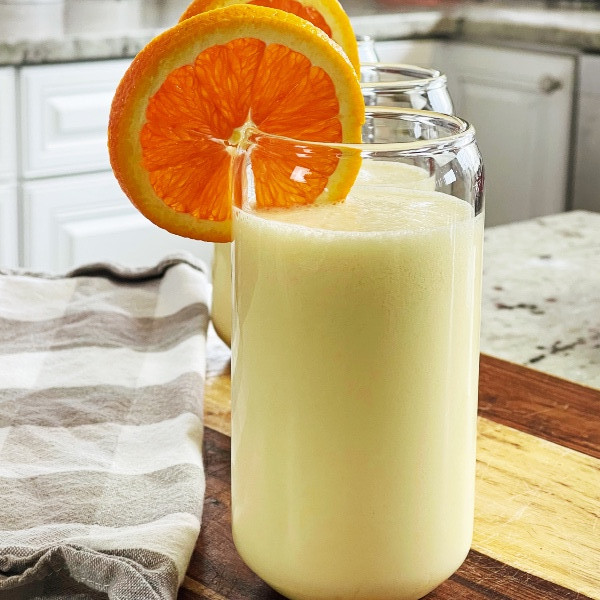 Variations on the Orange Julius:
Over the years, there have been many variations of the Orange Julius recipe. Here's a few.
Strawberry Orange Julius: Replace the frozen mango and banana in the Orange Julius recipe with 1 cup of frozen strawberries for a fruity and refreshing twist.
Green Orange Julius: Add a handful of baby spinach or kale to the healthy Orange Julius recipe for a boost of vitamins and nutrients. You can also add a scoop of your favorite protein powder for an extra protein boost.
Dairy-free Orange Julius: Use a non-dairy milk, such as almond milk or coconut milk, in place of the dairy milk in the traditional Orange Julius recipe for a dairy-free option.
Low-sugar Orange Julius: Reduce the amount of sugar in the traditional Orange Julius recipe by using a natural sweetener, such as honey or maple syrup, instead of granulated sugar. You can also use fresh orange juice instead of frozen orange juice concentrate to reduce the sugar content. And you can choose stevia or monk fruit to really bring the sugar content down.
Boozy Orange Julius: Add a shot of your favorite liquor, such as vodka or rum, to the traditional Orange Julius recipe for a fun and festive cocktail version of this classic drink.
However, the classic recipe of blended orange juice, milk, sugar, and ice remains the most popular and recognizable version of the drink.
Experiment with different fruit combinations, sweeteners, and add-ins to create your own unique Orange Julius recipe.
Orange Julius With Eggs:
As we mentioned, Mr Freed, it is believed, added powdered egg whites as his secret ingredient to get his orange Julius to froth.
Some homemade recipes for Orange Julius do include eggs. Most often egg whites. Adding egg whites to the drink can make it frothier and give it a creamier texture. However, using raw eggs carries a slight risk of foodborne illness, especially for people with compromised immune systems, pregnant women, and young children.
To be safe, use an egg white powder or a vegan egg substitute to achieve a similar effect.
Orange Julius Punch:
Adding ice cream or sherbet to Orange Julius is a popular way to make it into a delicious and festive punch for parties and gatherings. This can give the drink a creamier texture and add a fun twist to the classic recipe.
To make Orange Julius punch, you can follow the basic recipe you see in our printable and add a pint of vanilla ice cream or sherbet to the blender along with the other ingredients. Blend everything together until smooth, then pour the mixture into a punch bowl with some additional ice and garnishings. Serve.
This recipe can be easily scaled up or down depending on the size of your party. Just keep in mind that the punch will melt faster than individual servings, so you may need to add more ice or keep it chilled in a refrigerator or ice bucket.
Orange Julius punch can be a great addition to any party or gathering, especially during the warmer months. It's sweet, refreshing, and easy to customize with different flavors of ice cream or sherbet.This punch really doubles down on the creamsicle experience. So yum!
Is Orange Julius Healthy?
The orange Julius is FULL of sugar and carbs so it is NOT healthy at all. Our recipe has 200 calories. 43 carbohydrates and 44 grams of sugar. NOT healthy. Just delicious.
However, The Julius drinks sold commercially are much worse! The regular size Orange Julius from Dairy Queen contains around 250-300 calories, 0-5g of fat, 55-70g of carbohydrates, and 50-60g of sugar. WOW….and they don't sell a healthier version.
Best to make your own. With a few simple substitutions, it's possible to create a healthier version of this classic drink. We give you an example below.
Healthy Orange Julius:
This recipe replaces the milk and sugar with non-dairy milk and fruit, which significantly reduces the calorie and sugar content. The use of frozen fruit and ice cubes creates a creamy, frothy texture without the need for added sugar or ice cream.
Ingredients:
1 cup unsweetened almond milk (or any other non-dairy milk)
1/2 cup freshly squeezed orange juice
1/2 cup frozen mango chunks
1/2 banana, sliced and frozen
1/4 teaspoon vanilla extract
1 cup ice cubes
Instructions:
Combine the almond milk, orange juice, frozen mango chunks, frozen banana, and vanilla extract in a blender.
Add the ice cubes to the blender and blend everything together until smooth and creamy.
Pour the Orange Julius into glasses and serve immediately.
You can also experiment with other fruit combinations and non-dairy milks to create your own healthy Orange Julius. For example, you could try using coconut milk and frozen pineapple for a tropical twist, or almond milk and frozen berries for a berry-flavored Orange Julius.
Nutrition information for the Orange Julius healthier recipe:
Making the recipe above or your own homemade orange Julius is a much healthier option. Just look at how much better it is for you! If what you want is better health. Go this direction.
Serving size: 3- 8 oz drinks: For each Drink: Calories: 50 Total Fat: 0.5g Saturated Fat: 0g Trans Fat: 0g Cholesterol: 0mg Sodium: 20mg Total Carbohydrates: 11g Dietary Fiber: 1g Total Sugars: 7g Protein: 1g
Orange Julius Smoothie:
What's the difference between a smoothie and a Julius? Smoothies and Julius are both blended drinks made with fruit, ice, and a liquid such as milk or juice. However, smoothies are thicker, have added ingredients and are more shake like than a Julius drink.
An Orange Julius smoothie copycat recipe is a variation on the classic Orange Julius drink. Make it with a combination of fruit and dairy, or non-dairy milk. The smoothie version is a delicious drink with all the flavors you love about the orange Julius. Just thicker and creamier.
Ingredients:
6 oz. frozen orange juice concentrate
1/2 cup milk (or non-dairy milk)
1/2 cup water
1 banana, sliced and frozen
1 cup ice cubes
Instructions:
Combine the frozen orange juice concentrate, milk, water, frozen banana, and ice cubes in a blender.
Blend all the ingredients together until smooth and creamy.
Pour the Orange Julius smoothie into a glass and serve immediately.
You can also experiment with different fruit combinations and add-ins to create your own unique Orange Julius smoothie. For example, you could add frozen strawberries or mango for a fruity twist, or a scoop of vanilla protein powder for an extra protein boost.
Yield:

3-8 oz servings
Orange Julius Recipe
Orange Julius tastes like a liquid creamsicle. Its creamy sweet and satisfying. Kids adore this drink. You can whip it up in just a few minutes with ingredients you likely already have.
Ingredients
6 oz. frozen condensed orange juice
1 Cup milk
1 Cup water
1/2 Cup sugar
1/2 tsp. vanilla
12 cubes of ice
Instructions
Pour it all in a blender and blend until smooth.
Serve immediately
Notes
Orange Julius Ice Cream Punch:
This is a delicous party punch and so easy to make. This recipe easily scales up. Just Add 1 pint of vanilla ice cream to the above recipe and blend until smooth. Serve in a punch bowl with ice and orange slices.
For more ideas on variations on this drink and how to make it healthier please read our entire post. Enjoy!
Nutrition Information
Yield
3
Serving Size
8 oz.
Amount Per Serving
Calories

200
Total Fat

2g
Saturated Fat

1g
Trans Fat

0g
Unsaturated Fat

1g
Cholesterol

7mg
Sodium

47mg
Carbohydrates

44g
Fiber

0g
Sugar

43g
Protein

3g
More Delicious Drinks:
We have SO many delicious drinks. Many of them Cocktails and adult beverages. But these three are most often served without alcohol and are well loved by all.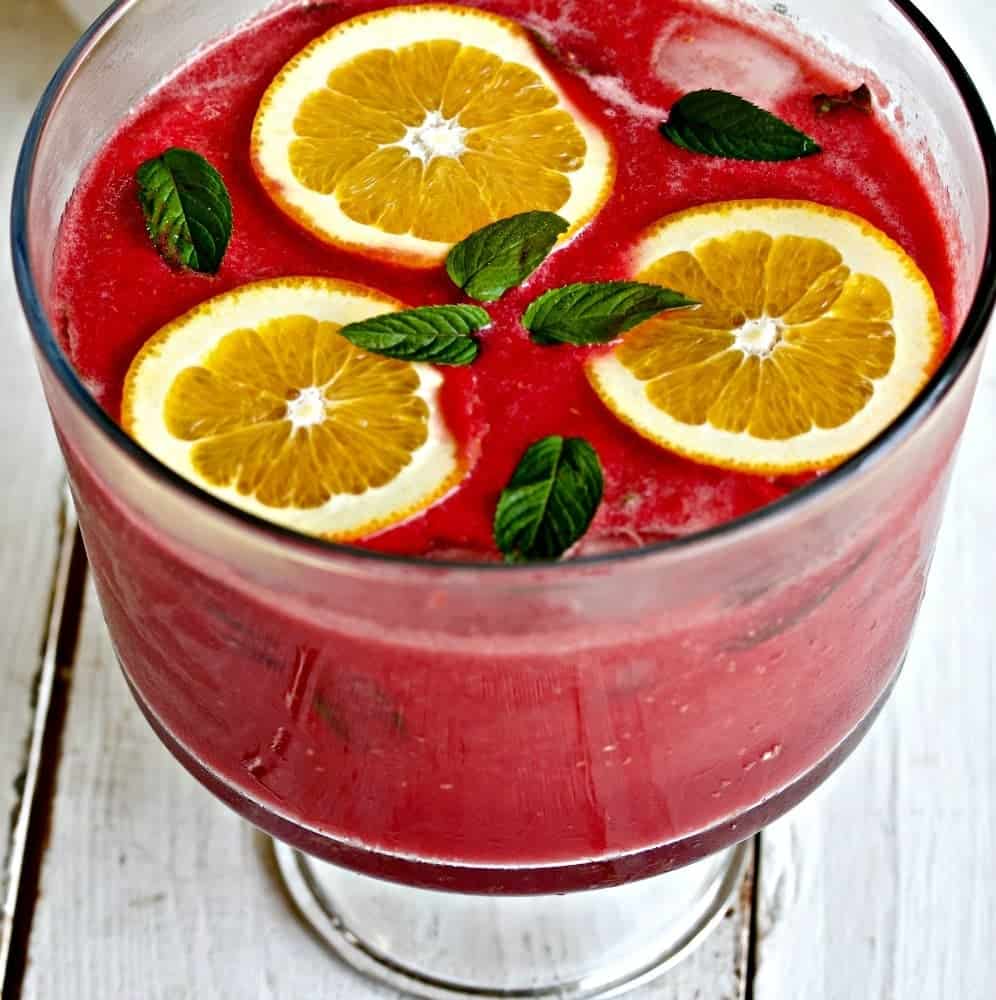 Cocktails:
Find ALL our cocktails Here. Below are listed some of our favorite drinks for adults. Enjoy!
Follow Us:
We enjoy meeting you on our social networks. Follow us on Facebook, Pinterest, Instagram . Tag us with your pictures of our recipes and comment on how it went for you. We would love to see what you do with them.
We often like, comment and share your posts of our recipes on our daily Instagram stories.
Ask questions and rate the recipe in the comments section below. Please share what you did with this recipe. We are always looking for more and better ways to make homemade food. Other cooks love your ideas!
Recent Posts: