Fresh strawberry lemonade is a refreshing summer time staple. This strawberry lemonade features fresh strawberries and fresh squeezed lemon juice.
Strawberry Lemonade can be quickly put together. The ingredients are fresh strawberries, fresh lemons, sugar, and water. The strawberries are chopped and pureed, the seeds are strained out. Lemons are juiced and strained into a large pitcher. All ingredients are added into a large pitcher for delicious strawberry lemonade.
We have a few tips and tricks for substituting ingredients in the strawberry lemonade, and making it a few different ways.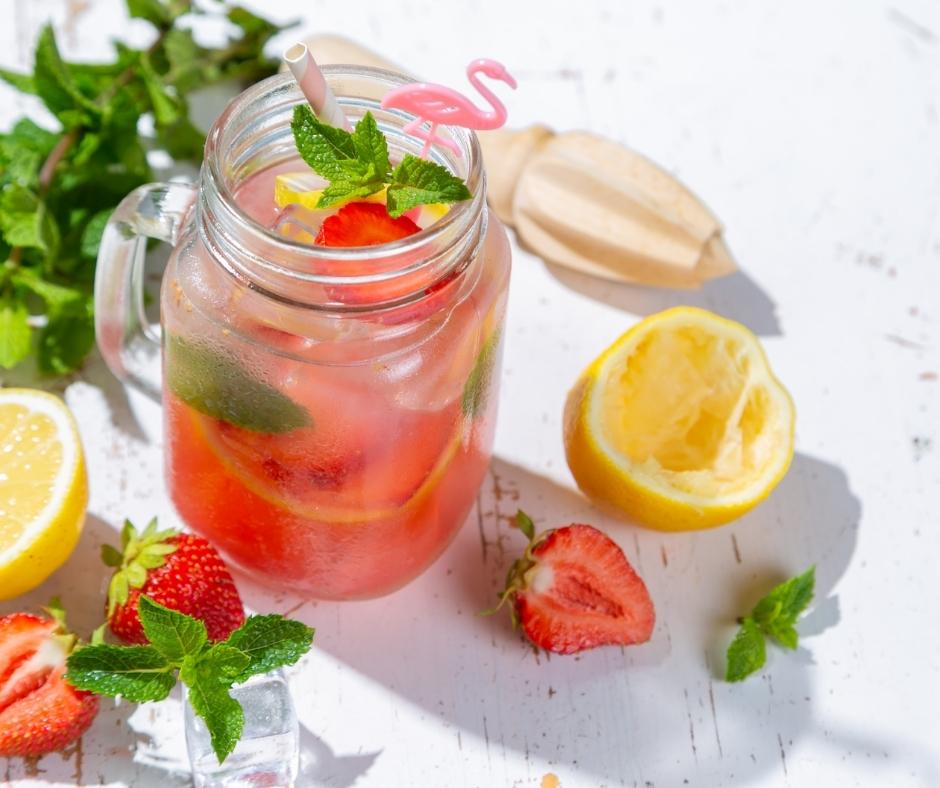 Does Lemon help Enhance the Flavor or Strawberries?
Lemon can help bring out the flavors of strawberries. Lemon juice can intensify the flavor of strawberries. Lemon zest or juice from lemons can both help enhance the strawberry taste. This recipe uses both fresh strawberries and fresh lemon slices.
Is Pink Lemonade and Strawberry Lemonade the Same?
Pink lemonade and strawberry lemonade are not the same. Pink lemonade is made with lemon juice and cranberry juice. The cranberry juice is used to give the drink its pink color. Strawberry lemonade is made with fresh strawberries and lemon. Any color in the strawberry lemonade comes from the fresh strawberries.
How long will Homemade Lemonade last?
Homemade lemonade when properly stored will last 7 days in the fridge. The flavors will intensify the longer the strawberry lemonade sits in the refrigerator. Do not leave homemade lemonade out, it must be kept refrigerated. If adding fresh strawberries and mint to the pitcher, the additions may get soggy in the fridge. Keep an eye on the fruit to ensure its holding up okay in the lemonade pitcher.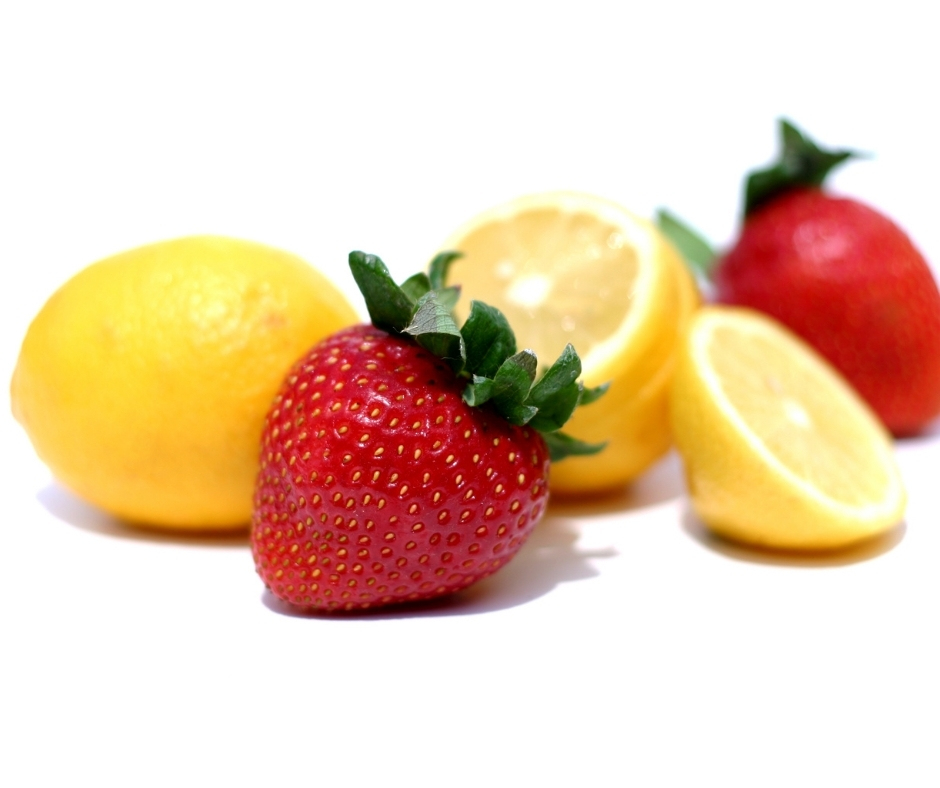 What alcohol can be added to Strawberry Lemonade?
Vodka or white rum are great additions to Strawberry Lemonade. Vodka is the most common liquor add in for strawberry lemonade. Make the recipe in a pitcher and add 1 cup of vodka, stir to combine. If the lemonade isn't sweet enough, add some simple syrup. White rum can be used in place of vodka. Make the recipe to pitcher portions and add in 1 cup. Taste the spiked strawberry lemonade to see if it needs more sweetener.
Make a Non-Alcoholic Strawberry Lemonade with sparkling water
Strawberry lemonade can be made with sparkling water in place of regular water. This will give the drink a nice carbonated fizz. Sparkling water will go flat if not consumed right away. If making a drink pitcher ahead of time, wait until just before serving to add a cup of sparkling water or club soda in place of plain water.
Don't make the strawberry lemonade sparkling if you want to keep it in the fridge for a few days. The carbonation will go flat. Stick with regular water if you plan on saving the strawberry lemonade over a period of time.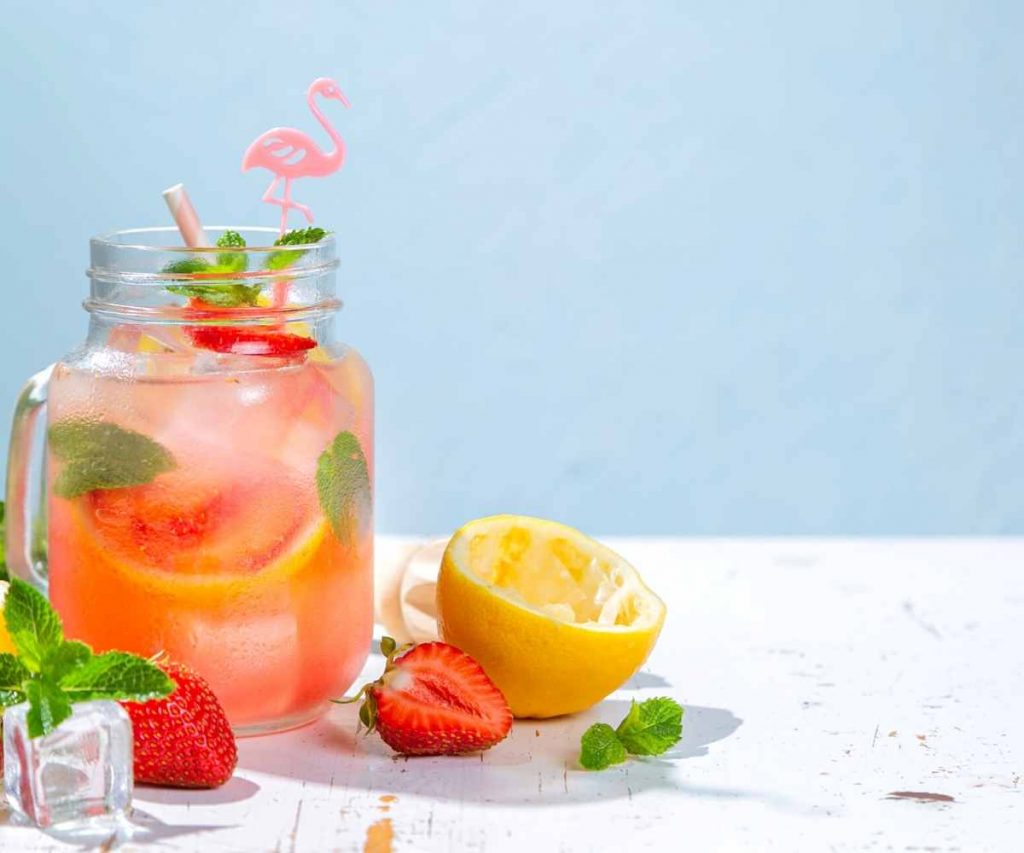 Blended Strawberry Lemonade Recipe
Blended strawberry lemonade is simple to make. This drink can easily be transformed into strawberry lemonade slushies or a frozen strawberry lemonade. Add all of the ingredients into a blender along with an additional cup or two of ice. Blend until smooth and serve right away. Garnish with a fresh strawberry and mint leaf.
Steps to making Strawberry Lemonade
Wash all fruit
Make simple syrup by putting water and sugar together in a saucepan. Boil together on the stovetop until sugar is dissolved.
Chop strawberries and purée them in a blender.
Juice lemons
Strain strawberry purée to remove seeds and large pulp
Strain fresh lemon juice into pitcher
Add in the strained strawberry purée
Add the cooled simple syrup
Top with cold water
Stir ingredients together.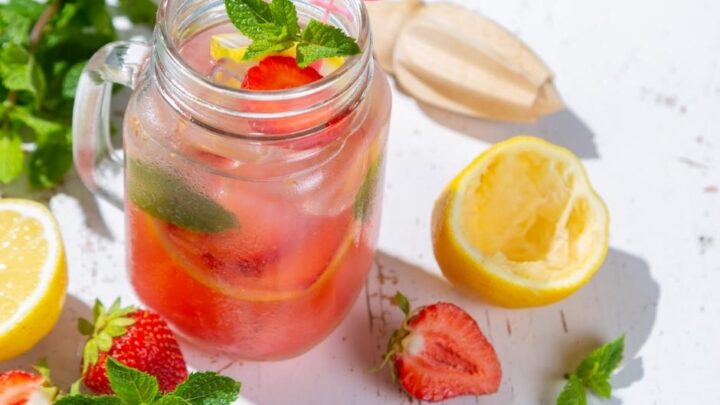 Yield:

5 servings
Fresh Strawberry Lemonade
Additional Time:
20 minutes
Fresh strawberry lemonade bursting with fresh fruit flavor. This is an awesome summer drink recipe, guaranteed to please at any gathering.
Ingredients
1 1/2 cups fresh strawberry purée
1 1/2 cups fresh squeezed lemon juice
1 1/2 cups simple syrup
2 cups cold water
To make simple syrup:
1 cup water
1 cup sugar
Boil together on stove and cool.
Instructions
1. Wash all fruit
2. Make simple syrup by putting water and sugar together in a saucepan. Boil together on the stovetop until sugar is dissolved.
3. Chop strawberries and purée them in a blender.
4. Juice lemons
5. Strain strawberry purée to remove seeds and large pulp
6. Strain fresh lemon juice into pitcher
7. Add in the strained strawberry purée
8. Add the cooled simple syrup
9. Top with cold water
10. Stir ingredients together.
Nutrition Information
Yield
5
Serving Size
1
Amount Per Serving
Calories

261
Total Fat

0g
Saturated Fat

0g
Trans Fat

0g
Unsaturated Fat

0g
Cholesterol

0mg
Sodium

10mg
Carbohydrates

67g
Fiber

1g
Sugar

64g
Protein

1g
More Delicious Drinks:
Follow Us:
We enjoy meeting you on our social networks. Follow us on Facebook, Pinterest, Instagram . Tag us with your pictures of our recipes and comment on how it went for you. We would love to see what you do with them.
We often like, comment and share your posts of our recipes on our daily Instagram stories.
Ask questions and rate the recipe in the comments section below. Please share what you did with this recipe. We are always looking for more and better ways to make homemade food. Other cooks love your ideas!
Recent Posts: