Egg salad is a creamy, eggy spread full of creamy mayo, dijon mustard and finely chopped fresh veggies to cheer up your mouth. This delicious spread is a Low-​Carb, Low-​Sugar, Vegetarian, Dairy-​Free, Gluten-​Free option for your favorite crackers or bread. Or eat it alone with a spoon. 🙂
Right now I have about three dozen chicken eggs crammed into my fridge. Spring is a very happy time for our hens. They come out of the winter cold and gloom and just explode their nest boxes with egg bounty!
Watch us Hard Boil Eggs in an instant pot and Make this Creamy Egg Salad:
We are very grateful that eggs last a long time in the fridge. But don't come visit unless you enjoy eggy dishes. And By the way…You won't go home without a carton of fresh eggs.
This healthy egg salad is such an easy way to use up an extra dozen eggs. After Easter I always have a batch of this egg salad in my fridge. It can be used in so many ways and the hubby loves it.
How to Make Perfect Hard Boiled Eggs that Peel Easily:
I've had a LOT of experience with hard boiling eggs. VERY fresh chicken eggs at that. Fresh eggs are really difficult to boil and peel. After years of frustration and really ugly peeled eggs I found some solutions.
Egg Boiling Tips:
IF hard boiling eggs on the stove use older eggs: Eggs shrink away from the membrane and egg shell when they age. So older eggs can peel easily when simply boiled on the stove in water.
Add a 1/2 teaspoon of baking soda into the water. Some people have luck with that.
Set a pan on the stove on high heat.
Add the eggs and boil for 10 minutes.
Remove the eggs from the hot water and put them immediately under cold running water OR
Shock the eggs in an ice bath(watch the video to see how) will help to shrink the egg away from the membrane too.
STEAM the EGGS:
If you have an instant pot USE IT. Instant pots STEAM the eggs. And the egg shells fall right off when hard boiled. I made you a post on how to boil the perfect egg in my Instant Pot Hard Boiled Egg tutorial.
If you don't have an instant Pot you can still cook the eggs with steam. Use your stove top steamer and the ice bath together to make those peels slip right off when you peel them.
Egg salad Sandwiches
This is the best egg salad sandwich recipe. It's so creamy and delicious.
This lovely egg salad makes a great sandwich spread. You can literally just spread this salad on bread and eat it. With nothing else. And it's very tasty.
To dress up your sandwich you may way some additions. Here are some of our favorites:
Pickle relish
Pickle slices
Marinated artichoke hearts
onion slices
tomatoes
your favorite deli meat
lettuce
spread your bread with extra mayonnaise and mustard.
How to make a Deviled Eggs out of this recipe:
You can this make recipe into a deviled egg recipe. Get creative with this. Deviled eggs can go so many directions. My deviled eggs with bacon, peppers and dates are one example of interesting deviled eggs that disappear off a plate in seconds.
To make this egg salad into a deviled eggs filling:
Hard boil a dozen eggs.
Cut the boiled peeled eggs in half longwise. Do not chop up the egg whites
Set the twelve egg white halves aside to make your egg boats. Do NOT put them into the salad.
Chop your veggies very fine.
Make the egg yolks and dressing as instructed for this recipe.
Add the remaining ingredients into the yolk mixture and stir thoroughly.
The filling will be thick so it holds well in your egg halves.
Adjust the seasonings and filling consistency to your taste.
Fill your egg white halves.
Place the filled eggs on your serving tray.
Store in fridge till serving time.
Healthy Egg Salad:
Our egg salad is low carb, gluten free and made with healthy ingredients. You can take this as far as you want to go. I always suggest organic ingredients. Organic eggs and produce are easy to find and worth the extra money in my opinion.
Make the BEST healthy egg salad with my Healthy Homemade Mayonnaise recipe. Now you have heart healthy avocado oil in a gorgeous flavorful mayonnaise that is perfect with this salad.
I don't worry about egg salad calories too much. There is a LOT of satisfying egg protein in this recipe. If you use healthy Mayo and organic ingredients those calories are all doing your body good. You will fill up and feel great.
Our nutrition calculator in the printable recipe card has a complete nutrition label for you.
Classic Egg Salad Recipe:
Creamy egg salad has a lot of satisfying flavors and textures. This salad will hold well in the fridge if you cover it.
I don't use pickle relish in egg salad because the vinegar tends to break down the mayo and stain the egg salad.
If you choose to add a Tablespoon or so full of pickle relish, be sure to use it the same day to keep it fresh.
I'm really happy with this recipe and my family loves it.
Your Printable Recipe Card: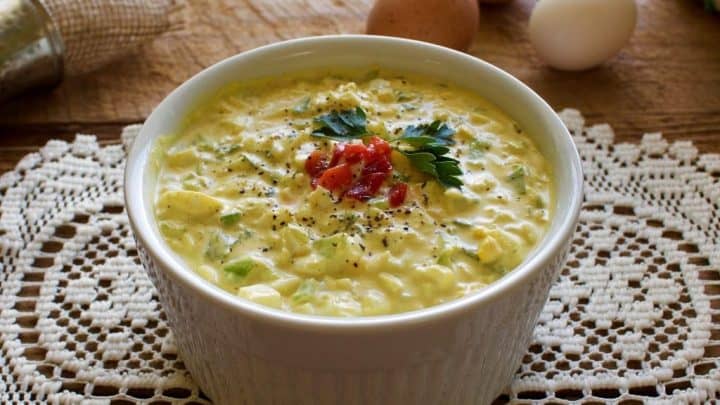 Yield:

5 cups egg salad
Creamy Egg Salad
Egg salad is a creamy, eggy spread full of creamy mayo, dijon mustard and finely chopped fresh veggies to cheer up your mouth. This delicious spread is a Low-​Carb, Low-​Sugar, Vegetarian, Dairy-​Free, Gluten-​Free option for your favorite crackers or bread. Or eat it alone with a spoon. 🙂
Ingredients
12 Hard boiled eggs-peeled and chopped
1 Tablespoon Dijon mustard (I used Grey Poupon)
1/2 Cup mayonnaise
1/2 Cup finely chopped celery
1/4 cup finely chopped green onion
1 finely chopped garlic clove or shallot
salt and pepper to taste
cilantro and diced pimento for garnish
Instructions
Hard boil, cool and peel 12 eggs.
Cut the eggs in half. Put the egg whites in a large bowl. Put the cooked egg yolks in a medium bowl.
Chopped up the egg whites with a pastry cutter. OR pulse them in a food processor until cut up in 1/4 inch pieces. Do the same with the egg yolks.
Mince up the vegetables by hand or in a food processor. Add to the egg whites.
Whisk mayonnaise and mustard into the egg yolks and mix thoroughly.
Pour the egg white mixture into the egg yolk bowl and stir together.
Adjust the proportions to suit your family's taste preferences.
Use as a sandwich or cracker spread or eat plain.
Notes
If you like pimento chop up 2 Tablespoons and mix it into the egg salad. If your not a fan it still makes a nice presentation as a garnish. Same goes for the cilantro.
Store in the fridge up to a week.
Nutrition Information
Yield
10
Serving Size
1/2 Cup
Amount Per Serving
Calories

175
Total Fat

15g
Saturated Fat

3g
Trans Fat

0g
Unsaturated Fat

10g
Cholesterol

228mg
Sodium

222mg
Carbohydrates

2g
Fiber

0g
Sugar

1g
Protein

8g