This tender tasty Homemade tortilla recipe is made from scratch. Our homemade flour tortillas are made from butter, salt, flour and a bit of baking powder. This mix of ingredients makes a wonderfully flavorful soft tortilla when properly cooked.
With our tips you will have a soft flavorful home made tortilla.
Homemade Flour tortillas make delicious snacks. Use them in Mexican recipes and for wraps. Keep these earmarked for Mexican recipes, snacks and wraps.
Watch me make them for you in our video tutorial. I'm using this recipe for flour tortillas in our Chili Chicken Casserole. It's SO good.
I don't know where this recipe came from. Could be my sister in law Linda's, I'm just not sure. I've had it since forever. It's always reliable and makes fantastic tortillas.
Over the years I often pull this Mexican tortilla recipe out when I want a really good Mexican casserole. Or I'm out of store bought tortillas.
These easy homemade tortillas take casseroles like King Ranch Chicken and Enchiladas to an entirely new level of delicious. I made these tortillas this weekend for a game day batch of Beef Taquitos with my homemade refried beans and Back of the envelope salsa on the side.
The flavor of this recipe for homemade flour tortillas far surpasses store bought. The buttery grilled taste of these tortillas make the extra work worthwhile. They don't taste floury, just savory deliciousness.
How to Make The Tortilla Dough:
Homemade Flour Tortillas aren't hard to make. Just messy. The baking powder makes this soft tortilla recipe easy. The tortillas will be light and so full of delicious buttery flavor.
This recipe requires a bit of flour clean up. Your counters and floor will have flour on them if you are not careful. Not a big deal, but an extra step.
You will need to add about a half hour to your recipe time to make this flour tortilla recipe from start to clean-up.
Preheat your griddle to medium and make your dough. (watch the video we made for you to see exactly how I make these butter flour tortillas.)
Tips:
I use two knives, or a fork to cut in the flour, a pastry cutter would work as well.
Make a soft dough ball that is NOT dry …and not too wet. It should easily come off your hands and adhere to itself very well.
If the dough is super sticky add a bit of flour and try oiling or wetting your hands to keep them free of dough.

More Tips:

The dough will have a bit of resilience. If you need to adjust the water, add it as you mix until you like the consistency.
If the dough gets too wet (sticky and unworkable), just roll the dough in flour and work it lightly with your hands until it absorbs the extra water and you feel it easily pulling off your hands.
These tortillas roll out very easily and don't tend to stick to the rolling pin. Just keep a bit of flour sprinkled on the breadboard or your silicone mat under the dough.
Make the shape as circular as you can for the best round tortillas. They will not be perfectly round but close.
Add any extra seasoning you may want to use to compliment your intended use for these tortillas. Play with this. You can make these tortilla sweet or savory.
It's fun to see what you can do with a recipe for homemade tortillas when you make things from scratch.
How To Griddle Homemade Flour Tortilla Recipe:
Pinch off a golf ball size piece of dough and place it on a lightly floured board or counter.
Roll it into a thin 8 to 10 inch circle and place it on your griddle.
Start your next dough 'golf ball' while keeping an eye on the griddle.
When your tortilla on the griddle gets small bubbles immediately go flip it over and wait for a few seconds and then remove it to a plate and start your next rolled tortilla on the griddle.
Tortilla Homemade Recipe Tips:
The only trick is the timing…WATCH the video to see how to make these and keep them soft.
Don't let the tortillas stay on the griddle too long. They will get hard and brittle.
Keep an eye on your griddle. The way I do it, rolling out the next one while cooking one on the griddle requires you to be fast and attentive for best results.
The tortillas will need to be just bubbling up but not browned to stay soft. Once they brown they tend to harden up very fast.
You can divide the dough into golf ball sized pieces and line them up on the counter. It knocks off a bit of prep time when making a full batch of tortillas.
You can freeze and refrigerate this dough:
Make the homemade flour tortilla recipe and use the amount of dough you need.
The remaining dough should be formed into a ball and double wrapped in plastic wrap.
Now you can store it in your fridge up to a week or freeze it for several weeks.
Defrost in the fridge for slow defrost or on the counter for an hour or so for quick defrost. Do not microwave.
Use as directed.
However you use these tortillas they will improve your recipe. Enjoy.
Homemade Mexican Flour Tortillas:
To make this recipe truly an authentic Mexican tortilla recipe replace the butter with lard. Lard is an old favorite of cooks of my grandmothers generation. It is wonderful in pastries, crusts and Mexican homemade flour tortillas.
When making flour tortillas home made you can substitute the butter for lard. NOTE: Good quality lard is tricky to find. So be sure to source yours well. For more on making flour tortillas with lard hop over to Mexican Please.
I prefer my tortillas recipe with butter. I love the flavor it gives this recipe. Butter and coconut oil are my favorites for baking. The flavor of either of these fats really adds a lot to this flour tortillas homemade recipe.
Make this a vegan a Flour Tortilla Recipe:
To make this recipe vegan coconut oil replaces the butter one to one. You may get away with less coconut oil. Watch how the dough forms for you and adjust the amount as needed.
Flour tortilla calories and the Carbs in flour tortillas are noted in our complete nutrition label. It's found in the bottom or our Printable Recipe Card below: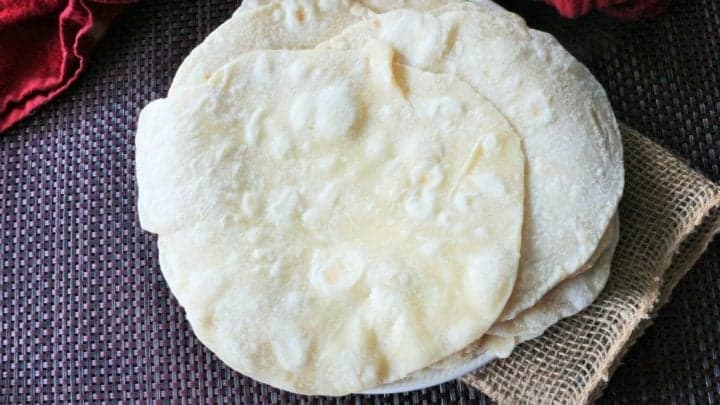 Yield:

12 tortillas
Homemade Flour Tortilla Recipe
Tender, tasty, Homemade Flour tortillas made from scratch. Homemade flour tortilla are made from butter, flour and a bit of baking powder. These tortillas make a delicious treat on their own, or use them in a myriad of recipes. Keep these earmarked for frequent use in your kitchen.
Ingredients
2 Cups Flour
1 tsp. salt
1 tsp. Baking powder
1/4 Cup butter (or lard)
3/4 Cup water- add more as necessary
Instructions
Whisk together flour, salt and baking powder
Cut butter into the flour mixture until it is thoroughly incorporated
Add water and mix until the dough forms a soft ball
On a clean counter or bread board sprinkle flour
Pinch off small amounts of dough (golf ball size) and roll into balls, one at a time.
Roll each ball into a thin circle with a rolling pin about 8 to 10 inch circumference.
Nutrition Information
Yield
12
Serving Size
1
Amount Per Serving
Calories

110
Total Fat

4g
Saturated Fat

2g
Trans Fat

0g
Unsaturated Fat

1g
Cholesterol

10mg
Sodium

266mg
Carbohydrates

16g
Fiber

1g
Sugar

0g
Protein

2g