Our Homemade Flour Tortillas are made from butter, salt, flour and a bit of baking powder for the freshest, softest scratch made tortillas. This mix of ingredients makes a wonderfully easy to use and delicious tortilla when properly cooked.
Perfect for wraps, burritos, and enchiladas. Fry them up to make your own tortilla chips for pico de gallo, guac and homemade salsa. This recipe can also be used to make cinnamon sugar tortilla chips for a sweet treat drizzled with chocolate and served with fresh strawberries.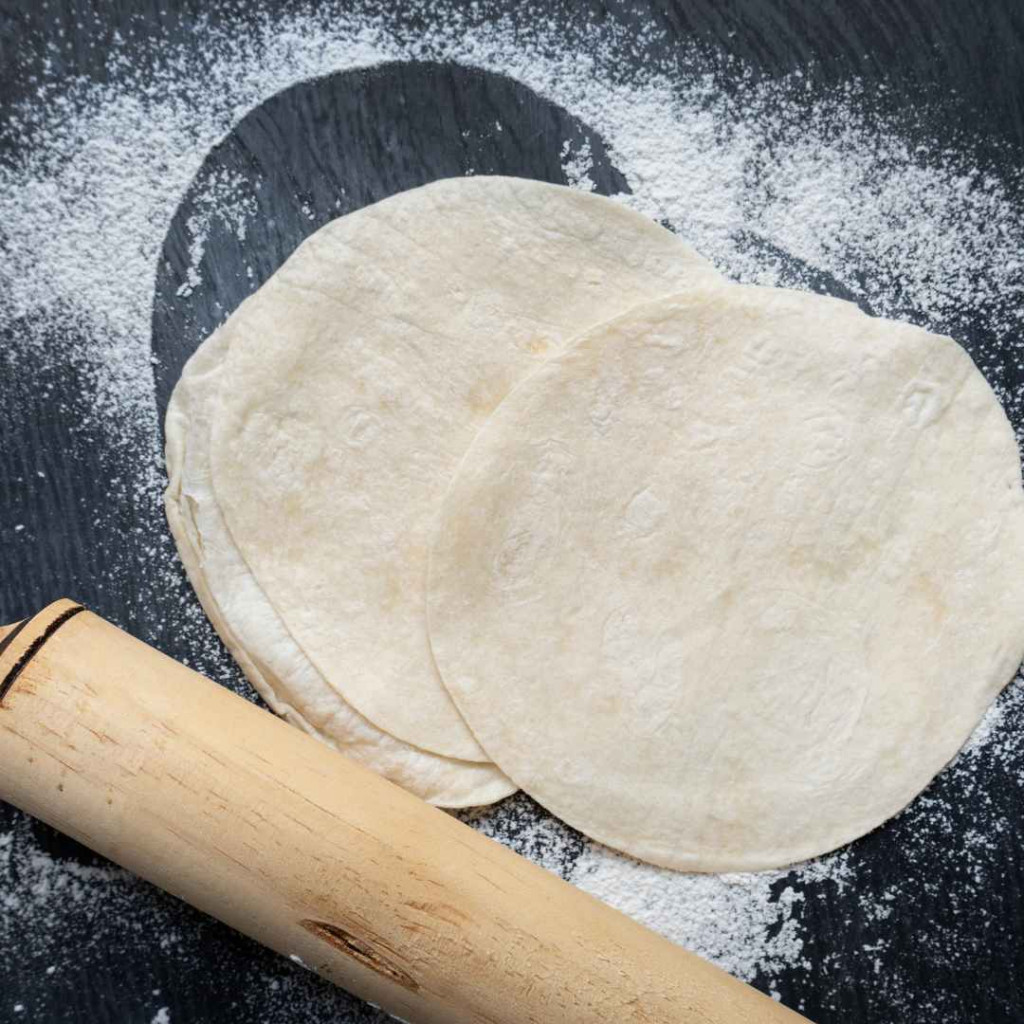 The flavor of this recipe for homemade tortillas far surpasses store bought. The buttery grilled flavor of these tortillas make the extra work a worthy investment with a delicious return in freshness. Free from additives, fillers, and low quality oils; this recipe is a healthier way to enjoy flour tortillas.
These easy homemade tortillas take casseroles like King Ranch chicken and enchiladas to an entirely new level of flavor. Make them for a game day batch of beef taquitos with homemade refried beans and salsa on the side.
How do you make Flour Tortillas?
Homemade Flour Tortillas aren't hard to make and the ingredients are clean and basic. The baking powder makes this soft tortilla recipe light and fluffy, while the butter adds flavor, moisture, and aids in the rise of these tasty wraps.
You will need to add about a half hour to your recipe time to make this recipe from start to clean-up.
Preheat your griddle to medium and make your dough.
Use a pastry cutter to work the butter into the flour mixture.
Make a soft dough ball. It should easily come off your hands and adhere to itself very well.
If the dough is super sticky add a bit of flour and try oiling or wetting your hands to keep them free of dough.
The dough will have a bit of resilience. If you need to adjust the water, add it as you mix until you like the consistency
These tortillas roll out very easily and don't tend to stick to the rolling pin. Just keep a bit of flour sprinkled on the breadboard or your silicone mat under the dough.
Make the shape as circular as you can for the best round tortillas. If you have a tortilla press you will get beautifully shaped tortillas.
Is it better to roll or press Flour Tortillas?
Tortilla presses are very convenient and yield beautifully round and symmetrical tortilla wraps. Presses can be used for both a flour tortilla recipe and a homemade corn tortilla recipe, but they are less popular to use when making flour based tortillas as the pressure can strain the gluten in the flour.
Presses are used in various authentic corn tortilla recipes because they aid in shaping the dense and firm texture of corn based wraps. If you are looking for the best corn tortilla recipe, check out the recipe from Gimme Some Oven.
Homemade Flour Tortilla Recipe
Pinch off a golf ball size piece of dough and place it on a lightly floured board or counter.
Press or roll it into a thin 8 to 10 inch circle and place it on your griddle.
Start your next dough 'golf ball' while keeping an eye on the griddle.
When your tortilla on the griddle gets small bubbles immediately go flip it over and wait for a few seconds and then remove it to a plate and start your next rolled tortilla on the griddle.
To make this a vegan a Flour Tortilla Recipe
To make this recipe vegan use coconut oil to replace the butter one to one. You may get away with less coconut oil. Watch how the dough forms for you and adjust the amount as needed.
Why are my homemade Tortillas tough?
Tough, flat, and dense tortillas are never ideal. We are sharing our best tips for how to cook your flour tortillas properly and avoid common mistakes.
Keep an eye on your griddle. Tortillas don't take long to cook and can quickly over cook making them brittle and tough.
The tortillas will need to be just bubbling up but not browned to stay soft.
Make sure the skillet is hot enough. Leaving the tortillas on heat for a long time will cause them to dry out and become tough.
Knead the dough long enough for the gluten to develop and release. This will yield a more pliable tortilla.
How do you store Homemade Tortillas?
This easy tortilla recipe can be made ahead and frozen for future use making it an even easier recipe to have on hand and work with. Storing homemade tortillas is also simple and we are sharing our best tips with you.
To freeze your uncooked tortilla dough
Make the homemade flour tortilla recipe and use the amount of dough you need.
The remaining dough should be formed into a ball and double wrapped in plastic wrap.
Place it in an airtight freezer safe bag or container to prevent freezer burn.
Store it in your fridge up to a week or freeze it for several weeks.
Defrost in the fridge for slow defrost or on the counter for an hour or so for quick defrost. Do not microwave.
Make tortillas as directed.
To store homemade tortillas
Allow the tortillas to fully cool after they have been cooked.
Place the cooled tortillas in a zippered bag and store in your fridge for up to 2 weeks.
If freezing, place the bag in a freezer safe container and freeze for up to 3 weeks.
When ready to use the tortillas move them to your fridge and allow them to slowly thaw overnight.
Rewarm on a skillet before use.
How else can you enjoy Homemade Flour Tortillas?
These tortillas can be used in a variety of fun and tasty ways besides the traditional Mexican recipes that we are familiar with. Here are some other ideas for you to try once you make these tasty wraps.
Use the tortillas in a layered sheet pan taco bake
Use as a base for Taco Bell inspired Mexican pizza
Make a batch of delicious rollups
Make cinnamon sugared tortilla chips and serve with chocolate sauce and fresh strawberries
Make chicken taquitos and freeze for an easy dinner
Flour tortilla calories and the carbs in flour tortillas are noted in our complete nutrition label. It's found in the bottom or our Printable Recipe Card below: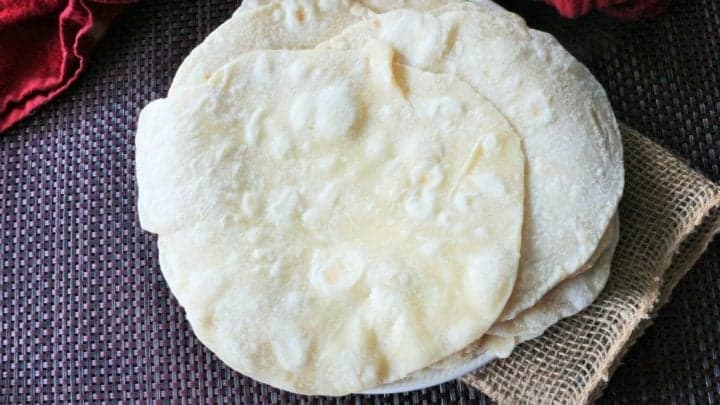 Yield:

12 tortillas
Homemade Flour Tortilla Recipe
Tender, tasty, Homemade Flour tortillas made from scratch. Homemade flour tortilla are made from butter, flour and a bit of baking powder. These tortillas make a delicious treat on their own, or use them in a myriad of recipes. Keep these earmarked for frequent use in your kitchen.
Ingredients
2 Cups Flour
1 tsp. salt
1 tsp. Baking powder
1/4 Cup butter (or lard)
3/4 Cup water- add more as necessary
Instructions
Whisk together flour, salt and baking powder
Cut butter into the flour mixture until it is thoroughly incorporated
Add water and mix until the dough forms a soft ball
On a clean counter or bread board sprinkle flour
Pinch off small amounts of dough (golf ball size) and roll into balls, one at a time.
Roll each ball into a thin circle with a rolling pin about 8 to 10 inch circumference.
Nutrition Information
Yield
12
Serving Size
1
Amount Per Serving
Calories

110
Total Fat

4g
Saturated Fat

2g
Trans Fat

0g
Unsaturated Fat

1g
Cholesterol

10mg
Sodium

266mg
Carbohydrates

16g
Fiber

1g
Sugar

0g
Protein

2g
Follow Us:
We enjoy meeting you on our social networks. Follow us on Facebook, Pinterest, Instagram . Tag us with your pictures of our recipes and comment on how it went for you. We would love to see what you do with them.
We often like, comment and share your posts of our recipes on our daily Instagram stories.
Ask questions and rate the recipe in the comments section below. Please share what you did with this recipe. We are always looking for more and better ways to make homemade food. Other cooks love your ideas!
Recent Posts: