This is a delicious, slightly spicy and smoky version of the classic homemade tomato soup. This is a great recipe to make during harvest from your home grown tomatoes and peppers. Or buy them from a farmers market.
This soup is made from garden fresh tomatoes and freshly roasted peppers.
This is an easy harvest soup recipe and offers delightful, filling tomato-pepper goodness you make as spicy as you like. Wonderful!
This is a very busy time of year in for us.
I'm in the kitchen drying tomatoes, making tomato sauce and Marinara sauce, drying apples, making applesauce and processing peppers by the five gallon bucket full.
Dave, meanwhile is working on getting his fall garden chores done while tending his peppers and tomato plants that still remain in our greenhouse. Our little plot of land is hopping at harvest!
Dave's two favorite crops are tomatoes and peppers. So I look forward to making lots of this soup in the Fall. It's perfect for using up a load of fresh tomatoes and peppers quickly without a lot of fuss.
you can use all the ugly fruits in a recipe like this. Use up those half ripe or over ripe tomatoes and peppers. Just cut out the bad spots and use them up.
They will make a great somewhat spicy soup.
Making this simple soup out of some of those tomatoes and peppers makes a lot of sense. And it's so delicious.
I love having an abundant variety of fresh produce to work with in the harvest months. We eat so well and so cheap this time of year!
The best quality, organic vegetables and fruits are right outside our door. I am converting them into freezer food for the winter so we will reap our harvest for months to come. Love that. Gardening is a big time investment but it pays us back in our quality of food.
If your not a gardener, try to find good quality tomatoes and peppers to get the most out of this recipe. The fresher and riper the produce, the better the flavor. enjoy.
Roasted Pepper Tomato Soup Recipe Notes:
I like to roast peppers for the freezer.This soup is an EXCELLENT partner to that process. Sometimes the skins stick to parts of your peppers after roasting them. For the freezer you want them off. So the parts of the pepper that won't release the skins go right in my large stock pot with the tomatoes. I set the stock pot right next to the counter where I'm prepping the peppers.
So I get a yummy batch of roasted pepper tomato soup and I freeze roasted peppers at the same time. Harvest time needs to be efficient. Make the kitchen work for you!
Load the whole unpeeled tomatoes (I recommend Roma or other paste type tomatoes) into the stock pot with a half cup of water. Five pounds of tomatoes is about a half a pot. Set the pot to simmer, Roast the peppers and garlic and throw them in the soup.
After it's done you'll need a Food Mill
to separate the tomato and pepper skins and grind up the garlic. Thicken the soup as desired (I added a can of tomato paste to mine this time) and stir it up into a yummy, quick dinner.
This is really tasty, easy soup! Put this flavorful, fragrant soup on the menu with the Southwest Toasted Cheese Sandwich for a mouth-watering, filling, healthy dinner.
Suggested Garnishes:
Shredded pepper jack cheese, smoked gouda, parmesan or any ole cheese you like.
croutons- I like the focaccia garlic type
Balsamic vinegar for an extra tweak of flavor
your favorite sweet hot chili sauce
red pepper flakes
fresh parsley
Can this soup be made creamy?
Of course. Just stir the cream in at the end so it doesn't separate. Beware, freezing the soup with cream may make it separate when it thaws.
Cream is best added and mixed in to your taste at serving.
To Freeze Roasted Pepper Tomato Soup:
Do not freeze soup with cream. Leave it out and add in at serving.
Pour room temperature Roasted Pepper tomato soup into zip-lock freezer bags Or vacuum pack
CLEARLY label the bags with the name of the recipe and the date.
Use in 6 months.
Here's your Spicy Tomato Soup Printable recipe: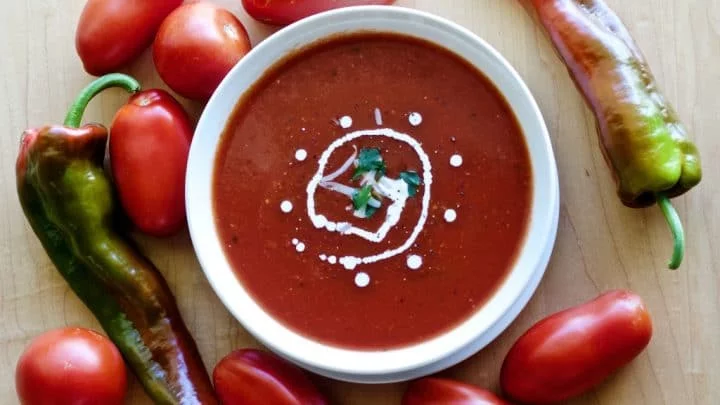 Yield:

12 cups
Roasted Pepper Tomato Soup
Total Time:
1 hour
10 minutes
A delicious, slightly spicy, smoky version of the classic homemade tomato soup. Made from garden fresh tomatoes and freshly roasted peppers. This quick and easy soup offers delightful, filling tomato-pepper goodness.
Ingredients
5 lbs. tomatoes, paste type will make a thicker soup
1/2 lb. roasted peppers
1 bulb roasted garlic, about 7 cloves-peeled
2 Teaspoons Dried Dill, To taste
1 tsp. salt
1 6 oz. can tomato paste, (Optional-use if soup is too thin)
Instructions
In a large soup pot put freshly washed unpeeled tomatoes
Set the pot to simmer and add 1/2 Cup or so of water. Just enough so the tomatoes will not burn as they cook down.
Meanwhile roast your peppers and garlic by setting the oven to 500 degrees F and putting the peppers and garlic a baking sheet in preheated oven for about 10 minutes until blackened)After roasting the peppers leave the peels on and add to the tomatoes.
cook on medium heat until the tomatoes and peppers are tender and mushy.
Put the whole pot full of cooked veggies through a food mill into a pourable bowl.
Pour the puree back into the soup pot.
Set on the stove on simmer and add the salt to taste.
Adjust the liquids by either continuing to cook down the puree or adding a 6 oz. can of tomato paste to thicken as necessary.
Serve with cream and garnishes as desired.
Notes
The type of tomatoes you use will determine much of the success of this recipe. Different varieties have different liquid content. Paste type tomatoes will cook down into a thicker soup without so much extra reducing.
The pepper varieties also make a difference. Beware the heat level of your peppers. We use a level 2 to 4 roasting type pepper.
Add cream, garnishes and vegan non dairy milks as you prefer at serving.
Nutrition Information
Yield
12
Serving Size
1
Amount Per Serving
Calories

65
Total Fat

1g
Saturated Fat

0g
Trans Fat

0g
Unsaturated Fat

1g
Cholesterol

1mg
Sodium

285mg
Carbohydrates

13g
Fiber

4g
Sugar

8g
Protein

3g
More Soup Recipes:
Follow Us:
We enjoy meeting you on our social networks. Follow us on Facebook, Pinterest, Instagram . Tag us with your pictures of our recipes and comment on how it went for you. We would love to see what you do with them.
We often like, comment and share your posts of our recipes on our daily Instagram stories.
Ask questions and rate the recipe in the comments section below. Please share what you did with this recipe. We are always looking for more and better ways to make homemade food. Other cooks love your ideas!
Recent Posts: