I used our leeks that overwinter in our garden. I love making this as a spring soup with fresh leeks. I also make it after the potato barrel harvest with summer leeks if I can find some that are still tender.
Our garden has soldiered on through the snowy, frozen winter. Now signs of life are peeking out at us. Garlic is sending out long green shoots. So are the onions. The leeks are ready to harvest! Even a sprig or two of Thyme is ready in the herb garden. Potato leek soup time.
Dave just planted our potatoes in his easy DIY potato barrels. So no garden spuds today. The ones you see here are store bought.
This spring the weather is much more amenable to wintered parsnips, leeks and garlic than our early spring crops. The wintered crops don't seem to mind the incessant chilly rain we have had this year.
Our peas, however, are not amused. Dave has replanted them twice. The slugs are feasting on our Asian greens and the onion shoots of all things. Even our kale and broccoli have not been happy this spring which almost never happens! We have had record breaking rain this year. Yuck.
Cold wet chilly Spring weather like this calls for warm comforting soup. Potato leek soup is all that. Plus we can use our own leeks! This soup is a sign of the changing seasons at our house. A WELCOME change over from winter freezer meals to getting back into fresh garden produce. The days are getting longer, although it's mostly hard to tell with the clouds raining down on us.
Potato Leek soup is Full of flavorful, filling nourishing ingredients. It's lovely to have this fragrant spring soup cooking in the Instant Pot with hungry people making encouraging sounds about eating soon!
The instant pot is SO much easier than a stove top potato soup. You only use one pot. For everything! No skillet for saute. No pot boiling and draining for cooking the spuds either. Extra bonus. The instant pot recipes I have made so far have all had Excellent flavor. The pressure cooker forces the flavor into the food. The flavor can't escape with the steam into the kitchen. Love that!
For a delicate flavored soup like this one a pressure cooker is the answer. This soup is so easy to make in your instant pot. Cook it all in one pot. I used my potato masher (an immersion blender would work as well) to 'puree' this soup so I didn't even dirty my blender 🙂
The toughest part of this recipe is peeling the potatoes (I hate peeling potatoes) and mincing the garlic (I hate that too..). But really it's worth it. You don't want potato peels in this soup (although I have been tempted), because they will ruin the creamy luscious texture and leave unappealing peels in your mouth.
Fresh garlic gives the best flavor so suck it up and peel some fresh garlic too. Leave the garlic powder, and prepared jarred garlic alone. I'm mostly talking to myself here. You know this already 🙂
I'm also using fresh thyme from my garden. You may have dried… that's ok…if it's not too old. Just season to taste. If you are using fresh thyme strip the leaves off the sticks so they don't wind up in your mouth at serving time.
About cleaning leeks…
Leeks are built of concentric circles of leaves. These thick leaves carry dirt up from the garden as they grow. The dirt embeds itself deeply into the leek center and must be washed out thoroughly. For a recipe like potato leek soup it's not too hard.
Cut the leek longwise as you see here. Now the dirt is exposed and easily washed out of the leaves. You can totally deconstruct the leek if necessary but a hard water spray and finger rub will usually get it clean. Be sure to wash the leeks BEFORE you chop them small. Once you chop them the dirt is REALLY hard to find and clean off. Not nice to have gritty leek dirt in your soup.
I use the 6 quart duo Instant Pot (the second listed here) and that glass lid is SO handy for saute, slow cooking and storing leftovers right in the pot. Here is the newest Instant Pot and some other kitchen helps too:
Instant Pot Potato Leek Soup:
Makes 8 Servings. This recipe is easily adjusted
for the size crowd you are feeding
In your Instant pot, heat the oil over medium heat on saute function .
Add the sliced leeks, garlic and salt.
Leeks in the instant pot on saute.
Saute the leeks and garlic with moderate heat for 5-7 minutes, stirring frequently, until the leeks are completely soft and wilted.
Add the thyme leaves, (I'm using fresh Thyme from our greenhouse ).
Sprinkle in chili powder, and stir for about 30 seconds. Cooking the spices with the leeks and garlic to release their flavors.
Pour in the chicken (or vegetable) broth and add the potatoes and bay leaves.
Set the instant Pot to the soup function for 30 minutes on medium setting. Natural release for about 5 minutes. The potatoes should be REALLY soft but not disintegrated at this point. OR (you can speed this process up by using the manual function on high for 8 minutes if you prefer. Quick release and puree!).
Pluck out the bay leaves and puree the soup. I used my potato masher as we prefer a bit more texture in our soup. (and it doesn't mess up my blender).
If you use a standard blender, be sure not to fill it more than half-full and secure the lid. Cover it with a tea towel when blending, to avoid hot soup or steam leakage. An immersion blender would work right in the instant pot. Avoid using a food processor as that will make the potato purée gummy.
Pour half the cream into the puree and whisk it into a creamy, rich fragrant soup.
If the soup is too thick, add more cream and whisk until it's the desired consistency. Serve and enjoy!
Potato leek sausage soup is excellent garnished with fresh thyme or bacon and pepperoncini. The garnish is a real flavor boost so I highly recommend it!
Here is the Printable Recipe: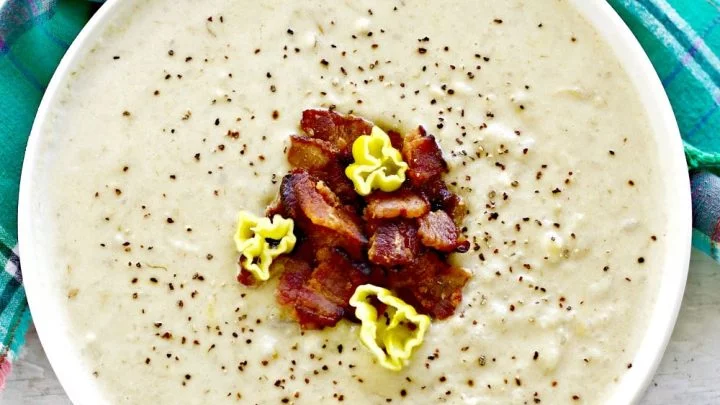 Yield:

8
Instant Pot Potato Leek Soup
Instant Pot Potato Leek soup. Enjoy the flavors of leek, potato, garlic and thyme blended together into a luscious spring soup. An easy, quick, Gluten-Free crowd pleaser!
Ingredients
2 tablespoons avocado oil
4 leeks, (wash carefully and slice small)
3 garlic cloves-minced
1 teaspoon dried thyme, OR 1 sprig chopped fresh thyme-leaves only
1/4 teaspoon chili, or taco powder
4 cups chicken stock, or vegetable broth
4 large Russet potatoes-peeled and cubed
2 bay leaves
1/4 teaspoon red flakes pepper, or one minced pepperoncini
2 Cups heavy cream, as needed
cooked bacon, pepperoncini or fresh thyme for garnish
Instructions
Set the Instant pot to saute function. Add the oil, garlic, salt and chopped leeks.
Saute for 5-7 minutes until the leeks are completely soft and wilted.
Add the thyme and chile powder and cook another 30 seconds.
Pour in the broth, and add the prepared potatoes and bay leaf.
Seal the Instant pot lid and set to soup function and natural release. OR set to manual high function for 8 minutes and quick release.
Pluck out the bay leaves and puree the soup. I used a potato masher right in the instant pot.
If you use a standard blender, be sure not to fill it more than half-full and secure the lid, and cover it with a tea towel when blending, to avoid hot soup or steam leakage. Avoid using a food processor as that will make the potato purée gummy. An immersion blender should work right in the instant pot if you have one.
Pour the soup back into the pot if necessary and add the cream. Whisk until blended.
Garnish, Serve and enjoy!
Nutrition Information
Yield
8
Serving Size
1 1/2 Cups
Amount Per Serving
Calories

455
More Soup Recipes:
Here are a few of our vegetable soups you will enjoy. Please let us know how you like them!
Follow Us:
We enjoy meeting you on our social networks. Follow us on Facebook, Pinterest, Instagram . Tag us with your pictures of our recipes and comment on how it went for you. We would love to see what you do with them.
We often like, comment and share your posts of our recipes on our daily Instagram stories.
Ask questions and rate the recipe in the comments section below. Please share what you did with this recipe. We are always looking for more and better ways to make homemade food. Other cooks love your ideas!
Recent Posts:
This recipe was loosely adapted from David Lebovitz recipe.