Hearty Crockpot Chili Chicken Soup is a simple dinner that is perfect for busy nights, and feeding a large crowd. This recipe makes a large amount, and is packed with hearty ingredients like corn, white beans, fresh chicken, cheese, and an array of aromatic spices and seasonings.
It's a dinner that is perfect to set in the crock pot in the early afternoon, or get it going in the instant pot for a simple one hour meal with hardly any cleanup. We love to enjoy this crockpot chili chicken soup alongside loaded baked potatoes, or with tortilla chips and our seven layer bean dip.
White chicken chili soup is a delicious cross between your traditional chili, and a chicken soup. Robust flavor and a creamy sauce brings everything together for a delicious meal that everyone enjoys.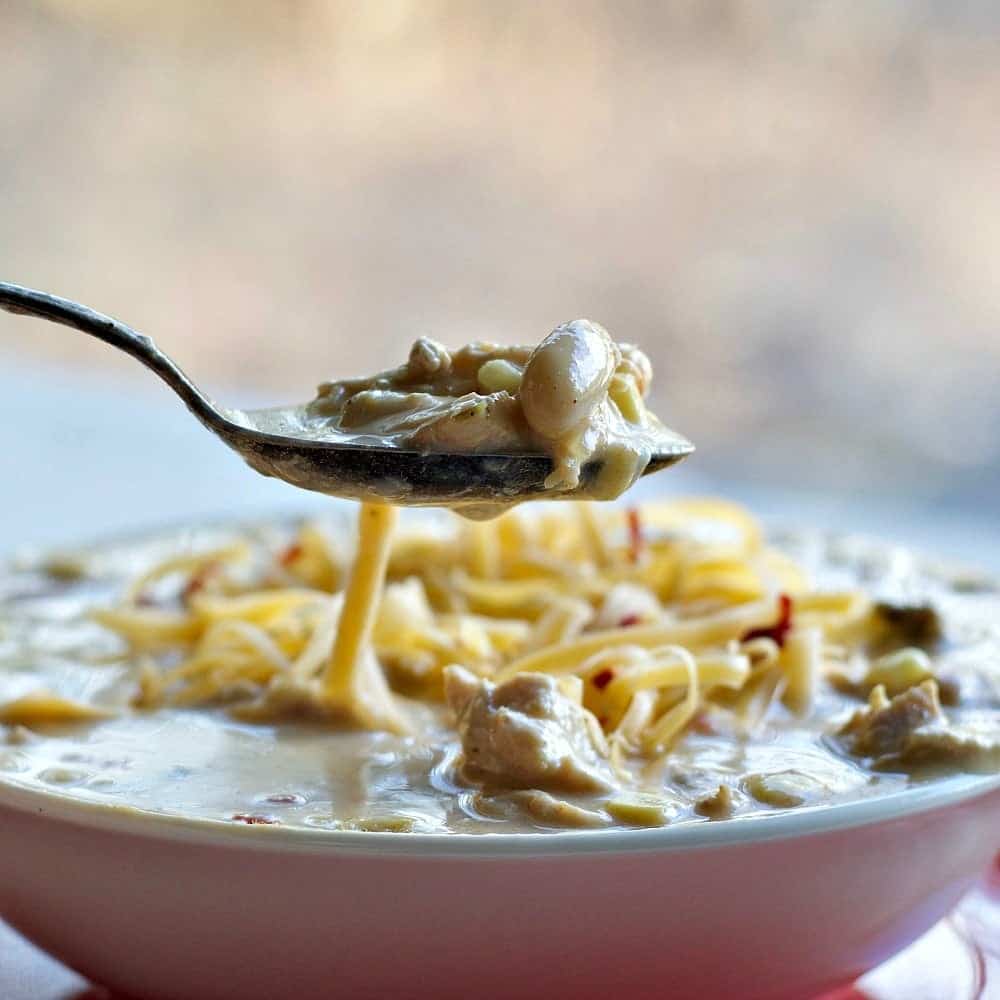 There are many variations of chili chicken soup recipes, most of them vary depending on the ingredients used. Crockpot green chili chicken enchilada soup blends a traditional chili with chicken enchiladas, while hatch green chili chicken soup brings it's iconic flavor using the famous chilis that we enjoy in salsa verde recipes.
No matter how you prepare it, chicken chili is delicious and can be made however you like it.
What is the difference between chili and chili soup?
The main notable difference between chili and chili soup is the amount of liquid used. Traditional chilis are very thick, and use significantly less liquid which results in a hearty, chunky consistency that is perfect for pouring over potatoes, cornbread, or tortilla chips.
Chili soups are not only made with more liquid, but they don't usually follow the recipe of a traditional chili which usually consists of ground beef in a thick chili sauce. Chili soups include tomatoes, veggies, cheeses, and other ingredients that set it firmly in the 'soup' world.
What chicken is best to use in chicken chili soup?
For this recipe we used chicken breast, which is the easiest cut of chicken to incorporate into your chili soup. The meat is low in fat and high protein, while the mild flavor of the cut will take on the spices and seasonings used in the soup with very little interference.
Chicken breast can be dry, but by putting it in a soup it will stay tender and juicy. Chicken thighs can also be used in chicken chili soup, but the fat content will likely increase because thighs have significantly more fat than the breasts. However, that fat as well as the flavor of the thigh meat will increase and enrich the flavor of the soup tremendously.
Bottom line, you can use whichever cut of chicken you prefer because this recipe is so versatile.
How can I increase the flavor in crockpot chili chicken soup?
Our crockpot chili chicken soup is loaded with spice, flavor and a rich, creamy sauce because it is a white chicken chili crockpot cream cheese recipe. The addition of cream cheese, milk, and cheese mellow out the heat of Rotel tomatoes while creating a robust texture.
Here are some things you can do to increase the spice and flavor of your crockpot chili chicken soup.
Make it an easy green chili chicken soup by using a jar of green salsa verde. Healthy green chili chicken soup is always a favorite
Use fresh jalapeno peppers to increase the heat of the soup
Incorporate fresh herbs like parsley, cilantro, or green onions
Change up the cheese and use Mexican melting cheeses
Instead of a sweet corn, use 'confetti corn' which contains peppers and onions
Use heavy cream or sour cream to thicken and enhance the texture
What liquid is best for chili?
Because this is a wonderfully versatile recipe you have options when it comes to the liquid used for the chili. Chicken broth or stock, vegetable broth or water would be the best base liquids to use in crockpot chili chicken soup. The liquids should add flavor to the soup, so using a stock or broth would be ideal.
If you are making a creamy soup like we did, the addition of creams, milk, and even sour cream will also add liquid to the chili soup.
What do you serve with chicken chili soup?
This chili soup is a hearty, satiating recipe that can definitely be enjoyed on its own as a full dinner. It also makes a wonderful main course to serve at a potluck, family gathering, or game night. Here are some of our favorite sides and snacks to enjoy with this crockpot chili chicken soup.
Crockpot chicken chili
Chicken Chili Soup stores as leftovers up to 3 days without compromising flavor or freshness. It makes a wonderful family dinner, and a fantastic dish to bring to a potluck, or serve for a large crowd event.
This Instant Pot recipe is ready from start to finish in about an hour, unless you make it on the slow cook function. Then follow the crock pot instructions and set the pressure cooker to the slow cook button.
Chicken chili recipe tips and substitutions
The wonderful thing about chili's is that they are versatile and largely customizable. You can always use ingredients that you already have on hand as a way to get through food in your fridge or pantry. You can also substitute ingredients, and even add to the chili. Here are some of our favorite ideas to get you going, as well as some extra tips.
If you are using frozen corn increase the amount of chicken broth by 1 cup
Garnish this soup with shredded cheese, chopped peppers, sour cream or cilantro
Top this soup with colorful tortilla strips to make chicken tortilla soup
Serve with our Mexican style cornbread
Crockpot Chili Chicken Soup Printable Recipe Card
Yield:

12
Crockpot Chili Chicken Soup (Or Instant Pot)
Total Time:
6 hours
15 minutes
Hearty Crockpot Chili Chicken Soup is easy to make in your slow cooker or pressure cooker. This recipe is so delectable your entire family will be begging for more! And we added instant Pot directions!!
Ingredients
1/4 tsp chili powder
1/4 cup fresh onion (diced)
1 tbsp minced garlic
1/4 tsp salt
1 tbsp parsley
1/4 tsp pepper
1/4 tsp onion powder
2 tsp cumin
3 tbsp flour
1 can rotel tomatoes and green chiles (drained)
1 3/4 cups milk
1-1/2 pounds boneless skinless chicken breasts
1 cup shredded cheese
1 1/2 cups chicken broth
1/4 packet cream cheese (softened to room temp)
1-14.5 oz. can super sweet corn (drained)
2- 14.5 oz cans great northern beans (drained and rinsed)
Instructions
Crockpot Instructions:
Melt 3 tablespoons of butter in a large saucepan over medium high heat.
Add minced garlic, chopped fresh onion, cumin, chili powder, onion powder, pepper and salt. Cook for a couple of minutes.
Stir in flour and cook for a couple of minutes while stirring. The mixture will clump together.
Stir in chicken broth until the flour mixture has dissolved.
Stir in the milk.
Put boneless, skinless chicken breasts in the bottom of the slow cooker.
Top with corn, great northern beans, rotel tomatoes, and parsley
Add the cream cheese on the top of the mixture. (mix into soup)
Pour the broth over all of it and cook on high for 6-8 hours. After about 5 hours, cut the chicken into bite sized pieces and return to the Crock Pot.
Add the cup of shredded cheese to the crockpot 1 hour before serving, stir it in until it melts completely.
Garnish with sour cream, shredded cheese, and parsley or cilantro
DIRECTIONS FOR THE INSTANT POT: Ready from start to finish in about an hour.
Cook chicken and 1 1/2 Cup of chicken broth on the Poultry function for 15 minutes (Or until thoroughly cooked). I used completely frozen chicken in a clump of three chicken breasts. I cooked it for 22 minutes on poultry total. Natural release 5 minutes, then QR.
Remove cooked chicken and broth and cut the chicken into bite sized pieces. Now submerge the chicken in the broth it cooked in, in a bowl and set aside.
Set the instant pot on sauté.
Add the butter, onions, spices and garlic. Saute' 2 to three minutes until the onion is translucent.
On Saute, In a small bowl whisk the flour together with enough chicken broth to make a rue. Whisk it into the onions and garlic. As it thickens, Whisk in the room temperature cream cheese and milk.
Whisk until the cream cheese is thoroughly melted and incorporated into the gravy.
Pour all the chicken, broth, corn, beans and Rotel tomatoes into the instant pot. Stir together gently.
Adjust the liquids by adding broth or milk if needed to desired consistency.
Heat on saute' on LOW setting until thoroughly heated (about 15 minutes).
Recommended Products
As an Amazon Associate and member of other affiliate programs, I earn from qualifying purchases.
Nutrition Information
Yield
12
Serving Size
1
Amount Per Serving
Calories

254
Total Fat

7g
Saturated Fat

3g
Trans Fat

0g
Unsaturated Fat

3g
Cholesterol

62mg
Sodium

429mg
Carbohydrates

22g
Fiber

4g
Sugar

2g
Protein

26g
Click any of the pictures below to explore these recipes
Follow Us:
We enjoy meeting you on our social networks. Follow us on Facebook, Pinterest, Instagram . Tag us with your pictures of our recipes and comment on how it went for you. We would love to see what you do with them.
We often like, comment and share your posts of our recipes on our daily Instagram stories.
Ask questions and rate the recipe in the comments section below. Please share what you did with this recipe. We are always looking for more and better ways to make homemade food. Other cooks love your ideas!
Recent Posts:
Recipe Inspired by: Thegunnysack.com