This Instant Pot Six Gun Chili is made with dried Pinto beans and Six Guns Chili seasoning. With the use of your Instant Pot or pressure cooker, the dried beans are cooked with no pre soaking needed, and the chili meal is ready in two hours.
By combining modest, simple ingredients and using high quality spices along with the famous Six Gun Chili seasoning, this loaded bean chili is perfect for a family dinner. We enjoy pairing this hearty meal with fresh Mexican Cornbread, Warm Homemade Dinner Rolls, or a mess of tortilla chips and hearty Homemade Queso Dip.
How do I cook Chili in my Instant Pot?
Cooking chili in your Instant Pot or pressure cooker is a very simple process that can vary depending on how you prepare it, and which recipe you follow. Our recipe uses dried pinto beans that will be cooked in the Instant Pot, so while this does add an extra step, it's actually a very simple step that only takes 30 minutes.
Many Instant Pots have a bean/chili setting that you can use, or you can cook your chili on manual using the high setting for 25-30 minutes, allowing it to naturally release once it's finished. The beauty of the Instant Pot is it's all-in-one abilities that allow you to do everything, including browning the meat, without the use of any extra pots or pans.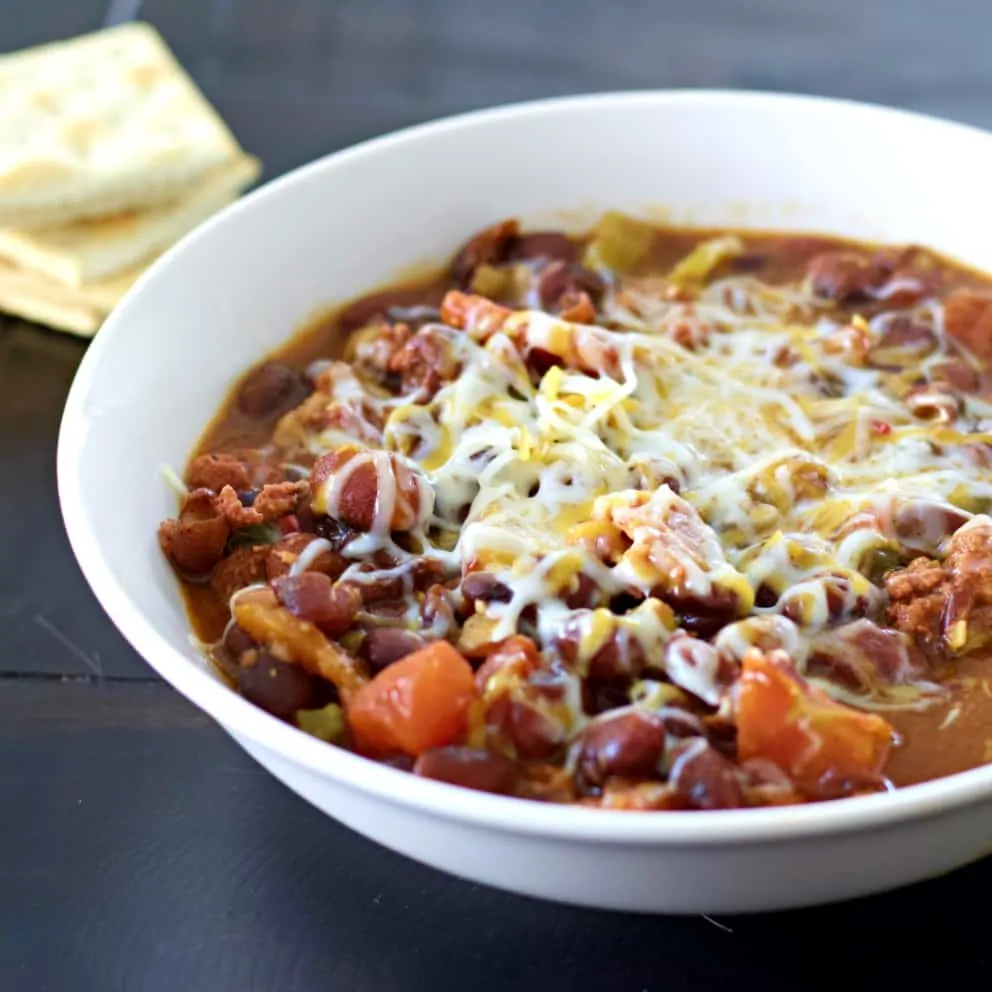 What gives Chili the best flavor?
For this recipe we use the Six Gun Chili seasoning along with a few added spices. We love this seasoning because it is a high quality brand that has a well balanced, deep flavor profile. Many suggestions for how to elevate your chilis flavor include the use of cinnamon, dark cocoa powder and strong coffee grounds.
If you are looking to add even more punch to your chili, any of these options would for sure do the trick. Beyond that, make sure your ingredients are balanced and fresh for the best results and a delicious, rich chili.
What are the advantages to using an Instant Pot?
The Instant Pot has a stainless pot that goes from the instant pot to the fridge without cracking or warping.
The insert pot has a much smaller footprint in the fridge than many large bowls or skillets.
The Instant Pot also takes less room (although it is taller) than most crock pots.
Food is cooked safely and nutritiously.
It has a delay function so you can set it and forget it. It also has a warm function that will hold the temperature of the meal when it's done.
The warm function is also helpful for parties, as the pot will stay warm 24 hours.
The Instant Pot slow cooks, makes yogurt, steam veggies, cooks rice and large cuts of meat. It even does saute' right in the pot.
Food made in the pressure cooker has better flavor and retains more nutrients.
The Instant Pot is a money saver since it saves power. Also, you can replace other kitchen appliances like a slow cooker and yogurt maker saving money and counter space.
Looking for more instant pot recipes? Check out our Instant Pot recipes.
For our Instant Pot Six Gun Chili Recipe you will need an Instant Pot. If you don't have an instant pot and want to make chili try our crock pot Game Day Chili for an easy chili recipe made out of the pantry.
Instant Pot Six Gun Chili Recipe Notes
I use this Six Gun Chili Seasoning mix because it's an easy way to flavor up a chili with a delicious, authentic chili flavor our family has loved for decades! You should be able to find this mix at most major grocery stores or outlets.
We do not use the White Thickener Packet. We find it is unnecessary for this particular recipe.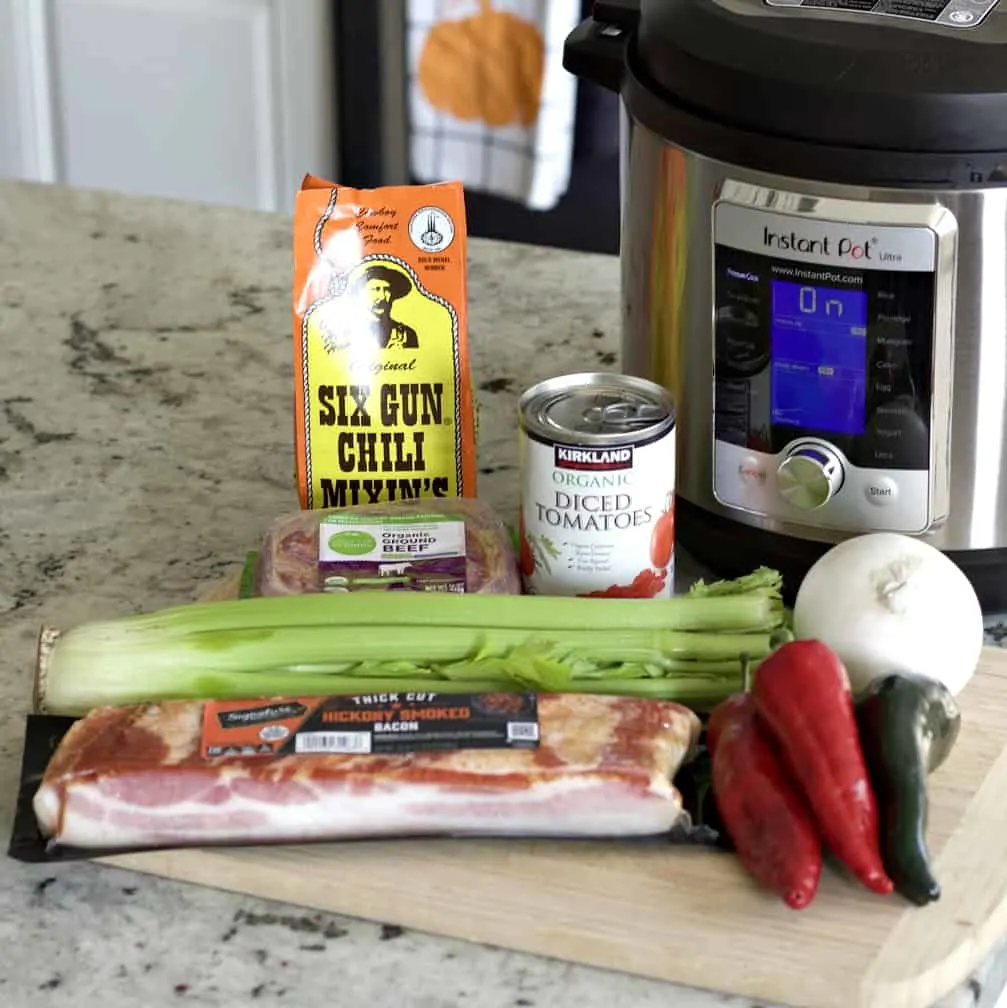 What beans go best in Chili?
We love to use the traditional pinto bean in our chili recipes, but black beans and kidney beans are great substitutes that can be used in chilis too. All of these beans have pleasant flavors and hardier textures that will hold their shape in a chili. Some softer beans such as navy will get too soft and turn to mush.
Are beans not used in authentic Chili?
When speaking of traditional Texas chili, beans will not be found. This is because beans will be a dominant flavor and will cover up the seasoning balance and the flavor of meats used. This is most often found in cook offs when chilis will be judged, many folks enjoy adding beans to their chilis for a hearty texture and added flavor.
But, no, beans are not used in authentic Texas chili.
Here is the ingredient list for Six Gun Chili Seasonings:
Ingredients: Stone-ground masa flour, ground chili pepper, a pinch of salt, cayenne pepper, cumin, dehydrated onion, garlic powder and oregano. There are no additives and it is gluten free.
TIPS and SUGGESTIONS:
You can make this recipe with either ground beef or stew meat. Stew meat will be tougher, so we prefer ground beef.

Brown and season stew meat first on the sautè function and add five minutes on the cooking time.

You can use black beans or kidney beans in place of the pinto beans if you prefer.

The cooking times are in your instant pot manual if you decide to substitute your beans.

Preferred garnishes for this chili are sour cream, chopped green onions and salsa or your favorite chili sauce.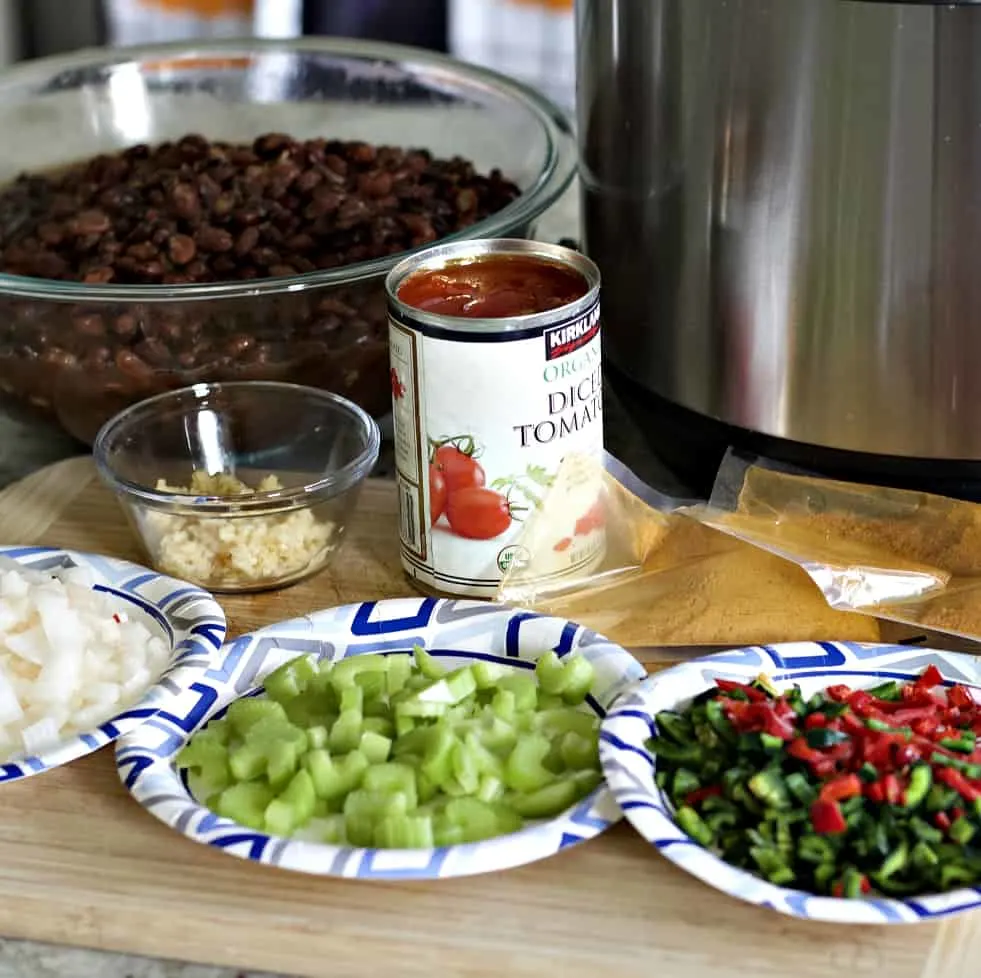 How to prepare dried beans in the Instant Pot
I went for a long time without using dried beans. They can be challenging and time consuming to work with because they require overnight soaking and several hours of boiling on the stove before they are ready for your recipe.
Electric Pressure cookers cook dried and un soaked beans of all types in about a half hour.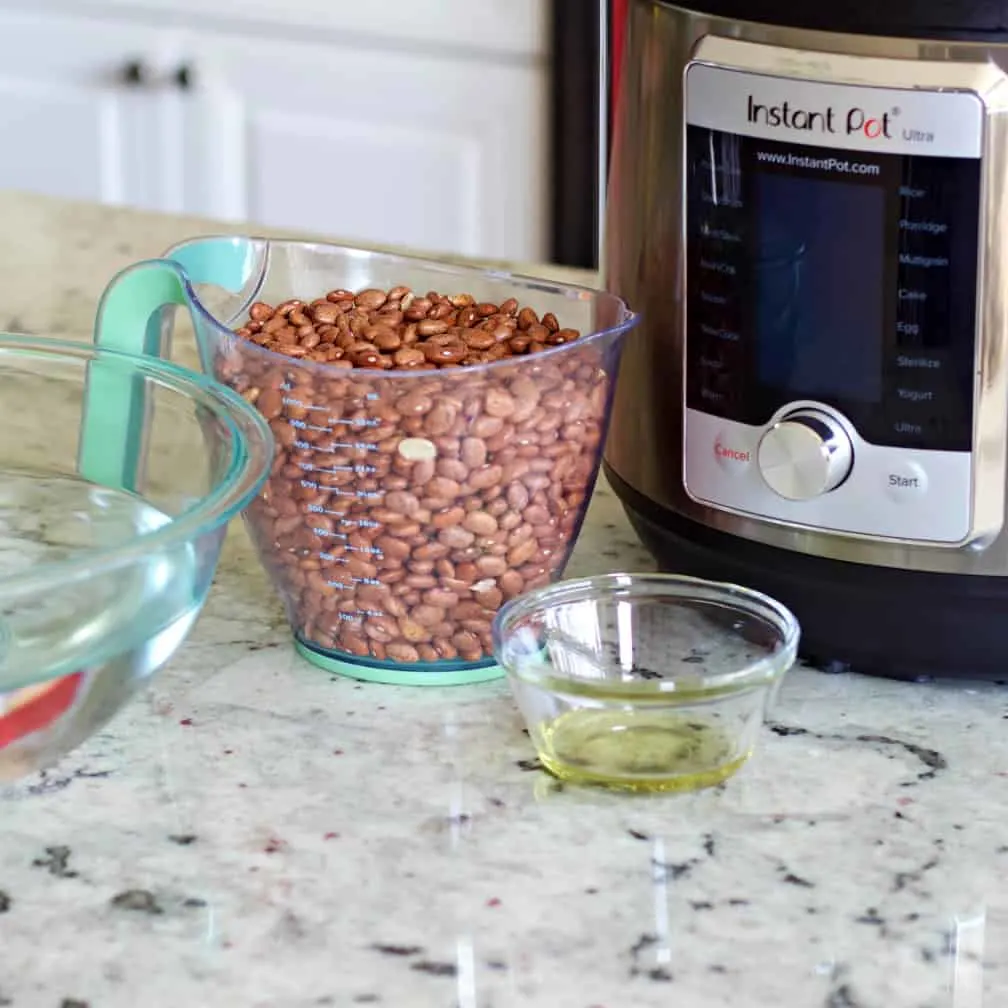 Making chili with dry beans is such a budget friendly, easy dinner idea and the flavor is enhanced beautifully.
Rinse the beans thoroughly.
Throw the beans in the pot with the proper amount of liquid and 1 Tablespoon of oil.
Set the instant pot to manual high pressure for 30 minutes.
Seal the vent and walk away.
The pot will ding when it's done. You can quick release it or natural release. Do whatever works best for you. But if you have the time let it natural release to fully set the flavor in the beans.
We show you how to cook dry pinto beans in your instant pot for inexpensive healthy recipes in this post.
Instant pot chili dry beans recipes are flavorful and make the best chili recipes.
The nutrients will be retained by cooking dried beans in the Instant Pot.
This is an easy healthy dinner idea for lots of different recipes.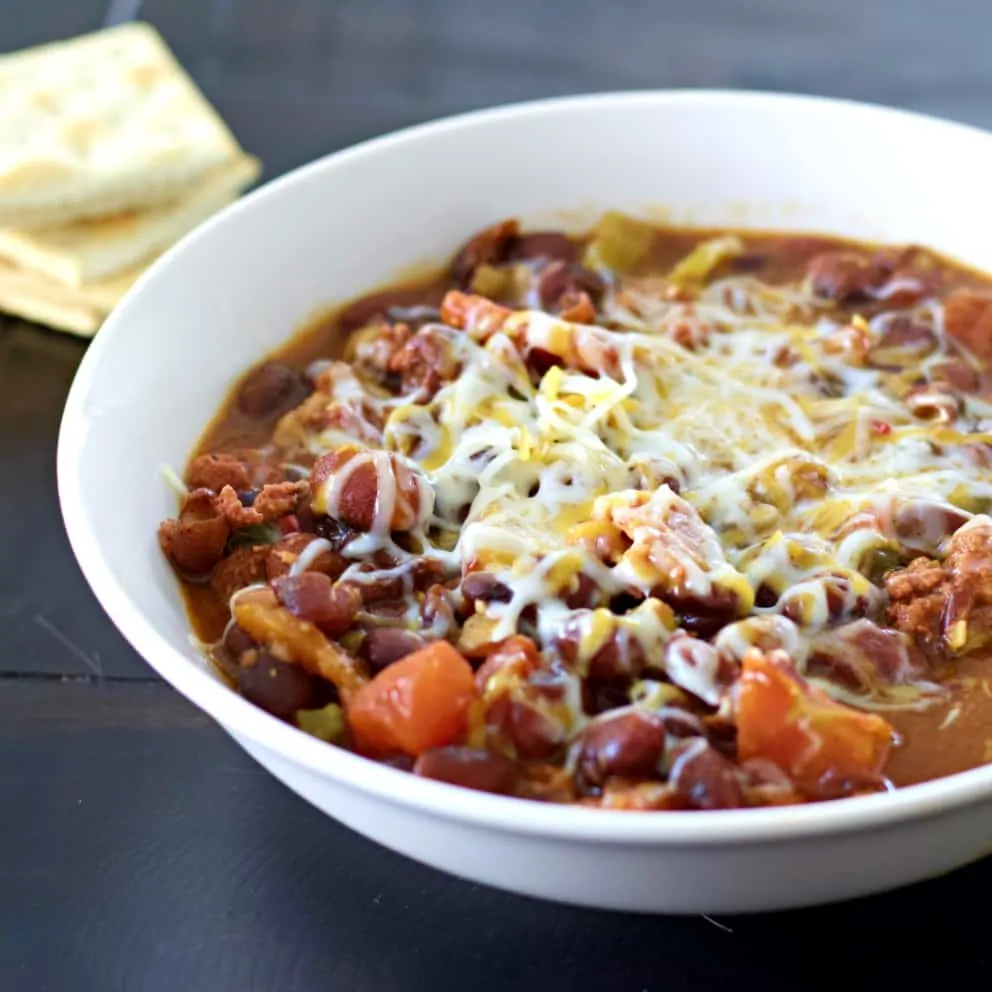 Your Printable Recipe Card: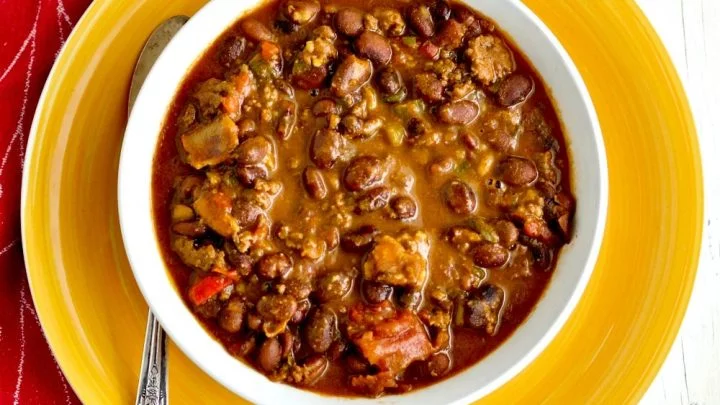 Yield:

15 servings
Six Gun Chili Recipe
Total Time:
1 hour
15 minutes
Instant Pot Six Gun Chili is made with dried Pinto beans and Gluten free Six Guns Chili Fixins seasonings. The flavor of this chili is outstanding and gets better and better as leftovers. No Soaking the beans and it's all done in an hour and a half. Ok. NOW you can fall in love with your Instant Pot.
Ingredients
4 Cups dried Pinto beans
8 Cups Water
1-14 oz. can diced tomatoes
2 Tablespoon Avocado oil-divided
1 lb. Hamburger
1/4 lb. bacon
1 Cup chopped peppers, any heat
1/2 Cup chopped celery
1/2 Cup chopped onions
2 cloves chopped garlic
Instructions
Pour the dried Pinto beans, water and 1 Tablespoon oil into the instant pot.
Close the lid.
Push the vent button to SEAL.
Push the manual button and press the + button until the number read out says 30 minutes.
After pot is done-Natural release for best flavor and total doneness.
Remove beans, clean the pot and dry it.
Set the Instant pot on Saute function on HI. Leave uncovered or use your tempered glass lid for sautè.
Cook the hamburger and bacon. Add the onions, garlic, celery and peppers. Cook 4 minutes.
Return all the cooked pinto beans to the pot with diced tomatoes, The contents of the Six gun chili spices packets (omit the white packet) and remaining oil.
Pressure cook on high-manual setting for 12 minutes.
Natural release and serve
Notes
This recipe is written to use ONLY the instant pot. That is so easy and makes this a one pan dinner.
However, you can speed up the time even more by sauteing the hamburger and bacon, onions, garlic, celery and peppers on the stove and adding them into the instant pot after the beans cook.
Now add remaining ingredients, set the IP to manual and finish the recipe!
Nutrition Information
Yield
15
Serving Size
1
Amount Per Serving
Calories

428
Total Fat

22g
Saturated Fat

7g
Trans Fat

0g
Unsaturated Fat

11g
Cholesterol

64mg
Sodium

1089mg
Carbohydrates

32g
Fiber

6g
Sugar

4g
Protein

26g
Follow Us:
We enjoy meeting you on our social networks. Follow us on Facebook, Pinterest, Instagram . Tag us with your pictures of our recipes and comment on how it went for you. We would love to see what you do with them.
We often like, comment and share your posts of our recipes on our daily Instagram stories.
Ask questions and rate the recipe in the comments section below. Please share what you did with this recipe. We are always looking for more and better ways to make homemade food. Other cooks love your ideas!
Recent Posts: