Instant Pot Six Gun Chili is an insanely good Gluten free chili recipe made with dried Pinto beans and Six Guns Chili Fixins seasonings. The flavor of this chili is outstanding and gets better and better as leftovers.
No Soaking the dry beans either. The pressure cooker cooks the beans unsoaked in 25 minutes. How cool is that ?
It's all done in one pot in an hour and a half. Ok. NOW you can fall in love with your Instant Pot.
Instant Pot Six Gun Chili is My very first creation in my brand new instant pot. It has many advantages for cooks with very little kitchen space and very little time.
I bought my Instant pot after my crock pot pottery insert cracked for the third time in under two years. I use my crock pot ALL the time. But the crockery inserts are not holding up like they used to.
I started looking for options to the crockery pot and found the Instant Pot. I was immediately interested. After reading the reviews and joining the Instant Pot Community FB Group I knew this tool is for me.
The Instant pot advantages:
The instant pot has a stainless pot that goes from the instant pot to the fridge without cracking or warping.
The insert pot has a much smaller footprint in my fridge
The Instant pot also takes less room (although it is taller) than my crock pot did.
Food is cooked safely and nutritiously
It has a DELAY function so I can set it and forget it. AND a warm function in case I'm not home when it's done.
The warm function is also helpful for party recipes. The pot will stay warm 24 hours!
The instant pot slow cooks, makes yogurt, steam veggies, cooks rice and large hunks of meat and even does saute' right in the pot.
Food made in the pressure cooker has better flavor (not kidding) and is more nutritious too!
Finally this little jewel is a money saver since it saves power. Also, you can replace other kitchen appliances like a slow cooker and yogurt maker saving money, fuss and counter space.
For more info go to the affiliate link and read the reviews on Instant Pot and it's nifty accessories.
Looking for more instant pot recipes? Check out our Instant Pot recipes. I'm adding new ones all the time.
For Instant Pot Six Gun Chili Recipe you will need an instant pot. If you don't have an instant pot and want to make chili try our crock pot Game Day Chili for an easy Chili recipe made out of the pantry.
OK Now we will talk about this Instant pot chili recipe with dry beans 🙂
Instant Pot Six Gun Chili Recipe Notes:
I use this Six Gun Chili Fixin Seasonings mix because it's an easy way to flavor up a chili with a delicious, authentic chili flavor our family has loved for decades! I think most grocery stores have this seasoning mix but click the link if you can't find it.
Warning! the affiliate link is for a LOT of this seasoning. But this link is a good start to see what this company sells and get the reviews. You can jump to a single pack from this link after you get on the page. It's good stuff!
NOTE: I do NOT use the White Thickener Packet in this recipe. It's unnecessary here.
Here is the ingredient list for Six Gun Chili Seasonings:
Ingredients: Stone-ground masa flour, ground chili pepper, a pinch of salt, cayenne pepper, cumin, dehydrated onion, garlic powder and oregano. There are NO additives and it is Gluten free.
TIPS and SUGGESTIONS:
You can make this recipe with either ground beef or stew meat. The stew meat will be a bit tougher.

Brown and season stew meat first on the sautè function and add five minutes on the cooking time.

You can also use black beans in place of the pinto beans if you prefer.

The cooking times are in your instant pot manual if you decide to substitute your beans.

Preferred garnishes for this chili are sour cream, chopped green onions and salsa or your favorite chili sauce.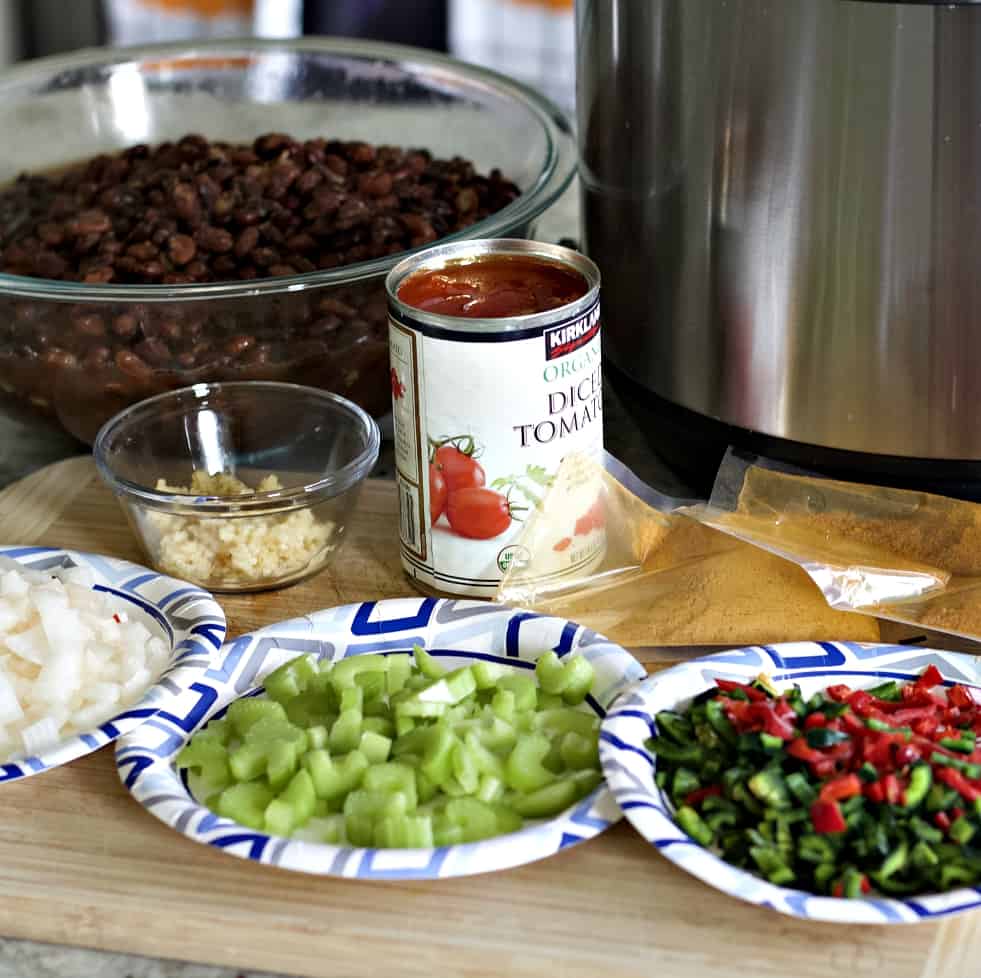 How to make Instant pot Dried Beans:
I went for a LONG time without using dried beans. They are such a pain to work with because they require overnight soaking and several hours of boiling on the stove before they are ready for your recipe. Right??
Electric Pressure cookers cook DRIED, UNSOAKED beans of all types in about a half hour. Now get out those bags of dried beans you always meant to use.
Pressure Cooker Chili dry beans:
Making Chili with dry beans is SUCH a cheap easy dinner idea. And the flavor is SO much better too. I'm serious. The pressure cooking really enhances the beans. All you do is:
Rinse the beans and make sure no stray rocks are in them.
Throw the beans in the pot with the proper amount of liquid and 1 Tablespoon of oil.
Set the instant pot to manual high pressure for 30 minutes or so
Seal the vent and walk away.
The pot will ding when it's done. You can quick release it or natural release. Do whatever works best for you. But if you have the time let it natural release to fully set the flavor in the beans.
We show you how to cook dry pinto beans in your instant pot for cheap healthy recipes in this post.
Instant pot chili dry beans recipes are flavorful and make the best chili recipes.
And the nutrients are all there. They don't get lost in processing.
This is an easy healthy dinner idea for LOTS of different recipes.
Instant Pot Six Gun Chili from dried Pinto beans in under two hours.
Your Printable Recipe Card: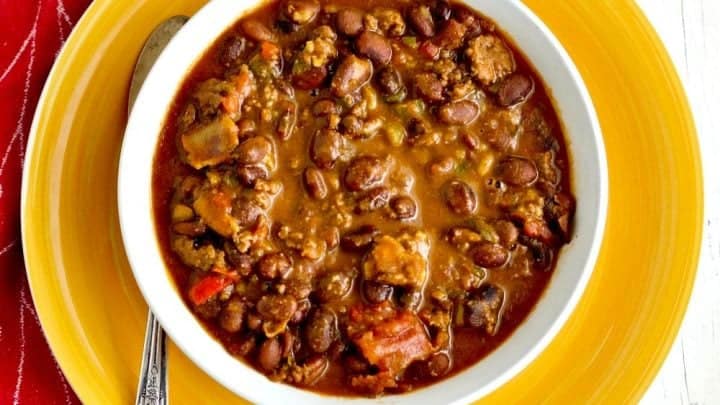 Yield:

15 servings
Six Gun Chili Recipe
Total Time:
1 hour
15 minutes
Instant Pot Six Gun Chili is made with dried Pinto beans and Gluten free Six Guns Chili Fixins seasonings. The flavor of this chili is outstanding and gets better and better as leftovers. No Soaking the beans and it's all done in an hour and a half. Ok. NOW you can fall in love with your Instant Pot.
Ingredients
4 Cups dried Pinto beans
8 Cups Water
1-14 oz. can diced tomatoes
2 Tablespoon Avocado oil-divided
1 lb. Hamburger
1/4 lb. bacon
1 Cup chopped peppers, any heat
1/2 Cup chopped celery
1/2 Cup chopped onions
2 cloves chopped garlic
Instructions
Pour the dried Pinto beans, water and 1 Tablespoon oil into the instant pot.
Close the lid.
Push the vent button to SEAL.
Push the manual button and press the + button until the number read out says 30 minutes.
After pot is done-Natural release for best flavor and total doneness.
Remove beans, clean the pot and dry it.
Set the Instant pot on Saute function on HI. Leave uncovered or use your tempered glass lid for sautè.
Cook the hamburger and bacon. Add the onions, garlic, celery and peppers. Cook 4 minutes.
Return all the cooked pinto beans to the pot with diced tomatoes, The contents of the Six gun chili spices packets (omit the white packet) and remaining oil.
Pressure cook on high-manual setting for 12 minutes.
Natural release and serve
Notes
This recipe is written to use ONLY the instant pot. That is so easy and makes this a one pan dinner.
However, you can speed up the time even more by sauteing the hamburger and bacon, onions, garlic, celery and peppers on the stove and adding them into the instant pot after the beans cook.
Now add remaining ingredients, set the IP to manual and finish the recipe!
Nutrition Information
Yield
15
Serving Size
1
Amount Per Serving
Calories

428
Total Fat

22g
Saturated Fat

7g
Trans Fat

0g
Unsaturated Fat

11g
Cholesterol

64mg
Sodium

1089mg
Carbohydrates

32g
Fiber

6g
Sugar

4g
Protein

26g