This delicious soup is full of many health benefits! it's High-​Fiber, Low-​Sodium, Low-​Sugar, Dairy-​Free and Gluten-​Free for starters. The mung beans are mega healthy all on their own!
Back in the day I regularly frequented a very small, food co-op in a very old building, in an old part of town. It was run by hippies. I worked there for a while as a cheese packager with my oldest boy, then an infant, strapped to my back. I learned about so many things from those old (at least they are now) hippies.
One of the treasures I found in that old food co-op was mung beans. Food co-ops are fun that way. So many foods there that, now a days, you can find mostly in the gourmet isle of a high end grocery. Back then, mung beans were unheard of in any regular grocery.
Now I shop in the newest incarnation of that old co-op. It's in a new part of town, with a new upscale 'green built' store. It's VERY nice! And all the old products, and many new ones are in there. Plus, Lots of helpful workers (not looking so hippyish these days), to answer any questions and find what I need. I love that!
I like a lot of bang for my food buck, so to speak. Mung beans will deliver good nutritional value for a pretty decent price! Especially if you find them in a food co-op or other (possibly online) source where they are just considered good food. Not gourmet!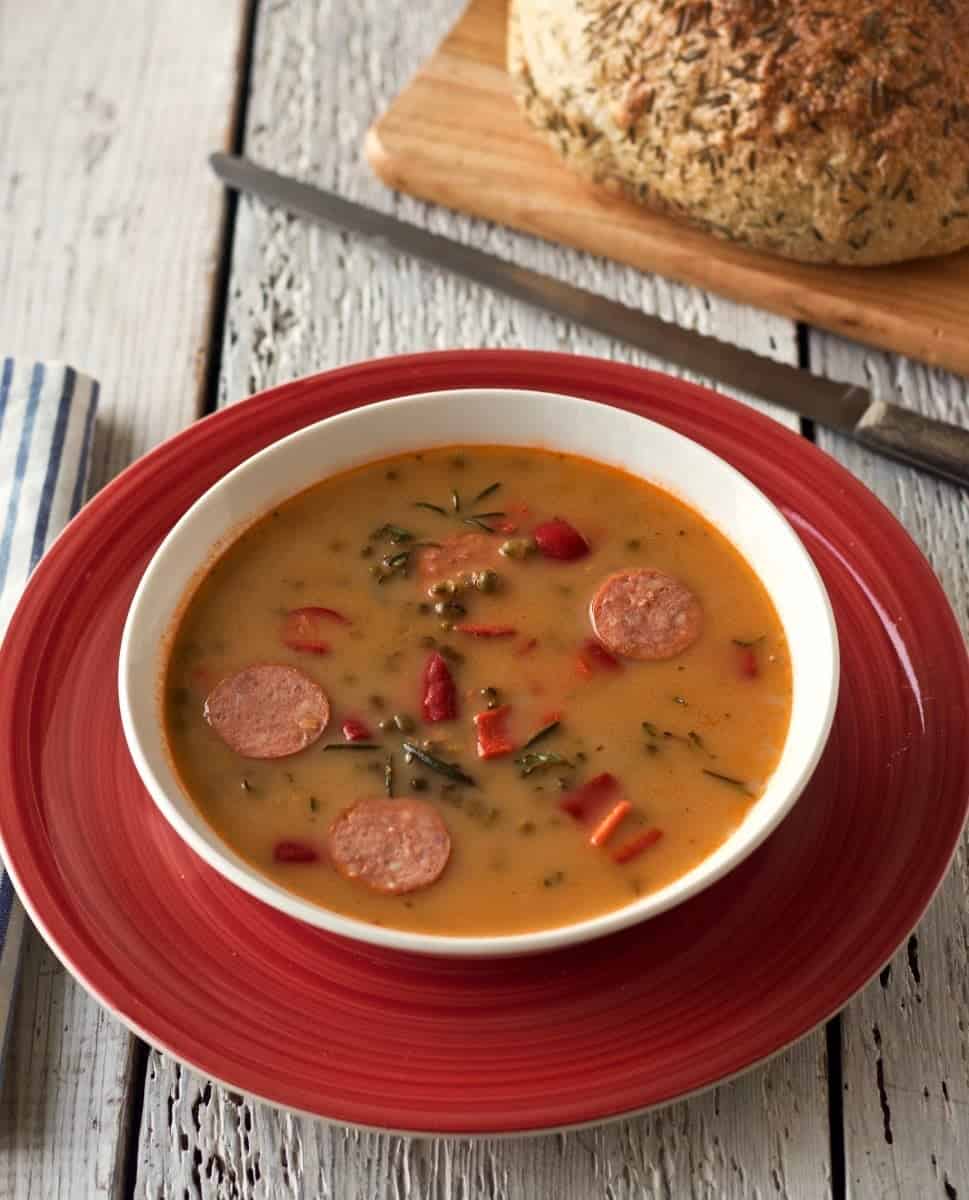 Why Mung beans?
Mung beans taste great and they are very easy to cook with. If you like lentils, and beans, go get some Mung beans and make this soup. Actually, Mung beans are in the same legume family as lentils and peas. They are full of protein, fiber, antioxidants and phytonutrients.
Our Detox Red Lentil soup is also a curried soup. If you are looking for a vegan soup or vegetarian soup that is wonderfully healthy, delicious and unique.
Mung beans also contain these valuable nutrition resources; Manganese, potassium, magnesium, folate, copper, zinc and various B vitamins. Follow the link for the amazing health benefits and history of mung beans! These are a great food to include in your diet!
Recipe Notes on Mung Bean Curried Soup:
Mung Bean Curried Soup is a simple soup, big on nutrition and flavor! We paired it with a loaf of Rosemary bread. That was a great combination. There is rosemary in the soup too, so the flavors worked well together.
I used a mild curry sauce and coconut milk for a new twist on my usual bean soup. We really loved the result. My hubby loved Mung Bean Curried Soup! He is not a huge curry fan, so I wasn't sure he would.
Of course, we still have some greenhouse peppers, so they went into the soup. The peppers were the perfect bit of spicy texture needed, with the sausage and curry to create a 'put together' soup with enough body, nutrients and flavor to make this a complete meal with a simple loaf of bread. Outstanding light dinner!
This soup is perfect for a busy week. Mung Bean Curried soup makes great leftovers. The beans absorb the liquids as days go along and the soup thickens and builds even more flavor.
Mung Bean Curried Soup is very easy to make:
The recipe card has instructions for making Mung bean soup on the stove top, instant pot or in your slow cooker.
As always with a homemade recipe, feel free to use what you have on hand, as I did, and adjust the spices according to your own tastes. A bolder curry may work better for some, we enjoyed ours a bit lighter.
Let me know, in the comments how you create this soup to please your family. New ideas and inspirations are always welcome.
Your Printable Recipe Card:
Yield:

16
Mung Bean Curried Soup
This delicious soup is full of many health benefits! it's High-​Fiber, Low-​Sodium, Low-​Sugar, Dairy-​Free and Gluten-​Free for starters. The mung beans are mega healthy all on their own!
Ingredients
2 Cups Mung Beans
6 Cups water(enough) to cover the beans and boil them awhile
1 quart chicken broth
3 Cups coconut milk
1 lb. spicy Chicken or pork sausage links sliced into 1/4 inch pieces
2 large (or several small) medium heat peppers-to taste
1/2 Cup Kikkoman Tikka Masala Curry Sauce(or any curry you prefer)(or more to taste)
fresh rosemary and thyme sprigs
Instructions
Stove Top:
Boil the mung beans in the water.
When the beans are soft add the coconut milk, chicken, broth and remaining ingredients to the beans.
Simmer on low heat until heated through.
Serve!
Instant Pot Instructions:
Add all ingredients to your instant pot-water last (do NOT fill past the fill line)
Set the instant pot to soup function.
Natural release
Serve
Slow cooker :
Add all ingredients to your slow cooker
Set on high for four hours or low for 6 hours
Serve
Nutrition Information
Yield
16
Serving Size
1
Amount Per Serving
Calories

301
Total Fat

13g
Saturated Fat

9g
Trans Fat

0g
Unsaturated Fat

3g
Cholesterol

45mg
Sodium

1035mg
Carbohydrates

30g
Fiber

7g
Sugar

9g
Protein

20g
Pin it:
If you love bean soups, Look into these other tasty recipes!