Delicious Twix candy cupcakes have a Twix candy baked right in the middle. AND one on top.
This decadent chocolate Twix cupcake recipe also features a salted caramel frosting recipe that is "To die for"!
It has been so long since I've done a cupcake post! I got a little distracted this summer with moving to a new house. We have been doing quite a bit of light home renovating since the move.
I tell you about our Fireplace upgrade here , here and here. Check out The final Fireplace REVEAL video post .
If you are looking for way to change up your old brick fireplace take a look. We are delighted with how it came out. It was a Project SO worth doing.
Now For CUPCAKES!
Twix Cupcakes make a perfect comfort food reward. If you're accomplishing a big house project, celebrating a big event, holiday potluck or just having a really difficult time and need a goody.
These candy bar cupcakes will make you feel special.
Watch me Demonstrate the frosting technique I used for these cupcakes. It's the same as what you see done here for my Princess Cupcake Dress .
I volunteer at a local youth group. Our church Christmas party needed treats. I put my thinking cap on and decided that the kids would like Twix cupcakes. They truly did!
These kid approved desserts disappeared as soon as I put them out. These cupcakes were gobbled up and there were lots of young happy faces with chocolate and caramel all over them smiling at me.
I suddenly have quite a fan club of pre teens and tweeners in our church. They all want to come home and bake with me 🙂
I will probably make these again for Christmas day! This Twix Cupcake recipe is easy and yummy! Grown ups love them too.
Looking For More Cupcake Inspiration? We have several Candy filled cupcakes. And many other delicious varieties of cupcakes your family will love in Homemade Food Junkie's Cupcake Corner.
Recipe Notes for Twix Cupcakes:
This recipe makes 30 cupcakes so it's a good choice for a party or large group event. You CAN make this recipe as a sheet cake.
Cupcake Notes:
I made these cupcakes using a chocolate cupcake recipe from my popular Chocolate Nutella cupcakes.
TIPS for Success:
Allow the ingredients to reach room temperature before you begin. This is especially important for your eggs and dairy.
Do NOT overmix the cupcake batter. The cupcakes will be dense and dry if you mix all the air out of them.
The cupcake frosting is a simple buttercream caramel frosting.
TIPS for success:
Mix your buttercream thoroughly until it is pale and airy. This may take several minutes (up to five). The improved texture is worth it!
If you decide to purchase the caramel sauce make sure it is a sauce and not a caramel syrup.
Here's our recipe for homemade Buttermilk Caramel Sauce (It is easy and delicious!).

BUT TAKE NOTE: If you want to make your caramel sauce from scratch you need the thicker consistency of the sauce to hold your buttercream together. Otherwise you will end up with a melting slimy mess.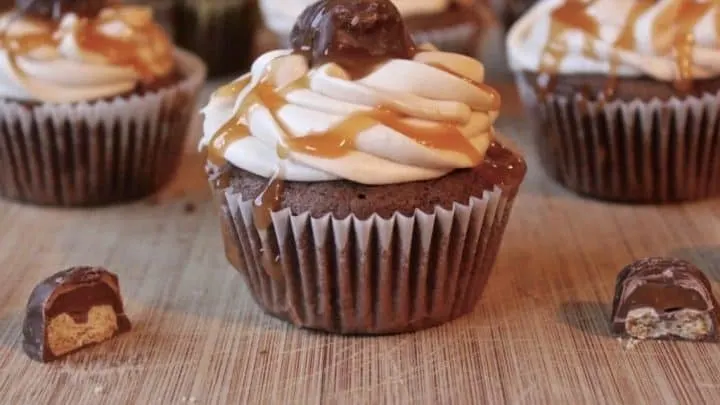 Yield:

30 frosted cupcakes
Twix Cupcakes Recipe
Delicious Twix cupcakes with a Twix candy baked in the middle. This decadent chocolate Twix cupcake recipe is made from scratch and also features a salted caramel buttercream frosting recipe that is "To die for
Ingredients
CUPCAKES:
1/2 cup unsweetened cocoa powder
3 large eggs
1/2 cup hot water
2 1/4 cups flour
3/4 teaspoon baking soda
3/4 teaspoon baking powder
1/2 teaspoon salt
1 2/3 cup granulated sugar
1 tablespoon vanilla
3/4 cup sour cream
1 cup butter (2 sticks, cut into small pieces)
FROSTING:
1/2 Cup Room Temperature Salted Butter (1 stick)
1/2 Cup Salted Caramel Sauce
1 Tsp Vanilla Extract
2 Cups Confectioners Sugar
Instructions
Cupcakes:
Preheat oven to 350 F
Line cupcake tin with cupcake liners.
Mix together the flour, baking soda, baking powder, and salt in a medium bowl, set aside.
Whisk together the unsweetened cocoa powder and the hot water in a small bowl.
Heat butter and sugar together in a medium bowl on the stove on medium to low heat setting.
Heat and whisk until they are just combined and melted together.
Add in the cocoa powder mixture to the butter and sugar mixture.
Remove from heat and blend with an electric beater for 4-5 minutes until it is cool.
Add in eggs one at a time mixing thoroughly between additions.
Mix in vanilla
Finally alternate adding in the flour and the sour cream in additions of thirds until they are completely blended in.
Add half of the butter in cupcake tins and put a frozen mini twin in the center of the batter. Pour a little batter over the top of the candy, just enough to cover it.
Bake in the oven for 15-18 minutes or until a toothpick can be inserted and comes out cleanly.
Frosting:
Cream 1 stick of softened butter for 3-5 minutes until it is light and fluffy.
Next slowly add in the powdered sugar and mix well between additions.
Add the vanilla extract and mix it in.
Add the Salted caramel next and thoroughly blend it into the frosting until light and airy.
Decorating:
Place the frosting in a piping bag and pipe frosting onto the cupcakes. Watch the Video in this recipe card to see the technique I used.
Place the remaining salted caramel sauce in a piping bag with a small circle tip.
Drizzle slowly over frosted cupcakes.
Top with a mini twix.
Store cupcakes in an airtight container.
Nutrition Information
Yield
30
Serving Size
1 frosted cupcake
Amount Per Serving
Calories

216
Total Fat

11g
Saturated Fat

7g
Trans Fat

0g
Unsaturated Fat

3g
Cholesterol

46mg
Sodium

166mg
Carbohydrates

28g
Fiber

1g
Sugar

19g
Protein

2g
Twix Cupcake Recipe is featured on
Womans Day Magazine
!
Pin it:
Here is Twix.com if you need the candy!
This cupcake Recipe is published in the online magazine The JaveCupcake Daily!