Delicious chocolate Nutella cupcakes bursting with yummy hazelnut and chocolate flavors. Created from scratch for the best flavor and texture imaginable.
Nutella cupcakes made from scratch are definitely worth the effort. We filled the middle of the cupcakes with Nutella and topped them with Nutella buttercream frosting. These cupcakes are a great option for a decadent twist on a classic chocolate cupcake.
In this post we will go over some basic tips for making these cupcakes. We also have a printable recipe card so you can save this recipe.
If you've been reading our blog, you know all about cupcake corner. That is my personal corner of the blog where I play with all sorts of amazing cupcake recipes. Check it out for more delicious scratch made cupcake ideas.
Baking cupcakes from scratch is definitely worth the extra time and effort. With a few tips and tricks, you can bake the most delicious cupcakes to share with friends and family.
How do you Make Cupcakes Soft and Fluffy?
Air in the cupcake batter will make cupcakes soft and fluffy. Over mixing cupcake batter will remove the air bubbles in the batter and the cupcakes will be dense. Always mix cupcakes just enough to combine the ingredients be careful not to over mix the batter.
When I first started making cupcakes, I only had a hand mixer. As a result, I did not mix the batter very long. I later bought a KitchenAid mixer and was disappointed in how my cupcakes were turning out. After a little bit of trial and error I realized that it was because I was over mixing my cupcake batter. It's easy to turn the Kitchen Aid on and leave it while it is beating the batter. Keep an eye on the batter and only beat it until the ingredients are just combined.
Why are my Cupcakes Dry?
Cupcakes can be dry if there is an uneven balance of wet ingredients to dry ingredients. Too much flour is usually the cause for dry cupcakes. When baking cupcakes make sure that all ingredients are carefully measured. This is especially true for flour. Some bakers will weigh out the dry ingredients to ensure the measurements are accurate. If using a measuring cup, always level off the flour with a knife to ensure you aren't adding too much.
Other causes of dry cupcakes can be over baking. Follow the recommended baking time instructions for the cupcakes. Every oven bakes a little differently. Some run hot and some run a little cooler, make sure that you keep a close eye on the cupcakes in the last two minutes.
Storing cupcakes properly is key. Cupcakes dry out quickly when exposed to air. Make sure you are storing them in an airtight container. This is very important if you are making the cupcakes a day prior to an event.
Can I Freeze Frosted Cupcakes?
Frosted cupcakes can be frozen. Frosted cupcakes when properly prepped and frozen will last around 3 months in the freezer. to freeze frosted cupcakes follow these steps:
Cool frosted cupcakes completely
Separate them out onto a baking sheet
Flash freeze the cupcakes individually for 1 hour or until frozen solid
Remove the frozen cupcakes from the freezer.
Individually wrap each cupcake in plastic wrap (carefully wrap the entire cupcake including the frosting)
Place frozen and individually wrapped cupcakes in an airtight container
Place airtight container filled with cupcakes into the freezer
These cupcakes will last up to 3 months in the freezer.
Defrost the cupcakes by unwrapping them from the plastic wrap and thawing at room temperature for 3 hours.
More Delicious Cupcakes:
Chocolate Nutella Cupcakes Recipe Notes:
These decadent cupcakes are fairly simple to make. There are a lot of steps involved. They are not difficult steps. These treats are so worth it!
Do you Fill Cupcakes Hot or Cold?
Fill cupcakes after they are cold. Adding filling to warm cupcakes can cause the filling to melt into the cupcake. Always wait until the cupcakes have cooled to room temperature before coring them out and adding in the filling.
Follow the same rule for filling cupcakes and frosting cupcakes. Wait until the cake is cooled down to avoid the frosting or filling melting down into the cupcake.
Can you use Just Nutella as Icing?
Plain Nutella can be used as icing. It is not as easy to work with as traditional frosting. Nutella can be spread onto cupcakes and kept at room temperature. Do not place cupcakes in the fridge if you are using plain Nutella as a frosting. Nutella becomes very hard when chilled in the fridge.
We recommend going the extra step to make the delicious Nutella frosting. It's very easy to work with and pipe in a piping bag. Thick and fluffy homemade frosting is always worth a little extra time and effort.
Nutella Frosting is too thick
Nutella is a very thick consistency. When making the Nutella frosting you may need to add extra cream or milk in if the frosting is too thick. Do this by adding milk or cream a tablespoon at a time. Beat thoroughly in between additions. Keep adding liquid until the frosting is thinned out to the desired consistency.
We have put together a printable recipe card so you can always have the recipe with you! Just hit the print button and save the recipe for the Chocolate Nutella Cupcakes.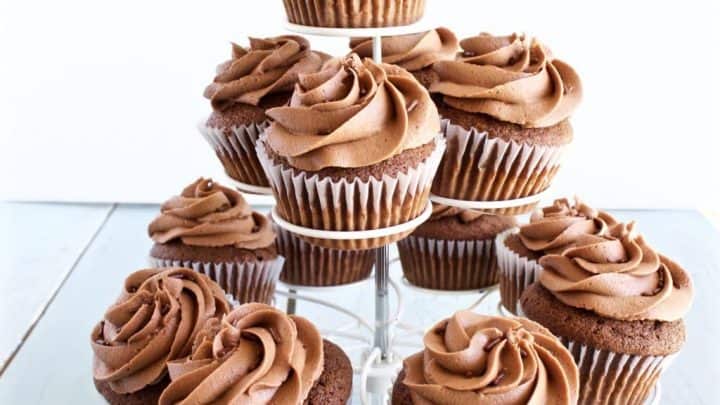 Yield:

30 frosted cupcakes
Chocolate Nutella Cupcakes
Delicious chocolate Nutella cupcakes bursting with yummy hazelnut and chocolate flavors. Created from scratch for the best flavor and texture imaginable.
Ingredients
Cupcakes:
1/2 cup unsweetened cocoa powder
3 large eggs
1/2 cup hot water
2 1/4 cups flour
3/4 teaspoon baking soda
3/4 teaspoon baking powder
1/2 teaspoon salt
1 2/3 cup granulated sugar
1 tablespoon vanilla
3/4 cup sour cream
1 cup butter (2 sticks, cut into small pieces)
Frosting:
1/2 cup unsalted butter
13 oz container of Nutella
4 cups powdered sugar
1 tsp vanilla
7 tbsp heavy cream
Filling: you will need an additional container of Nutella spread to fill the cupcakes
Instructions
CUPCAKES:
Preheat oven to 350 F
Line cupcake tin with cupcake liners.
Mix together the flour, baking soda, baking powder, and salt in a medium bowl, set aside.
Whisk together the unsweetened cocoa powder and the hot water in a small bowl.
Heat butter and sugar together in a medium bowl on the stove on medium to low heat setting.
Heat and whisk until they are just combined and melted together.
Add in the cocoa powder mixture to the butter and sugar mixture.
Remove from heat and blend with an electric beater for 4-5 minutes until it is cool.
Add in eggs one at a time mixing thoroughly between additions.
Mix in vanilla
Finally alternate adding in the flour and the sour cream in additions of thirds until they are completely blended in.
Bake in the oven for 15-18 minutes or until a toothpick can be inserted and comes out cleanly.
Fill cupcakes with Nutella by putting the Nutella in a piping bag. Use a tip with a medium sized round hole. I cored out a small hole in the cupcakes and filled it with Nutella.
FROSTING:
For the frosting, beat butter in a mixing bowl until it is creamy and a nice pale color. Alternate adding in powdered sugar and nutella, beat between additions until thoroughly mixed. Add in vanilla. Finally, add in the heavy cream one teaspoon at a time and mix until it is soft enough to pipe in a piping bag.
DECORATING:
I frosted them with a Wilton 2D tip and I sprinkled them with chocolate sprinkles.
Nutrition Information
Yield
30
Serving Size
1 FROSTED CUPCAKE
Amount Per Serving
Calories

336
Total Fat

17g
Saturated Fat

11g
Trans Fat

0g
Unsaturated Fat

4g
Cholesterol

51mg
Sodium

153mg
Carbohydrates

44g
Fiber

1g
Sugar

34g
Protein

3g
Follow Us:
We enjoy meeting you on our social networks. Follow us on Facebook, Pinterest, Instagram . Tag us with your pictures of our recipes and comment on how it went for you. We would love to see what you do with them.
We often like, comment and share your posts of our recipes on our daily Instagram stories.
Ask questions and rate the recipe in the comments section below. Please share what you did with this recipe. We are always looking for more and better ways to make homemade food. Other cooks love your ideas!
Recent Posts:
Pin this recipe for later: