Delicious chocolate Nutella cupcakes bursting with yummy hazelnut and chocolate flavors. Created from scratch for the best flavor and texture imaginable.
If you've been reading our blog, you know all about cupcake corner. That is my personal corner of the blog where I play with all sorts of amazing cupcake recipes.
All of our cupcakes are created from scratch with fresh ingredients. I enjoy perusing the internet in search of new ideas. Look what I found this time!
Nutella is all the rage these days. I see it absolutely everywhere! These nummy treats are all over Pinterest. Nutella cookies, Nutella cakes, Nutella toast! You name it; Nutella is in it! I am a lover of that wonderful chocolatey hazelnut spread myself! I've hardly met a person that doesn't enjoy Nutella.
I thought these Chocolate Nutella cupcakes would be perfect to share with family. My husband and I went visiting in Idaho to see his parents. Easy travelers, Chocolate Nutella cupcakes came with us!
These beauties made a very positive impact on my Idaho In-laws. The ones lucky enough to grab a chocolate Nutella cupcake before they were scooped up! Nice to make a good impression!
Decadent Chocolate Nutella cupcakes that are bursting with chocolate and hazelnut flavors.
Chocolate Nutella Cupcakes Recipe Notes:
These decadent cupcakes are fairly simple to make. There are a lot of steps involved. They are not difficult steps. These treats are so worth it!
I cored out the top of these cupcakes and filled them with fresh Nutella spread. Oh yes! That upped the creamy richness factor to the sky! Homemade Nutella buttercream frosting makes another level of delicious, creaminess.
Seriously, if you have a Nutella addiction. I urge you to make these delicious little morsels! The chocolate cake pairs beautifully with the yummy hazelnut flavor of the Nutella frosting. Did you notice those cute chocolate sprinkles?
I recreated the frosting recipe until the consistency and flavor were just right. Nutella is very thick. I recommend adding milk or cream, a tablespoon at a time, to make the frosting thinner. Keep adjusting until you get it just the way you want it. Enjoy!!
Here's Your Printable Recipe Card: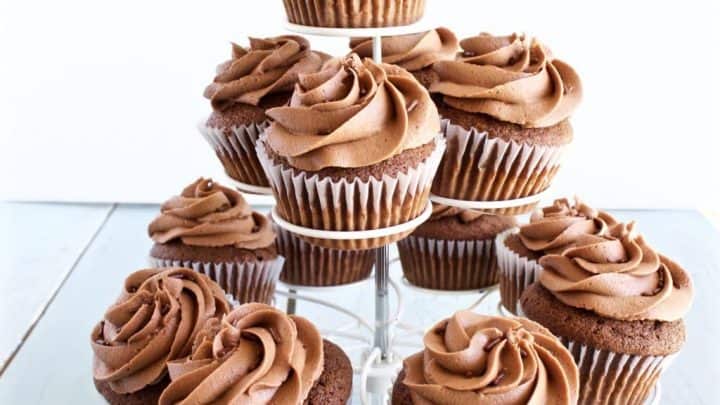 Yield:

30 frosted cupcakes
Chocolate Nutella Cupcakes
Delicious chocolate Nutella cupcakes bursting with yummy hazelnut and chocolate flavors. Created from scratch for the best flavor and texture imaginable. Scrumptious!
Ingredients
Cupcakes:
1/2 cup unsweetened cocoa powder
3 large eggs
1/2 cup hot water
2 1/4 cups flour
3/4 teaspoon baking soda
3/4 teaspoon baking powder
1/2 teaspoon salt
1 2/3 cup granulated sugar
1 tablespoon vanilla
3/4 cup sour cream
1 cup butter (2 sticks, cut into small pieces)
Frosting:
1/2 cup unsalted butter
13 oz container of Nutella
4 cups powdered sugar
1 tsp vanilla
7 tbsp heavy cream
Filling: you will need an additional container of Nutella spread to fill the cupcakes
Instructions
CUPCAKES:
Preheat oven to 350 F
Line cupcake tin with cupcake liners.
Mix together the flour, baking soda, baking powder, and salt in a medium bowl, set aside.
Whisk together the unsweetened cocoa powder and the hot water in a small bowl.
Heat butter and sugar together in a medium bowl on the stove on medium to low heat setting.
Heat and whisk until they are just combined and melted together.
Add in the cocoa powder mixture to the butter and sugar mixture.
Remove from heat and blend with an electric beater for 4-5 minutes until it is cool.
Add in eggs one at a time mixing thoroughly between additions.
Mix in vanilla
Finally alternate adding in the flour and the sour cream in additions of thirds until they are completely blended in.
Bake in the oven for 15-18 minutes or until a toothpick can be inserted and comes out cleanly.
Fill cupcakes with Nutella by putting the Nutella in a piping bag. Use a tip with a medium sized round hole. I cored out a small hole in the cupcakes and filled it with Nutella.
FROSTING:
For the frosting, beat butter in a mixing bowl until it is creamy and a nice pale color. Alternate adding in powdered sugar and nutella, beat between additions until thoroughly mixed. Add in vanilla. Finally, add in the heavy cream one teaspoon at a time and mix until it is soft enough to pipe in a piping bag.
DECORATING:
I frosted them with a Wilton 2D tip and I sprinkled them with chocolate sprinkles.
Nutrition Information
Yield
30
Serving Size
1 FROSTED CUPCAKE
Amount Per Serving
Calories

336
Total Fat

17g
Saturated Fat

11g
Trans Fat

0g
Unsaturated Fat

4g
Cholesterol

51mg
Sodium

153mg
Carbohydrates

44g
Fiber

1g
Sugar

34g
Protein

3g
Pin it: