Light and fluffy Blueberry Lemon Cupcakes feature a fluffy lemon cake with fresh blueberries swirled in. They are topped off with a scratch made blueberry American buttercream that is made with fresh blueberries for the freshest flavor and a gorgeous lavender crown.
These mini cakes are perfect for bridal showers, summer birthdays, garden parties, and picnics. This recipe makes about 30 cupcakes which is perfect for any event you are hosting, and can be dressed up or down in the way you garnish and present them.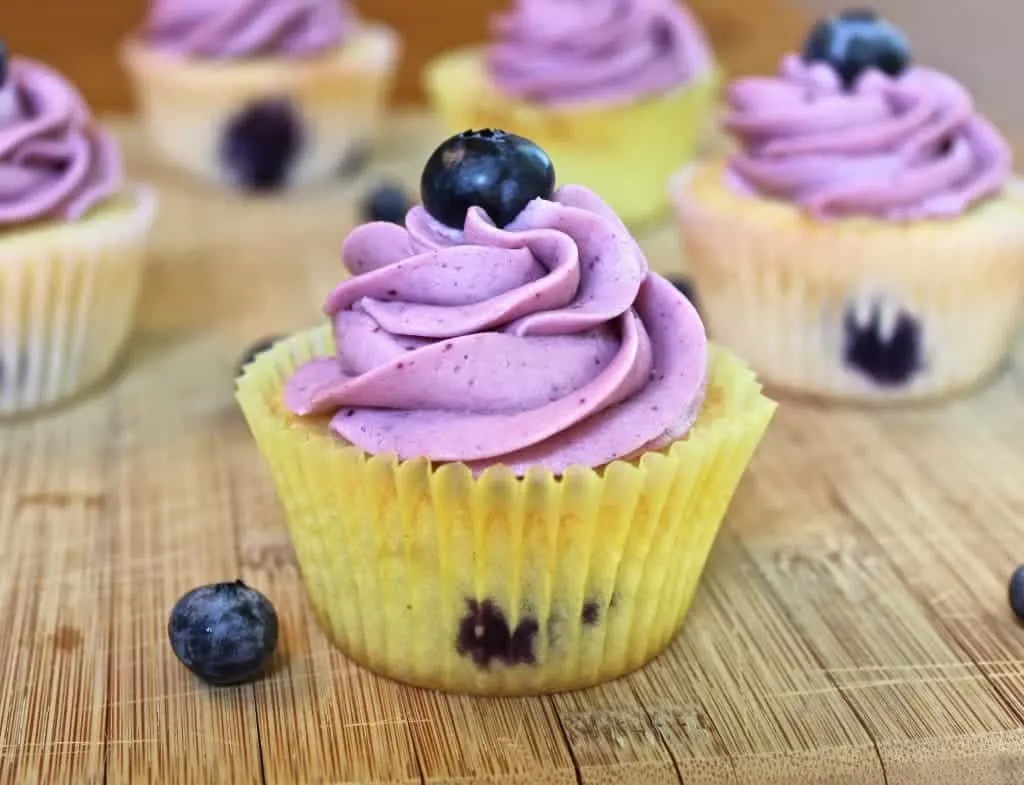 Cupcakes are always a popular dessert choice because they are easy to serve and make a beautiful statement display at events. If you are looking for more cupcake recipes be sure to check out our classic Red Velvet Cupcakes, our Moscato Cupcakes with strawberry frosting, and our fluffy Coffee Cupcakes with a salted caramel buttercream.
Our cupcakes and buttercream are all made entirely from scratch and yield soft, fluffy cakes with rich flavors and silky, luscious American buttercream.
These blueberry lemon cupcakes are made from our Lemony Lemon Cupcakes Recipe. All of our other delicious cupcake recipes can be found in Cupcake Corner on our blog.
Can you make Blueberry Lemon Cupcakes with frozen blueberries?
This is a fresh blueberry dessert, so for the very best, most reliable results choose fresh berries over frozen. The flavor will be outstanding and fresh blueberries can be coated with a light dusting of flour to prevent the juice from bleeding into the batter and changing the color.
Frozen blueberries could be used if necessary, but the cupcakes will likely turn a slight purple hue and the berries will not hold up in the baking process as well, likely adding extra moisture.
What is the secret to super moist Cupcakes?
Soft, fluffy, and moist cakes are always the goal in the baking world. We are sharing our tips to help you bake the very best blueberry lemon cupcakes that will taste fantastic every time.
Always use fresh, high quality ingredients. This is especially important for eggs, milk or cream, butters, and any rising agents.
Warm all ingredients to room temperature. This will help everything combine better and require less mixing time.
Use milk and butter over oils and water for more flavor, added moisture, and lighter texture.
Be careful not to over mix the batter. Over mixing will cause the air bubbles to collapse resulting in flat, dense cakes.
Cook at the proper temperature to prevent uneven baking. Over baked cupcakes will be dry and dense.
Never overfill the cupcakes tins. Fill the tins to 2/3 full to allow for even baking every time.
How do you make the best Blueberry Buttercream?
Blueberry Lemon Cupcakes feature a wonderful blueberry buttercream made from a fresh blueberry reduction sauce. This sauce folded into the creamed butter and gently mixed while the rest of the buttercream ingredients are being added.
The buttercream should be mixed only until everything is combined and light and fluffy in texture to avoid the ingredients breaking down and separating. A bit of cornstarch will help give the buttercream some added structure since the blueberry sauce does add extra liquid. A dash of pure vanilla extract elevates and deepens the flavor of the buttercream to a luscious richness.
How can I elevate these Blueberry Lemon Cupcakes even more?
This recipe is spectacular and can hold it's own in a line up of delicious desserts, but who doesn't love to play around and add some extra pizzaz? We are sharing some ideas for you to try if you are looking to add some flair to these blueberry lemon cupcakes.
Make some extra blueberry reduction and fill the cakes for lemon cupcakes with blueberry filling
Garnish with sugared lemon twists
Make a simple vanilla buttercream for a sweet, simplistic look and less blueberry flavor
Create a two toned swirled buttercream by leaving some of the buttercream plain and infusing the rest with the blueberry reduction
Grate fresh lemon zest over the frosted cupcakes
Garnish with a fresh lemon wedge
Change the swirl design by utilizing different decorating tips
Serve and garnish with fresh sprigs of lavender, rosemary, mint or basil leaves
Fill the cupcakes with a fresh lemon curd
Use decorative cupcake liners to elevate the look and bring a sophisticated aesthetic
Finish with a simple buttercream and drizzle the cupcakes with the blueberry reduction
How do I make my Blueberry Lemon Cupcakes even richer?
If you love a rich cupcake with a strong structure and wonderful flavor, there are a few things you can add to this recipe for lemon blueberry cupcakes.
Using milk will add extra fat and flavor while aiding in the rise of the cake because the protein molecules and lactic acid make the cake consistency lighter. Milk also activates the rising agents baking soda and baking powder.
Adding an extra egg yolk or two will enable the batter to hold more liquid, and, even more sugar. This give the cupcakes more moisture and helps to build a stronger structure that will hold up rather than collapsing once they have cooled.
Using a good quality butter will add more fat and flavor elevating the texture by allowing steam and carbon dioxide to cause the batter to rise. This results in light, tender cakes that will have a beautiful structure and fluffy crumb.
Is milk or cream better to use for Buttercream?
In order to achieve a super fluffy and creamy buttercream use heavy cream rather than milk. Cream holds a higher fat content that will thicken the mixture, giving a similar consistency to whipped cream. Make sure to beat the mixture for a long enough time to incorporate air into the buttercream. This will also elevate it and give it that silky smooth, luscious texture.
Is it better to make Buttercream a day ahead?
Buttercream will have the best taste and texture when used and enjoyed the same day it was made. It can be made early the day of and covered and placed in the fridge for several hours. It's not ideal to make it ahead unless absolutely necessary.
If you do make the buttercream a day early you will need to freshen it up by whipping it in the mixer again. This will warm it so that it is easier to decorate the blueberry lemon cupcakes, and add air back into it so that it is light and fluffy again.
What are the best supplies to make Cupcakes with?
The baking world is all about precision and attention to detail. Supplies will also make a big difference in the quality, ease, and execution of your baked goods. We are sharing our suggestions for what tools and supplies we recommend for how to make lemon blueberry cupcakes that are the very best quality.
Printable Recipe
Yield:

30 cupcakes
Blueberry Lemon Cupcakes
Light and fluffy blueberry lemon cupcakes. These cupcakes feature a lemon cake with fresh blueberries added in. Topped off with a fresh blueberry frosting. So Good!
Ingredients
Cupcakes:
2 1/2 cups cake flour
1 cup fresh blueberries (plus 2 tablespoons of flour to coat)
1 teaspoon baking powder
1 teaspoon baking soda
1 teaspoon salt
1 cup sour cream, room temperature
2 tablespoons grated lemon zest
1/2 cup lemon juice
1 teaspoon vanilla extract
1 cup unsalted butter, room temperature
2 cups granulated sugar
4 large eggs, room temperature
Frosting:
1 cup fresh blueberries
1/4 cup water
1/2 teaspoon vanilla extract
2 tbsp sugar
1 tbsp cornstarch
1 cup butter, softened (unsalted)
2 tbsp whipping cream
2 1/4 cups powdered sugar
Instructions
Cupcakes:
Preheat oven to 350 F. Line Muffin pan with muffin liners.
Sift the flour, baking powder, baking soda and salt together.
In another bowl, whisk sour cream, lemon zest, juice and vanilla.
Beat butter and sugar together on medium speed in a bowl until light and fluffy. Beat in eggs, one at a time, until thoroughly blended.
Reduce the speed to low and beat in 1/3 of the flour mixture, followed by half of the sour cream mixture. Repeat with another 1/3 of the flour mixture and the remaining sour cream mixture. Beat in the remaining flour mixture until just incorporated.
Coat the fresh blueberries in flour (make sure they are completely covered)
Fold them into the batter (do not blend them! just stir in by hand)
Fill muffin tins 2/3 full.
Transfer muffin tin to oven and bake for 15 to 18 minutes.
Transfer muffin tin to a wire rack and let cupcakes cool completely.
Frosting:
In a medium saucepan combine: blueberries, water, corn starch, and sugar. Stir for 15 minutes or until the mixture becomes thick like a jelly.
Remove from the heat and strain the mixture through a wire mesh strainer into a small bowl. The mixture should make around 1/4 cup of a reduced sauce.
Place the small bowl in the fridge, covered for 30 minutes or until cool.
Beat the softened butter in a mixer until it is creamy and fluffy.
Add in the blueberry reduction sauce.
Alternate adding in the powdered sugar and the whipping cream.
Scrape down the sides of the bowl between additions.
Finally add in the vanilla extract and beat until everything is fully incorporated.
Recommended Products
As an Amazon Associate and member of other affiliate programs, I earn from qualifying purchases.
Nutrition Information
Yield
30
Serving Size
1 frosted cupcake
Amount Per Serving
Calories

275
Total Fat

15g
Saturated Fat

9g
Trans Fat

0g
Unsaturated Fat

5g
Cholesterol

63mg
Sodium

192mg
Carbohydrates

34g
Fiber

1g
Sugar

24g
Protein

2g
This recipe is featured on Cupcakes Garden