Light and fluffy blueberry lemon cupcakes will send your taste buds singing. These lemon blueberry cupcakes feature a lemon cake with fresh blueberries added in. They are topped off with a fresh blueberry frosting. So Good!
Now that spring is here and the weather is warm we need cupcakes that scream spring and fruity flavors! This blueberry lemon cupcake recipe is just the thing for spring or summer.
Lemon blueberry dessert cakes are perfect for Spring and Summer parties. They are actually well received all through the year. But to me this is the BEST for breaking out of the winter gray. What a beautiful zingy color and flavor combination.
I'm serving them tomorrow at a small BBQ at our house. They vanish FAST off my cupcake server every time I put them out.
The cake portion of this lovely lemon dessert recipe is an awesome light and fluffy lemon cake. The frosting is a blueberry frosting made from a fresh blueberry reduction sauce.
This Cake recipe is from my Lemony Lemon Cupcakes Recipe. look for them and many other delicious cupcake recipes on Homemade Food Junkie's cupcake corner!
Blueberry Lemon Cupcakes Recipe Notes:
Don't these cupcakes look like spring flowers? I just love how they turned out. So pretty and so delicious!
Can you make these Spring desserts with frozen blueberries?
A cautious yes here. This is a fresh blueberry dessert. For best, most reliable results choose fresh berries over frozen. However, if you really can't access fresh try with frozen berries.
TIPS for frozen blueberries:
Measure the blueberries frozen.
Defrost them to room temperature
Rinse them and drain excess juices before putting them in your cupcakes. Otherwise the cupcakes will turn a muddy grey with blueberry juice and they may be too loose to bake properly.
If using in the reduction sauce the frozen berries will work but the sauce may take a bit longer to reduce.
TIPS on making cupcakes:
DO NOT OVERMIX- this is Really important. The texture of the cupcakes will be MUCH lighter if you don't mix the air out of them.
Do NOT cut corners. Use the ingredients and methods called for exactly.
ALL ingredients need to be at room temperature.
Frosting:
FOLLOW the directions.
Do not get impatient. Take the time to properly do the reduction sauce.
Make SURE the reduction sauce is chilled before making the frosting. The consistency of the frosting depends on it.
This frosting is worth doing perfectly. That flavor is EXCELLENT.
Decorating Tips:
I used a wilton 2D tip and made a rose swirl design. The recipe card has a video you can watch for a quick demonstration of the piping technique.
These cupcakes are really SO good. This blueberry dessert recipe has bursts of blueberry flavor when you bite into the lemon cake. Pairing that with the blueberry buttercream frosting is pure indulgence.
Blueberry Lemon Cupcake printable with a technique video on the frosting decoration: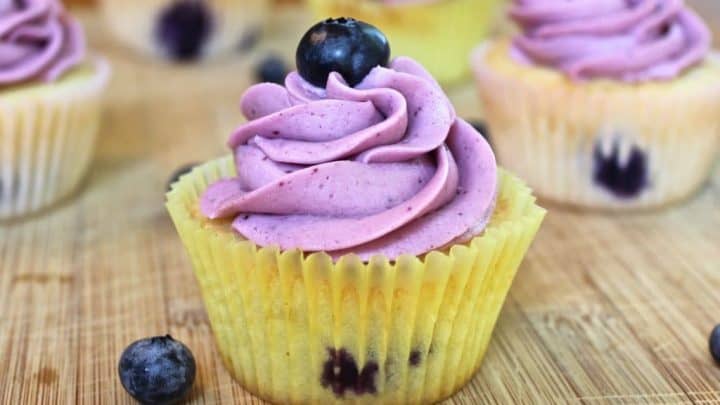 Yield:

30 cupcakes
Blueberry Lemon Cupcakes
Light and fluffy blueberry lemon cupcakes. These cupcakes feature a lemon cake with fresh blueberries added in. Topped off with a fresh blueberry frosting. So Good!
Ingredients
Cupcakes:
2 1/2 cups cake flour
1 cup fresh blueberries (plus 2 tablespoons of flour to coat)
1 teaspoon baking powder
1 teaspoon baking soda
1 teaspoon salt
1 cup sour cream, room temperature
2 tablespoons grated lemon zest
1/2 cup lemon juice
1 teaspoon vanilla extract
1 cup unsalted butter, room temperature
2 cups granulated sugar
4 large eggs, room temperature
Frosting:
1 cup fresh blueberries
1/4 cup water
1/2 teaspoon vanilla extract
2 tbsp sugar
1 tbsp cornstarch
1 cup butter, softened (unsalted)
2 tbsp whipping cream
2 1/4 cups powdered sugar
Instructions
Cupcakes:
Preheat oven to 350 F. Line Muffin pan with muffin liners.
Sift the flour, baking powder, baking soda and salt together.
In another bowl, whisk sour cream, lemon zest, juice and vanilla.
Beat butter and sugar together on medium speed in a bowl until light and fluffy. Beat in eggs, one at a time, until thoroughly blended.
Reduce the speed to low and beat in 1/3 of the flour mixture, followed by half of the sour cream mixture. Repeat with another 1/3 of the flour mixture and the remaining sour cream mixture. Beat in the remaining flour mixture until just incorporated.
Coat the fresh blueberries in flour (make sure they are completely covered)
Fold them into the batter (do not blend them! just stir in by hand)
Fill muffin tins 2/3 full.
Transfer muffin tin to oven and bake for 15 to 18 minutes.
Transfer muffin tin to a wire rack and let cupcakes cool completely.
Frosting:
In a medium saucepan combine: blueberries, water, corn starch, and sugar. Stir for 15 minutes or until the mixture becomes thick like a jelly.
Remove from the heat and strain the mixture through a wire mesh strainer into a small bowl. The mixture should make around 1/4 cup of a reduced sauce.
Place the small bowl in the fridge, covered for 30 minutes or until cool.
Beat the softened butter in a mixer until it is creamy and fluffy.
Add in the blueberry reduction sauce.
Alternate adding in the powdered sugar and the whipping cream.
Scrape down the sides of the bowl between additions.
Finally add in the vanilla extract and beat until everything is fully incorporated.
Recommended Products
As an Amazon Associate and member of other affiliate programs, I earn from qualifying purchases.
Nutrition Information
Yield
30
Serving Size
1 frosted cupcake
Amount Per Serving
Calories

275
Total Fat

15g
Saturated Fat

9g
Trans Fat

0g
Unsaturated Fat

5g
Cholesterol

63mg
Sodium

192mg
Carbohydrates

34g
Fiber

1g
Sugar

24g
Protein

2g
Pin it:
This recipe is featured on Cupcakes Garden