Delicious light and fluffy champagne cupcakes exude elegance, class and star power. With the proper presentation you have a sumptuous dessert that will impress at any event. For a delicious and sophisticated combination of flavors and textures, top them with champagne buttercream.
What does champagne cake taste like? Champagne cake is made with a champagne reduction sauce which adds a subtle sweetness and effervescence to the cake. Consequently, Champagne cake has a light and delicate flavor perfectly suited for celebrations and special occasions.
The flavor of champagne cakes can vary depending on the recipe and the type of champagne or sparkling white wine used. Some champagne cakes have a more pronounced champagne flavor, while others have a more subtle flavor.
We consider our recipe to have a rather subtle champagne flavor, but you will taste it.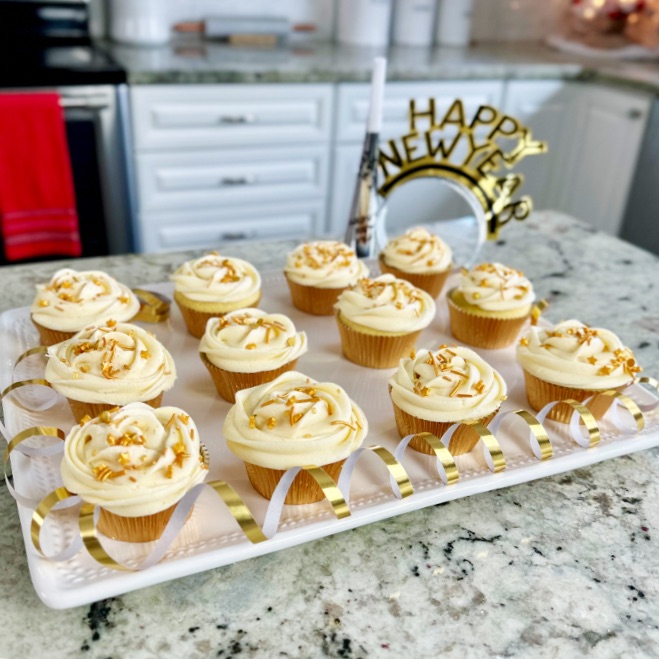 Events perfect for Serving Champagne Cupcakes:
These light textured, delicious champagne cupcakes are perfect for a variety of special events.
Weddings: These slightly boozy cupcakes would be a delightful and elegant dessert option for a wedding reception or bridal shower.
New Year's Eve parties: Serve them as a fun and celebratory treat at a New Year's Eve party.
Birthdays: Surprise someone special with a batch of festive small champagne cakes on their birthday.
Graduations: Sophisticated cupcakes like these would be a fitting treat to celebrate a graduation, whether it's from high school, college, or graduate school.
Baby showers: These cupcakes would be a fun dessert option for a baby shower.
Bridal showers: Serve these bubbly cupcakes as a dessert for the next bridal shower you host. They add a touch of class and celebration to the occasion.
Anniversaries: Surprise your loved one with a batch of these Light textured cupcakes to celebrate your anniversary.
These light and fluffy cupcakes are a delicious treat that are perfect for LOTS of special occasions.
How to Make Pink Champagne Cupcakes:
Turn this recipe into Pink Champagne cupcakes recipe. It does not require pink champagne. Although you can use that if you wish. Pink Champagne may give a slight pink blush to the cupcakes but they won't really be pink.
Instead, just add in a few drops of red food dye to the finished cupcake batter and buttercream frosting. Mix the drops in well and adjust the color as you prefer.
Viola! There's your recipe for Pink Champagne cupcakes from scratch. Easy peasy.
Try these As Mini Champagne Cupcakes:
Making this recipe into Mini champagne cupcakes is a great way to stretch the recipe from 12 servings to at least 24 and possibly even 36 depending on your mini muffin baking pan size.
Properly presented minis can go anywhere the full sized cupcakes are appropriate. They would make a lovely addition to a wedding reception, bridal shower, or engagement party.
They could also be served at a New Year's Eve celebration, a birthday party, or any other festive gathering. Mini champagne cupcakes are a fun and elegant treat that are sure to be enjoyed by all.
Mini cupcakes like these are especially smart to serve at events with a lot of other food. The small bite sized cakes are a welcome mouthful of deliciousness and won't be wasted.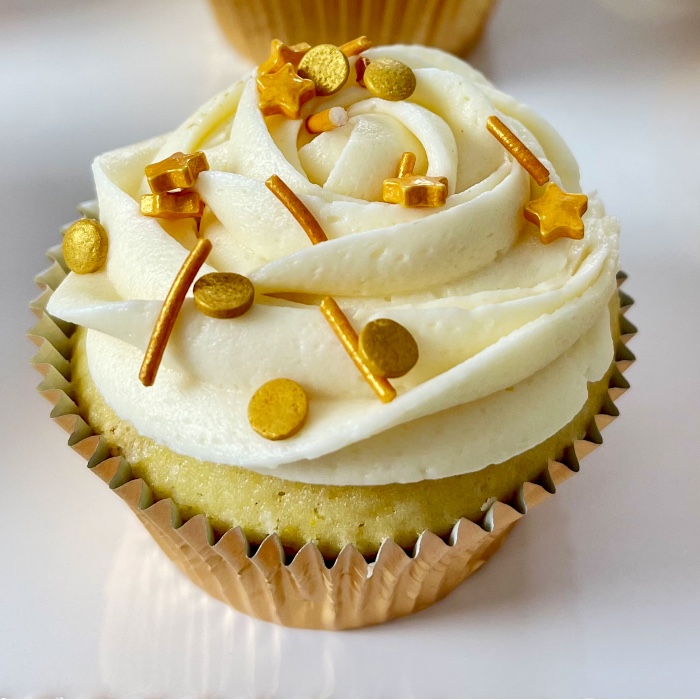 Good Toppings for These Cupcakes:
These lightly boozy cupcakes pair well with a variety of frostings and toppings. If you want to replace the champagne buttercream, here are some ideas on delicious toppings for these delicious cupcakes.
Fresh fruit: Add a pop of color and flavor to your cupcakes with fresh fruit, such as raspberries, blueberries, or sliced strawberries.
Edible Luster Dust: A slight sprinkling of luster dust on your cupcakes, or other cupcake toppings can add just the right amount of color and subtle shine to really set them off.
Chocolate shavings: Sprinkle some chocolate shavings over the top of your cupcakes for a decadent touch.
Sprinkles: Add some fun and whimsy to your cupcakes with colorful sprinkles. We used these sprinkles for our New Years presentation. We also used these sprinkles for our champagne jello shots. So pretty!
Crushed cookies or candies: Crush up some of your favorite cookies or candies and sprinkle them over the top of your cupcakes for added texture and flavor.
Chocolate ganache: Make a simple chocolate ganache by melting some chocolate and heavy cream together and drizzling it over the top of your cupcakes.
Caramel sauce: Drizzle some caramel sauce over the top of your cupcakes for a sweet and indulgent touch.
Whipped cream: Top your cupcakes with a dollop of whipped cream for a light and fluffy finish.
Try our raspberry champagne cupcakes with our fresh raspberry buttercream.
The toppings you choose for your cupcakes will depend on your personal preferences and the theme or occasion of your event. Experiment with different toppings to find the perfect finishing touch for your cupcakes.
What Does Champagne Do In Baking?
Champagne and other alcohols do more than add a bit of buzz and flavor into your baked goods. Champagne adds a subtle sweetness and effervescence to the finished product. Including champagne in baked goods also creates a light, airy texture in the final baked product.
Champagne is a fun and festive ingredient to use in all kinds of baked goods. It adds a touch of celebration and sophistication people will enjoy. Just keep in mind that it does contain alcohol, so it may not be suitable for all audiences.
Why Make a Champagne Reduction Sauce?
These are fairly easy Champagne cupcakes to make. Although they do require a you make a champagne reduction sauce.
Reducing the champagne or sparkling wine is essential to the success of this recipe. We use the reduction sauce in both the cupcakes and the buttercream.
By concentrating the champagne in this reduction sauce we add the unique and sophisticated flavor we are going for in this dessert combo without adding too much liquid. Adding the champagne straight into the recipe rather than using the reduction sauce will make a noticeable difference. And not in a good way.
Reducing champagne does require some time and attention. But that extra flavor is more than worth it. The flavor boost in the cupcakes and frosting will richly reward you. They are going to be the best champagne cupcakes you've made. Just follow the easy instructions.
Can Kids Eat Champagne Cupcakes?
Do Champagne cupcakes have alcohol? Yes, these cupcakes and all baked goods made with alcohols will have a small amount of alcohol content in the finished baked product. The alcohol content is normally quite low. But it is not recommended to serve alcoholic beverages or foods to children or those that wish to avoid alcohol.
Even when you cook alcohol in a reduction sauce, the alcohol is still not completely cooked out. A reduction sauce is made by simmering a liquid, such as wine or champagne, until it has thickened and reduced in volume.
The simmering process does cause some of the alcohol to evaporate, but not all of it. The longer you cook the sauce, the more alcohol will evaporate, but there will still be some alcohol left in the finished sauce. Refer to the USDA Chart below to see how much alcohol is left.
If you are planning to serve the cupcakes for an event where children or non drinkers will be present, you may want to consider making a non-alcoholic version of the cupcakes and buttercream. Do this by replacing the champagne or sparkling white wine in the recipe with a non alcoholic champagne. This way, everyone can enjoy a special and celebratory treat, regardless of their age or drinking status.
Alternatively, you can make a separate batch of non-alcoholic cupcakes like these for the children to enjoy, alongside the bubbly champagne cupcakes.
What is a Good Champagne For Baking?
When it comes to baking with champagne, it is generally best to use a dry champagne or sparkling white wine for the reduction sauce. These types of champagne have a lower sugar content and a more pronounced flavor, which can help to add depth and complexity to your baked goods. Some good options for dry champagnes and sparkling white wines to use in baking include:
All of these alcohols will work beautifully for these cupcakes. In general, when choosing a champagne or sparkling white wine for baking, look for a dry option with a crisp and refreshing flavor. This will help to enhance the flavor of your baked goods and add a touch of sophistication to your desserts.
Cupcake Baking Tips:
Tips for baking light and fluffy cupcakes:
Use unsalted butter for Best Results.
Make sure all your ingredients are at room temperature before you begin. For these cupcakes we cook a reduction sauce. It is critical you allow the reduction sauce to Cool completely before adding it into the recipe. Otherwise your cupcake texture will suffer.
Make sure to preheat your oven
Line your cupcake pan with paper liners. This will make it easier to remove the cupcakes from the pan once they're baked.
Mix the dry ingredients separately: In a medium bowl, mix together(sifting ingredients works best) the flour, baking powder, and salt. This will help to distribute the leavening agents evenly throughout the batter.
Cream the butter and sugar: In a separate large bowl, use an electric mixer to cream together the butter and sugar until the mixture is light and fluffy. This will add air to the batter, which will help the cupcakes to rise.
Add the eggs and vanilla: Beat in the eggs one at a time, followed by the vanilla extract. Be sure to scrape the sides of the bowl to ensure that everything is well-mixed.
Add the dry ingredients: With the mixer on low speed, slowly add the dry ingredients to the wet ingredients, mixing until just combined. Be careful not to overmix, as this can lead to tough cupcakes.
Fill the cupcake liners: Use a spoon or ice cream scoop to fill the cupcake liners about two-thirds full. Tap the pan gently on the counter to release any air bubbles.
Bake the cupcakes: Place the pan in the preheated oven and bake until the cupcakes are golden brown and a toothpick inserted in the center comes out clean, about 18-20 minutes.
Cool and frost: Allow the cupcakes to cool completely before frosting.
Champagne Buttercream Frosting:
We double down on the champagne flavors in our cupcake recipe by topping them with this creamy, smooth champagne buttercream. The subtle champagne flavors in the cupcakes and the frosting compliment each other perfectly and add a touch of luscious elegance.
Champagne buttercream frosting is a creamy and smooth frosting with a subtle, bubbly flavor. It is made with butter, powdered sugar, champagne reduction sauce and vanilla extract. We also add in a bit of edible gold luster dust (optional) to add a bit of sparkle.
It is Marvelous with champagne cupcakes. They were made for each other!
More Ways to Use Champagne Buttercream Frosting:
Champagne buttercream frosting is a delicious, creamy frosting to use with a variety of baked goods. It is truly a recipe you will want to keep in your recipe box for future baking projects.
More Ways to Use Champagne Buttercream Frosting:
Frost the top of champagne cakes like this recipe, as a sweet and celebratory finishing touch.
As a filling for layer cakes or as a frosting for sheet cakes. Champagne buttercream pairs well with a variety of flavors, such as vanilla, chocolate, or strawberry.
On top of shortbread cookies or other simple, buttery cookies for a touch of elegance.
As a filling for cream puffs or éclairs.
On top of small, bite-sized pastries or tartlets for a sophisticated dessert option.
Champagne buttercream frosting can be used in a variety of desserts and baked goods. Experiment with using it in different recipes to find your favorite way to enjoy it!
Tips for Perfect Buttercream:
Use room temperature butter: It's important to use butter that is soft, but not melted. If the butter is too cold, it will be difficult to mix and will result in a lumpy frosting. If the butter is too warm, it will be too soft and the frosting will be runny.
Sift the confectioners' sugar: Sifting the confectioners' sugar will help to remove any lumps and make the frosting smooth.
Gradually add the confectioners' sugar: Add the confectioners' sugar to the butter a little at a time, mixing well after each addition. This will help to prevent the frosting from becoming too sweet.
Add flavoring and liquid: Once the confectioners' sugar is well-incorporated, you can add any flavorings (such as vanilla extract or cocoa powder) and a little bit of liquid (such as milk or heavy cream) to thin out the frosting and make it easier to spread.
Adjust the consistency: If the frosting is too thick, add a little more liquid. If it's too thin, add a little more confectioners' sugar.
Mix well: Be sure to mix the frosting well to ensure that it is smooth and creamy. You can use an electric mixer or a whisk to do this.
Frost your treats: Once the frosting is ready, you can use it to frost cakes, cupcakes, cookies, or any other treats you desire. Enjoy!
Printable Recipe for Champagne Cupcakes and Buttercream:
Yield:

12 cupcakes
Champagne Cupcakes with Champagne Buttercream Frosting
Total Time:
1 hour
5 minutes
Champagne cupcakes are a festive and delicious treat that can be enjoyed at any celebration. These light and fluffy cupcakes have a delicate champagne flavor. The Smooth, rich and creamy champagne buttercream blends beautifully with the cupcake flavors. Take them to your Festive events with pride.
Ingredients
Champagne Reduction Sauce:
Cupcake batter:
1 ½ Cups cake flour

1 ½ tsp. baking powder
¼ tsp. salt
½ Cup unsalted butter (melted)
1 Cup granulated sugar
2 eggs (room temperature)
2 tsps. vanilla extract
2 tablespoons champagne reduction sauce
⅓ Cup milk (whole works best)
Frosting:
1 Cup unsalted butter room temperature

3 Cups powdered sugar

¼ tsp. edible gold luster dust

½ tsp. vanilla extract 

3 tablespoons champagne reduction sauce
Instructions
Champagne Reduction Sauce:
Pour 1 1/2 cups champagne into sauce pan.
Bring to a boil Reduce heat to medium and allow champagne to reduce for 10 to 15 minutes.
Remove from heat when 1/2 cup champagne reduction is left
Cool to room temperature before adding to batter
Cupcakes:
Preheat the oven to 350°F.
 Whisk the cake flour, baking powder, and salt together in a large bowl.
In a stand mixer, cream the melted butter, sugar, eggs, vanilla, and champagne reduction together until combined.
In a separate bowl sift or mix together all the dry ingredients.
Mix in half of the flour mixture to the wet ingredients..
Then mix in the milk and the rest of the flour mixture until fully combined. DO NOT OVERMIX.
Fill liners half full with batter.
Bake at 350°F for 18-20 minutes or until a toothpick comes out clean.
Remove from pan and cool on wire rack.
Let cupcakes cool completely before frosting.
Frosting:
In a stand mixer fitted with the paddle attachment, beat softened butter until pale and whipped (about 5 minutes)
Add in powdered sugar, gold luster dust and vanilla until smooth and creamy.
Add the champagne reduction 1 tablespoon at a time until fully combined.
Beat the buttercream for 3-4 minutes on high speed until light and fluffy.
Frost cupcakes (I used a Wilton 2D piping tip)
Serve.
Notes
How many mini champagne cupcakes can you make with this recipe for 12 regular cupcakes?
It depends on the size of your mini muffin tin. Generally, a recipe for 12 regular cupcakes will yield 24-36 mini cupcakes, depending on the size of the mini muffin cups. If you use a mini muffin tin with cups that hold 1 tablespoon of batter, you should be able to get 36 mini cupcakes. If the cups hold 2 tablespoons of batter, you should get around 24 mini cupcakes. Just be sure to fill the cups no more than 3/4 full to allow for proper rising.
How Long To Bake Mini Champagne Cupcakes?
To bake mini champagne cupcakes, preheat your oven to 350°F (175°C). Then, fill a mini muffin tin with the cupcake batter and bake for 10-12 minutes, or until a toothpick inserted into the center of a cupcake comes out clean. Allow the cupcakes to cool in the tin for a few minutes before transferring them to a wire rack to cool completely.
Non- Alcoholic Champagne Cupcakes:
You can make a non-alcoholic champagne reduction sauce by using a non-alcoholic sparkling wine or champagne.
The cooking process and ingredient ratios will be the same. The non-alcoholic champagne reduction sauce can be used in any recipe that calls for a champagne reduction sauce and will add a similar flavor without the alcohol content.

To Make Pink Champagne Cupcakes:
To make pink champagne cupcakes you will need to add a few drops of red food dye to the completed cupcake batter and mix until well combined. BUT DO NOT OVERMIX THE BATTER. You can adjust the color as desired by adding enough coloring to give you the pink hue you prefer.

The cupcakes are called "pink" because of the pink color of the batter and frosting. You do not need to use a pink champagne to make these cupcakes. Any type of champagne will work. The champagne is used to add flavor to the cupcakes and can be any color. However, using a pink champagne might give the cupcakes a slight pink tint and enhance the overall pink color of the cupcakes.
Nutrition Information
Yield
12
Serving Size
1
Amount Per Serving
Calories

459
Total Fat

24g
Saturated Fat

15g
Trans Fat

0g
Unsaturated Fat

8g
Cholesterol

93mg
Sodium

125mg
Carbohydrates

58g
Fiber

0g
Sugar

44g
Protein

3g
More Delicious Cupcakes:
Here are some of our favorite cupcakes. These beautiful cupcakes will serve almost any occasion. Nothing tastes better than made from scratch when it comes to cupcakes.
Follow Us:
We enjoy meeting you on our social networks. Follow us on Facebook, Pinterest, Instagram . Tag us with your pictures of our recipes and comment on how it went for you. We would love to see what you do with them.
We often like, comment and share your posts of our recipes on our daily Instagram stories.
Ask questions and rate the recipe in the comments section below. Please share what you did with this recipe. We are always looking for more and better ways to make homemade food. Other cooks love your ideas!
Recent Posts: