These delightfully flavored orange creamsicle cupcakes are perfect for summer parties and get togethers! Add a little pizzazz to your next party with these cuties!
I absolutely love all things creamsicle! My deep love for this delectable treat started back when I was in the military. It's really very embarrassing.
I was always so exhausted and lazy after work that I would go back to my dorm room and eat whatever was convenient.
Often times I was too lazy to shop at all so I would live on whatever I could find in my fridge. My main course was usually plain flour tortillas, mustard, and ranch.
For dessert I would have a lovely creamsicle popsicle waiting for me. 🙂
When I met my husband and he figured out what I had been living on he was absolutely horrified.
He forced me to toss out my beloved tortillas and mustard and started feeding me real food..
But he let the creamsicles stay. Not that he could have stopped me. I have a long and beautiful relationship with my creamsicle treats.
I really wanted to make something this week that had a little pop of summer color in it. So I settled on these yummy blasts from the past!
The cupcake is a light orange cake that is filled with vanilla cream cheese frosting. I have topped them with an orange and vanilla swirled cream cheese frosting.
It's AMAZING what the filling and frosting do for these orange flavored cupcakes. They really do remind one of creamsicles. 🙂
These orange cream cupcakes are PERFECT for a summer party.
I think these are a perfect choice for a group event. They would be fun for a baby shower, bridal party or even a wedding reception.
Your mom would love these delightful orange goodies for her special Mom's day treat. The filling!!
How to Make Filled Cupcakes:
The filling is just the frosting in this version of creamsicle cupcakes. I have heard of marshmallow fillings but we are frosting devotees here.
You can fill LOTS of cupcakes. Hop over to cupcake corner for inspiration.

Decadent Snickers Cupcakes, Easter Egg Cupcake, Princess Cupcake Dress are a few of my filled cupcakes.

We love the filled ones!
Whatever filled cupcake you are making the process is similar.
Once you have the filling created set it aside.
Core out the middle of you cupcake top with a melon scoop, or sharp knife to the size you prefer.
Push the filling into the cupcake level or close to the top. Now frost and decorate as the recipe requires.
It's really quite easy.
Orange Creamsicle Cake From Scratch Recipe:
These tasty little cuties are not hard to make. Just follow the directions in the printable recipe.
You can make this orange cupcake recipe as a sheet cake without filling. Just use orange food coloring for the frosting though. I'm pretty sure the swirl would fail on a sheet cake.
DECORATING IDEA:
I made the frosting two toned by separating the frosting and coloring half of it.
Then I put the two colors together in a piping bag and swirled it on the top. Very easy and very cute!
If you need help with the concept of piping two color of frosting at once. Watch the video in the recipe card for a demonstration on the technique.
Your Printable Recipe Card: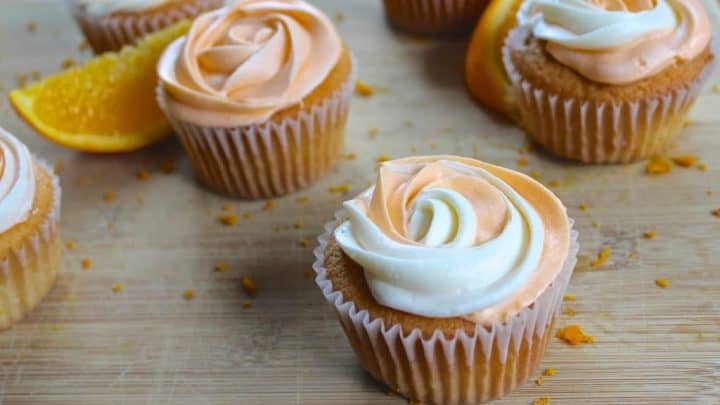 Yield:

30
Orange Creamsicle Cupcakes
These delightfully flavored orange creamsicle cupcakes are perfect for summer parties and get togethers! Add a little pizzazz to your next party with these cuties!
Ingredients
Cupcakes:
2 1/2 cups - all-purpose flour
1 teaspoon - baking soda
1/4 teaspoon - salt
1/2 cup - buttermilk
1/2 cup - sour cream
2 to 4 drops - orange food coloring
1 cup - unsalted butter, softened
2 cups - Granulated Sugar
4 - large eggs
1 tablespoon - orange extract
Frosting:
2 sticks unsalted butter, room temperature
1 8 oz. block of cream cheese, softened
4 cups confectioner sugar
1/2 teaspoon orange extract
1/2 teaspoon vanilla extract
Instructions
Cupcakes:
Whisk together the flour, baking soda, and salt in a small bowl and set aside.
Next, combine the buttermilk, sour cream and orange extract in a separate bowl and set aside.
Beat the butter until it is creamy, slowly add in the granulated sugar. Add in eggs one at a time.
Finally, alternate adding portions of the flour mixture and the sour cream mixture into the bowl. Beat in between additions. scrape down sides and make sure that all ingredients are combined.
Add in orange food coloring and beat on low until desired color is achieved.
Place batter in a muffin tinned lined with cupcake liners, fill each cup 2/3 full.
Bake at 350 F for 18-20 minutes
Frosting:
Combine Butter and cream cheese, beat until it is smooth.
Next, add in the powdered sugar one cup at a time, beating between additions.
Divide the batter in half and place a portion of it in another medium sized bowl.
Flavor the batter that you would like orange with the orange extract.
In the other bowl, flavor the batter with vanilla extract.
Color the bowl with the orange flavor with food coloring until it is the color you would like.
filling:
Core out the center of the cupcakes and fill with vanilla frosting.
Decorating:
For the top, combine both frosting colors into 1 piping bag.
Pipe frosting into a bowl until both colors are coming out at once.
Pipe any desired swirl decoration on top of the cupcakes. (watch the video for the two toned frosting technique demonstration)
Nutrition Information
Yield
30
Serving Size
1 frosted cupcake
Amount Per Serving
Calories

310
Total Fat

16g
Saturated Fat

10g
Trans Fat

0g
Unsaturated Fat

5g
Cholesterol

67mg
Sodium

104mg
Carbohydrates

39g
Fiber

1g
Sugar

30g
Protein

3g
Pin it:
Adapted From: Dominic Sugar and The Cake Blog