These delightful Orange Creamsicle Cupcakes are soft and fluffy with a silky smooth vanilla buttercream center. Made with buttermilk, sour cream, and orange extract, they have a rich flavor that tastes just like a creamsicle.
The two tone frosting is made with cream cheese for a rich, creamy texture that balances the sweet cakes. This double frosting technique is easy to do, and we show you how in this post. Cupcakes are one of our favorite desserts, and we have a bunch to choose from including our decadent snickers cupcakes, vanilla cupcakes, and fresh strawberry cupcakes.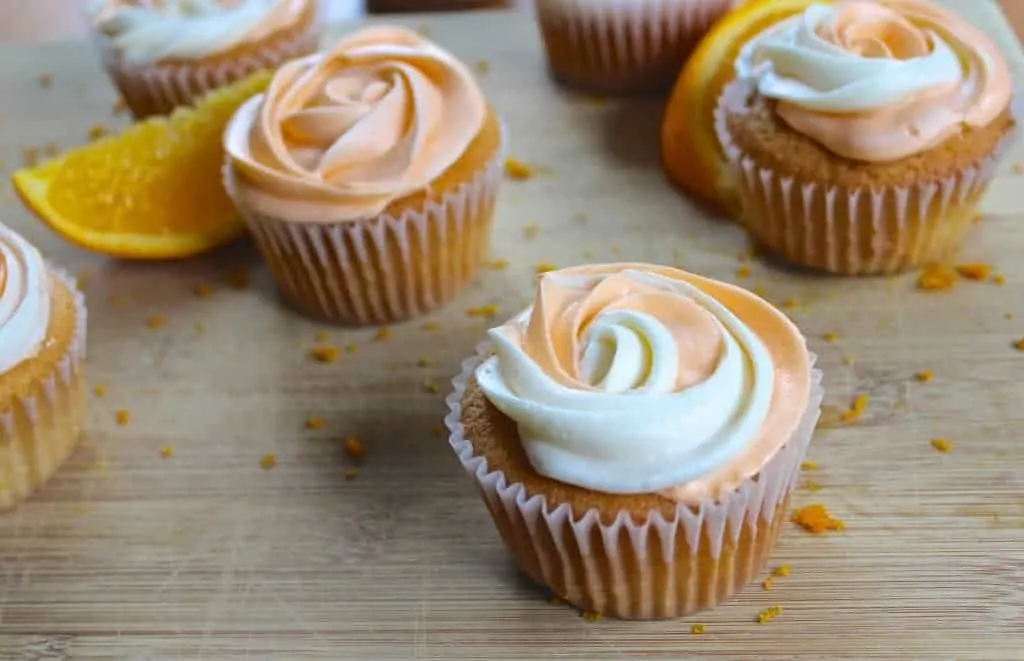 How do you bake moist cupcakes?
Soft, fluffy, and moist cakes are always the goal in the baking world. We are sharing our tips to help you bake the very best orange creamsicle cupcakes that will taste fantastic every time.
Always use fresh, high quality ingredients. This is especially important for eggs, milk or cream, butters, and any rising agents.
Warm all ingredients to room temperature. This will help everything combine better and require less mixing time.
Use milk and butter over oils and water for more flavor, added moisture, and lighter texture.
Be careful not to over mix the batter. Over mixing will cause the air bubbles to collapse resulting in flat, dense cakes.
Cook at the proper temperature to prevent uneven baking. Over baked cupcakes will be dry and dense.
Never overfill the cupcakes tins. Fill the tins to 2/3 full to allow for even baking every time.
How do you put filling in a cupcake?
There is nothing better than biting into a cupcake and discovering a scrumptious filling. Fruit filled, frosting filled, cream filled…we love them all; and that is why we chose to fill these orange creamsicle cupcakes with an extra dollop of vanilla cream cheese frosting.
To fill you cupcakes simply core out the center when they are finished baking and have cooled completely. This can be done using a special cupcake corer tool, a small knife, or a spoon. Remove a small amount of cake from the center, creating a space to fill with frosting, creams, or fruits.
You can also fill a cupcake without coring it first. Plunge a decorators bag fitted with a large circle tip into the middle of the cupcakes and dispense a small amount of frosting.
Coring cupcakes will create a larger space for more filling, and will present a beautiful, more uniformed look to the cupcake when it is opened.
Is it better to make cupcakes with water or milk?
Milk, buttermilk, and cream are the best liquids to use when baking cakes. Full fat dairy products will provide soft, fluffy textures and rich flavor. Milk will aid in the rise of your cupcakes because the protein molecules and lactic acid help to activate rising agents like baking soda and baking powder.
How do you make perfectly level cupcakes?
Making beautifully level, soft and fluffy cupcakes can be achieved by following some basic baking techniques. These tips will be necessary to follow when learning how to make orange creamsicle cupcakes.
Be careful not to over mix the cupcake batter. Over mixing will cause the air in the batter to collapse, resulting in dense cakes.
Don't overfill your cupcake tins. Fill the cupcake tins to 2/3 full to prevent the cakes from rising over the edge of the liner.
Bake at the lowest temperature the recipe calls for, and consider lowering the temperature even more in the final 10 minutes of bake time. This will help your cupcakes bake slow and more evenly.
Consider cooling your batter before baking. Warm batter will rise more, resulting in tall and fluffy mini cakes with a domed top.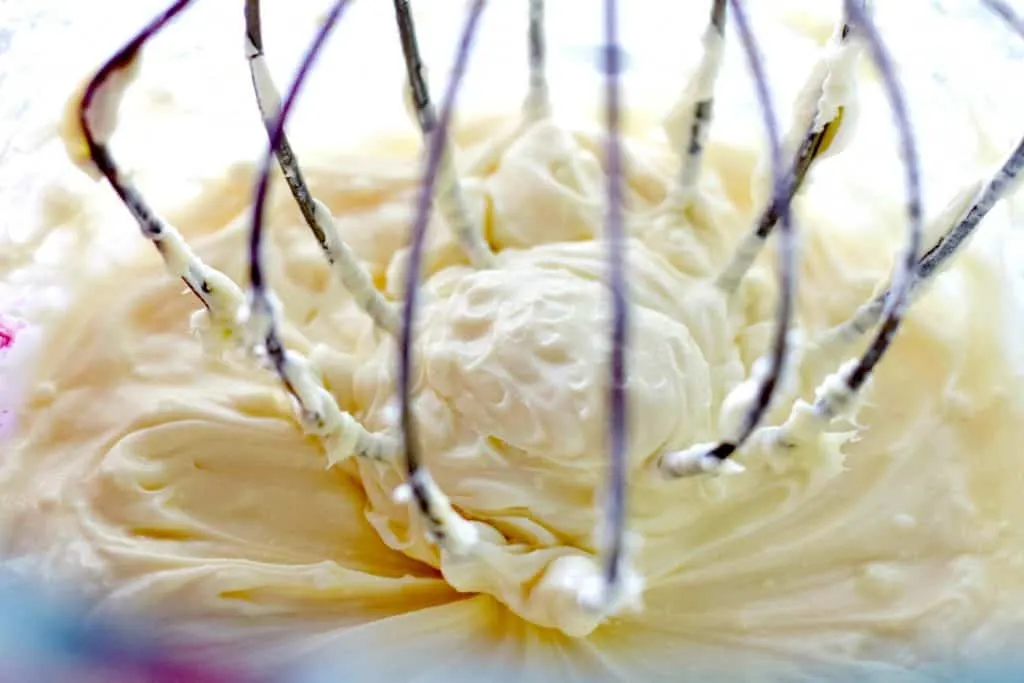 How do you make the best cream cheese frosting?
Cream cheese frostings are a favorite because they have a scrumptious flavor and thick, creamy consistency. They are similar to American buttercream, but instead of butter, cream cheese is used as the fat base.
If you are looking to elevate this basic cream cheese frosting, they are many methods that you can use. Here are some ideas to get you going.
Add a pinch of salt
Add in a bit of whipped cream to lighten the consistency
Whip the frosting for a long time to give it a 'whipped' texture
Add in some fresh orange zest for a bold flavor addition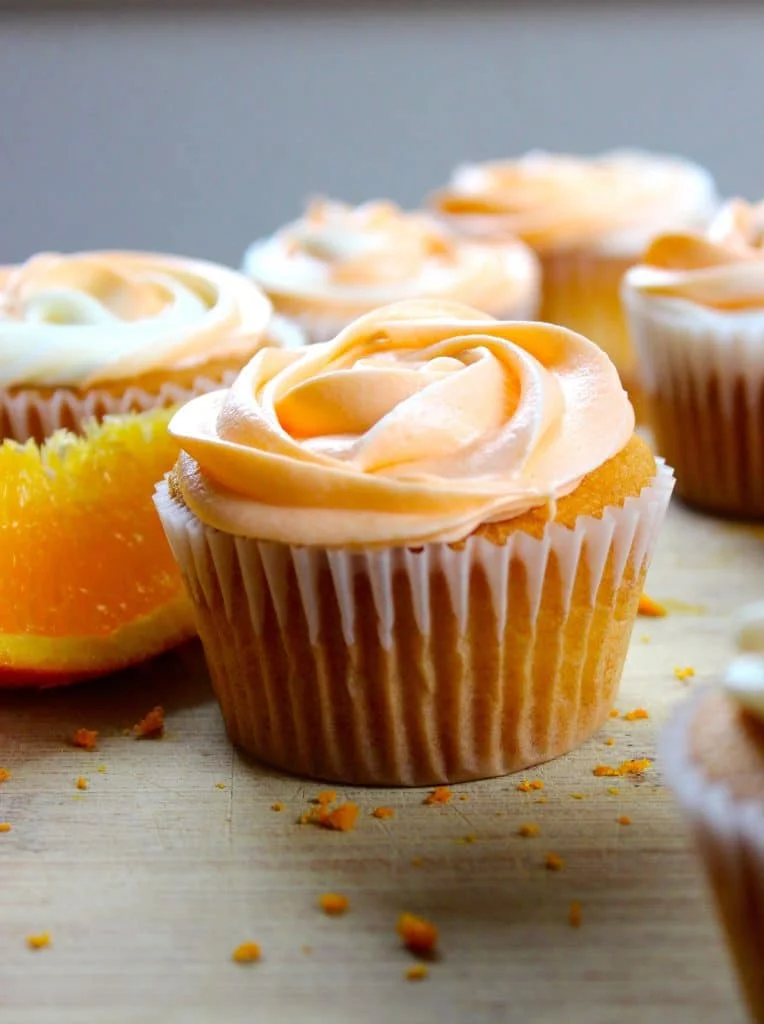 Orange Creamsicle Cupcakes from Scratch Recipe
These tasty orange creamsicle cupcakes are perfect for a summer party. Bright and delicious with endless ways to dress them up or down to fit your theme.
We love the fresh flavors of this recipe, but with a few adjustments you could whip up a batch of orange creamsicle cupcakes with orange crush buttercream frosting using the popular soda! These cupcakes are fun and everyone will love them.
If you need help with the concept of piping two color of frosting at once. Watch the video in the recipe card for a demonstration on the technique.
Your Printable Recipe Card: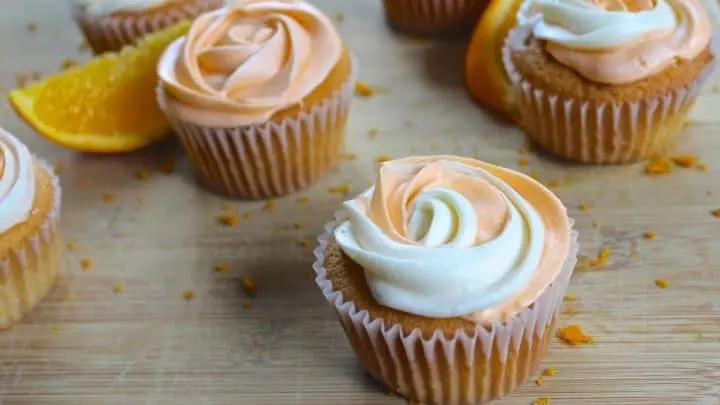 Yield:

30
Orange Creamsicle Cupcakes
These delightfully flavored orange creamsicle cupcakes are perfect for summer parties and get togethers! Add a little pizzazz to your next party with these cuties!
Ingredients
Cupcakes:
2 1/2 cups - all-purpose flour
1 teaspoon - baking soda
1/4 teaspoon - salt
1/2 cup - buttermilk
1/2 cup - sour cream
2 to 4 drops - orange food coloring
1 cup - unsalted butter, softened
2 cups - Granulated Sugar
4 - large eggs
1 tablespoon - orange extract
Frosting:
2 sticks unsalted butter, room temperature
1 8 oz. block of cream cheese, softened
4 cups confectioner sugar
1/2 teaspoon orange extract
1/2 teaspoon vanilla extract
Instructions
Cupcakes:
Whisk together the flour, baking soda, and salt in a small bowl and set aside.
Next, combine the buttermilk, sour cream and orange extract in a separate bowl and set aside.
Beat the butter until it is creamy, slowly add in the granulated sugar. Add in eggs one at a time.
Finally, alternate adding portions of the flour mixture and the sour cream mixture into the bowl. Beat in between additions. scrape down sides and make sure that all ingredients are combined.
Add in orange food coloring and beat on low until desired color is achieved.
Place batter in a muffin tinned lined with cupcake liners, fill each cup 2/3 full.
Bake at 350 F for 18-20 minutes
Frosting:
Combine Butter and cream cheese, beat until it is smooth.
Next, add in the powdered sugar one cup at a time, beating between additions.
Divide the batter in half and place a portion of it in another medium sized bowl.
Flavor the batter that you would like orange with the orange extract.
In the other bowl, flavor the batter with vanilla extract.
Color the bowl with the orange flavor with food coloring until it is the color you would like.
filling:
Core out the center of the cupcakes and fill with vanilla frosting.
Decorating:
For the top, combine both frosting colors into 1 piping bag.
Pipe frosting into a bowl until both colors are coming out at once.
Pipe any desired swirl decoration on top of the cupcakes. (watch the video for the two toned frosting technique demonstration)
Nutrition Information
Yield
30
Serving Size
1 frosted cupcake
Amount Per Serving
Calories

310
Total Fat

16g
Saturated Fat

10g
Trans Fat

0g
Unsaturated Fat

5g
Cholesterol

67mg
Sodium

104mg
Carbohydrates

39g
Fiber

1g
Sugar

30g
Protein

3g
Be sure to check out more delicious cupcake recipes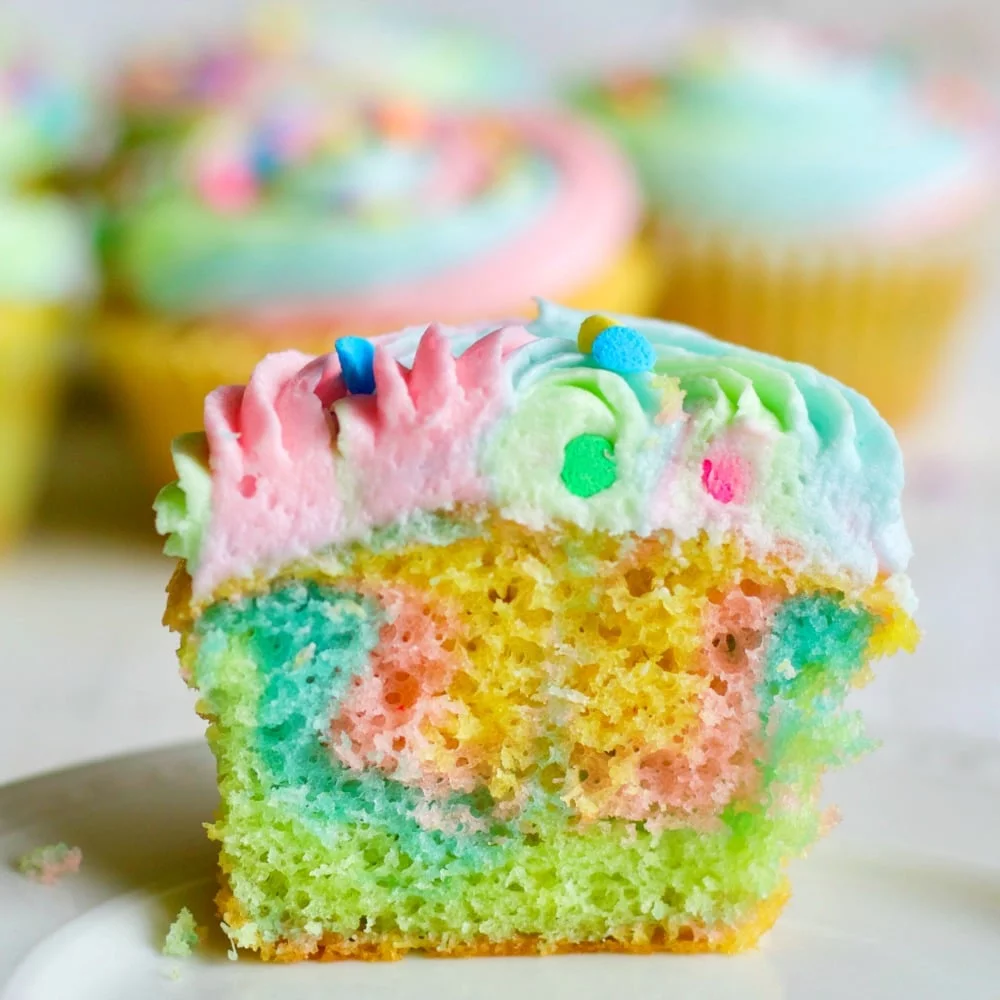 Follow Us:
We enjoy meeting you on our social networks. Follow us on Facebook, Pinterest, Instagram . Tag us with your pictures of our recipes and comment on how it went for you. We would love to see what you do with them.
We often like, comment and share your posts of our recipes on our daily Instagram stories.
Ask questions and rate the recipe in the comments section below. Please share what you did with this recipe. We are always looking for more and better ways to make homemade food. Other cooks love your ideas!
Recent Posts: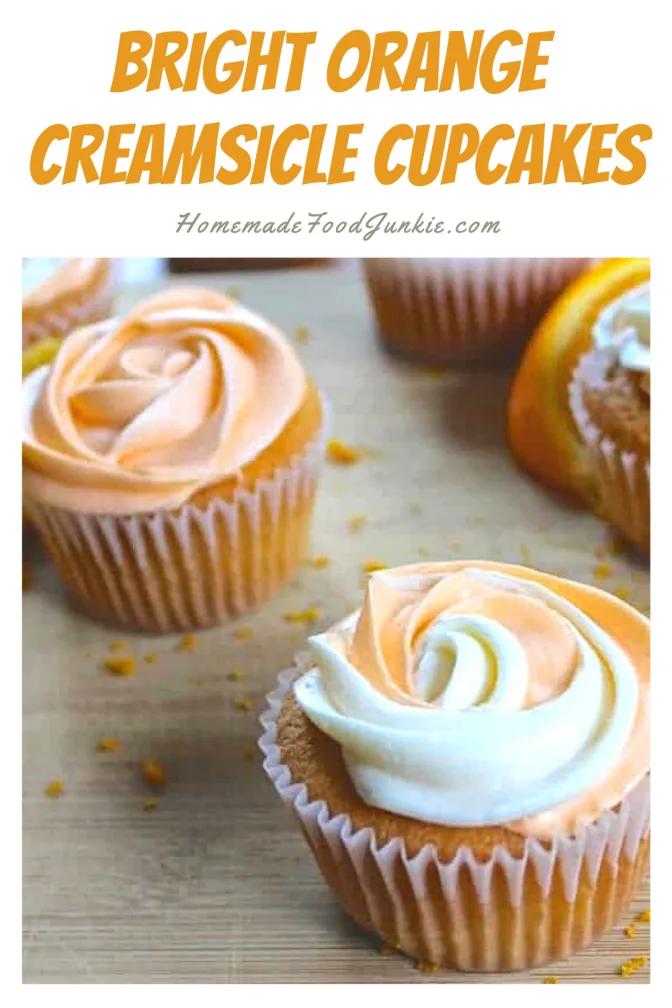 Adapted From: Dominic Sugar and The Cake Blog