These adorable multi colored rainbow cupcakes are delicious, super cute and easy to make! Colorful and fun, they are sure to be a hit at any gathering.
First off, I know what you're thinking "those aren't really "rainbow" cupcakes, there are only 4 colors." To me, any array of colors says rainbow! You can make these cute cupcakes with any color combination that you like. I only had 4 different colors, so I only used 4.
These adorable cupcakes are not only colorful, they are super easy to make! This was my first time making them, and they turned out great. The family gobbled them down. I'm using my tried and true vanilla cupcake batter. My Princess cupcake Dress also uses this recipe. So many ways to make a simple cupcake into a party table star!
I love the colors in both the cupcake and frosting. I used a different type of rainbow frosting technique in my St. Patrick's Day Rainbow cupcakes. I show you how to do that easy rainbow swirl with a chocolate guinness cupcake. But you can do that with this multicolor cupcake too!
This rainbow or multi color technique is as simple as separating the batch of batter out into 4-6 different bowls, and coloring them each a different color. I used gel colors in my cupcakes, the gels are a little easier to work with than the traditional drop liquid food coloring. I find it simpler to control the depth of color with the gels.
After the bowls are colored, you just drop the colors one by one into the cupcake tin liners. If you want, you can swirl a toothpick into the cupcake to marble the colors a little. I tried it both ways and each time I loved the colors! Look at the video shown above  if you need a visual.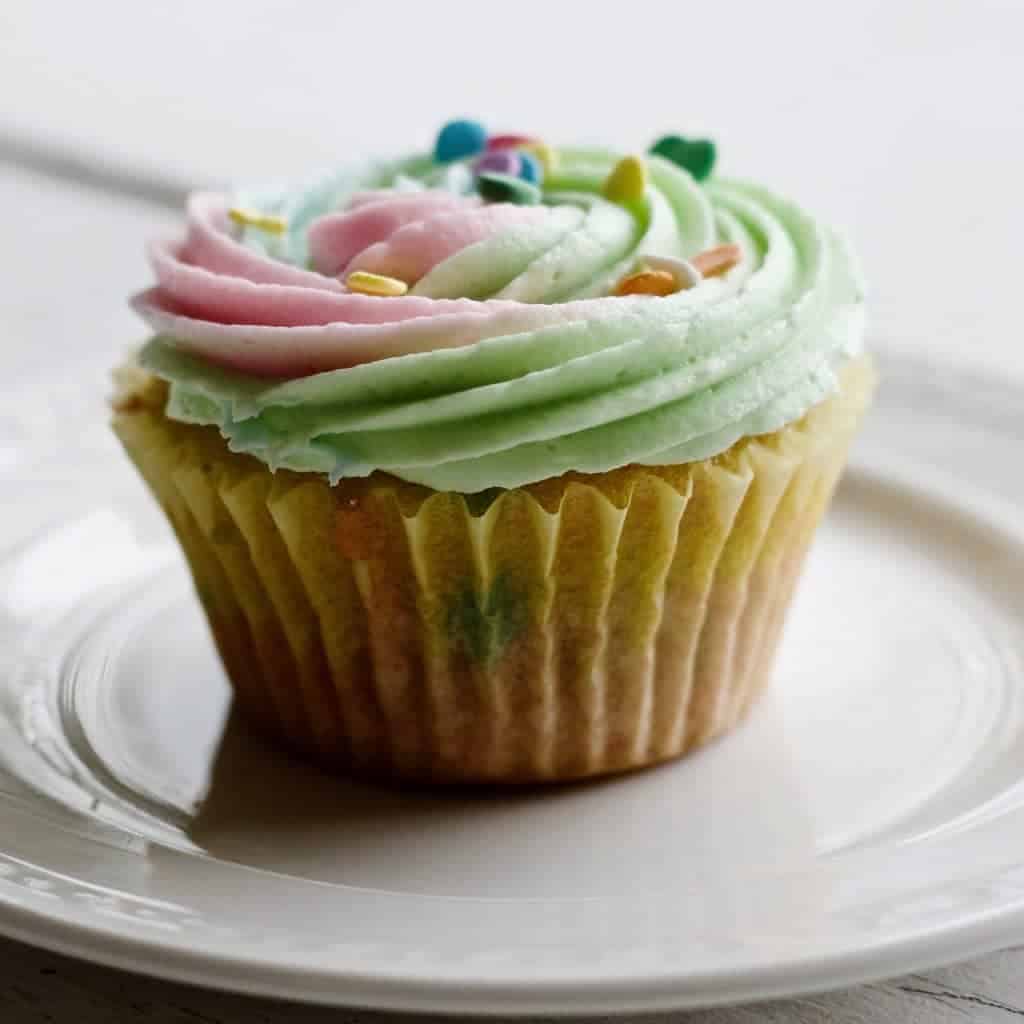 Multi colored Rainbow Cupcakes TIPS:
The cupcake batter:
Follow the instructions carefully. I know it's really tempting to dump all the ingredients together at once. Don't do that! Slowly add ingredients (adding the dry ingredients in 1/3 portions rather than dumping it in all at once) trust me, your patience will be rewarded if you carefully add in the ingredients and mix thoroughly.
This batter is typically very bubbly, don't worry if you see lots of air bubbles in the batter after you are finished with it. The cake will turn out very light.
Do not over mix the ingredients, I only beat the batter until each of the ingredients are just barely mixed in. You don't need to mix the batter for 2 minutes like cake mixes require. Homemade batter is different than boxed! (You can see pictures of the finished batter in my Princess cupcake Dress post)
Look at the video above in this post to see how I layer the different batter colors in the cupcake pans for the rainbow effect.
Make sure you don't pull the cupcakes out of the oven before they are finished, you want them to be a light golden brown on top. If you pull them out before they are all the way baked, the middle will collapse and the cupcakes will fall.
The Frosting:
You can decorate these cupcakes any way you would like! As noted above I use a different rainbow swirl technique in this recipe.
If you want to try what I did here, I'll tell you how!
Make your buttercream frosting. I show how I made this buttercream in this post.
Divide and color the frosting in four separate bowls.
Use a large piping bag (18″) with a Wilton 1M tip.
Put the colors in 4 separate 12″ piping bags and stuff them all in the 18″ bag with the 1M tip.
Squeeze the bag until you get all 4 colors coming out at once.
Pipe on the cupcakes in a swirl pattern and you are all finished! Enjoy! I had a lot of fun making these cute cupcakes.
Multi Colored Rainbow Cupcakes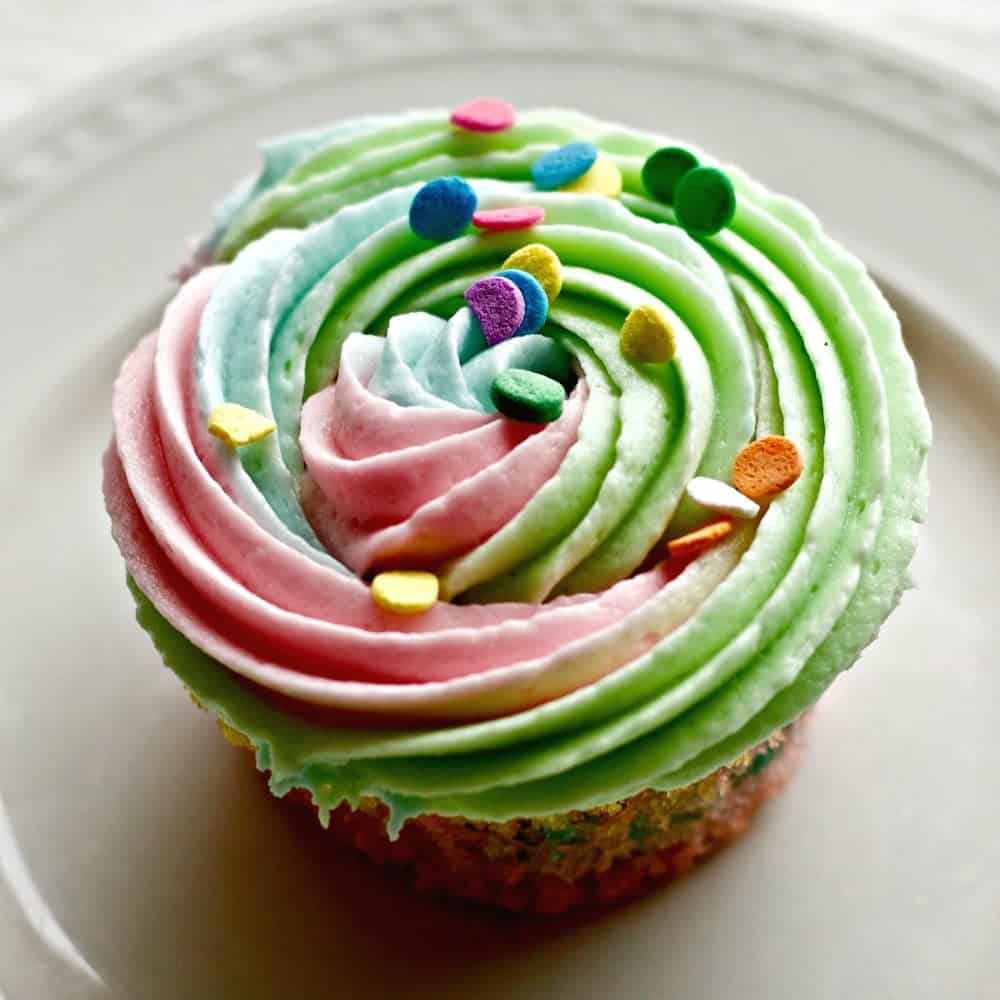 Ingredients
2 1/2 cups cake flour
2 1/2 tsp baking powder
1 tsp baking soda
1 tsp salt
4 lg eggs
1 1/2 cups granulated sugar
3 tsp pure vanilla extract
1 cup light olive oil (or avocado oil)
1 cup buttermilk
(Frosting:)
2 sticks unsalted softened butter
4 cups powdered sugar
1 tsp vanilla extract
3-4 tbsp milk
Instructions
Preheat oven to 350 F
Whisk together flour, salt, baking powder, and baking soda in a small bowl and set aside.
In a bowl with an electric beater, beat eggs until they are thoroughly mixed, add in sugar and continue mixing.
Add in oil and vanilla until they are thoroughly mixed in as well.
Add 1/3 of the flour mixture and mix until it is incorporated
Add 1/3 of the buttermilk and mix thoroughly.
Continue alternating adding in ingredients until they are all mixed in.
Once you are finished with the batter, separate the batter out into bowls and color each bowl with the colors you would like to use.
Alternate filling the colors in the cupcakes tins until the liners are 1/2 full.
Bake 12-14 minutes or until a light golden brown
Cool on a wire baking rack.
Frosting:
Beat the butter alone for 2 minutes until it is light and fluffy.
Add in the powdered sugar slowly beating until it is thoroughly mixed in.
Add the vanilla and the milk next, start with 3 tbsp's of milk and test the consistency. I ended up using 4 tbsp of milk.
Pin it: