Adorable and festive Rainbow St Patricks Day Cupcakes featuring a Chocolate Guinness cake with a rainbow buttercream frosting. These are so delicious and fun to make.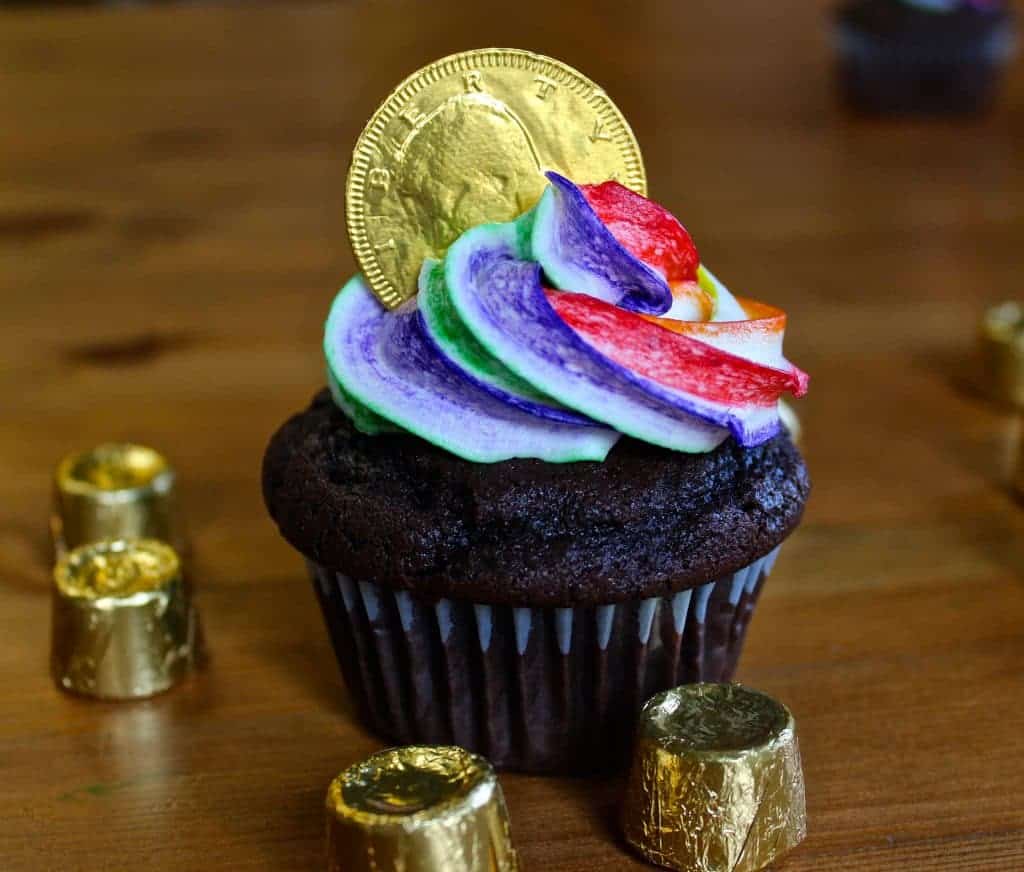 St Patrick's Day Cupcakes. These are Rainbow Frosted Guinness Cupcakes!
The alcohol cooks completely out. The Guinness adds wonderful depth of flavor and a yummy light texture. Kids love these cupcakes!
Okay folks! St. Patricks day is coming! It's time to get working in the kitchen. I absolutely love to make things as festive as I can. Party decor and party food are my Modus Operandi. For pretty much EVERY Holiday.
My whole family groans whenever a holiday comes around. I run around the house like a lunatic creating decorations and planning party menus.
Themed decorations and food around any of the holidays are going to happen at my house.
Creative energy well spent is creating cute things. People of all ages love these adorable Rainbow colored treats.
Rainbow Cupcakes with golden candies are perfect St. Patrick's Day events. These lil beauties are showstoppers on a party tray.
And this recipe is easy to accomplish. The rainbow frosting technique is described and pictured below to help you accomplish it. So Cute!!
Super Cute Rainbow Frosting
Let's Dive into this delicious scratch recipe. A Guinness chocolate cake topped with a colorful, eye catching, rainbow buttercream frosting.
The Guinness increase the depth of flavor and lightness to these little cakes. The whole family will enjoy these cuties. There is No alcohol in the finished product. It ALL bakes out. Promise. And yes, kids LOVE these too.
I actually decorated two different versions of this cute St Patrick's Day party cake and frosting recipe. I split them up into different posts because one post was just too confusing to read! Now you have two distinct decorating options.
Apply this frosting technique to any cupcake recipe you prefer. It will be adorable. Theme them easily to kids parties, showers and other group events that need a bit of rainbow pizzaz!
For a solid mint green, Airhead Rainbow look go to my St. Patrick's Day Guinness Cupcake recipe. The same outstanding chocolate cake and buttercream frosting is used for both recipes.
For more cake and frosting recipe ideas visit Cupcake Corner!
St Patrick's Day Cupcakes decorating tips:
So back to this cool rainbow look.
I am REALLY excited about this Rainbow frosting. I got to try my hand at rainbow frosting! So fun and they turned out adorable! This technique is really quite simple.
I show you in the printable recipe card below how to use color stripes in the bag.
This method is WAY easier than loading three separately colored frostings into one bag. I show you how to do that in my Multi colored Rainbow Cupcake recipe.
This is a pretty simple way to do rainbow frosting. BUT TAKE NOTE! The rainbow colors are only on the OUTSIDE of the frosting. To fully immerse your frosting in colorful rainbow hues follow the directions in my Multi colored Rainbow Cupcakes.
Here is your Printable Rainbow Cupcakes Recipe Card:
Yield:

12 cupcakes
St. Patricks Day Rainbow Cupcakes
Prep Time:
1 hour
10 minutes
Total Time:
1 hour
30 minutes
Adorable and festive St Patricks Day Rainbow Cupcakes featuring a Chocolate Guinness cupcake with a rainbow buttercream frosting. These are so delicious and fun to make. The alcohol cooks completely out. The Guinness adds wonderful depth of flavor and a yummy light texture. Kids love these cupcakes!
Ingredients
For the Cupcakes:
1/2 Cup Guinness Beer, I used Extra Stout
1/2 Cup Unsweetened Cocoa Powder
1 Stick Butter, 1/2 Cup
1 Cup Flour
1 Cup Granulated Sugar
3/4 Tsp Baking Soda
1/4 Tsp Salt
1/3 Cup Sour Cream
1 Large Egg
For the Frosting:
2 Sticks Softened Butter, 1 Cup
4 Cups Powdered Sugar
1/4 Tsp Vanilla Extract
1/4 Tsp Peppermint Extract
2 Tbsp Milk
Instructions
Preheat Oven to 350 F
Heat Butter and Guinness in a small Saucepan to a simmer.
Add Cocoa powder in and whisk into the mixture until it is combined.
Remove Saucepan from heat and let cool.
Mix together Flour, Sugar, Baking Soda, and Salt in a medium bowl.
Next Beat together the Egg, Vanilla, and Sour Cream on a low speed.
Slowly add the chocolate sauce mixture into the egg and sour cream, beat together until combined.
Next add the flour mixture one part at a time, beating thoroughly in between additions, make sure to scrape the sides of the bowl down.
Once the batter is thoroughly mixed, pour the batter into a muffin tin lined with baking cups.
Fill baking cups 2/3 full.
Bake for 18-20 minutes or until a toothpick comes out cleanly when inserted.
Frosting:
Beat softened butter for 1-3 minutes until it is light and fluffy.
Add the powdered sugar in a little bit at a time.
Once the butter and powdered sugar are thoroughly mixed together, add in the milk one tablespoon at a time.
Add the vanilla extract next followed by the peppermint.
Note: Add the peppermint extract in a little bit at a time, make sure the mint taste is to your liking. I would go easy on the peppermint if you aren't a huge fan of mint!
Decorations:
Rainbow Frosting:
Place a decorator bag in a cup with the tip you want to use in it.
Using a butter knife or small paint brush, paint red, orange, purple, green, blue, and yellow in strips along the sides of the bag. Be careful not to mix any of the colors!
Put white buttercream frosting into the piping bag.
Shake the piping bag until all of the frosting is down to the tip.
Pipe a small amount of frosting into a bowl until all of the rainbow colors are coming out evenly.
Now you are ready to decorate your rainbow cupcakes!
Recommended Products
As an Amazon Associate and member of other affiliate programs, I earn from qualifying purchases.
Nutrition Information
Yield
12
Serving Size
1 frosted cupcake
Amount Per Serving
Calories

502
Total Fat

25g
Saturated Fat

15g
Trans Fat

1g
Unsaturated Fat

7g
Cholesterol

80mg
Sodium

322mg
Carbohydrates

65g
Fiber

1g
Sugar

53g
Protein

3g
You will NOT be eating this many calories for a frosted cupcake. The frosting recipe makes a lot more than you will eat.
Recipe Adapted From: Le Petit Pieorig