Rainbow St. Patricks Day Cupcakes featuring a chocolate Guinness cake with a rainbow buttercream frosting are adorable and festive. The Guinness infused chocolate cake is fluffy and moist with a rich chocolatey flavor that the beer compliments so beautifully. We created a fun rainbow striped buttercream that is infused with a peppermint extract for that added pop of flavor that tastes divine with the chocolate cupcakes.
St Patricks day cupcakes are always so fun to design and execute because you can get creative with the colors and garnishes like we have done. The chocolate coins and gold Rolo candies act as the 'treasure' at the end of the rainbow and make a fun presentation for your St. Patricks Day party.
We are sharing more St Patrick's day cupcake decorating ideas, as well sharing our tips for how to color your buttercream to create this striking rainbow effect.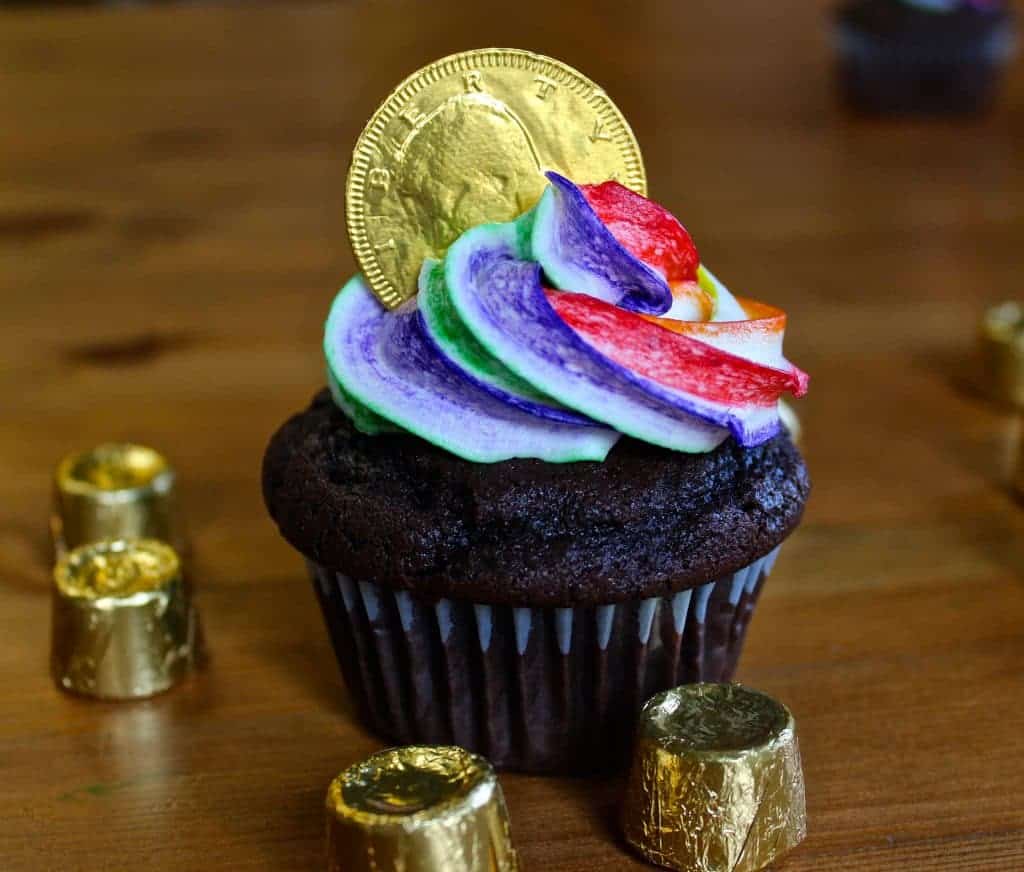 These are easy St Patrick's day cupcakes that can be made ahead of time, and decorated when you are ready to serve them. Garnishing them with themed candies and decor will really make the vibrant colors of the rainbow frosting pop.
The Guinness adds wonderful depth of flavor and a yummy light texture. The alcohol will bake out of the cupcakes during the baking process, so these are safe to serve to everyone.
Kids love these cupcakes, and the extra candies that you can serve with them. St Patrick's day desserts should always include fun themed candies, after all, what else would leprechauns eat?
What makes cupcakes moist?
Soft, fluffy, and moist are how we want every cupcake to turn out. Although cupcakes are relatively easy to bake, they do require some technique, the right tools, and attention to detail in order to bake the very best cupcakes that will stay moist and soft. Here are our tips for how to get the best St Patricks day cupcakes every time.
Always use fresh, high quality ingredients. This is especially important for eggs, milk or cream, butters, and any rising agents like baking soda and baking powder.
Warm all diary ingredients to room temperature. This will help everything combine better and require less mixing time.
Use full fat milk, sour cream, plain yogurt and butter rather than and water for more flavor, added moisture, and lighter texture.
Be careful not to over mix the batter. Over mixing will cause the air bubbles to collapse resulting in flat, dense cakes. The batter should be mixed until it is only just combined.
Cook at the proper temperature to prevent uneven baking. Over baked cupcakes will be dry and dense. Under baked cupcakes will not rise fully and will collapse when removed from the heat too soon.
Never overfill the cupcakes tins. Fill the tins to 2/3 full to allow for even baking every time. We recommend you use an ice cream or cookie scoop for even amounts of batter.
What does beer do in a cake batter?
Because beer contains carbonation, it will assist with activating the leavening agents like baking powder and baking soda. Beer gives more lift and a tender texture to cakes and muffins because the carbonation will create more air bubbles throughout.
Porters and stout beer are best to use in baked goods, especially chocolate based batters. The beer will add a rich flavor that pairs astoundingly well with chocolate, sour cream, and cream cheese cakes and buttercream.
If you are looking to save time, you can make these with a St Patricks day cupcakes cake mix and fluff it up by adding beer into the mix.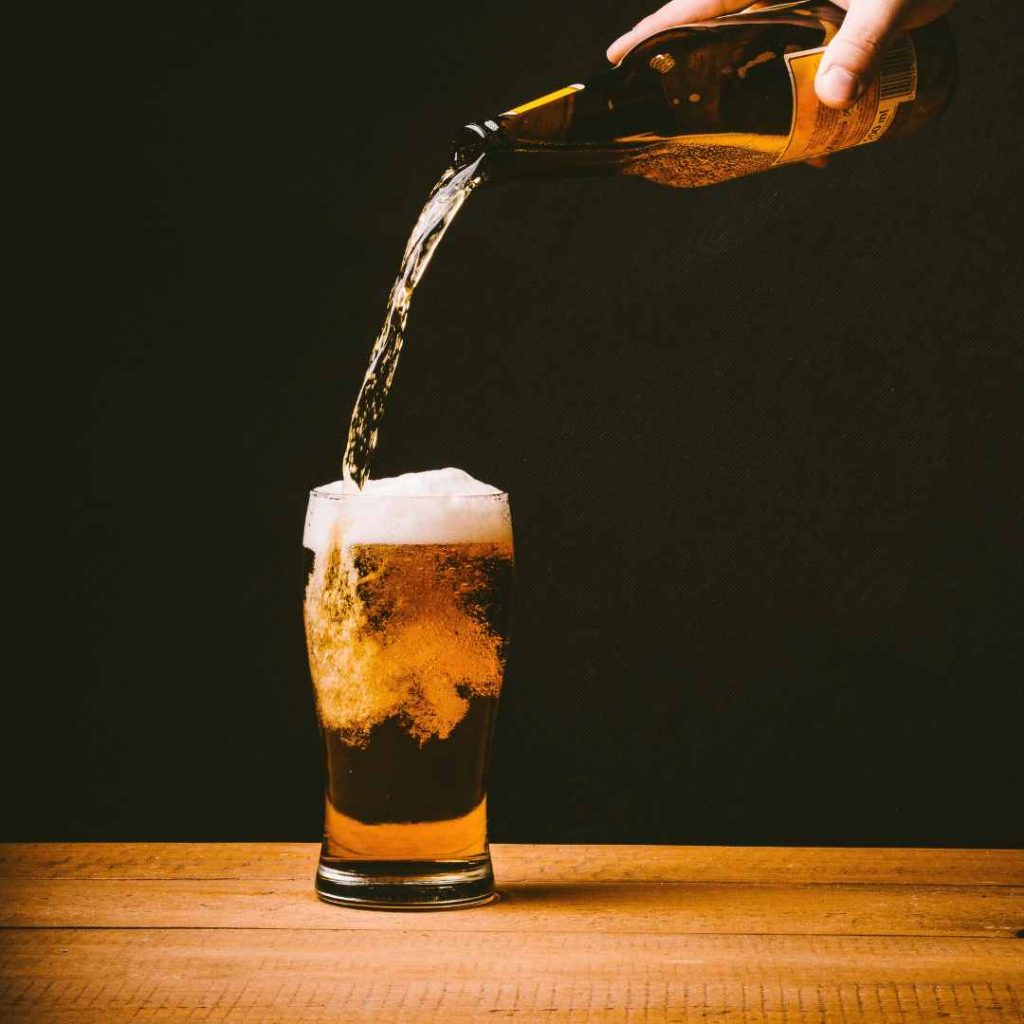 What buttercream is best?
There are 3 main types of buttercream frosting; Italian meringue, Swiss meringue, and American buttercream. Each presents its own challenges, benefits, and flavor profile. Deciding which is best depends on your own preference, what you will be using it for, and how equipped you are to make the frosting.
Our St Patricks day cupcakes don't require intricate piping or designs, so we find that the simple American buttercream is sufficient and delicious.
Italian Meringue Buttercream is the strongest and most stable of the buttercream lineup, but it is challenging to make and requires an experienced hand. Italian buttercream uses a boiled sugar mixture that is slowly whipped into egg whites until a strong, whipped consistency is achieved. It it considered an advanced buttercream, but is stable at high temperatures and allows for intricate designs when piped.
Swiss Meringue Buttercream is most commonly used in professional bakeries because it is strong, silky smooth, and takes additional coloring very well. It is an intermediate level buttercream because it does require boiling a sugar mixture and whipping it with eggs whites and sugar. The flavor of Swiss buttercream is often preferred over American buttercream because it is less sweet and balances sweet pastries and cakes well.
American Buttercream is what most of us home bakers use and are accustomed to in flavor and execution. We use an American buttercream for our cupcakes because it is a beginner level buttercream that is simple to make, and works well for base level decorating. Because it has a high ratio of butter to powdered sugar, it is the sweetest in the buttercream family. It is easy to pipe, but will not execute intricate or advanced designs. American buttercream does need to be kept cool or it will soften and even melt.
Apply this frosting technique to any cupcake recipe you prefer. Theme them easily to kids parties and similar events
How do you pipe rainbow buttercream?
This buttercream can be flavored with just a hint of peppermint extract which plays on the rich chocolate cake to create fun St Patricks day cupcake flavors. The rainbow colors are achieved by 'painting or striping' the colors in lines along the inside of the piping bag, being careful not to mix them.
The white buttercream will be carefully added to the color striped piping bag affixed with the decorator tip of your choosing, we most often use the Wilton 2D tip. Be sure to push the frosting from the open end of the bag down to the tip to push the air bubbles out. Do a few practice swirls on a paper towel until all of the colors are visible.
We love these St Patricks day cupcakes with the stark white showing through, because it helps the vibrant colors pop.
This method is much easier than loading three separately colored frostings into one bag, which is shown in our Pastel Rainbow Cupcake recipe. It creates a fully multi color infused buttercream that is beautiful and vibrant, but it is a tricky feat, so be sure to watch that tutorial if you would like to use that method when decorating your cupcakes.
St Patricks day cupcakes garnished with rainbow Airhead candies is another look you can execute with very little effort. Go to our St. Patrick's Day Guinness Cupcake recipe for this tutorial. The same outstanding chocolate cake and buttercream frosting is used for both recipes.
St Patrick's Day Cupcakes
The fun thing about this holiday is that it is filled with color, and the ability to create vibrantly decorated St Patricks day cupcakes. Don't be afraid to take our recipe as inspiration and make something completely new and unique!
You can change up the flavors, the colors, the garnishes, or the theme. This St Patricks day cupcakes recipe is not limited to only this holiday. You can also use decorative liners to elevate the look of your cupcakes.
For more cake and frosting recipe ideas visit Cupcake Corner!
Our most popular continue to be our super moist vanilla cupcakes, Reeses peanut butter cupcakes, and our bright blueberry lemon cupcakes.
Here is your Printable Rainbow Cupcakes recipe card
Yield:

12 cupcakes
St. Patricks Day Rainbow Cupcakes
Prep Time:
1 hour
10 minutes
Total Time:
1 hour
30 minutes
Adorable and festive St Patricks Day Rainbow Cupcakes featuring a Chocolate Guinness cupcake with a rainbow buttercream frosting. These are so delicious and fun to make. The alcohol cooks completely out. The Guinness adds wonderful depth of flavor and a yummy light texture. Kids love these cupcakes!
Ingredients
For the Cupcakes:
1/2 Cup Guinness Beer, I used Extra Stout
1/2 Cup Unsweetened Cocoa Powder
1 Stick Butter, 1/2 Cup
1 Cup Flour
1 Cup Granulated Sugar
3/4 Tsp Baking Soda
1/4 Tsp Salt
1/3 Cup Sour Cream
1 Large Egg
For the Frosting:
2 Sticks Softened Butter, 1 Cup
4 Cups Powdered Sugar
1/4 Tsp Vanilla Extract
1/4 Tsp Peppermint Extract
2 Tbsp Milk
Instructions
Preheat Oven to 350 F
Heat Butter and Guinness in a small Saucepan to a simmer.
Add Cocoa powder in and whisk into the mixture until it is combined.
Remove Saucepan from heat and let cool.
Mix together Flour, Sugar, Baking Soda, and Salt in a medium bowl.
Next Beat together the Egg, Vanilla, and Sour Cream on a low speed.
Slowly add the chocolate sauce mixture into the egg and sour cream, beat together until combined.
Next add the flour mixture one part at a time, beating thoroughly in between additions, make sure to scrape the sides of the bowl down.
Once the batter is thoroughly mixed, pour the batter into a muffin tin lined with baking cups.
Fill baking cups 2/3 full.
Bake for 18-20 minutes or until a toothpick comes out cleanly when inserted.
Frosting:
Beat softened butter for 1-3 minutes until it is light and fluffy.
Add the powdered sugar in a little bit at a time.
Once the butter and powdered sugar are thoroughly mixed together, add in the milk one tablespoon at a time.
Add the vanilla extract next followed by the peppermint.
Note: Add the peppermint extract in a little bit at a time, make sure the mint taste is to your liking. I would go easy on the peppermint if you aren't a huge fan of mint!
Decorations:
Rainbow Frosting:
Place a decorator bag in a cup with the tip you want to use in it.
Using a butter knife or small paint brush, paint red, orange, purple, green, blue, and yellow in strips along the sides of the bag. Be careful not to mix any of the colors!
Put white buttercream frosting into the piping bag.
Shake the piping bag until all of the frosting is down to the tip.
Pipe a small amount of frosting into a bowl until all of the rainbow colors are coming out evenly.
Now you are ready to decorate your rainbow cupcakes!
Recommended Products
As an Amazon Associate and member of other affiliate programs, I earn from qualifying purchases.
Nutrition Information
Yield
12
Serving Size
1 frosted cupcake
Amount Per Serving
Calories

502
Total Fat

25g
Saturated Fat

15g
Trans Fat

1g
Unsaturated Fat

7g
Cholesterol

80mg
Sodium

322mg
Carbohydrates

65g
Fiber

1g
Sugar

53g
Protein

3g
You will NOT be eating this many calories for a frosted cupcake. The frosting recipe makes a lot more than you will eat.
Click on any of the pictures below to explore these scrumptious cupcake recipes
Follow Us:
We enjoy meeting you on our social networks. Follow us on Facebook, Pinterest, Instagram . Tag us with your pictures of our recipes and comment on how it went for you. We would love to see what you do with them.
We often like, comment and share your posts of our recipes on our daily Instagram stories.
Ask questions and rate the recipe in the comments section below. Please share what you did with this recipe. We are always looking for more and better ways to make homemade food. Other cooks love your ideas!
Recent Posts: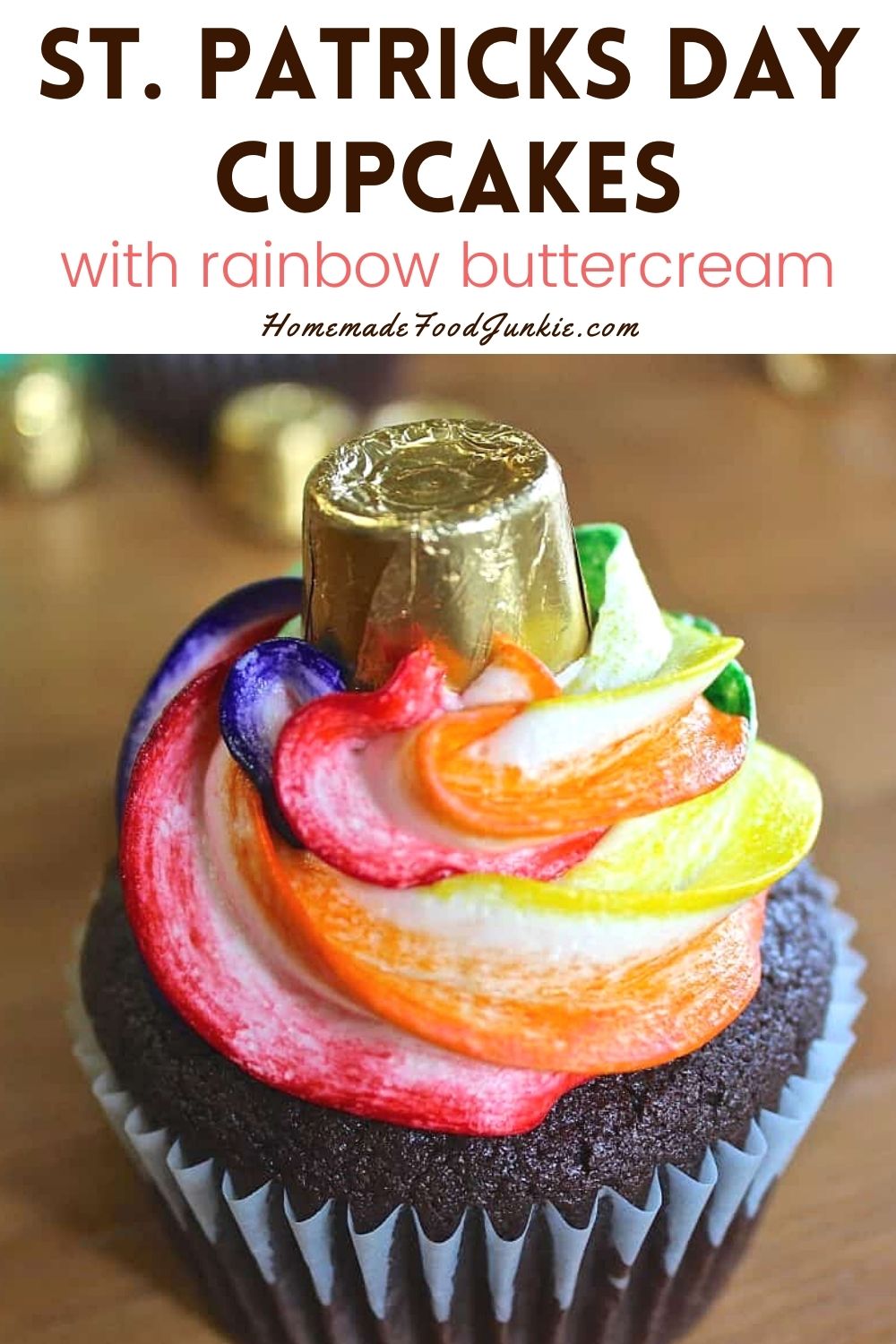 Recipe Adapted From: Le Petit Pieorig