St Patricks Day Guinness Cupcakes are So Cute and tasty with mint buttercream frosting. Make these for your Rainbow Holiday Party! Kids Love them and So do grown ups.
Okay folks! St. Patricks day is coming up so it's time to get moving in the kitchen! I absolutely love to make cupcakes as festive as I can. I make my whole family groan whenever a holiday comes around because I'm running around the house like a lunatic putting up decorations.
It's so fun having little themed decorations and food around holidays! I can't help myself. I have a decoration addiction, much like my flower addiction if you have read any of my previous cupcake posts.
I get energized creating little cute things! Like these St Patricks Day Guinness cupcakes.
The actual chocolate cupcakes are so enhanced by the addition of Guinness. They have an added depth of flavor. A deep rich chocolate flavor. The texture is tender, moist and holds together well.
The mint Buttercream frosting makes an excellent counterpoint to the chocolate. The result is one outstanding cupcake. Perfectly themed for St Paddy's Day.
Homemade is all about limiting the amount of chemicals in our diets. And being creative. Watch how I compare the colors and textures of working with Natural Vs. Artificial Food Dyes. We were Shocked at the results!
I got so excited about baking for St Patrick's Day I actually made two versions of my Chocolate guinness cupcake.
The cake recipe and frosting are the same. The decorating are VERY different. So I split up the posts. This way it's less confusing for you to read.
The rainbow St Patricks Day Cupcake is pictured below. That was a bunch of fun to make. So easy too. I have directions in the post for how the frosting is done if you are interested. Pop over and take a look.
These Adorable solid Green cupcakes I decorated with a rainbow airhead (affiliate link) candy strip, little star clouds made out of white frosting, and a gold Rollo (or gold coin) candy to top it off!
Guinness Cupcakes are SO rich and delicious. Kids love them!
Here's the printable recipe: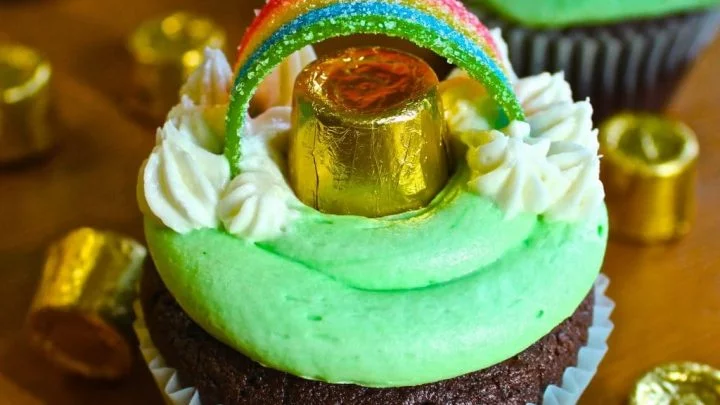 Yield:

12 Cupcakes
St. Patricks Day Guinness Cupcakes
decorating time:
30 minutes
Total Time:
1 hour
10 minutes
St Patricks Day Guinness Cupcakes are So Cute and tasty with mint buttercream frosting. Make these for your Rainbow Holiday Party! Kids Love them and so do grown up!
Ingredients
For the Cupcakes:
1/2 Cup Guinness Beer, I used Extra Stout
1/2 Cup Unsweetened Cocoa Powder
1 Stick Butter, 1/2 Cup
1 Cup Flour
1 Cup Granulated Sugar
3/4 Tsp Baking Soda
1/4 Tsp Salt
1/3 Cup Sour Cream
1 Large Egg
For the Frosting:
2 Sticks Softened Butter, 1 Cup
4 Cups Powdered Sugar
1/4 Tsp Vanilla Extract
1/4 Tsp Peppermint Extract
2 Tbsp Milk
Instructions
Preheat Oven to 350 F
Heat Butter and Guinness in a small Saucepan to a simmer.
Add Cocoa powder in and whisk into the mixture until it is combined.
Remove Saucepan from heat and let cool.
Mix together Flour, Sugar, Baking Soda, and Salt in a medium bowl.
Next Beat together the Egg, Vanilla, and Sour Cream on a low speed.
Slowly add the chocolate sauce mixture into the egg and sour cream, beat together until combined.
Next add the flour mixture one part at a time, beating thoroughly in between additions, make sure to scrape the sides of the bowl down.
Once the batter is thoroughly mixed, pour the batter into a muffin tin lined with baking cups.
Fill baking cups 2/3 full.
Bake for 18-20 minutes or until a toothpick comes out cleanly when inserted.
Frosting:
Beat softened butter for 1-3 minutes until it is light and fluffy.
Add the powdered sugar in a little bit at a time.
Once the butter and powdered sugar are thoroughly mixed together, add in the milk one tablespoon at a time.
Add the vanilla extract next followed by the peppermint.
Note: Add the peppermint extract in a little bit at a time, make sure the mint taste is to your liking. I would go easy on the peppermint if you aren't a huge fan of mint!
Decorations:
For the Frosting add in a bit of green food coloring until you like the color. Save back some white frosting in a bowl for the clouds
Rainbows are made out of Airheads Extremes Rainbow Berry Sour Candy
Gold Pots are Rolo Candies
Gold coins are just chocolate candy coins.
Nutrition Information
Yield
12
Amount Per Serving
Calories

494
Pin it:
This post was originally published March 1, 2016. Updated and Republished March 11 2018.