Decadent Mocha Cupcakes with Espresso Buttercream are a soft and fluffy scratch made cake with a rich and creamy espresso frosting and finished with a silky caramel drizzle.
Combining fresh brewed coffee, espresso powder, cocoa powder and sour cream for a magnificent flavor profile and a homemade buttercream infused with even more espresso powder for a double hit of mocha coffee goodness.
Coffee lovers, this one's for you.
Check out our video tutorial on how to make our classic Vanilla Cupcakes too
What is Mocha Buttercream?
Mocha buttercream is made from a classic buttercream recipe of unsalted butter, powdered sugar, and pure vanilla extract, infused with high quality espresso powder for a delicious coffee flavor.
What is a Mocha Cupcake?
Mocha Cupcakes take a scrumptious chocolate cupcake and infuse it with coffee and espresso powder for a coffee and chocolate lovers dream dessert. Baking with espresso powder makes chocolate taste richer; the dance between the two is elevated with our fresh Espresso Buttercream for an unbeatable cupcake.
What is Espresso Powder for baking?
Espresso powder is made from dark roasted coffee beans that have been ground, brewed, dried and then ground even more until a fine powder is achieved. This powerful coffee powder is very concentrated so a little goes a long way. You only need a teaspoon or two for most recipes.
Can I substitute Fresh Espresso for Espresso Powder?
It is not recommended to use fresh brewed espresso in baking recipes that call for espresso powder. The liquid ratio will be difficult to calculate and the flavor intensity will not be the same.
Can I make Mocha Cupcakes ahead for a party?
Yes, you can make your cupcakes a day or two ahead if you are serving them for a party or gathering. It is recommended to wait until the day of the party to frost and decorate your cupcakes, so store the undecorated cupcakes in a well sealed container to prevent them from drying out.
If freezing, allow the cupcakes to cool completely then arrange them side by side on a baking sheet, cover tightly with plastic wrap and then foil. They can be frozen for up to 3 months when stored properly. When you are ready to decorate and serve the cupcakes, remove the tray from the freezer and allow them to thaw completely. Frost and decorate the day you plan to serve them.
Mocha Cupcakes with Espresso Buttercream Frosting Recipe
You can make our scrumptious Buttermilk Caramel Sauce to drizzle and finish for an added garnish, or use your favorite store brand caramel drizzle.
You may notice our recipe does not use very much espresso powder, we chose to keep it conservative, but if you love a strong coffee flavor feel free to increase the amount of espresso powder in the cupcake batter.
It stands out beautifully in the buttercream, so be mindful of increasing the amount in the buttercream.
We do not recommend changing the 1 cup of hot coffee measurement. You may end up with batter consistency issues if you add more coffee than that. If you want to play around with flavor, do it with the espresso powder.
How do I make the best Cupcakes?
It's important to always use room temperature ingredients when baking, so be sure to set out the eggs, butter, sour cream and milk about 1 hour ahead of time. This helps the dairy mix into the batter better and will yield a smooth, creamy cake consistency.
When baking it is very important that you do not over mix the batter. Over mixing can result in a flat, dense cake rather than a soft and fluffy cake. Only mix your ingredients until just combined.
How can I garnish Mocha Cupcakes?
These cupcakes are perfect for any occasion and the flavor stands alone as a scrumptious dessert. We are sharing our favorite ideas for garnishes to elevate the tiny cakes and bring them the attention they so deserve.
Place small sections of wide straws like we did. This really helps the mocha idea stand out
Top each cupcake with an espresso bean or a chocolate covered coffee bean
Drizzle with caramel sauce for that iconic mocha finish
Sprinkle with a light dusting of espresso or cocoa powder
Add some chocolate sprinkles, after all, who doesn't love sprinkles?
Drizzle with chocolate sauce
Top with mini chocolate, caramel or espresso macaroon cookies
Use a section of creme filled Pirouette cookies in place of a straw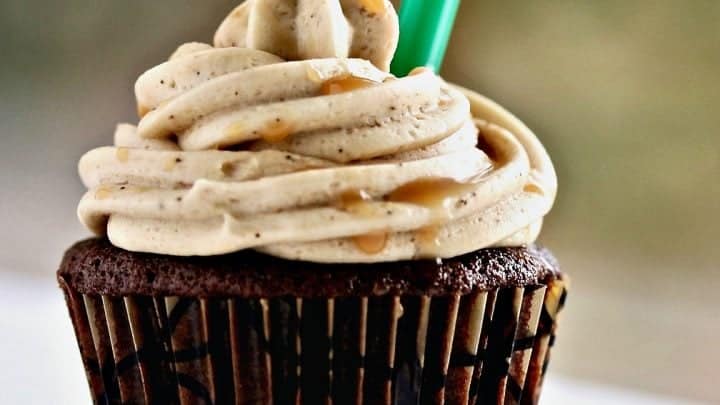 Yield:

15 cupcakes
Mocha Cupcakes with Espresso Buttercream Frosting
The perfect combination of coffee and chocolate, these decadent mocha cupcakes with espresso buttercream frosting are the perfect morning treat!
Ingredients
Cupcake Batter
1 1/4 cups flour
1 tsp baking soda
1/4 tsp baking powder
1/4 tsp salt
1/4 tsp espresso powder, adjust to taste
1/2 cup cocoa powder, unsweetened
1 cup hot coffee
1/2 cup butter (softened) , unsalted
1 1/4 cup sugar
2 large eggs, room temperature
1/4 cup sour cream, room temperature
2 Tbsp milk
1 tsp vanilla extract
Frosting
1 1/2 cups unsalted butter, softened
4 cups powdered sugar
2 tsp vanilla extract
2 1/2 tsp espresso powder , adjust to taste
1 Tbsp Torini Caramel sauce/cupcake, or make our homemade caramel sauce
Instructions
Preheat oven to 350 Farenheit. And make a pot of coffee.
Cupcake Batter
Whisk together cocoa powder and hot coffee, set the bowl aside.
Sift together dry ingredients in a medium bowl and set aside
In a stand mixer fitted with a paddle attachment, cream together butter and sugar.
Add in room temperature eggs one at a time, being careful to not over-mix them.
Alternate mixing the dry ingredients with the coffee and cocoa mixture until both are mixed in.
Finally, add in the vanilla, milk, and sour cream. Mix until just combined.
Fill the cupcake liners around 2/3 full. Do NOT fill them to the top.
Bake 17-18 minutes or until a toothpick inserted comes out cleanly.
Set out on cooling racks to cool completely before frosting.
Frosting
In a stand mixer fitted with the whisk attachment, whisk butter cream until it is pale and smooth (around 5 minutes)
Slowly add in the powdered sugar in additions until it is completely mixed in
Add the vanilla and the espresso powder and mix until incorporated.
Decorating Tips:
Decorate the cupcakes using a Wilton 2D tip, and create a swirl design.
Drizzle the top of the frosting with Torani Caramel Sauce as desired
Notes
I doubled the frosting recipe initially when I made these cupcakes because of the design that I used on top. It takes a lot of frosting to make that 3 layer buttercream swirl on the cupcakes. If you are using a one layer frosting design, or a shorter one, than you probably just need cut this recipe in half.
Nutrition Information
Yield
18
Serving Size
1
Amount Per Serving
Calories

411
Total Fat

23g
Saturated Fat

14g
Trans Fat

0g
Unsaturated Fat

8g
Cholesterol

78mg
Sodium

149mg
Carbohydrates

51g
Fiber

1g
Sugar

42g
Protein

3g
Follow Us:
We enjoy meeting you on our social networks. Follow us on Facebook, Pinterest, Instagram . Tag us with your pictures of our recipes and comment on how it went for you. We would love to see what you do with them.
We often like, comment and share your posts of our recipes on our daily Instagram stories.
Ask questions and rate the recipe in the comments section below. Please share what you did with this recipe. We are always looking for more and better ways to make homemade food. Other cooks love your ideas!
Recent Posts: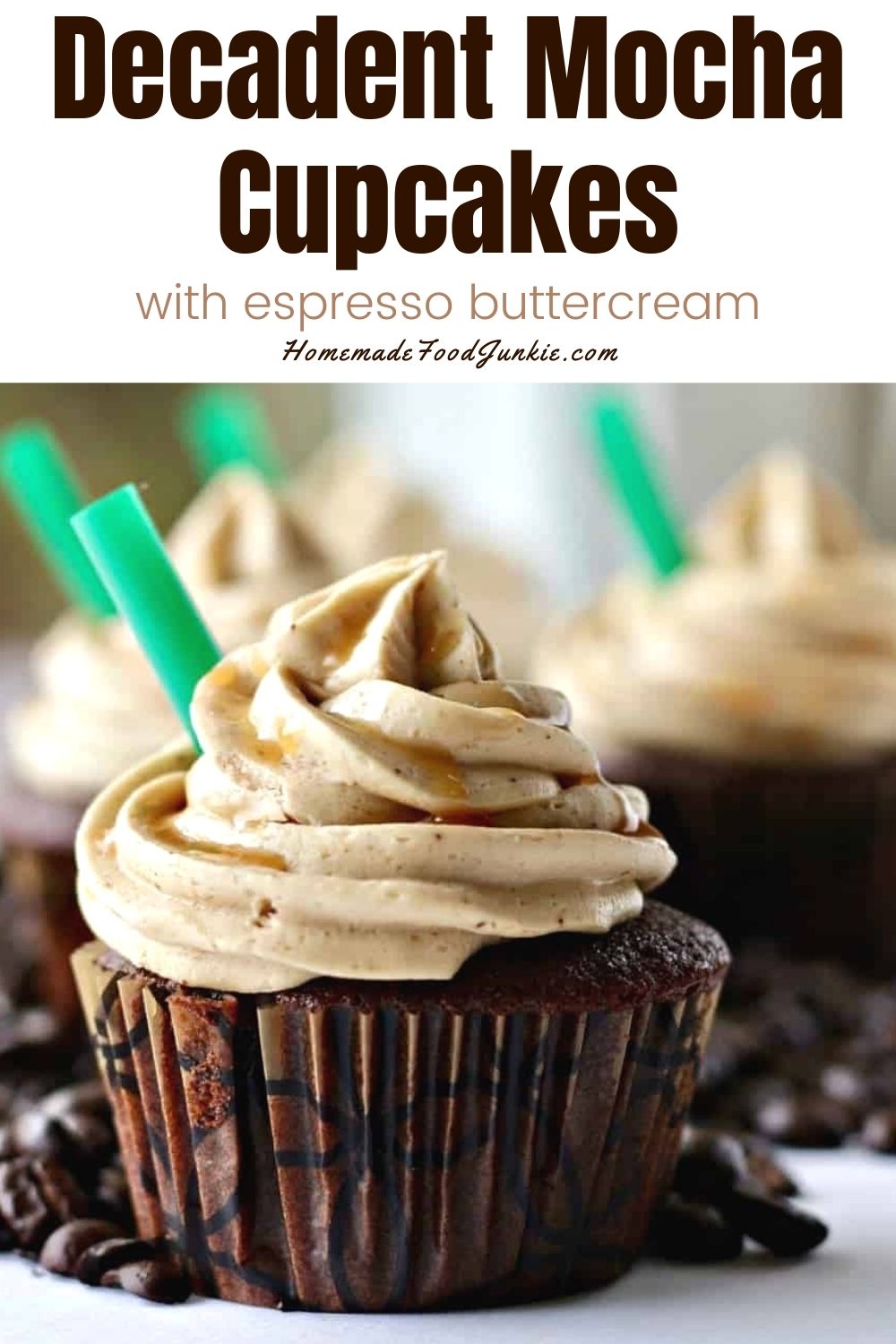 Browneyedbaker.com: espresso buttercream frosting (Frosting recipe)
alattefood.com: mocha cupcakes (cupcake recipe)
SaveSave
SaveSave