Decadent mocha cupcakes with espresso buttercream frosting are a special morning treat, office party offering or after dinner indulgence.
With a cup of coffee of course.
I think we've hit the goldmine this time. Mocha cupcakes are vying for the top spot in my cupcake corner repertoire.
These cupcakes have a rich chocolaty flavor. The decadent espresso frosting offers a hint of coffee.
I topped the fantastic espresso buttercream frosting off with a drizzle of Torani caramel sauce.
I would give these delicious chocolate cupcakes a 10/10 for flavor and rich moist texture.
The espresso bits in the frosting add a bit of coffee kick on the backend.
I had never baked anything with espresso powder, and I was pleasantly surprised at how easy it was and how much it enhances flavor.
Baking with espresso powder makes chocolate taste richer. The cupcake boasts a rich, deep chocolate flavor with a hint of coffee.
How much do we love these cupcakes? We even let the kids split one three ways. They just had to taste em.
And even they loved these sweet treats. The coffee is an excellent balance to the richly sweet chocolate. And then there is that little bit of caramel…
You can make our scrumptious homemade Buttermilk caramel sauce or just use the Torinis brand.
The caramel drizzle is just for fun and completely optional but I highly recommend it.
Mocha Cupcakes with Espresso Buttercream Frosting Recipe:
As far as the coffee flavor goes…I have another recipe for coffee cupcakes that I get mixed reviews on.
Since its really all about your personal taste preference. I get both good and bad comments on the coffee flavor.
Some people love them and say the flavor is just right, others say they want a richer coffee flavor.
I'm expecting to get similar comments on these cupcakes, so I'm going to go ahead and give you the freedom to add as much espresso powder to the batter and the frosting as you want.
Adjust it to your taste level, just be warned a little goes a long way in the buttercream frosting.
I would not suggest messing with the 1 cup of hot coffee measurement. You may end up with batter consistency issues if you add more coffee than that.
If you want to play around with flavor, do it with the espresso powder.
I hope you enjoy making these cupcakes and you have as much success with them as I did! They are definitely on my list to make again for future events! Please let me know how they turn out for you.
TIPS:
ALWAYS use room temperature dairy when baking. This helps the dairy mix into the batter better and will provide you with a better cake consistency.
Set dairy items out on the counter around 1 hour before baking.
DO NOT over-mix the batter. This is very important.
Get the best texture by mixing the ingredients just enough to combine them.
You do not want to flip on your stand mixer and let it just keep mixing away while you are getting the other ingredients together.
Gently mix your batter and then turn it off.
For the straw if you choose to use it. I went to my nearest Starbucks coffee stand and they generously gave me a few.
I cut them into short straws and strategically placed them into the frosting.
I love that little added touch of classic green coffee straw. It really says Mocha to me.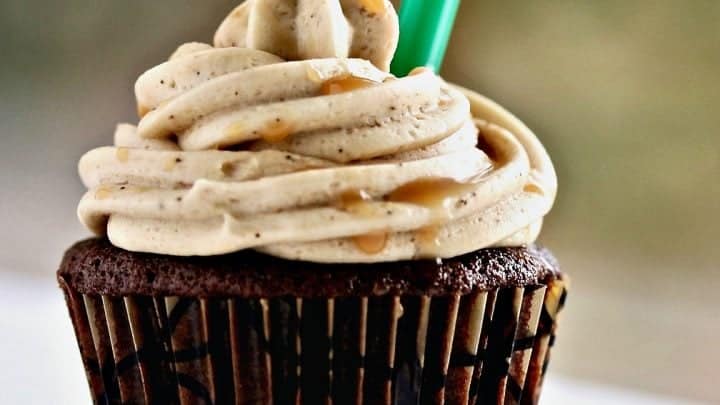 Yield:

15 cupcakes
Mocha Cupcakes with Espresso Buttercream Frosting
The perfect combination of coffee and chocolate, these decadent mocha cupcakes with espresso buttercream frosting are the perfect morning treat!
Ingredients
Cupcake Batter
1 1/4 cups flour
1 tsp baking soda
1/4 tsp baking powder
1/4 tsp salt
1/4 tsp espresso powder, adjust to taste
1/2 cup cocoa powder, unsweetened
1 cup hot coffee
1/2 cup butter (softened) , unsalted
1 1/4 cup sugar
2 large eggs, room temperature
1/4 cup sour cream, room temperature
2 Tbsp milk
1 tsp vanilla extract
Frosting
1 1/2 cups unsalted butter, softened
4 cups powdered sugar
2 tsp vanilla extract
2 1/2 tsp espresso powder , adjust to taste
1 Tbsp Torini Caramel sauce/cupcake, or make our homemade caramel sauce
Instructions
Preheat oven to 350 Farenheit. And make a pot of coffee.
Cupcake Batter
Whisk together cocoa powder and hot coffee, set the bowl aside.
Sift together dry ingredients in a medium bowl and set aside
In a stand mixer fitted with a paddle attachment, cream together butter and sugar.
Add in room temperature eggs one at a time, being careful to not over-mix them.
Alternate mixing the dry ingredients with the coffee and cocoa mixture until both are mixed in.
Finally, add in the vanilla, milk, and sour cream. Mix until just combined.
Fill the cupcake liners around 2/3 full. Do NOT fill them to the top.
Bake 17-18 minutes or until a toothpick inserted comes out cleanly.
Set out on cooling racks to cool completely before frosting.
Frosting
In a stand mixer fitted with the whisk attachment, whisk butter cream until it is pale and smooth (around 5 minutes)
Slowly add in the powdered sugar in additions until it is completely mixed in
Add the vanilla and the espresso powder and mix until incorporated.
Decorating Tips:
Decorate the cupcakes using a Wilton 2D tip, and create a swirl design.
Drizzle the top of the frosting with Torani Caramel Sauce as desired
Notes
I doubled the frosting recipe initially when I made these cupcakes because of the design that I used on top. It takes a lot of frosting to make that 3 layer buttercream swirl on the cupcakes. If you are using a one layer frosting design, or a shorter one, than you probably just need cut this recipe in half.
Nutrition Information
Yield
18
Serving Size
1
Amount Per Serving
Calories

411
Total Fat

23g
Saturated Fat

14g
Trans Fat

0g
Unsaturated Fat

8g
Cholesterol

78mg
Sodium

149mg
Carbohydrates

51g
Fiber

1g
Sugar

42g
Protein

3g
Pin it: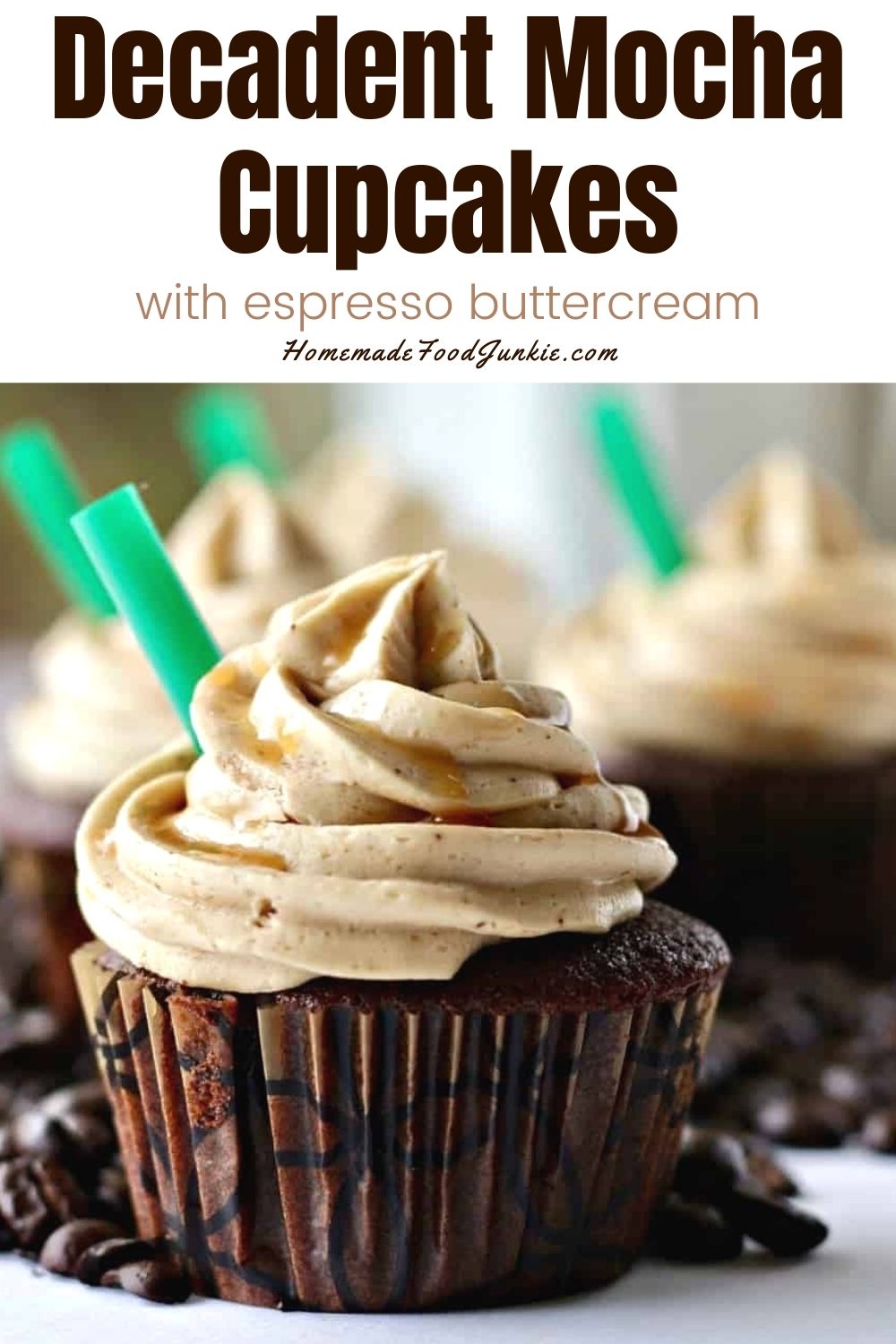 Browneyedbaker.com: espresso buttercream frosting (Frosting recipe)
alattefood.com: mocha cupcakes (cupcake recipe)
SaveSave
SaveSave
SaveSave
SaveSave