This is fun take on the Princess cake. Meet the princess cupcake dress! Make your little princess feel like royalty with their very own Princess cake!
No complex decorating skills required! Every princess cupcake is a special foodie gift to the party goers.
This princess cupcake cake is the one I made for our precious daughter Ellie's first birthday. It was photographed in real time during a very busy party. On the fly. It was just SO good I had to share it with you.
The kids LOVED these dress cupcakes. Each cupcake has its own rose. So cute!
For Ellie's special day a girls cupcake dress had to happen. I don't often make fancy cakes. But I DO love making cupcakes.
A One year old birthday princess cake. I caught the idea. Now to create my princess cake idea.
I went searching for cupcake cake ideas. Princess cupcake ideas are popular. I came away with several cupcake birthday ideas. Ellie's cupcake princess dress cake was getting closer.
Ellie's Princess Cake is a Princess Dress:
No Castle this time. No Fondant. This cupcake princess dress is very simple in design and easy to accomplish.
30 filled cupcakes are decorated in a simple buttercream rose design and laid out like a dress.
Add Princess bling and some edible pearls. Finished!
I like simple. Birthday parties for one year olds are a lot of work.
Using a boxed cake mix will cut the time of this project considerably. I never recommend box mixes. They have WAY too many chemicals. But in the interest of time. A cake mix will work.
Do whatever works for your timeline. But the homemade recipes I used are very good. 🙂
I used a combination of two of my favorite recipes for the cupcakes. I used my basic vanilla cupcake recipe and I filled them with homemade custard.
The custard filling recipe came from my Chocolate Eclair Cupcakes recipe. To save more time make the custard recipe the day before and store it covered in the fridge.
I used a classic buttercream frosting and substituted the vanilla extract for raspberry extract to make a raspberry buttercream frosting for decorating the cupcake princess cake.
I used this buttercream frosting recipe from my Chocolate Chip Cookie Dough cupcake recipe.
Making The Princess Cupcake Dress:
What's fun about this Princess cupcake dress is:
Kids LOVE it! All of Ellie's cousins adored the look of this cupcake dress and they all actually ate the cupcakes!
This recipe for the cupcakes and frosting is SO GOOD! Adults and kids will be all over this cake.
You will be a ROCKSTAR for making your girl a cupcake dress decorated like your child's favorite princess.
You can use any flavor combination, any frosting colors you would like, and theme it different ways!
We went with pink for one year old Ellie. This princess cupcake dress could be colored for Frozen, Sophia, or any disney Princess. Go your own way and create a unique princess cupcake dress.
Let me know in the Homemade Food Junkie comments section at the bottom of this page what you do!
All the recipes you need to make and assemble the Cupcake Princess Dress from scratch are in the Printable recipe for you.
This video Demonstrates the Buttercream Rose Swirl design on the cupcakes:
The rose design on the princess cupcakes is very simple to do. All you need is a piping bag and a Wilton 2D tip! It's just a simple swirl.

HINT: Start in the middle of the cupcake and swirl in a circle to the outside
The frosting decoration technique is simple. Watch the Video to learn!
I recommend practicing on a sheet of parchment paper before testing out your newfound skill on the cupcakes! This recipe makes 36 cupcakes so you will have a few extra to practice the rose swirl on.
Once you are a master at the rose swirl design (this will happen quickly)
Pipe all 30 cupcakes with the rose swirl design (video demonstration)
Arrange the cupcakes on your cupcake board in the dress design
Fill in the holes between the cupcakes with little star dots of frosting. (See the picture below)
Place white pearl candies on top of the stars to give them a little extra pop if desired.
Finishing the Cupcake Dress:
The Princess cupcake Dress is a really simple layout. Follow the plan I laid out for you IN THE RECIPE CARD.
Decorate the dress as desired. Helpful Affiliate links for you below. Every little princess needs a bit of bling on her dress. The dress add on also make cute dress ups!
If you purchase from our affiliate links we may receive a small commission at no extra charge to you. Thank you for supporting Homemade Food Junkie.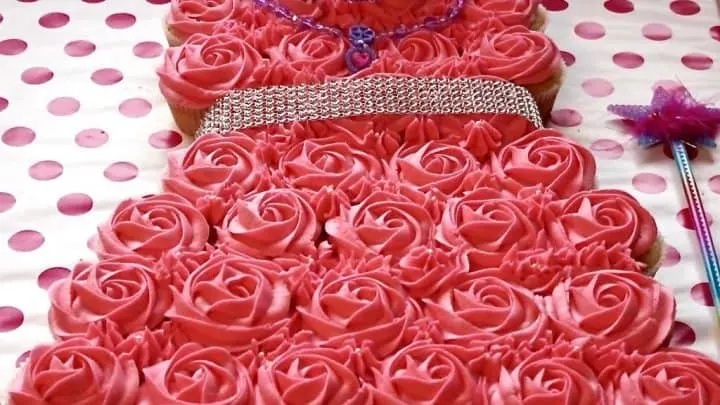 Yield:

36
Princess Cupcake Dress
Total Time:
3 hours
29 minutes
Adorable and fun! Princess cupcake dress is an easy way for you to make your little princess feel like royalty with their very own Princess cake! No complex decorating skills required! Filled with custard for a creamy, tasty party treat
Ingredients
CUPCAKES:
2 1/2 cups cake flour
2 1/2 tsp baking powder
1 tsp baking soda
1 tsp salt
4 lg eggs
1 1/2 cups granulated sugar
3 tsp pure vanilla extract
1 cup light olive oil (or canola oil)
1 cup buttermilk
CUSTARD FILLING:
3 cups milk
3 egg yolks
1/2 cup sugar
1/3 cup corn starch
1/4 tsp salt
3/4 tsp vanilla
FROSTING
2 sticks unsalted softened butter
4 cups powdered sugar
1 tsp vanilla extract
3-4 tbsp milk
Instructions
CUPCAKES
Preheat oven to 350 F
Whisk together flour, salt, baking powder, and baking soda in a small bowl and set aside.
In a bowl with an electric beater, beat eggs until they are thoroughly mixed, add in sugar and continue mixing.
Add in oil and vanilla until they are thoroughly mixed in as well.
Add 1/3 of the flour mixture and mix until it is incorporated
Add 1/3 of the buttermilk and mix thoroughly.
Continue alternating adding in ingredients until they are all mixed in.
Fill cupcake liners 1/2 full.
Bake 12-14 minutes checking often to ensure doneness.
Cool on a wire baking rack.
CUSTARD FILLING:
Beat egg yolks in a small bowl, add in milk and whisk together until thoroughly mixed.
mix together sugar, cornstarch and salt in large heavy saucepan. slowly stir in a small amount of milk and egg mixture, making a smooth paste. Gradually stir in remaining milk mixture until blended.
cook over medium-low heat, stirring constantly, until mixture thickens and comes to a boil, 20 to 25 minutes. BOIL and stir 1 minute. Remove from heat immediately.
cool quickly: Set pan in larger pan of ice water. stir occasionally and gently for a few minutes to hasten cooling. stir in vanilla. press piece of plastic wrap onto surface of pastry cream to prevent "skin" from forming. refrigerate until thoroughly chilled, at least 1 hour
Tp place the custard in your cooled cupcakes use a melon scoop or sharp knife to cut a hole in the center of your cupcake.
Fill the hole in with the custard and replace the cake on top. Now frost them.
FROSTING:
Beat the butter alone for 2 minutes until it is light and fluffy.
Add in the powdered sugar slowly beating until it is thoroughly mixed in.
Add the vanilla and the milk next, start with 3 Tablespoons of milk and test the consistency. I ended up using 4 Tablespoons of milk.
TO CREATE AND ASSEMBLE THE CUPCAKE DRESS:
You need 30 cupcakes.
Place them in the prescribed design combination on a cookie sheet or other flat surface.
I wrapped a poster board in wrapping paper to get the cute pink polka dot background.
The cupcake design combination is as follows:
Lay them out in rows, as pictured, like this: 6, 5, 5, 4, 3, 4, and 4.
TO DECORATE:
Use a Wilton 2 D tip and piping bag. Fill the piping bag with buttercream frosting and shake the bag till the frosting is down the the tip with no air pockets.
Watch the video for a demonstration of the Rose Swirl design I used on each cupcake.
I also place large edible pearls on each cupcake as shown to add a formal touch.
Add princess adornments to finish the cake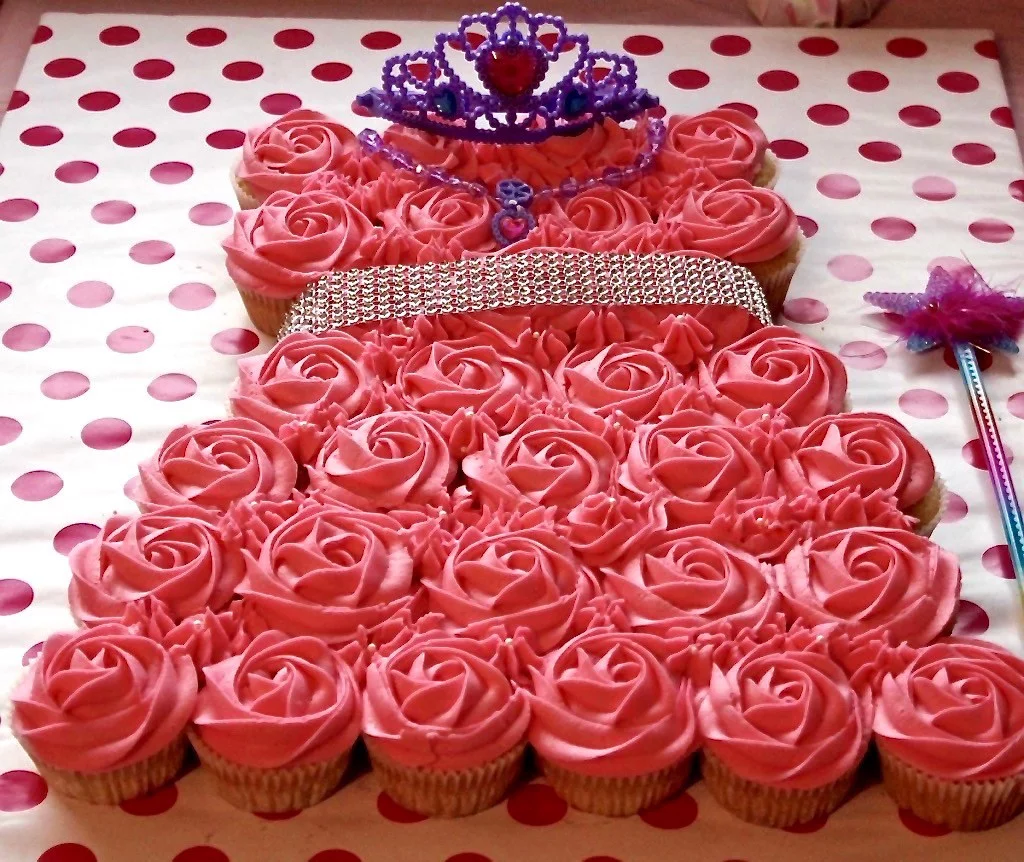 Notes
The only thing you need to know about this recipe is TRUST IT! Do NOT take shortcuts. Do not over think it. Just follow directions (let me know if you need clarification on anything) and it will turn out great! Enjoy!
Nutrition Information
Yield
36
Serving Size
1 frosted cupcake
Amount Per Serving
Calories

262
Total Fat

13g
Saturated Fat

5g
Trans Fat

0g
Unsaturated Fat

7g
Cholesterol

54mg
Sodium

229mg
Carbohydrates

34g
Fiber

0g
Sugar

24g
Protein

3g
Pin it: