Decadent Snickers Cupcakes Features a dark chocolate cupcake filled with snickers! AND Caramel sauce. AND topped with Peanut Butter Buttercream Frosting.
And yes! Chocolate sauce and caramel sauce are both Drizzled over the top. With a Snickers candy topper! Candy Bar Cupcake Decadence!
I finished making these cupcakes with snickers inside. And frosted and decorated them with a bit of work and time.
I stood back and looked at these special desserts. The Lionel Richie song popped into my head. It goes something like; "Hello? Is it me you're looking for?"
Why yes, I thought. You beautiful concoction of chocolate, caramel, peanut butter, and snickers! You are exactly what I have been looking for… and craving.
These are WICKED GOOD CUPCAKES!
If you have been keeping up with my cupcake posts you will know that I am obsessed with cupcakes. Made from scratch cupcakes. What an adventure in science and art. And a bit of architecture.
I drew out my plans for this homemade snickers cupcake recipe. Yes I'm a nerd! I own that. I actually stenciled them out. I had a vision you see.
Rest assured. You don't have to be a nerd OR an architect to create these beauties. Just follow the steps in the recipe. These were easy to make!
However they are a bit time consuming with all of the different steps. I would suggest starting early. I did!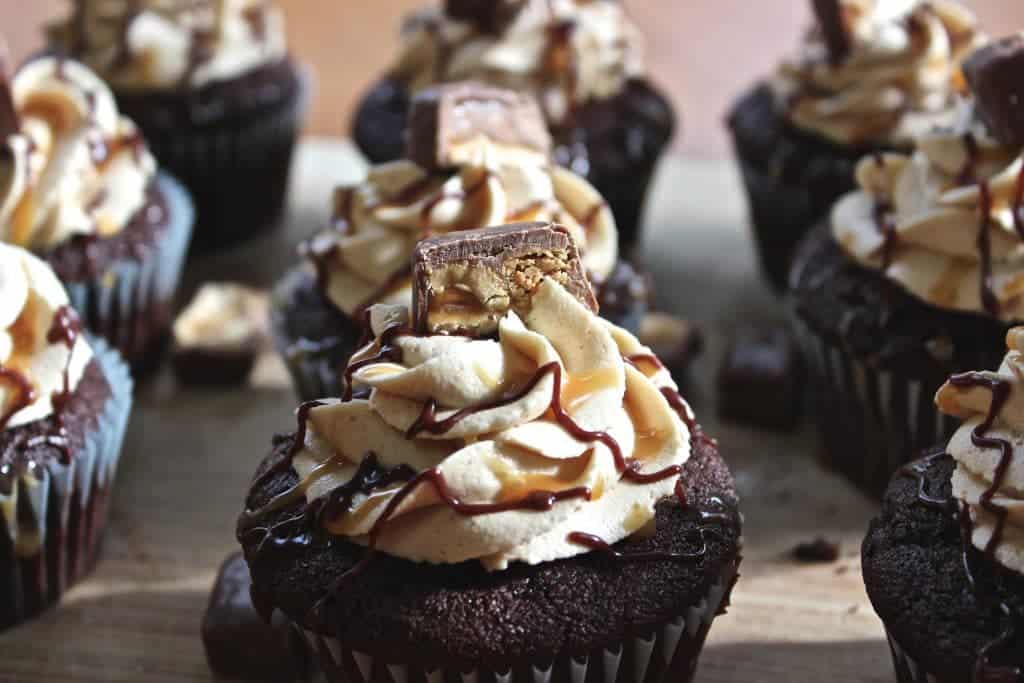 I woke up at 6:30 this lovely Friday morning and got to baking. A couple of hours and a pot of coffee later I had my beautiful cupcakes.
These snickers cupcakes were quickly eaten up by everyone that came to visit. If you are looking for a show stopper of a cupcake recipe I recommend pulling out this impressive little number.
These would be FANTASTIC party treats!
Decadent Snickers Cupcakes Recipe:
The chocolate cupcakes are the easiest part of this recipe. And they are moist and SO delicious. This is my 'go to' chocolate cupcake recipe. Always a win here!
The Frosting is not a snickers frosting or a snickers icing.
I chose a peanut butter buttercream to add yet one more layer of flavor to the mix. And I didn't want to overdo the Snickers. These candy bar cupcakes are already filled and topped with snickers.
The Peanut butter frosting made more sense to me. The result? We Loved it. Chose a snickers icing if you like it better.
DECORATING:
I used chocolate sauce and salted caramel sauce to drizzle over the cupcake after frosting. That was a VERY good idea. The result of the chocolate, caramel, and peanut butter with the candy filled chocolate cupcake? Heaven. PURE Heaven!
The Swirl tip I used was the Wilton 2D. Look at the rose buttercream video to give you an idea how to go about creating the swirl for these cupcakes.
To drizzle:
fill a disposable piping bag with chocolate sauce, cut the very tip of the end off and fill with sauce. Drizzle in a diagonal line across the frosting, as desired.
Repeat the same steps for the caramel sauce.
Chocolate cupcakes filled with snickers and caramel sauce
Yield:

12 frosted cupcakes
Decadent Snickers Cupcakes
Decadent Snickers Cupcakes. Featuring a dark chocolate cake filled with snickers and Caramel sauce and topped with Peanut Butter Buttercream Frosting. And yes! Drizzled on top with a candy topper! That's decadent!!
Ingredients
1/2 cup unsalted butter
2 ounces semi-sweet baking chocolate
1/2 cup unsweetened cocoa powder (not Dutch processed)
3/4 cup Flour
1/2 teaspoon baking soda
3/4 teaspoon baking powder
1/4 teaspoon salt
2 large eggs
1/2 cup granulated sugar
1/4 cup light brown sugar
1 teaspoon vanilla extract
1/2 cup buttermilk*
Frosting
1/2 C. butter
1/2 C. peanut butter, creamy
1-1/2 tsp. vanilla extract
3 C. powdered sugar
1 Tbsp. milk (more if needed)
1 jar of salted caramel sauce (or make your own)
1 jar of chocolate sauce (or make your own)
24 mini snickers
Instructions
Preheat Oven to 350 F.
CUPCAKES:
Melt the butter and chocolate together in the microwave.
Microwave in 30 second increments, stirring between each time.
Set aside mixture to cool completely
In a medium sized bowl, toss the cocoa powder, flour, baking soda, baking powder, and salt together until thoroughly combined.
Set aside.
In a large bowl,
Whisk the eggs, sugar, brown sugar, and vanilla together until smooth.
Add the cooled butter/chocolate and whisk until smooth.
Add half of the flour mixture, then half of the buttermilk.
Keep stirring until everything is mixed
Batter will have a thicker consistency.
Divide the batter between 12 liners in your cupcake pan.
Bake for 18 minutes, or until a toothpick inserted in the center comes out clean.
Allow to cool completely before frosting.
FILLING:
When cupcakes are cooled, core out the center with a spoon and fill with chopped mini snickers.
pour 1 tbsp of salted caramel sauce on top of the mini snickers.
FROSTING:
Beat butter for 1 minute or until it is light and fluffy.
Add peanut butter in and beat for an additional 2 minutes.
Add vanilla extract and slowly add powdered sugar until your frosting becomes thick.
Add 1 Tbsp of milk, and beat. Continue adding milk until frosting is the desired consistency.
DECORATING:
I used chocolate sauce and salted caramel sauce to drizzle over the cupcake after frosting.
To drizzle: fill a disposable piping bag with chocolate sauce, cut the very tip of the end off and fill with sauce. Repeat the same steps for the caramel sauce.
Notes
This recipe is NOT as time consuming as it looks. Do the prep for the filling while the cupcakes are baking and cooling. Same with the frosting. Make it in your down time.
Nutrition Information
Yield
12
Serving Size
1
Amount Per Serving
Calories

566
Total Fat

29g
Saturated Fat

14g
Trans Fat

0g
Unsaturated Fat

10g
Cholesterol

75mg
Sodium

335mg
Carbohydrates

71g
Fiber

3g
Sugar

57g
Protein

8g
NOTE you won't be consuming this many calories. The frosting and sauces are not completely used. I gave you a generous recipe.
Pin it:
Recipe Adapted from: Sally's Baking Addiction and Cup of Cake