Red Velvet Cupcakes with Cream Cheese Frosting are delicious and sweet. Finished with a silky smooth cream cheese frosting, bringing a tangy flavor to balance out the rich cake. This recipe is made completely from scratch for the very best flavor, texture, and freshness.
Homemade Red Velvet Cupcakes are a luscious vanilla cake made with sour cream, eggs, milk, and cocoa powder for a chocolatey flavor. This cake was supposedly made famous by the well known Waldorf Astoria hotel in New York City, but there are those that consider it a southern recipe.
Wherever it originated, there is no denying its place in the baking world as a well known, and equally well loved, confection.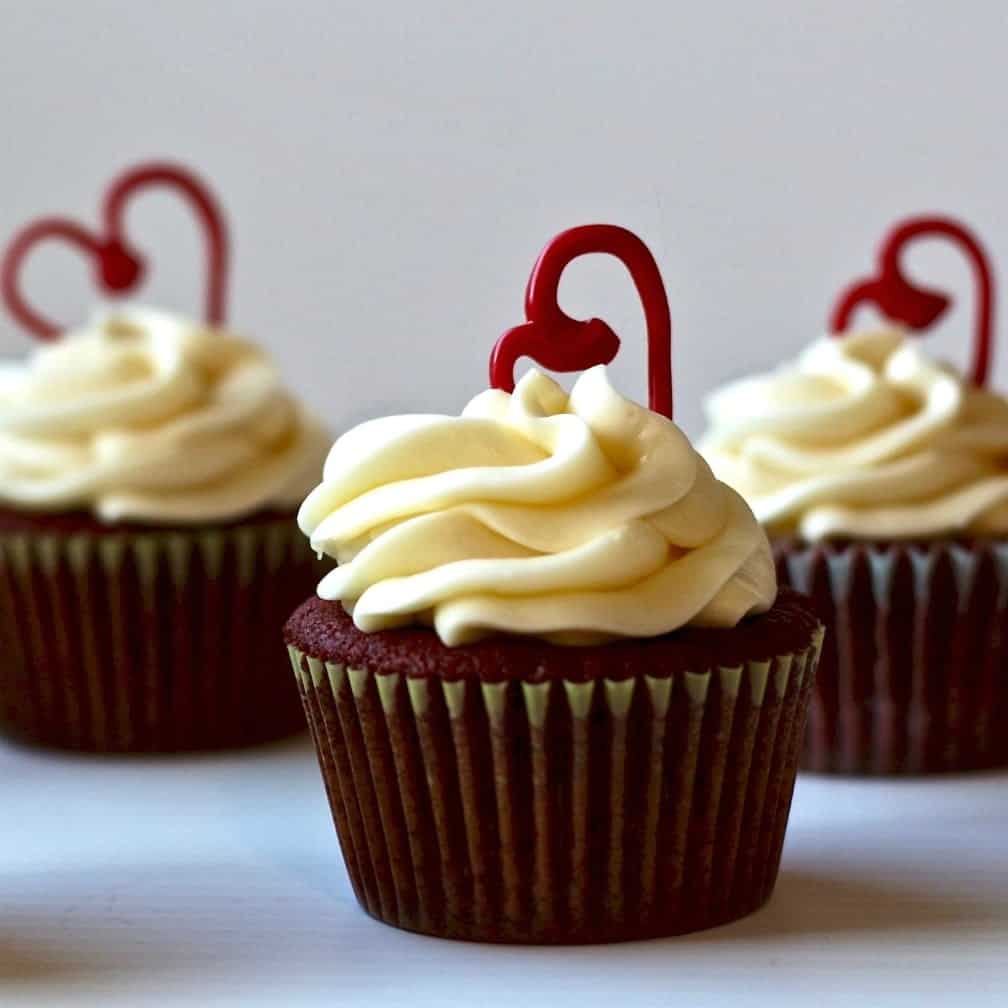 If you haven't visited our other cupcakes recipes, you can find them over in Cupcake Corner on the blog. We have a large selection of delicious cupcakes that range from simple and sweet, to decadent and elaborate. Our Lemony Lemon Cupcakes, Chocolate Guinness Cupcakes, and Orange Creamsicle Cupcakes are all well loved anytime they make an appearance.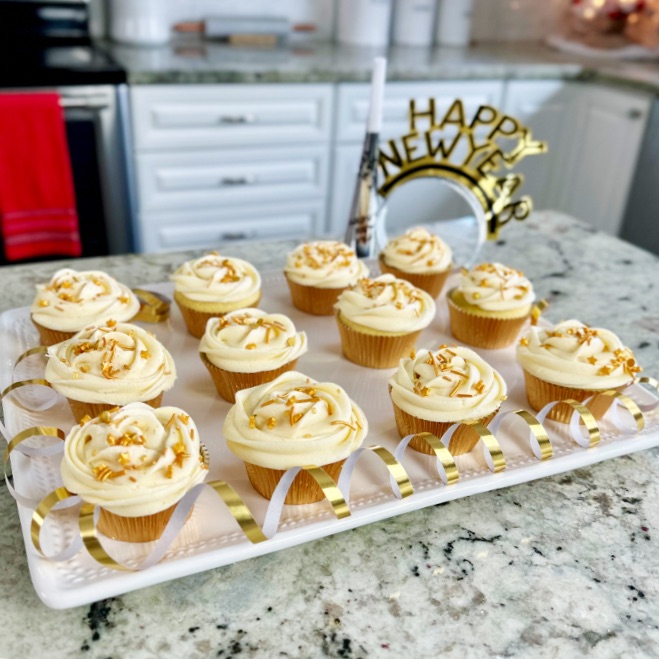 What is the actual flavor of Red Velvet Cupcakes?
These cupcakes are made from a simple vanilla batter with a few tablespoons of cocoa powder added in. Red food dye is also used to create the famous vibrant red color that this cake is known by. Sour cream and cream cheese is also found in this cake batter, bringing a rich texture and slight tanginess.
A cream cheese frosting is standard with red velvet, and adds a beautifully sweet finish to the robust cake.
How to make Red Velvet Cupcakes
To make the best Red Velvet Cupcakes you need to follow some basic baking techniques. Here are our suggestions for how to get the very best moist red velvet cupcakes.
Mix the dry ingredients and wet ingredients in two separate bowls to ensure the wet ingredients are fully creamed together.
Be careful not to over mix the batter. Over mixing will result in dense cupcakes that will likely fall after baking. Mix the batter only until it is combined and creamy.
Use softened butter and room temperature ingredients. This will give you a creamier batter that will rise and yield soft, fluffy cupcakes.
Do not overfill the cupcake tins. Overfilling the tins will cause an uneven bake and burned cupcakes edges. Fill the tins to 2/3 full for an even bake.
Keep an eye on the cupcakes while they bake. Cupcakes can quickly burn in the final minutes of baking, be sure to check them frequently. Cupcakes are done when they have a firm edge, cooked middle, and a toothpick inserted in the middle comes out clean.
What is Cream Cheese Frosting made of?
A standard Cream Cheese Frosting is made from high quality cream cheese, butter, powdered sugar, and a dash of pure vanilla extract. Whip together all of the ingredients in a stand mixer on high to incorporate air into the frosting for a fluffy, creamy consistency. Be careful not to over mix as this will cause the ingredients to separate and break down.
A smooth Cream Cheese Frosting is the iconic finishing touch on these beautiful cupcakes. Making your own frosting is absolutely worth the time and effort, and will elevate the quality and flavor far better than a store bought brand.
Why won't my Cream Cheese Frosting set?
If your Cream Cheese Frosting is soft and runny the culprit is usually a low quality cream cheese. For the best frosting you want to be using a full fat cream cheese that isn't watered down. Cream cheese that is whipped or sold in the tubs won't yield a strong frosting because they have been watered down to make them soft and easy to spread.
Look for a high quality, full fat block cream cheese to make your frosting.
Ways to garnish your cupcakes
The traditional way to garnish these beautiful red cakes is with crumble from the actual cake sprinkled over the frosted tops. However, the beauty of these gorgeous cupcakes is that the red color lends them to be very eye catching and make a statement on any table.
Here are some of our favorite ideas for ways to garnish these beautiful red cakes.
Top with white pearl sprinkles for a sophisticated and classic aesthetic
Top with a bright red cherry, raspberry, or any other red fruit
Make a beautiful candy heart using candy melts or chocolate
Create delicate fondant designs like roses, hearts, or cherries
Top with sugared cranberries and rosemary if serving for a holiday party
Sprinkle with edible luster dust or gold
Finish with chocolate sprinkles, shavings or curls
Opt for a luscious chocolate ganache in place of the cream cheese frosting
Add a chocolate drizzle
Why is Red Velvet made with buttermilk?
Buttermilk is the staple ingredient in traditional Red Velvet. It give the cake it's tangy flavor, adds moisture, and helps activate the baking soda which leavens the cake. If you are looking to make your cupcakes without buttermilk, this is the recipe for you.
We opted to use sour cream in place of the buttermilk. Sour cream will give your cake all of the same properties that the buttermilk does, and it is readily available in most of our kitchens. You can also add a dash of lemon juice to the milk, allowing it to sit and sour slightly before mixing it into the batter.
Alternatives to red food coloring
Traditional red food dye has been linked to a variety of health concerns, and should always be used sparingly in your diet. If you are looking to avoid red food dyes here is a list of substitutions you can try.
Pure beet juice is a very popular option with great success in baked goods
Dry beet powder can also be used to avoid extra moisture in your batter
Pure pomegranate juice
Boiled cranberries strained
Boiled hibiscus flowers strained
How to serve Red Velvet Cupcakes
This stunning cake is always popular due to its vibrant color and rich flavor. It tends to get limited to a few select social events, but it can be served for a variety of occasions and decorated to fit nearly any aesthetic.
Red Velvet Cupcakes are a really fun valentines treat
They are a popular option for a romantic anniversary dessert
Decorate with sugared fruits and dust with powdered sugar for a winter holiday party
Finish with fresh red fruits like cherries, raspberries, and strawberries for a summer dessert
Serve for a bridal shower or wedding decorated with pearl sprinkles or gold luster dust
Making candy melt hearts for Red Velvet Cupcakes
Making candy melt hearts is a great way to garnish these beautiful cupcakes for a valentines party, a romantic anniversary dessert, or a sweet way to tell someone you care about them. Candy melts can be found at any big box stores, grocery store, or online. We are using the red Wilton candy melts.
To properly melt the candy melts follow the simple instructions in the printable recipe card. After chilling the toppers for 10 minutes in the fridge, place them as desired on the swirled frosting top.
Your Printable Recipe Card
Yield:

24 people
Red Velvet Cupcakes with Cream Cheese Frosting
Total Time:
1 hour
20 minutes
Delicious and sweet with a hint of tangy cream cheese, these red velvet cupcakes with cream cheese frosting are amazingly good. They aren't hard to make from scratch and they are well worth a little bit of effort.
Ingredients
Dry Ingredients
1 tsp baking soda
1/2 tsp salt
2 cups flour
1/3 cup unsweetened cocoa powder
Wet Ingredients
3/4 cup butter softened (unsalted)
1 1/2 cups sugar
3 medium eggs
1/3 cup milk
3/4 cup sour cream
1 bottle Liquid red food coloring (not gel), I used 2 oz (use what you need)
1 tbsp vanilla extract
Frosting
1/2 cup butter (softened) , unsalted
8 oz cream cheese (softened)
3 cups powdered sugar
1 tsp vanilla extract
Candy Melt Topper
1 bag Red Wilton Candy Melts
Instructions
Begin by preheating your oven to 350
Next you want to mix together your dry ingredients in a medium sized mixing bowl. Whisk together the flour, salt, baking soda, and cocoa powder.
Beat the butter and sugar together until they are combined and light and fluffy. Once they are mixed together add in the eggs one at time.
Next, add in the sour cream, milk, and food coloring (these cupcakes take a LOT of red food coloring to get the red color to overpower the brown in the cocoa powder) don't be shy when you are adding in the food coloring. I ended up adding more food coloring 3 separate times until I was satisfied with the color.
Finally, add in the dry ingredients in additions to the wet ingredients. (I like to add it in thirds to the wet batter, cleaning the sides of the bowl and mixing well between additions).
Fill the cupcake liners 1/2 -2/3 full and bake them for 20 minutes (mine took between 20-25 minutes to get the toothpick to come out completely clean) You will need to keep an eye on them around the 20 minute mark and watch for light browning on the top.
Frosting
Cream together the butter and the cream cheese until light and fluffy (this usually takes a good 3-5 minutes)
Add in the powdered sugar and beat between additions until smooth.
Finally, add the vanilla extract and beat until the frosting is thoroughly mixed.
Wait until the cupcakes are completely cooled to frost them.
I used a Wilton 2d tip to achieve the cute swirl on my cupcake tops.


Candy Melt Topper
Pour a bag of red wilton candy melts into a microwave safe bowl.
Microwave of 60% power for 1 minute and stir, put in for additional 30 seconds if necessary.
Use a heart shaped cookie cutter to trace heart designs on wax paper.
Once your chocolate is smooth, put it in a piping bag with a small circle tip of your choice.
Trace the design that you drew using the chocolate in the piping bag.
Once all of your hearts are finished, pop them in the fridge for 10 minutes to completely harden.
Have fun!
Notes
NOTES:
I did not use the convection bake setting on my oven, however, when I make these again I am going to try it. My results were really good but they did fall in the center some. Fortunately, the cream cheese frosting filled in the well in the center and no one the wiser.
Also, beware over mixing the batter. Next time I make these I will mix them less to create a more even bake result.
Nutrition Information
Yield
24
Serving Size
1 frosted cupcake
Amount Per Serving
Calories

289
Total Fat

15g
Saturated Fat

9g
Trans Fat

0g
Unsaturated Fat

5g
Cholesterol

60mg
Sodium

219mg
Carbohydrates

36g
Fiber

1g
Sugar

27g
Protein

3g
Follow Us:
We enjoy meeting you on our social networks. Follow us on Facebook, Pinterest, Instagram . Tag us with your pictures of our recipes and comment on how it went for you. We would love to see what you do with them.
We often like, comment and share your posts of our recipes on our daily Instagram stories.
Ask questions and rate the recipe in the comments section below. Please share what you did with this recipe. We are always looking for more and better ways to make homemade food. Other cooks love your ideas!
Recent Posts: